Relay for Life is a community based fundraising event of the American Cancer Society. Each year, more than 5,000 Relay For Life events take place in over twenty countries. Events are held in local communities, campus universities and in virtual worlds. As the American Cancer Society's most successful fundraiser and the organization's signature event, the mission of Relay For Life is to raise funds to improve cancer survival, decrease the incidence of cancer, and improve the quality of life for cancer patients and their caretakers. It is often organized as a multi-day public gathering, spanning all day and night in a large outdoor space, and many people bring tents and camp out around the walking tracks. Currently, almost 4 million people take part in Relay events in over 5,000 communities in the United States.

In high school, I did not know what Relay for Life was, nor did I have the opportunity to participate in the event, which at my high school was held outside around a running track. Many people slept in tents and classmates that were regular participants would rave about how much fun Relay was. It was not until I joined Alpha Phi Omega international co- ed community service fraternity that I became interested, for good, in Relay for Life. Every year my chapter participates in Relay as our main service and non- profit support event of the spring semester. Our Relay is held within an indoors university arena sports complex.
Upon joining the APO Alpha Eta Pi chapter in Spring of 2013, my Big and many of my friends urged me to join our Relay team. When I looked up Relay for Life and discovered that the event honors both survivors and those lost to various forms of cancer, I knew I had to participate. At the time I was 19 and had the fortune of being raised by and close to both of my grandparents. This was a miracle considering that my grandfather, who would later pass in February of 2016, was diagnosed with and survived colon cancer in 1998. Although he passed from another illness in the end, cancer is not what did my grandpa in. For that I am grateful, as medical advances in cancer research in treatment allowed me another unpromised 18 years. He is the ultimate symbol of a survivor for me. Additionally, between 2013- 2016 my grandfather would come to lose one of his sisters to cancer. Among our family and friends we know many more victims and survivors, from late relatives to my aunt who is now coming up on 6 years of being breast cancer free.
I Relay because, on a personal level, it is an act of remembrance and gratitude towards those I and others love who fought hard and continued to fight against the odds of cancer. I Relay because a couple hours and a few dollar bills in donations pale in comparison to hours of chemotherapy, only to result in a eulogy.

As the hours wear on and the exhaustion sets in, you find yourself having sleepy friendly conversation with friends that you may not get to spend as much time with as you'd like. You share snacks, blankets, stories and laughter and you spend the duration of the night with not just one another, but an entire community of individuals who have something or someone to Relay for. Your Relay location becomes a venue of support and comfort, as you see you are not alone amongst the Luminaria or on the last lap. Many of us at Alpha Phi Omega look forward to an opportunity to dedicate ourselves to both the cause of eradicating cancer, but also each other. Relay, especially on a college campus, is also a great opportunity to make connections with other groups of people with whom you would not usually cross paths. I have made friends with students in the math club, social Greek organizations, and varsity sports teams from being introduced to each other by mutual friends at Relay for Life. The common goal of walking against cancer unites people of all ages and backgrounds in unlikely ways.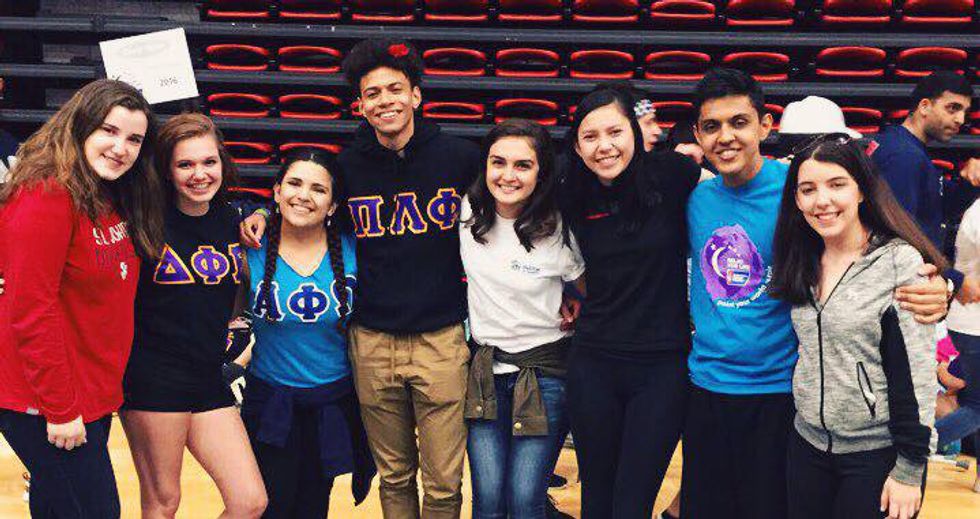 This year, I got the opportunity to meet and Relay with members of my university Odyssey team.
I Relay to foster connections with my university community. I Relay with those who truly love and care for me, sympathize with me and share in my experiences. We come together with melancholy happiness for a cause that can buy more time for some, and has the potential to save others.

I regret not having been a part of Relay sooner in my life. This year, I Relay and think of the family and friends I am proud of and I miss. I also have in mind how lucky I am to be surrounded by people whose hearts understand my pain, and whose legs walk forward to end the suffering of others.
I Relay because I care.
If you have yet to participate in Relay for Life in your area, wish to start/ donate to a team that will be relaying soon, or want to start organizing for Relay next year, please visit
http://relay.acsevents.org/site/PageServer?pagename=relay_learn_whatisrelay
to find out how or learn more.