I am a Millennial. I live in a world where many of my peers are liberal Democrats. I, on the other hand, am not. At times, I feel like a minority, but that's okay. I am a proud conservative Republican because no party is better than the Grand Ol' Party.
And I am here to proudly proclaim that I will be voting for Donald J. Trump in the 2016 Presidential Election.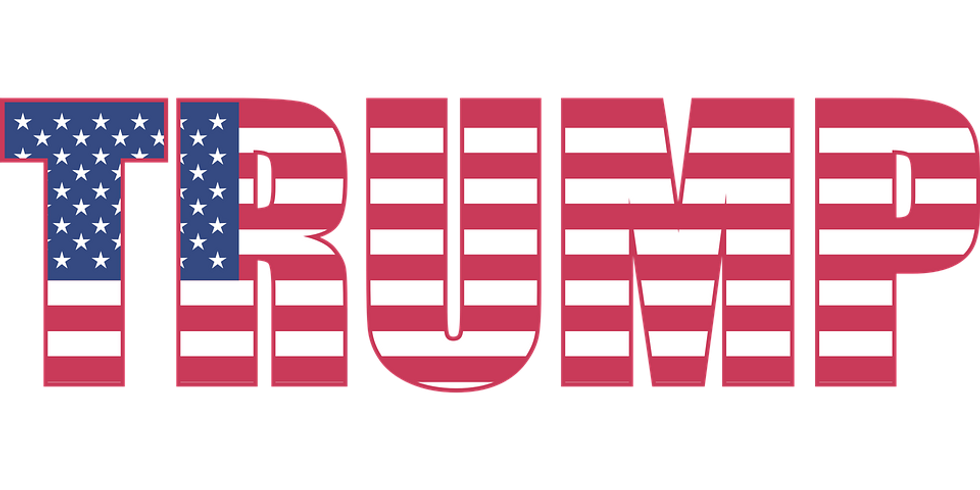 By saying that, that doesn't mean you should generalize and stereotype me.
By voting Donald Trump, that doesn't mean I'm not open-minded.
Being a young Millennial, I have obviously been exposed to many people with different viewpoints than mine. I don't want to make it sound like I'm just a wonderful, perfect, open-minded person, but I have been told by numerous liberal friends of mine that I am actually open to respecting and seeing the other side and where they're coming from; I'm just not going to agree with them.
By voting for Donald Trump, that doesn't mean I'm a racist.
Newsflash, anyone can be a racist. Yes, I am a white American, and yes, you definitely could say that I am a product of white privilege, but I know people from all races that are wonderful and people from all races that are... well, they're definitely not my favorite people. Suddenly, in today's culture, as soon as I'm against someone who isn't white, I'm a racist, and God forbid it actually be that I didn't agree with them.
By voting for Donald Trump, that doesn't mean I supported him from the beginning.
I will openly admit that I believed other Republican candidates were better qualified than Trump, as I did not vote for Trump during the primary, but now, because of the United States' two-party system, I am between Donald Trump, Hillary Clinton, or a throw-away vote (as awful as that sounds).
By voting for Donald Trump, that doesn't mean I agree with everything he has said/done.
Okay, how many of you can ever say that you have 100%, completely and entirely, whole-heartedly agreed with every single thing someone you have voted for has said and done? Oh, that's right. That doesn't happen. Initially, I did not agree with Donald Trump and did not support him as the Republican nominee, but I most definitely agree with his views more than I agree with Hillary Clinton's.
Understand that it is impossible to find the perfect presidential candidate.
By voting for Donald Trump, that doesn't mean I'm uneducated.
I most definitely have thought about this election immensely, as I said, I didn't support Trump, but I cannot bring myself to vote for Hillary Clinton because her views do not align with mine at all. I am a firm believer in pro-life, pro-second amendment. I am firmly against free college tuition, raising the minimum wage, and illegal immigration. Hillary does not stand for those things, yet Donald Trump does.
By voting for Donald Trump, that doesn't mean I can't respect the Democrats out there.
It's instantly stereotyped that because I'm a conservative Republican voting for Donald Trump, I instantly have a prejudice against all liberal Democrats. That's absolutely false. There are plenty of people in my life that are liberals that I love. Additionally, there are plenty of politicians that are Democrats that I respect, as well. The Kennedys were Democrats, and I respect them. FDR was a Democrat, and I can agree that he really helped America. Just because I don't like Hillary Clinton doesn't mean I don't like Democrats.
By voting for Donald Trump, that doesn't mean that I think he will become the best president this country has seen.
It seems as though every year, people complain that the candidates are subpar, and I feel like this year is even worse for the complaining. I am picking from two candidates: Hillary Clinton and Donald Trump. Right now, based on the choices I'm faced with, I believe that Donald Trump will be better out of the two.
I would love to write in a different Republican that I admire, but that would be a "throw-away vote," and that simply doesn't work the best.
Perfect doesn't exist, and the "best President" is a subjective term.
---
By voting for Donald Trump, that does mean I believe in making my own success.
Although people claim that Donald Trump is the epitome of white privilege (and I'm not about to argue this), the Republican party firmly believes that if you want it, you work for it. Let's just acknowledge that Trump did start with one million dollars, but now he has a net worth of over 3.7 billion dollars. He has created that success. I am out here trying to pave my own path of success, at college so that I can create the life I want for myself. I'm not waiting for someone else to do it for me.
By voting for Donald Trump, that does mean I believe in speaking my mind.
Clearly, by writing this entire article, I have spoken my mind. I believe in having an opinion (a logical opinion), but I also believe in respecting and understanding the opinions of those around me. I love when someone from the other side can give me his/her logical opinion, as well, and we can reach the conclusion to agree to disagree.
By voting for Donald Trump, that does mean I stand behind my vote and my candidate.
I've never understood why people attempt to keep voting a secret; if you voted for a person, shouldn't you stand behind them enough to be able to say you voted for them? If you are ashamed of voting for someone, you shouldn't have been voting for them in the first place.
Like I said, there are other potential write-in candidates that I admire and respect more, but I'm utilizing my vote towards my party, so that is what I am standing behind.
By voting for Donald Trump, that does mean I want to "Make America Great Again."
America is a wonderful country, and there are many countries in the world that admire us and aspire to be like us. Poverty in America is nothing like poverty in other countries. Success in other countries is nothing like success in America.
I'm just a simple American who wants our country to be the greatest in the world.