Mike Trout of the Angels is the best player in baseball. It has been debated numerous times but nobody can argue his superiority in the game. He is the best player in the Majors yet he is on one of the worst teams. It was not too long ago in 2014 that the Angels had the best record in baseball yet they got swept by the Royals that season, who would eventually wind up in the World Series.

The question everyone keeps asking is if the angels should finally trade Mike Trout. It used to be incredibly unrealistic to even think of doing something like that, but now it's really up in the air. One thing thats for sure is that it would at least help out the farm system. Keith Law of ESPN recently ranked the Angels last for teams with the best farm systems.
Image Source: ESPN

Farm systems are very important in todays MLB. Look at the Cubs or Dodgers for instance, they have great farm systems that come up with rising stars that quickly make it to the show. Take Kris Bryant or Corey Seager for example.
It would take a lot of prospects and some solid everyday players to complete a trade with the Angels for Trout. The Angels do need an influx of quality hitters at the moment. Calhoun and Trout are the only impact hitters on the Halos right now.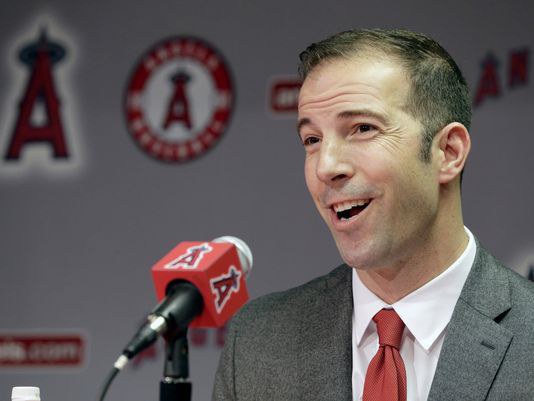 Image Source: USA Today

Billy Eppler, GM of the Angels, took over the job from Jerry DiPoto after he left because of a dispute with manager Mike Scioscia. Eppler does not want to say it, but with all the rumors he has to be thinking about what would happen if he traded Mike Trout. So the question comes up, Should the Angels trade Mike Trout right now?
No they should not trade him, not now at least. The Angels looked solid in Spring Training but were plagued by injuries this season. When your two starting pitchers go down with season ending injuries, things are not going to end well. Eppler should work on some trades and free agent signings to get ready for next season and not worry about Trout. Players will come back from injury and the team can start fresh next year.
However, if over the next season or two things do not progress and the Angels do not improve, Eppler should at least entertain the option of trading Trout. He is the best player in baseball so there is no need to worry about his stock going down. But for now Eppler should focus on getting the team equipped with the proper players to build around Mike Trout for next season.