Before I continue on, let me just get the overarching theme of this series out of the way:
Going abroad is all about *rolls eyes* "leaving your comfort zone."

Got it? Got it. Anyway, this past weekend I did what a lot of other university study abroad-ers do on weekends: visit another country. I left Paris for a long weekend in the UK. Many international study programs structure their academic calendars so that students have classes on a Monday-Thursday rotation and have a three day weekend extending from Friday-Sunday. Whether your program functions in modules like mine (I spend 5 weeks each in 3 different cities over the course of a 15-week semester), or you get the next three or so months to intimately know just one place, chances are you will want to take advantage of going to London from Paris just as easily as we can get to New Haven, Connecticut from New York City.
Well, not quite...
At the end of week three I did go to London. And yes, their airfare was dirt cheap in comparison to what we would pay back home in the States--less than $100. But, there are some truths about more localized traveling while studying abroad that most people aren't really going to tell you unless you ask, or it's a little too late to be of use while you're planning your itinerary. Here's me giving you other broke, stressed college people some free advice.
Consider your "group".
If you're new to my content on Odyssey, one thing you should know about me is that i am a R A G I N G extrovert. I love talking to people, being with people, crowds and concerts... However, as much as I love people, I still feel some type of way about a few group activities. Projects and travel, to name a few. Traveling with friends in a big group sounds like an awesome Sisterhood of the Traveling Pants, Paper Towns-esque adventure, but it definitely has its challenges.
This seems a little obvious, but chances are that when you decide to travel with a group of people, their budget becomes your budget and vice versa. Some of us had been to London before and didn't feel compelled to shell out the big bucks. There were also some of us that were willing to put out a little extra cash to see sights and get into museums that weren't free. Think about the people you're going with and whether or not you can "keep up" with them financially or whether you have the willpower to say "no" when your pockets just can't take the hit.
You also need to be thinking about the number of people you'll be going with. Not every place is going to "split the check" between card and cash holders, not every place will take cards or even be able to accommodate the number of people you have. Be prepared to divide into even smaller groups and always have cash and card on you.

Think about how "the group" will affect your experience.
Also worth pondering is the collective goal of your group. Is it sightseeing? It is partying? It is shopping? Is it lounging around? Are you going to have a good time doing these things and are you willing to compromise or give up some things you want to do in lieu of staying with the group and being safe/more frugal?
Your time is short; your itinerary should be as packed (or unpacked) as you want it to be.
Metro fare is expensive, cab and Uber rides are expensive (and will probably rip you off), food is expensive, souvenirs are expensive. Everything is expensive, so don't let the 25 euro a night hostel and 75 euro round trip ticket fool you: you'll be spending mad money. You'll have to eat at the airport and surely you will have forgotten something you need, flights and trains will get delayed or even missed.
On top of that, when you do your previously mentioned backtracking, it really can cost you and will be another factor into you being unable to see/buy all the things you want. Mapping out and Googling prices & reservations beforehand goes a long way. I know it's tempting to do things in large groups to significantly lower costs, but are these low costs going to offset the fact that you won't be able to do everything you dreamed of during your short study abroad stay?

"Screw it, I'm in _______!"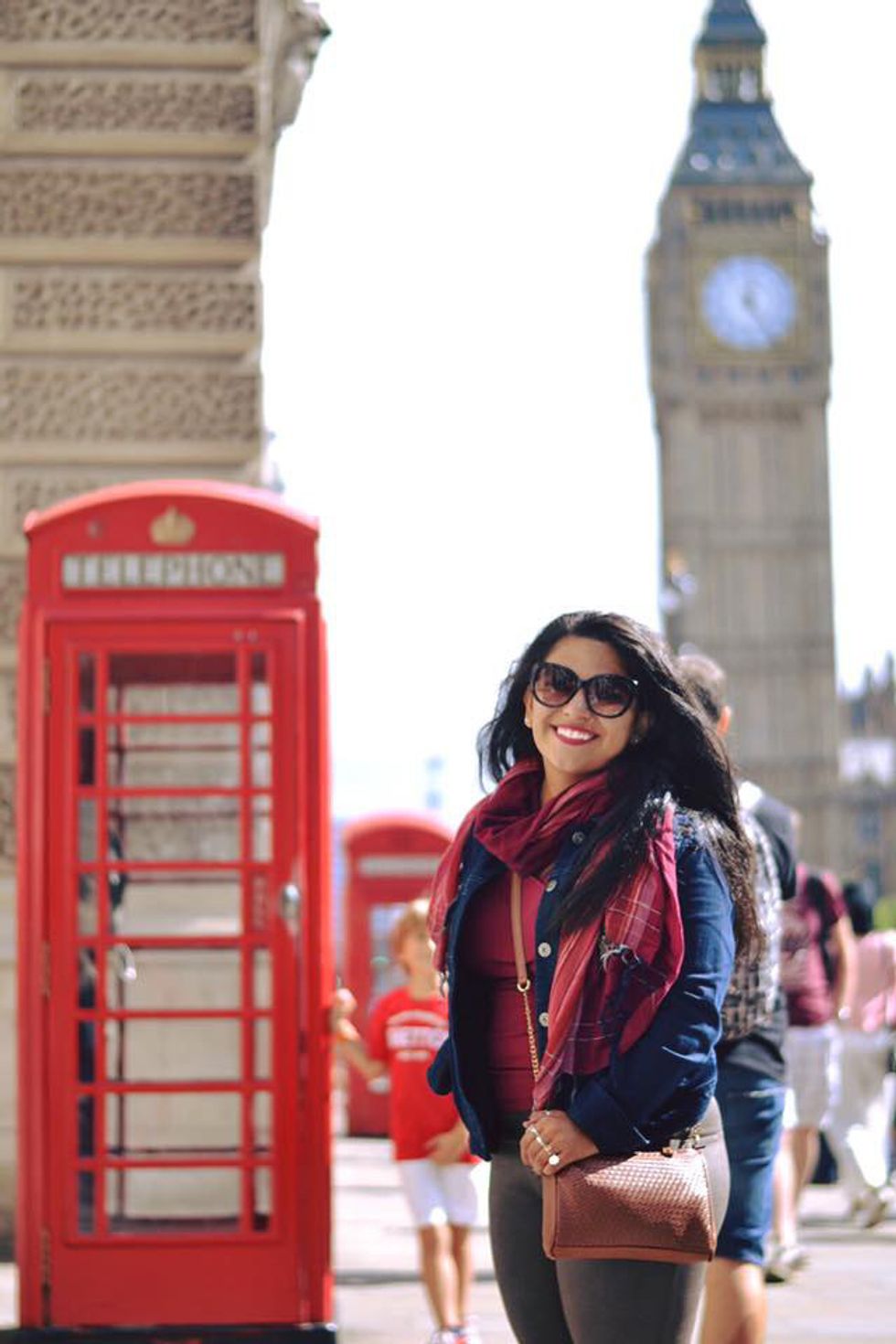 Here I am in London, realizing that even though getting here was a hassle, it was allll worth it once I took my cheesy phone booth photos.
Even though it sounds like I'm bashing short trips during study abroad, I don't regret taking short trips at all! If anything, going and not seeing everything you want to is the BEST excuse to go a second or third time in the future. And puh-leasseeee, don't go abroad with the attitude of "I'm never coming back, so whatever." You and I both know that if you want to come back, you'll find a way.
(Also, I H I G H L Y recommend making friends in these areas with whom you can crash to make those future visits a little easier. It certainly gives you a more authentic abroad experience without the stress of worrying over whether or not you'd like your host family during a homestay.)
So, moral of the story:
Travel often, travel wisely.
---
Missed a week of WHWYDKADGA?
(Nifty acronym, right?)
Catch up on all the action here!