The other day I went to a Big 3 consulting panel held by a consulting club here at UM. They offered a lot of good advice about the field of consulting and getting into the field and figuring out the direction you want to go. But they also offered a lot of other kinds of advice about more conceptual ideas about life and work and balancing the two.
One of the questions asked of the panel was "What gets you out of bed in the morning?" For all of the panelists, it was something to do with their job or something to do with a close personal hobby. That warmed my heart; these people genuinely loved their jobs so much that they wanted to continue solving those problems, even if that's what they had been doing the day before for 14 hours.
It was inspiring to hear that. It makes you want to think twice about what you're going to pick for the future, whether that's something that you're going to want to get out of bed every day for, even when the job gets tough.
But one of the panelists gave us a different piece of advice in the midst of this, "I love my job," spiel. She said, "Do one thing that you genuinely love to do every day. Otherwise, I don't know how you would ever wake up in the morning or survive these Michigan winters."
Do one thing that you love to do every day.

Outside of your job, do something you love every day. Take time out for you. Yes, you have to eat, shower, work, and get through your to-do list. But you are not a machine. You're not supposed to be on all the time. You deserve more than your 5 minute shower for a break.
You should be able to do one thing you love every day. For the panelists, that might have been reading a book for a half hour before bed or going for a run or talking to friends or making a piece of artwork.
It made me think. What's my passion? What gets me up in the morning? What's my one thing I love to do every day?
Certainly, school feels more like work and I don't relish the feeling of going to classes at 8:30 in the morning or cracking open my still-warm laptop to write yet another essay. So what's got me churning? What's got me lugging through the mess of responsibilities and the sea of doubt and stress and uncertainties?
I think it's my friends.
Yes, I think it's these losers: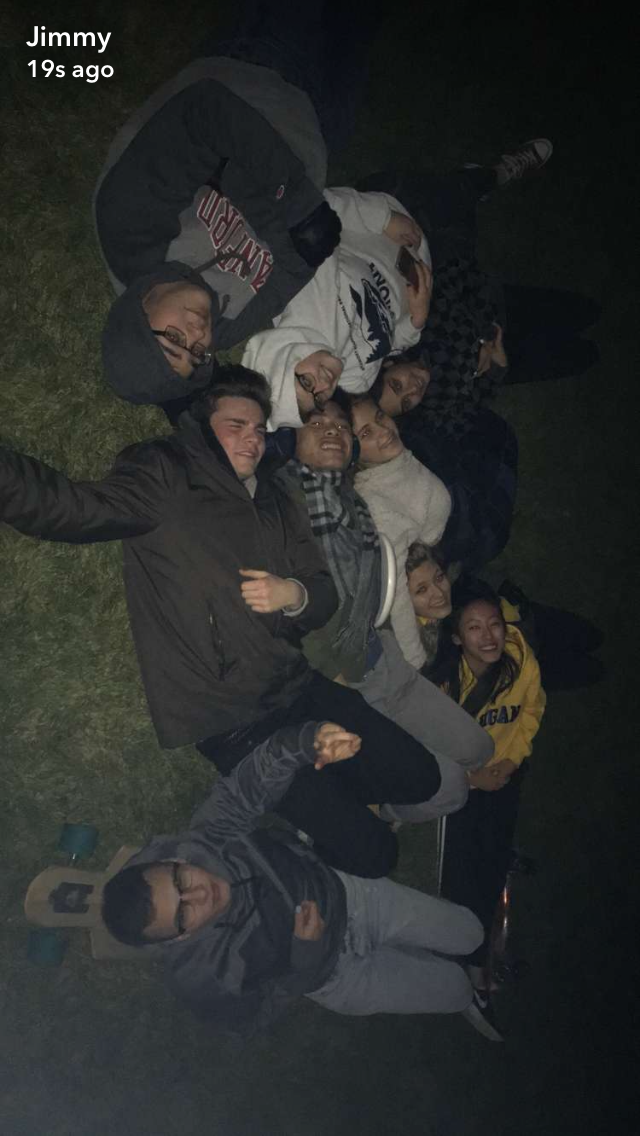 I imagine that's not the thing my parents want to hear. But it's true.
Regardless of when I go to bed, I wake up without fail around 8 a.m. It's my natural biological clock, I guess. Without fail, as soon as my eyes snap open, I start panicking about everything I have to do that day. (No mom, by panicking I don't mean actually panicking. It's a healthy anxiety. Usually.)
But soon enough, my thoughts move over to the moments during the day when I'll be able to see my friends. When I'll be able to share something with them, when I'll be able to hear their laughter. Even if I only get to see them for a short 30 minutes during dinner on weekdays, those 30 minutes tide me over for the exhausting amount of work I have to do all day.
Because of my extroversion, I need a group of people like this in my life. A group of people whose energy I can feed off of, who I can rely on, who boost me up when I'm down. People I feel comfortable sharing next to anything with.
It feels wrong to equate them with my family and with the role my family plays in my life because my family is certainly my biggest rock and source of support and no one would ever be able to take their place in my life. But here on campus, these friends are like my family away from family. The close bonds we've formed feel just as permanent.
When I need them, they're there for me, and when they need me, I love being there for them. For the first time in my life, being there for someone else doesn't feel like a chore or an obligation, because they don't treat me like that either. They fuel me. They keep me going.
If in my life my friends are the reason why I wake up in the morning, I'd say that's a pretty positive thing. At least I have something to get up going in the morning. Life is meant for the pursuit of happiness and you have to do what you can to get to that happiness.
I know I'm supposed to find purpose in something else, something more meaningful, something that would contribute to the greater society. But I find that my friends and being with them, learning about them, learning from them, and helping them grow as people is my purpose. It's what I enjoy doing. It's the one thing that I love doing in my day aside from all of the other work I have to do.
I want to leave you with a few questions to ask yourself. What gets you up in the morning? How can you work that into more of your daily life? Life is short, short, short. Don't spend all of it working on stuff you didn't care as much about. There's this great thing called perspective, but most of us miss out on it until the very end of our lives when it's already too late.
Try reminding yourself of what's important now, and strive to make that happen. Take the time for the pursuit of happiness while you still have legs to get you there.
Cover Image Credit: Riya Gupta