In all walks of life, we meet people who might eventually become our best friends, bridesmaids, partners in crime, or just simply, friends. However, for every best friend or P.I.C. we may acquire, there will be hundreds of people who, no matter how kind we are to them, no matter the fact that we've done them no wrong, will never befriend us— and that is totally okay, because we don't have to be friends with everyone. This is a great lesson, but like all life lessons, it is much easier said than learned. It can be incredibly difficult to accept the fact that friendships come and go, and that not everyone will want to be your friend regardless of kind and friendly gestures.
I remember calling my mom in tears because one of my best friends I made freshman year of college had unfriended me on Facebook, an action I never foresaw. When I confronted her about it, I was told something that, although it was incredibly hurtful, I haven't forgotten since: "No one has to pretend to like you or pretend to be your friend." As I relayed our conversation to my mom as best I could through my hysterical tears and then-stuffy nose, I anticipated being smothered in compliments that would uplift me and make me feel like I was better than this person who had deeply hurt me— instead, she told me something even better: she told me that you can't be friends with everyone, and that it is counterproductive to spend time trying to please people who fail to appreciate the effort. And she is so right, I can't spend my entire life aiming to please people in hopes of them befriending me, because in reality, that isn't true friendship.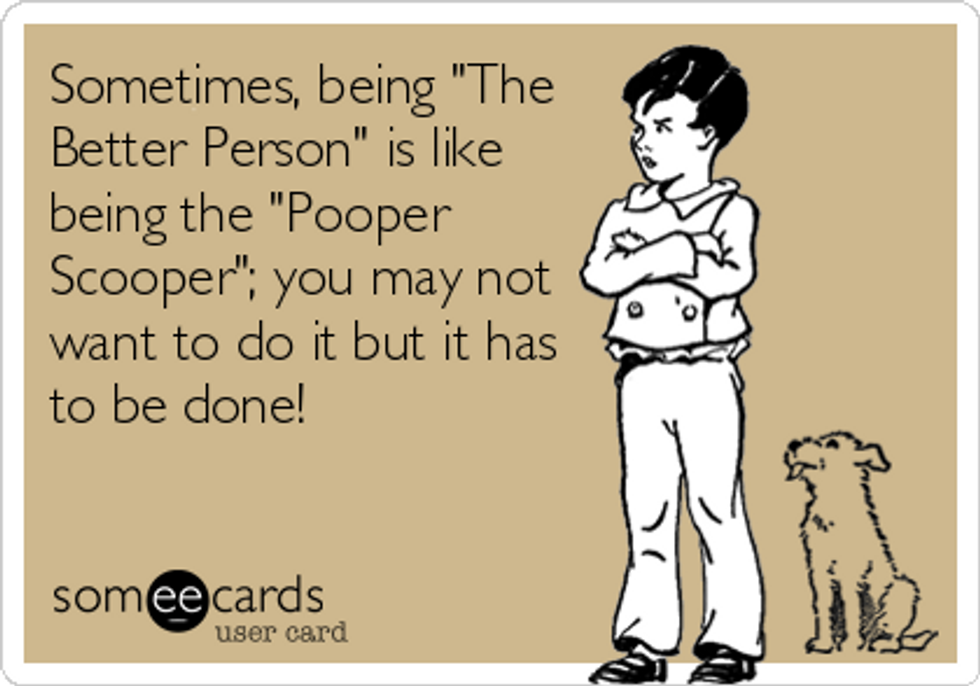 So often, we find that if we go out of our way to make someone happy, we, in turn, are usually rewarded with happiness. But when our friendly smiles and efforts to make small-talk prove counter intuitive, we curl into a ball of self-loathing and second-guessing: why doesn't he/she like me? what have I done wrong? There is no answer for either, it is simply the reality of life, that we are not going to please everyone we encounter. This is, at first, unacceptable, but as the years pass, and the friends come and go, we start to realize that perhaps our efforts aren't worthwhile. We do not owe our best selves to people who demean us, take us for granted, do all the things we least expect from a true friend. Moreover, we do not owe our best selves to people just because we go to school with them, sit next to them in class, live in the same room/house/sorority or fraternity with them, but we do owe a certain degree of respect and kindness. Knowing that we don't have to be friends with everyone doesn't necessarily mean they are thus undeserving of the things that compose a friendship. If you're nice to somebody but never quite reach "friend status" with him/her, it's not the end of the world, but it also doesn't dictate hostile behavior on your part. After all, how much better are we than those who reject our friendship if we in turn reject them entirely?
With the holiday season upon us, a time where the idea that "it is better to give than to receive" is constantly emphasized, we should remember and appreciate the friends we do have that cherish us. Even for those we aren't so buddy-buddy with, a simple "Happy Holidays!" can go a long way. So just remember: you don't have to be friends with everyone, and that is totally okay.