Our generation gets a lot of crap about how we're apathetic, and lack ambition, and use technology as an easy way out. ByteCode defies all of this. Based out of Charleston, South Carolina, ByteCode Designs is a unique clothing company created 'for the digital native.' Freshman in college, Hunter Heidenreich is the company's founder.
5 years ago ByteCode was just a computer algorithm that transformed the desired plugged in numbers into distinct designs. As high school progressed, Hunter put the program away, using it only for computer backgrounds and phone wallpapers. Until inspiration struck spring of his senior year of high school where he had the idea to put the designs onto clothing. Now, ByteCode Designs is a patented, copy righted, self-owned business. How's that for apathetic and lacking ambition. With the help of Shopify, and e-commerce website, Hunter and three other team members were able to promote their business and get it online. Mackenzie Pelletier became especially useful as she is the social media aficionado -- like sending out alerts about upcoming new designs.
Zach Speaks plays marketing director, documenting sales and all things numbers. Noah Evans designed the logo for ByteCode and makes sure the website is aesthetically pleasing as the artist for ByteCode. If you're like me and need faces with names, don't worry you can follow them all on Bytecode's Instagram @bytecodedesigns and help the company gain exp. points.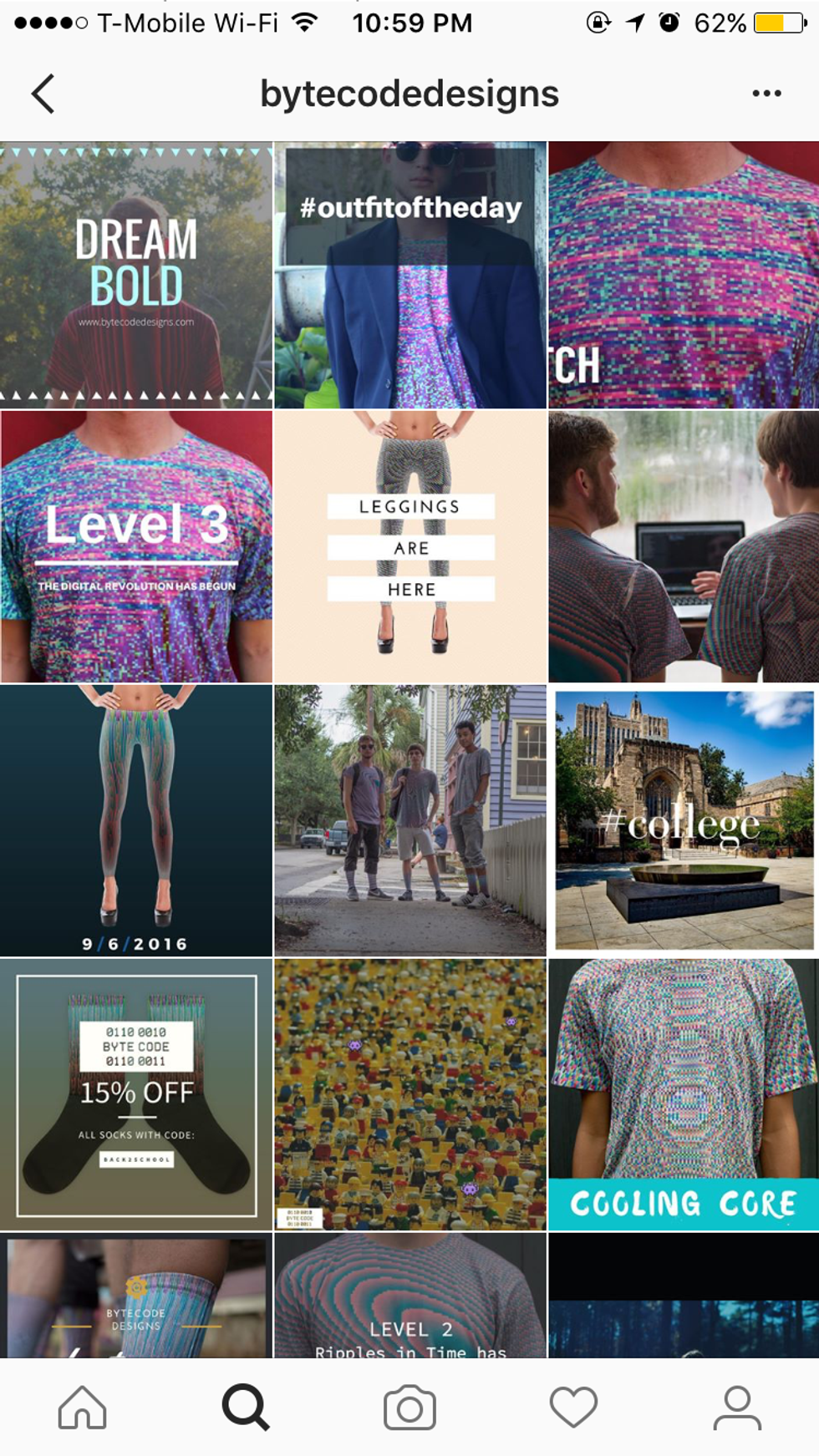 What's Exp points? Are you even a millennial? In a video game, one levels up according to how many experience (EX) points they have. This thriving business is doing the same. Different sales yield different amounts of points and at the start of each level they release new designs. Who doesn't want more designs?? Visit their website and place your order from items such as men and women's t-shirts and tanks, socks, and even leggings.
Through a process called sublimation, thanks to the company Printful, these clothes are printed onto the shirt one at a time based on the design you selected, keep in mind these designs are so pixilated and detailed they can't be handmade. That's how special of a garment you're wearing. After talking with College of Charleston's very own Mackenzie Pelletier -- I knew I had to buy a tank to keep me cool and tech savvy during Charleston's 90 degree Septembers -- she informed me that during check out, I can get a STUDENT DISCOUNT. Yes, as if this business couldn't get any better, you get 15 percent of your order with an .edu school email. Support small businesses, help people achieve their dreams, and look really cool while doing it.