Last Tuesday, the US announced it would be stepping down from the UN Human Rights Council in a move that has garnered widespread criticism. UN Human Rights Chief Zeid bin Ra'ad said the news was "disappointing" and that, "Given the state of human rights in today's world, the US should be stepping up, not stepping back." National security adviser John Bolton told Fox and Friends, however, the the US was acting in its own best interest and would not recognize "some higher authority."
The move came a day after the UN High Commissioner for Human Rights' criticized the separation of children from their parents at the US-Mexico border but is primarily in response to the US' total isolation over Israel. Ambassador Nikki Haley, the lone voter in support of Trump's failed resolution on Gaza, called the UN a "cesspool of political bias."
The implications here are far reaching. (Personally I think it's a great thing that the US will no longer have veto power in the HRC.) However, the move reveals something much greater.
The Winds of Change
By leaving the HRC, the US is, in fact, recognizing that there is "some higher power" than itself and is yielding to political pressure. This is unprecedented. Whether in Syria, Latin America, or right at home, the US' long list of human rights abuses have never escaped the critical eye of the world. Even when Europe and the West look the other way, there have always been movements dedicated to exposing and combating US oppression and imperialism. Rarely have these movements had much success in altering policy or diminishing US power.
From Vietnam to Flint, the US has always been able to shrug off even their most adamant critics. The UN was never any different. Near unanimous condemnation, failed resolutions, being alone in defense of Israel's ongoing genocide, these kinds of things have never bothered the US before. Never has the US willfully given up power due to simple pressure or "bias."
This is not an isolated incident. The US would never give up such a powerful and privileged position just to prove a point. Across the world, both politically and economically, the US is becoming a pariah. And Trump's tantrum at this years G7 summit certainly didn't help.
After squabbling with fellow world leaders over tariffs, Trump proceeded to plop his butt down and pout like a spoiled child before throwing a piece of candy at Chancellor Angela Merkel and telling her, "Don't say I never give you anything." I kid you not, this was done by the sitting President of the United States.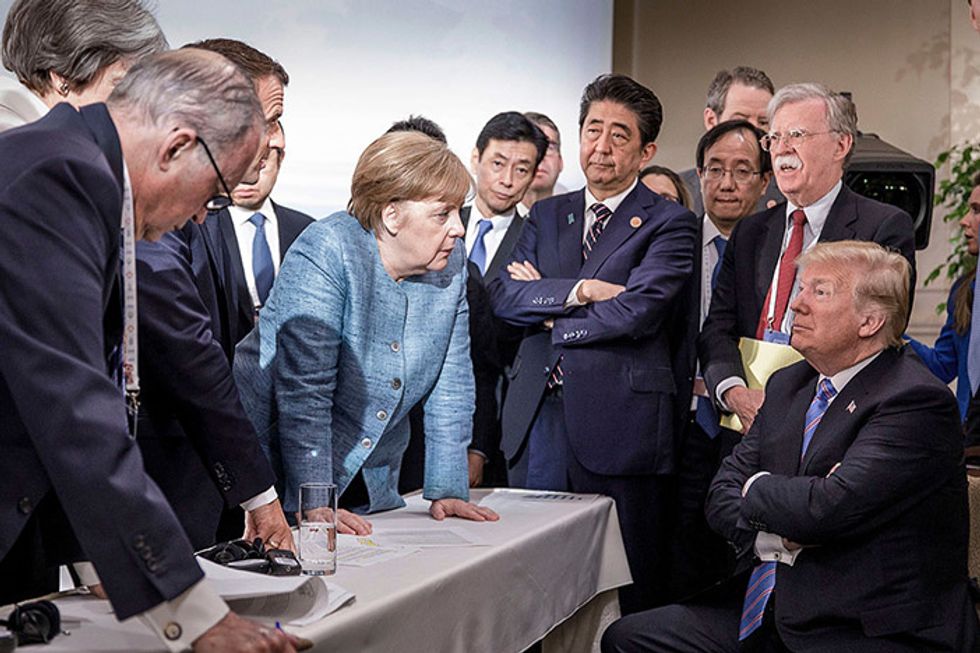 Honestly, how is The Union even supposed to compete with this?
The sad part is that was probably the highlight of the whole thing. Nothing much productive came from the summit and, by the end of day two, Trump withdrew his endorsement of the group's joint statement. This has pretty much been par for the course. In the age of "America First," the US has bounced from one blunder to the next, alienating its closest allies and most vital trade partners the whole way down.
For starters, the US got into a trade war with China which, I cannot stress this enough, is unwinnable. And the tariffs from this trade war started another trade war with Canada. And the tariffs from that trade war started yet another trade war with the European Union. Many of the tariffs are themselves a danger to the US. The steel tariff, for example, threatens more jobs than its protects. More than that, the US is also facing boycotts. Just in Canada, more and more people have been refusing to buy US goods and cancelling scheduled trips.
So we're pissing off our friends, losing on every front, and any attempt to stop the madness and strengthen our alliances is becoming increasingly politically difficult. More and more people, not just world leaders, are becoming hostile to the US. Our international prestige has been irreparably damaged. This translates directly to irreparable economic damage, not just for Wall Street and US manufacturers, but for the average consumer.
Light is Coming From the East
We've had it coming for a while now. The US has directly and indirectly swayed the world for over half a century, always to its own benefit. No one has ever ripped us, a superpower, off. If international trade is unfair, it's because we made it that way. The US economy has been built on imperial and colonial domination since day one. First with the domination of America's indigenous peoples and Africa, then the domination of Latin America, and, since WWII, the domination of the entire third world. American economic interests have been the greatest threat to world peace and development since 1945. Indeed, they still are.
But whereas the US could once destroy any nation it wanted to, whether through sanctions or intervention, Uncle Sam's been getting thrashed since Korea by forces that should be a blip on the radar for the world's most costly military machine. As for our economic fighting power, sanctions aren't working quite like it used to. The DPR of Korea, Venezuela, and Iran have all been able to slip from the US' economic noose. And this is all thanks to the world's one great defender of the weak and oppressed, China.
Slowly but surely, the tide of mutually beneficial trade is rolling from east to west, into the occupied regions. For years, the exploited nations of the third world have ached to be free from western imperialism. Now they have somewhere to turn.
Following Venezuela and Iran, more and more countries are dropping the dollar in favor of the yuan. And it's US sanctions and bullying which make it all the more appealing to do so. Even Germany and much of Europe is beginning to look east. The US' volatility is becoming too much for even its oldest allies. And as China's $1 trillion One Belt One Road Initiative is carried further, the US risks becoming completely irrelevant in future trade deals.
It's Already Too Late to Make America Great
The Rockwellian salad days are over. The US is no longer able to simply roll over every rival and defector. We're going to have to start playing ball and learn from our betters. The West as a whole has a ways to go in this department, but clearly, some nations in Europe are beginning to see the writing on the wall.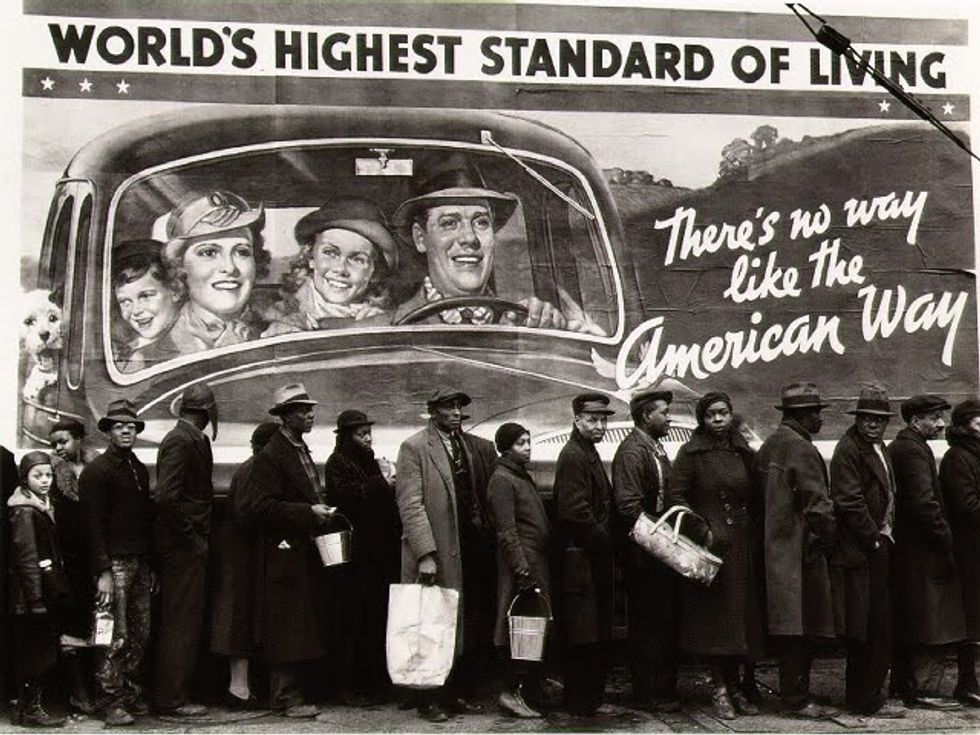 Pictured: the US in like ten years if we don't wise up.
For decades, the US has been the world's overbearing father whose attempt at creating the perfect 'Leave It to Beaver' family has only sown resentment in his children. Once, they looked up to him; they had to, they were children. His height and strength made him immense to them. But as he grows older, as the kids grow up, his carefully cultivated image of power and control begins to slip. They're not so young now. They can look their father straight in the eyes.

Even Europe is getting too big to carry. That's a bittersweet day for any parent, when they can no longer carry their child. Of course, the right thing to do is accept it. They've grown up. It's time to let them go out on their own.
But dear old dad, grey hair beginning to show, is afraid. He's afraid of his kids leaving, yes, but more than anything he's afraid of his own morality. He tries to hold on but, in doing so, only pushes his children further away.
Another night, another screaming match between father and daughter. Crying, she runs out of the house.
"Wait!" her father shouts, chasing after her. But it's too late. The last thing he sees is his Europe on the back of China's motorcycle.