Mirusha and Yanusha Yogarajah, and friend Pax Jones, are starting beauty revolution. Their social media campaign, Unfair And Lovely, was motivated by Fair & Lovely, a skin-lightening cream meant for South Asian women, ages 18 and up. The purpose of the cream adheres to a societal notion that fair skin is more beautiful and accepted than other skin tones. Under the campaign, the three UT Austin students created a hashtag to combat this mindset. According to Mirusha,
The commercials for the [Fair & Lovely] products are darker women (they usually are not dark) who then use the cream and become very, very light. This lighter skin solves their issue of not having a partner in the commercials, or finding love. These commercials are permeated throughout South Asia, and tends for adults to associate beauty and confidence with lighter skinned folk of all genders.We grew to acknowledge that activists within Black and South Asian communities who addressed the issues of racism, sexism, etc. tend to have light skinned privilege. We also just encountered colorism on an everyday basis—within and outside of our communities has the biggest skin lightening industry in the world.
Dark skinned women are constantly forced to believe that dark skin is dirty, inferior, and ugly. It's present in magazines and TV shows - strong, beautiful women like Lupita Nyong'o, Kerry Washington, Priyanka Chopra, and Deepika Padukone have been whitewashed countless times. While at school, Mirusha mentioned that she "would regularly encounter things like "stay out of the sun" or "dark skin bitch go walk" at the UT campus by a group of brown people. [This] shows how there is so much internalized racism within our own communities."
#UnfairAndLovely is bigger than a hashtag. It's a revolution to raise awareness and end colorism. Pax, a photographer and artist, asked Yanusha and Mirusha to take part in a photoshoot. The photos, which can be viewed here, blend Western, Sri Lankan, and Tamil cultures to highlight the beauty of "western and south Asian expression." Mirusha said that:
After Pax developed the project concept, took the photos, edited them and we discussed what to name the entire series, we started a hashtag and decided to educate where this name comes from and why we are doing it. The hashtag has gotten big because larger twitter accounts that address racism, sexism, and issues of oppression brought attention to it. We just want brown and black people to be able to see beauty in themselves, and refute these notions of skin lightening that is rooted in Eurocentric standards of beauty and see only whiteness as beautiful.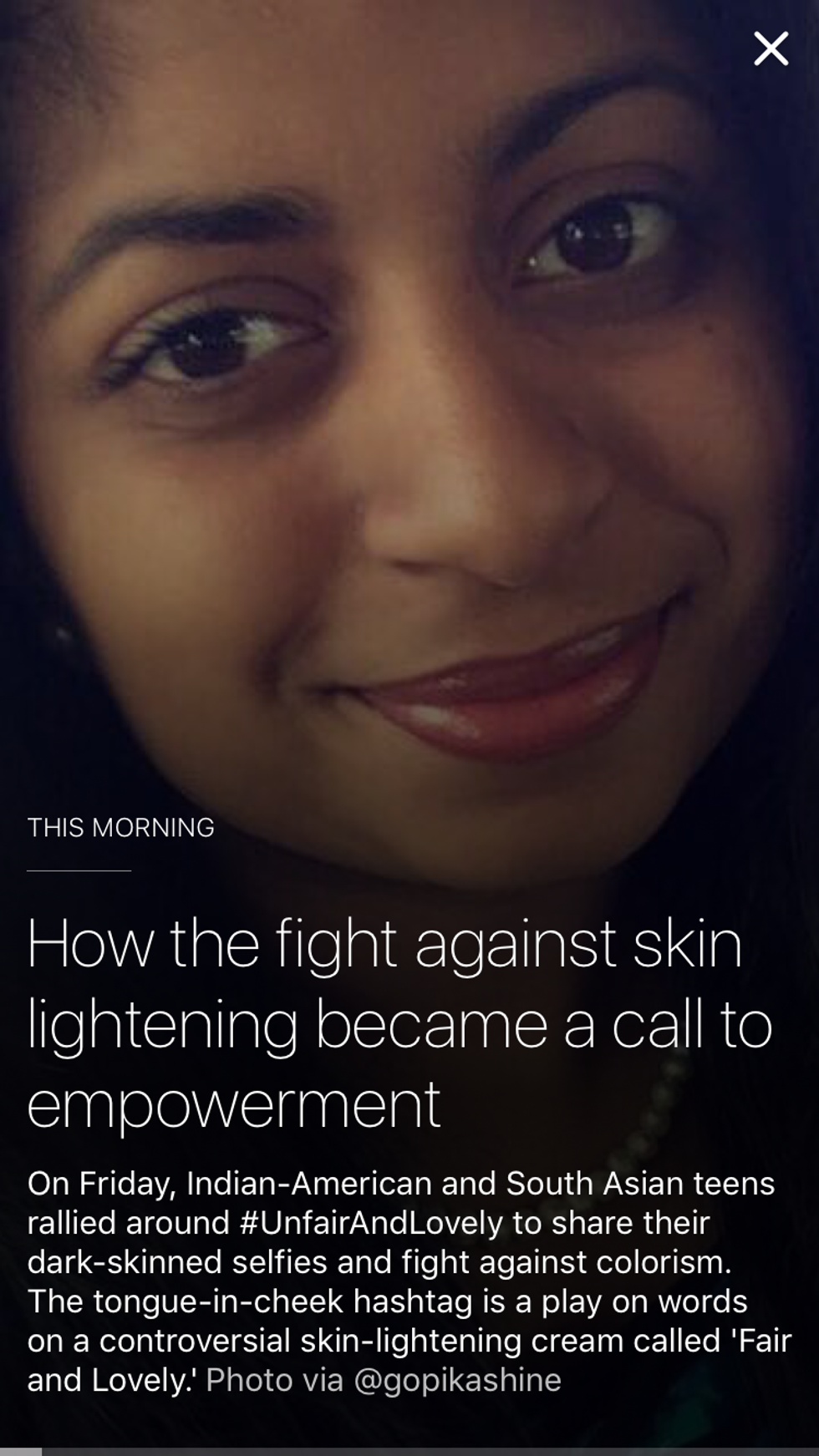 As of yesterday, the hashtag was trending on Twitter. As I scrolled through the many tweets, I saw comments referring to "the richness of our skin" and "embracing our skin and the culture behind it." Some have even used the tag to relay personal experiences and give thanks for the reminder that black and brown skin isn't burnt, it doesn't deserve to be bleached, and you don't have to be white to be beautiful.
Pax, Mirusha, and Yanusha's empowering project will be able to touch so many lives. The campaign might move the world to recognize that colorism is ever present in society. Black and South Asians everywhere deserve to love their melanin and know that they are #UnfairAndLovely in every way.
I urge you to check out the full campaign and stand behind the notion that colorism is not okay.
Instagram: @unfairandlovely_
Twitter: @misspaxjones, @browniverson3