Recently Donald Trump tweeted that "3000 people did not die in the two hurricanes that hit Puerto Rico." It has caused a commotion online with many people angry over what the president tweeted. Politicians such as Sen. Bob Melendez (D. N.J.) tweeted back at Trump, saying "You're right, Mr. President. The Hurricane didn't kill 3,000 people. Your botched response did."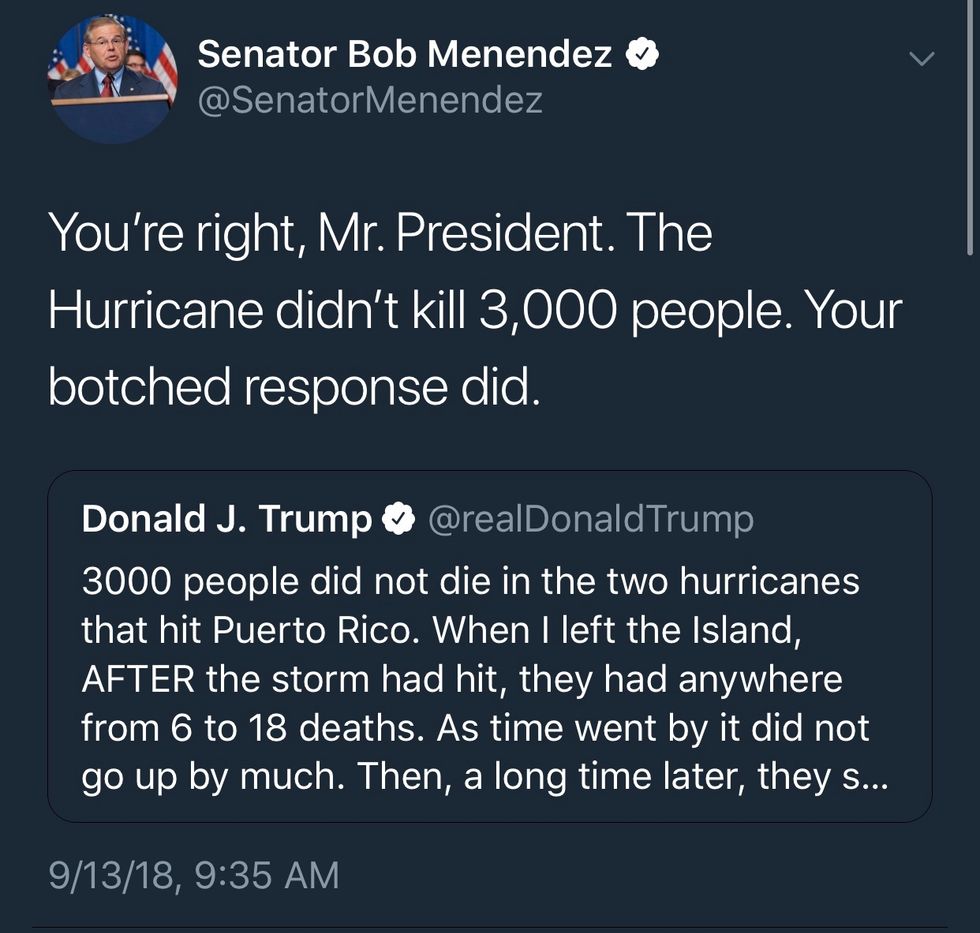 via Twitter @SenatorMenendez
According to FactCheck.org, however, it was estimated that almost 3,000 people died due to the damage Hurricane Maria caused. There were 64 deaths reported initially after the hurricane, but over time the number increased, according to an independent study done at George Washington University's Milken Institute School of Public Health. However, Trump tweets that "this was done by the Democrats in order to make me look as bad as possible," which is clearly not correct when this was an independent study done by a university, not a political party.
The full report of George Washington University's Milken Institute School of Public Health independent study tells us that they looked at the total mortality rate and found an excess in the total of mortality post hurricane. This information indicates that, after Hurricane Maria, the mortality increased due to the conditions in Puerto Rico. They state that, "Overall, we estimate that 40% of municipalities experienced significantly higher mortality in the study period than in the comparable period of the previous two years." Also, to answer why a lower number was given to Trump, it was due to the lack of communication, "most physicians receive no formal training in death certificate completion, in particular in a disaster." Therefore, an accurate number of deaths could not be calculated right after the storm and over time numbers were able to be calculated.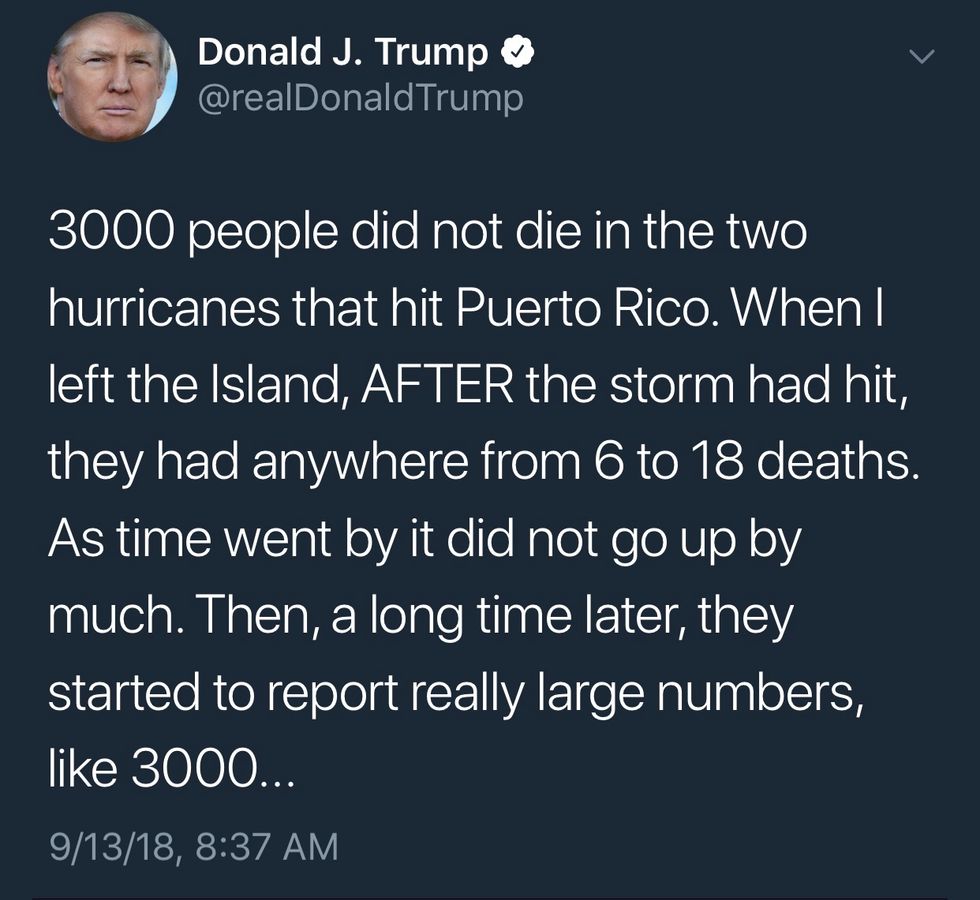 via Twitter @realDonaldTrump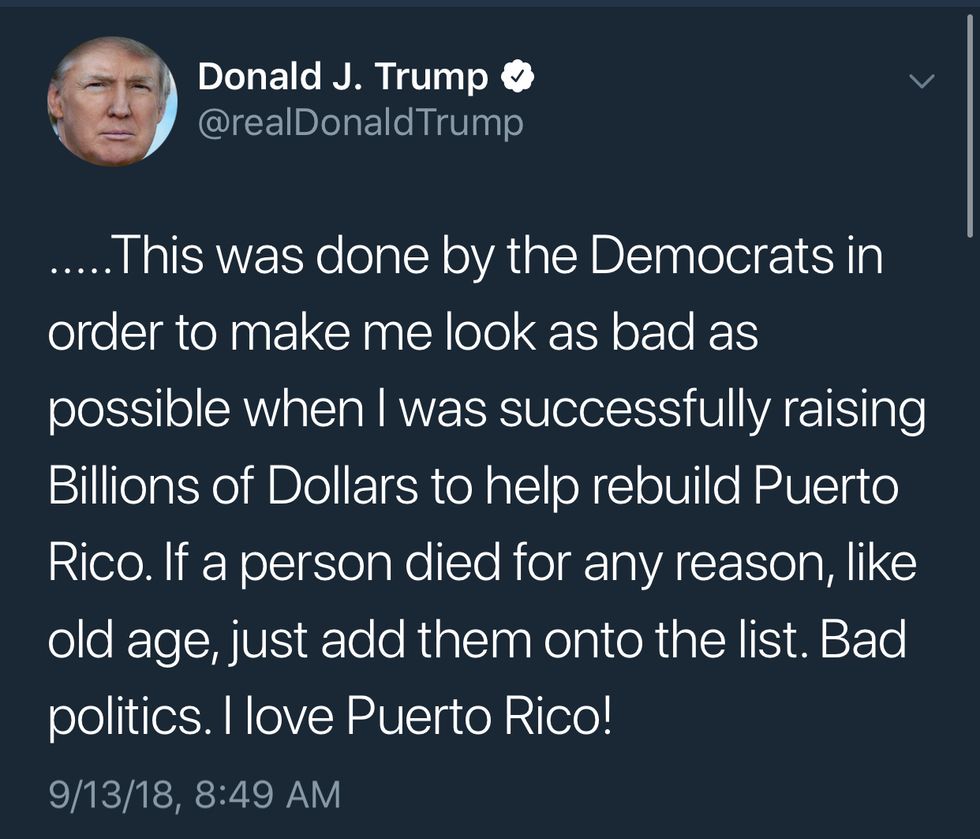 via Twitter @realDonaldTrump
Fingers should not be pointed, especially with an issue like this. There is no time for there to be a blame game between two political parties when discussing about the lives of Americans (Yes, Puerto Ricans are Americans). Puerto Rico had damage with the infrastructure the economy, for example, and Hurricane Maria definitely made conditions worse. What needs to be focused on is how to get Puerto Rico on its feet. It has been a year since Hurricane Maria hit, and the island still does not have complete power.
President Trump also mentioned that he was "raising billions," but it has not been confirmed when he was raising "the billions." Unless he was talking about the $20 billion that was given by Department of Housing and Urban Development, which was the majority of the $31.6 billion they originally proposed to give. According to FaceCheck.org, Puerto Rico requested $139 billion last month to help with reparations of the island. A statement with the money being given to Puerto Rico for reparations and how it is being used can found on the U.S. Department Housing and Urban Development's website. It is stated that on February 1, 2018, HUD gave $1.5 billion to Puerto Rico and then, two months later, on April 10, 2018 HUD gave an additional $18.5 billion. Although more money is needed, Puerto Rico allocated in housing, infrastructure, and economic revitalization.
If you are interested in donating to help Puerto Rico you can donate to Unidos and also learn more on how you can help and how Puerto Rico's situation is.