"As Seen on TV" products often sell pretty well, despite being largely useless. This is possibly because they promise a quick fix to our problems that we are too lazy to handle, like reducing our double chins or toning our arms. We are all guilty of staying up and watching those late night infomercials, and secretly wanting to give into the crap they are trying to sell.
Let's be real, who didn't have a Chia Pet? And more than 20 years after the mass-marketing of the Flowbee, the "As Seen on TV" products are still flying off the shelves. Most of these products will never actually be put to use, but when you can't sleep at 2 a.m., all these products seem like a good idea and well worth investing in.
So here are 15 of the stupidest, funniest and ridiculous "As Seen On TV" products for your pleasure.
1. Booty Pop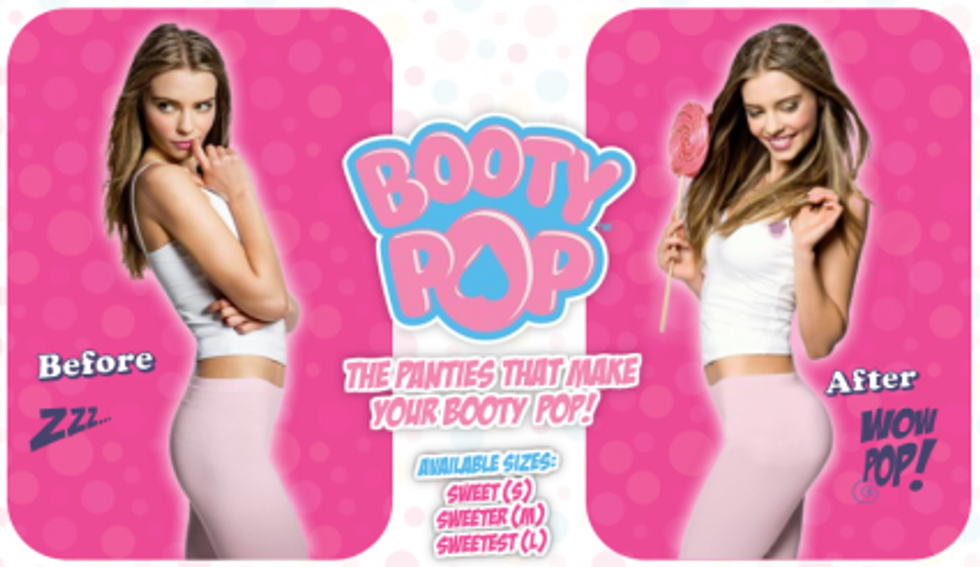 A Booty-licious booty in an instant. Take your booty to a whole new level—GO BOOTYLICIOUS! These panties will get you noticed with every outfit. Jeans, shorts and of course fitted dresses, every booty looks better with Booty Pop. The Booty Pop is available in a large array of exciting colors and fabrics.
2. BeDazzler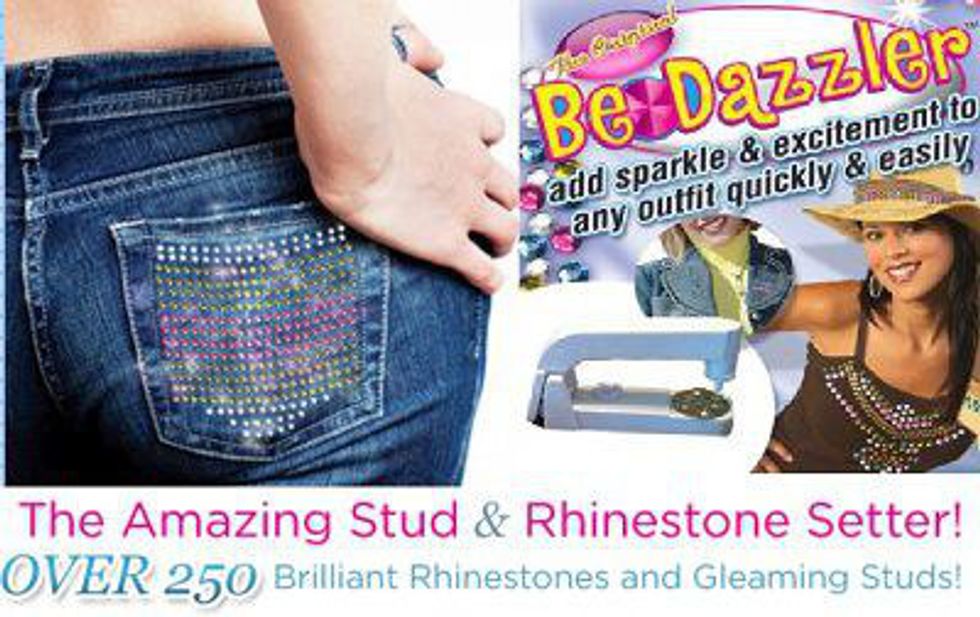 How do you take something from dull to dazzling? You BeDazzle it with the original BeDazzler stud and rhinestone setter. This is the fashion craze of the season. Even if you've never threaded a needle, you'll be BeDazzling in minutes. You can BeDazzle a hat, shirt, belt, scarf or sweater. It's easy, fun and fabulous! Don't be dull, Be Dazzling!
3. Hot Stamps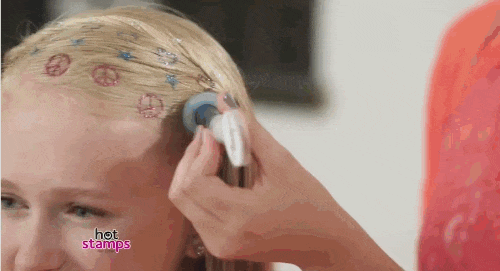 Is your ordinary hairstyle just not cutting it anymore? Are you looking to dazzle your friends? Now there are Hot Stamps hair glitter! This is the ultimate anything but ordinary hair accessory you have to try! And it's the perfect way to turn up the fun in your style! Short, long, straight down, braids, high bun or low bun, even a ponytail—all get a sassy new look with Hot Stamps hair glitter. Patterns stay on and in place all day, even if you touch them! Goes on fast, comes off fast! Stamp out boring hair with Hot Stamps hair glitter.
4. The Better Marriage Blanket
Marriage has its minor issues that even involve blankets. In fact, the Marriage Blanket is designed to protect loved ones from any common body smells that won't make them think twice about sleeping on the couch! Now you can protect yourself from deadly farts with the same fabric used by the military to protect against chemical weapons.
5. The Boyfriend Pillow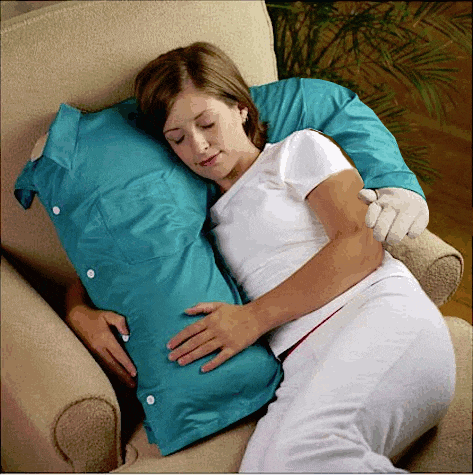 Who needs an actual boyfriend to cuddle with when you can have the boyfriend pillow. Lose the loneliness–The original Boyfriend Pillow from Deluxe Comfort offers exceptionally comfortable support, and is a favorite among those that don't like to sleep alone. The soft pillow, shaped like a man's upper body, is wearing a man's soft T-shirt cover. The single arm wraps perfectly around the neck of the user, creating a feeling of closeness, comfort and love.
6. Snuggie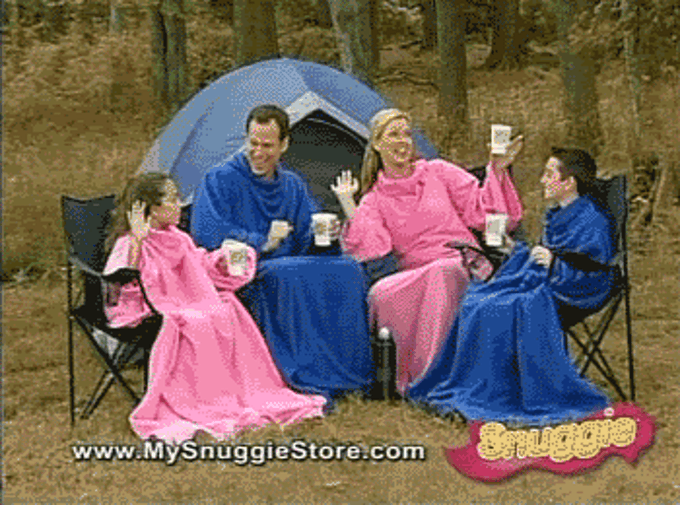 Cold nights? Not anymore with the Snuggie! The Snuggie Blanket keeps you totally warm and gives you the freedom to use your hands. Work the remote, use your laptop or do some reading in total warmth and comfort! Put an end to those cold days and nights. The Snuggie Blanket is one of a kind with cuffed sleeves and a waist tie to keep you warm no matter what you're doing!
7. Sauna Pants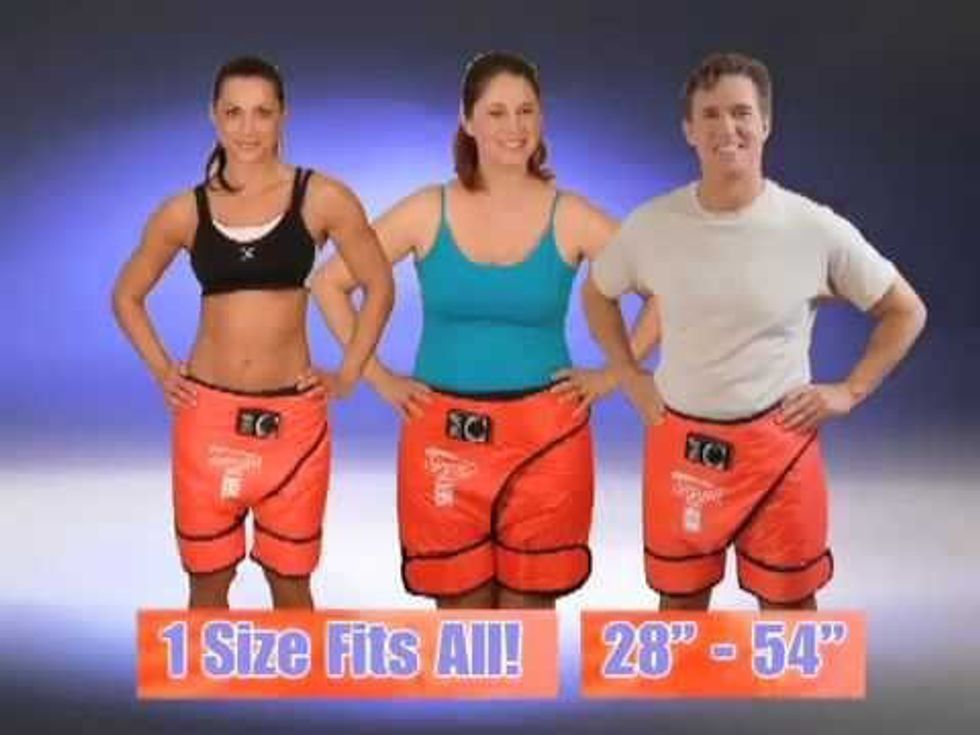 Sauna Pants provide the benefits of a heat sauna in the area you need it most: the stomach, waist, butt and hips. So simple to use, just wear it and turn the dial on to your desired temperature. Within minutes, you're burning off the calories. All the poor eating choices? Sweat them out your sweaty butt. All the unused gym memberships? Sweat them out your sweaty butt.
8. Shake Weight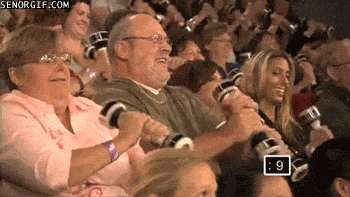 The Shake Weight fitness routine utilizes new workout technology called dynamic inertia, which increases muscle activity by more than 300 percent compared to traditional weights. Use the revolutionary Shake Weight fitness program for women to shape and tone arms.
9. Pajama Jeans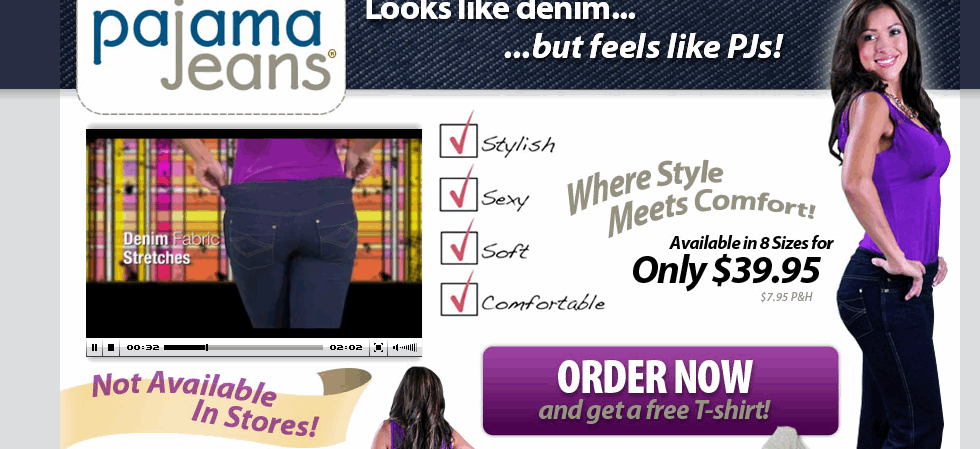 Looks like designer denim, feels like pjs. This groundbreaking product is perfect for any occasion. Pajama Jeans will let you to leave the house in the same outfit you fall asleep in. Designer looks but "everywoman" prices.
10. The Long Reach Comfort Wipe
The Long Reach Comfort Wipe is the answer to personal hygiene when reaching is difficult. The ergonomic shape of the Comfort Wipe helps those with limited dexterity. The Comfort Wipe's soft flexible head grips toilet paper, tissue or pre-moistened wipes securely while its ergonomic design reaches were you can't. This ultimate toilet aid contains a unique release button for fast, sanitary disposal.
11. Skinnies
The Skinnies are the number one stylish trick to instantly smooth cellulite and sagging skin. Clear adhesive strips instantly lift and smooth sagging skin and cellulite, making your body look tight and firm. Use when and where you need them for a non-surgical lift. They are the go to product for celebrity red carpet appearances, beauty pageants, movie sets, and Princesses. But most importantly, they are for the fabulous stay at home moms and working women everywhere. You don't have to be perfect! Just wear your Skinnies and let them think you are!
12. Neckline Slimmer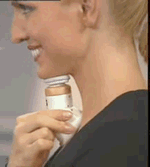 The Neckline Slimmer is the resistant toning system for your neckline. It helps tone, tighten and lift sagging neck muscles and helps reduce the look of a double chin or neck fold. Now you can look younger without painful surgery. Try Neckline Slimmer for a more youthful appearance in just minutes a day.
13. The UroClub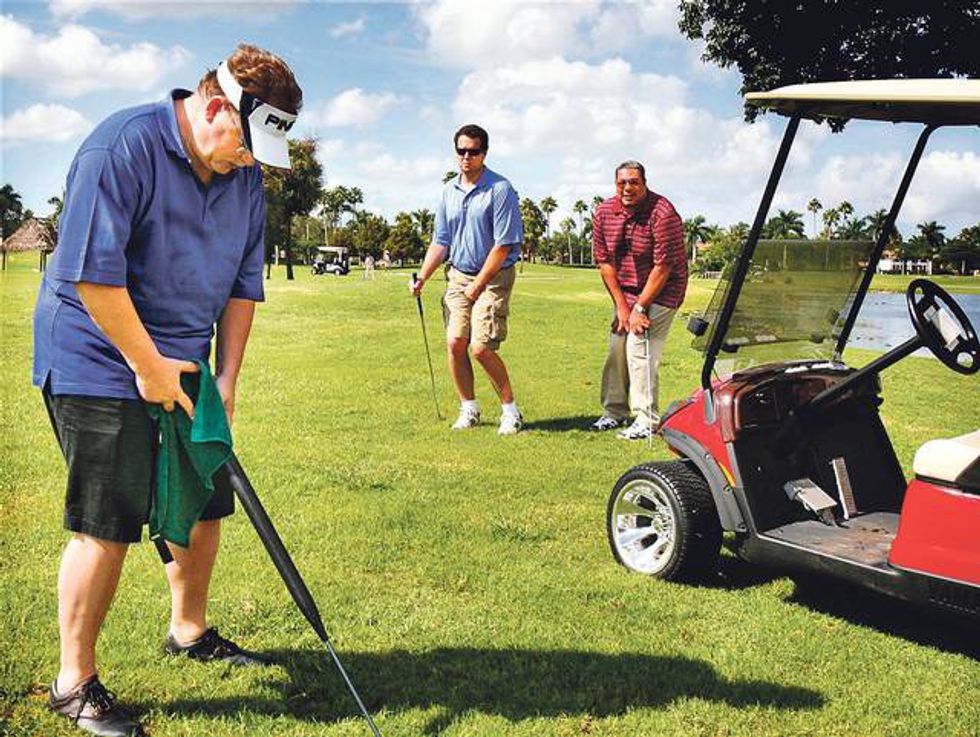 The only club in your bag guaranteed to keep you out of the woods! A portable urinal ingeniously disguised as a club! The greatest golf gift ever! The privacy shield hooks to the sides of the pants or belt and adds stability. This allows freedom of the hands to manipulate the club and zipper. The entire club is made of a non-porous material. Therefore, caring and cleaning is effortless!
14. T.v. Hat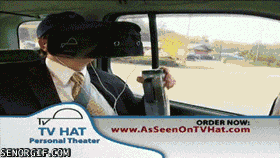 Already own a smartphone or iPod? Now you can watch video in the private comfort of your T.v. Hat! Simply place your media device in the secure pouch and watch your favorite shows easily and conveniently! T.v. Hat's built-in magnification system with adjustable focal length customizes your viewing for amazing home theater quality. Catch up on t.v. shows, watch streaming movies or download content for easy viewing while you're traveling, sunning at the beach or working out at the gym!
15. Poo-Pourri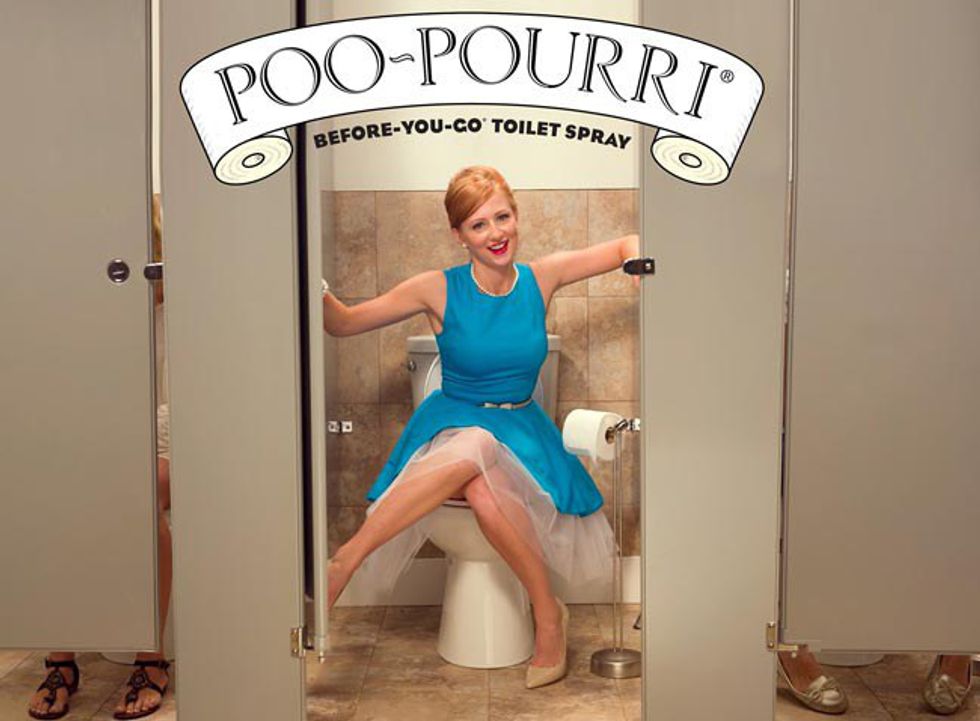 The before you go toilet spray that is proven to trap those embarrassing odors at the source and save your relationship. No more trying to mask odor already in the air. Spritz the Bowl Before-You-Go and No One Else Will Ever Know!
All these great products are made in the USA...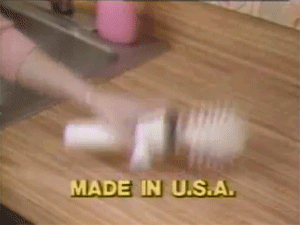 And if you call now, you can get two for the price of one! It's a deal you just can't miss out on!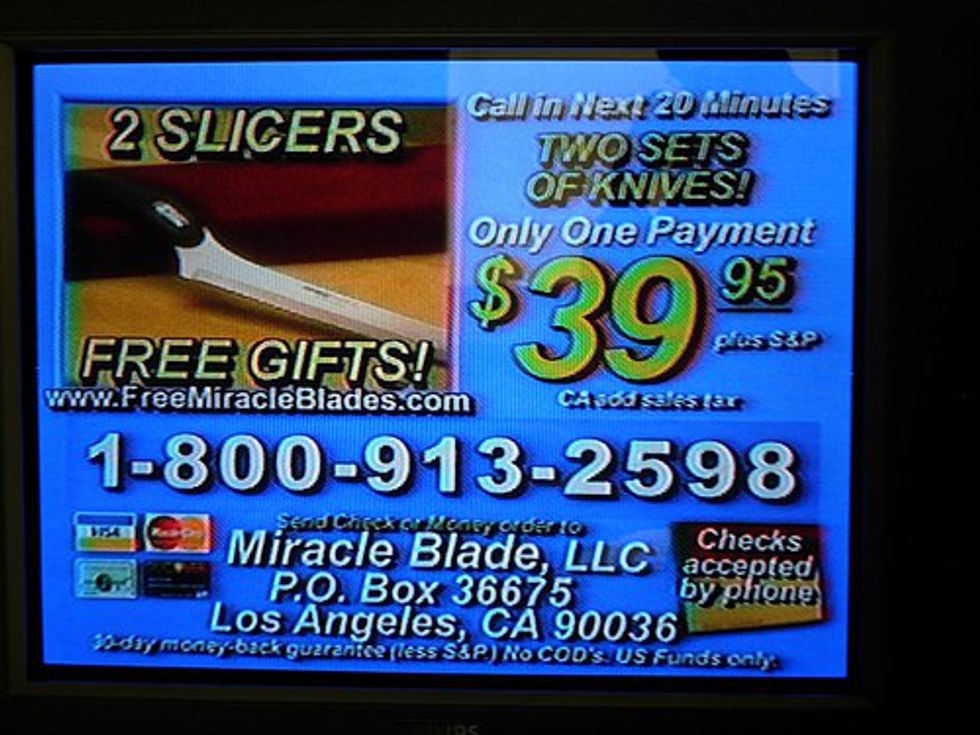 So act now before it's too late!