It's been a bitch of a year, but it hasn't been all bad. We were blessed with so much great music, by hundreds – if not thousands, of creative artists. The 10 featured on this list have exhibited phenomenal potential, excellent track by track execution, and overall outstanding pieces of work. Thank you to everyone who has released music over this past year, you've all made this year less of a hell than it has been. Additionally, thank you reader for staying up to date, and for reading my reviews/interviews. Through your support, I have been able to successfully start the Turnt Abel Podcast through SoundCloud, Apple Podcasts, and Spotify. Now that this year is nearly over, I look forward to what 2021 will bring, and the music we will listen to together.
Now let's get on with the list.
10. I'm Glad We're Friends - Thank You, I'm Sorry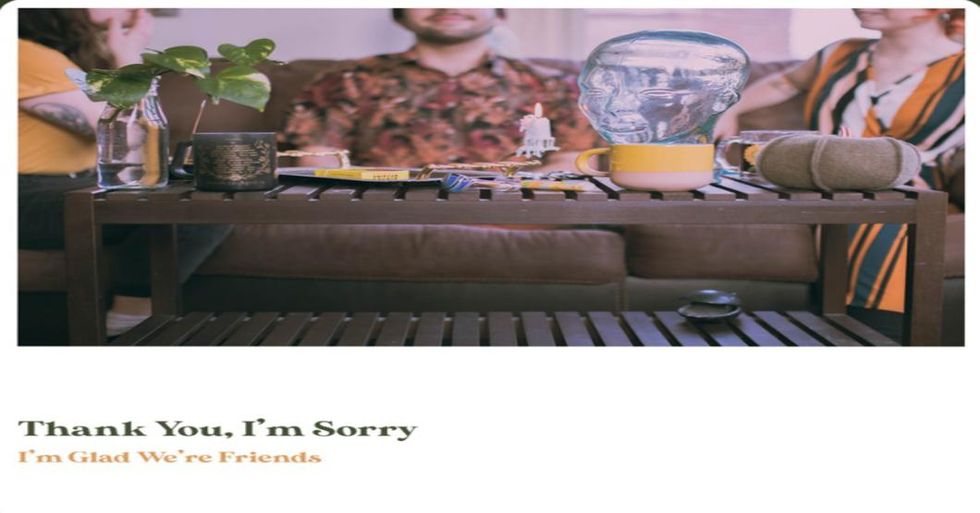 Apple Music
This indie-rock band from Minneapolis, Minnesota surprised the hell out of me with the release of their album I'm Glad We're Friends during the end of the summer. What first piqued my interest in this album was that the artwork for I'm Glad We're Friends featured a polaroid of the band sitting on a couch smoking a joint, with the top half of their faces out of frame. This nonchalant photo made me want to listen to what these guys had to say, and boy did they deliver. Thank You, I'm Sorry consists of members Colleen Dow (who uses they/them pronouns) on guitar and vocals, Bethunni Schreiner (she/her) on bass, and Sage Livergood (he/him) on drums. With a similar sound to bands like Tigers Jaw, Kimya Dawson, or Balance and Composure; I'm Glad We're Friends collectively distributed great guitar riffs, impactful/meaningful lyrics, and smooth basslines throughout this 12 track project. The first track on the album, "Manic Pixie Dream Hurl" – a rebuttal to the description of someone looking or acting like a "manic pixie dream girl" - represents how the band isn't going to abide by anyone's standards, or fit into any box. The album then moved into songs like "How Many Slugs Can We Throw Against The Wall Until We Question Our Own Morality," "Menthol Flavored Oatmeal," and "Slow Ghost," which I found to be some of the most impactful tracks due to their song structure, and guitar melody. I'm Glad We're Friends exceeded any expectations I had by fluidly moving from song to song, and is an absolute necessity to listen to on vinyl. Fingers crossed for more music from the band in 2021.
9. Whatever Happened To Avery Jane? - Little Hag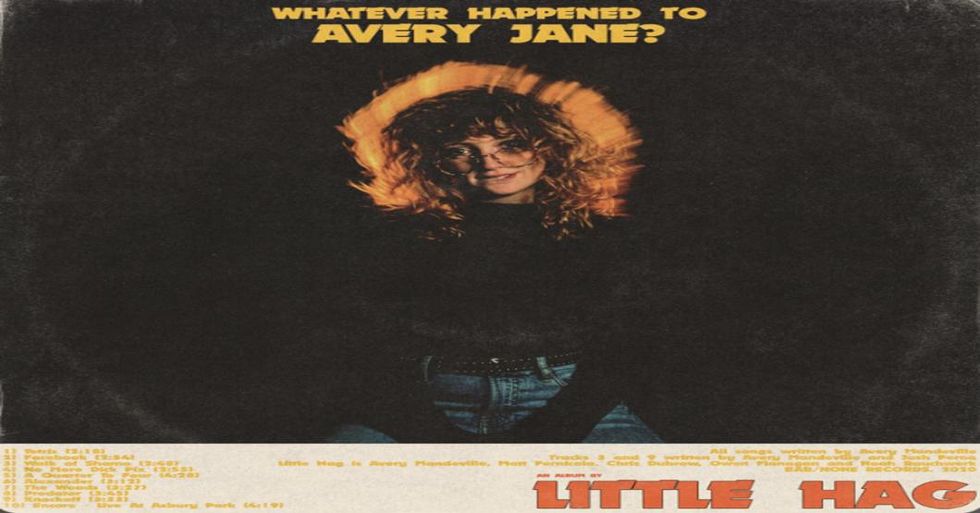 Apple Music
Guitarist/vocalist of Little Hag, Avery Mandeville, opened up Little Hag's first official album with the song "Tetris," in which she sang, "Everyone wants to fuck me/No one wants to see me cry." Through these lyrics, the listener is immediately thrown into Mandeville's different view of the world. These opening lyrics represented how everyone is only looking out for themselves, and will use you to get what they want. This sentiment is shown throughout Whatever Happened To Avery Jane? through other songs like "No More Dick Pix," "Predator," and "A Quarter to Four." Stemming from New Jersey, Little Hag also consists of bassist Chris Dubrow, drummer Owen Flanagan, guitarist Matt Fernicola, and keyboardist Noah Rauchwerk. What makes this album great are Mandeville's unique vocal style; one she claims sounds "goat-like," and lyrics that served as a reminder to not take shit from anyone. As described by Mandeville in a recent interview, Whatever Happened To Avery Jane? is more of a compilation album, due to her writing most of the songs beforehand under her full name. The full review for this album can be found here, and the interview with Little Hag can also be found here.
8. Neato - Henry Hall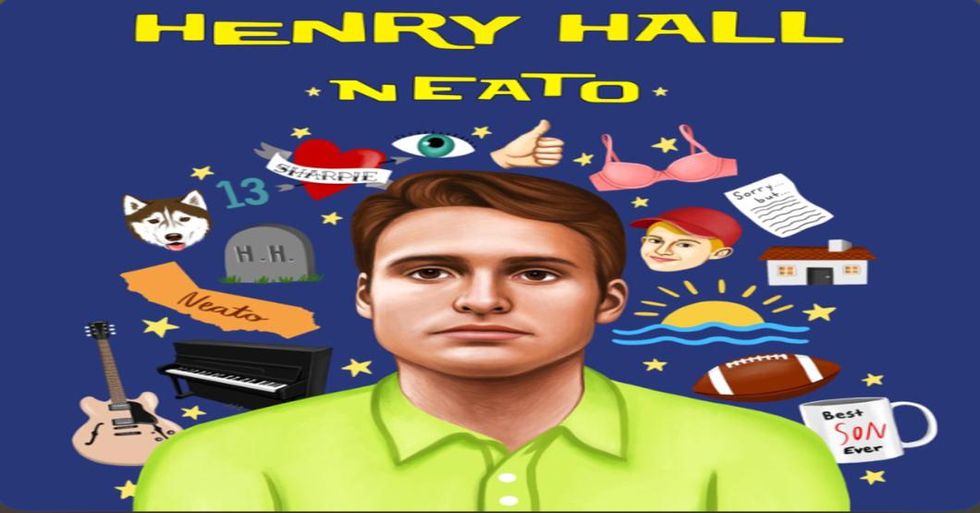 Apple Music
California musician Henry Hall released his first album Neato during the later half of 2020, and I'm so glad he did. During this album, Hall expressed himself as confident, charismatic, and cool by use of his unique vocal style, and old-school guitarwork. Although Hall has released other music such as EP's like; Henry Hall in 2015, My Friends Don't Like Me in 2016, Questions, Comments, Concerns in 2019, and Quarantine Covers for Black Lives Matter in 2020. Neato shows strength and progress for Hall. He opened up this album with a track titled "John the Dog" in which he sang about wanting a dog when he was younger, and his mom not allowing his family to have one. In the song, he also relates creating a dog from his imagination – to constructing songs about "This guy named Henry who is nervous/But in such a cool way." Other notable songs on this album included; "Guy," "Monica," and "Not In My House." Together these songs helped to paint a picture of who Hall is as a person, and demonstrates his comedic side. All in all this album was a pleasure to listen to, and deserved recognition. The full album review can be found here, while an interview with Hall can also be found here.
7. Shamir - Shamir
Apple Music
Singer/songwriter Shamir (or Shamir Bailey) has released a couple albums in 2020, most notably their self-titled album Shamir. During this album, Shamir showcases their unique vocal range, and raw talent through song structure, and musical ability. Shamir was released on October 2nd, and honestly it was a perfect time for that album to be come out due to the cold weather seeping in, while the warm weather being left behind. What drew me into listening to Shamir was how they presented themselves, and the catchiness of their songs. Tracks on this album like "On My Own" and "Running" exhibit anthem-like themes of being on your own, and caring for yourself. Whereas other songs like "Pretty When I'm Sad," and "In This Hole" demonstrated a softer and more vulnerable side to Shamir. Some of my favorite tracks on this album were "Diet, "Paranoia," and "Other Side" due to how upbeat they were, despite lyrics about tasting blood, ever-present paranoia, and your significant other disappearing. Shamir has a lot of replay ability and I look forward to what album they put out next. For the full review of this album, click here.
6. Sorry You Couldn't Make It - Swamp Dogg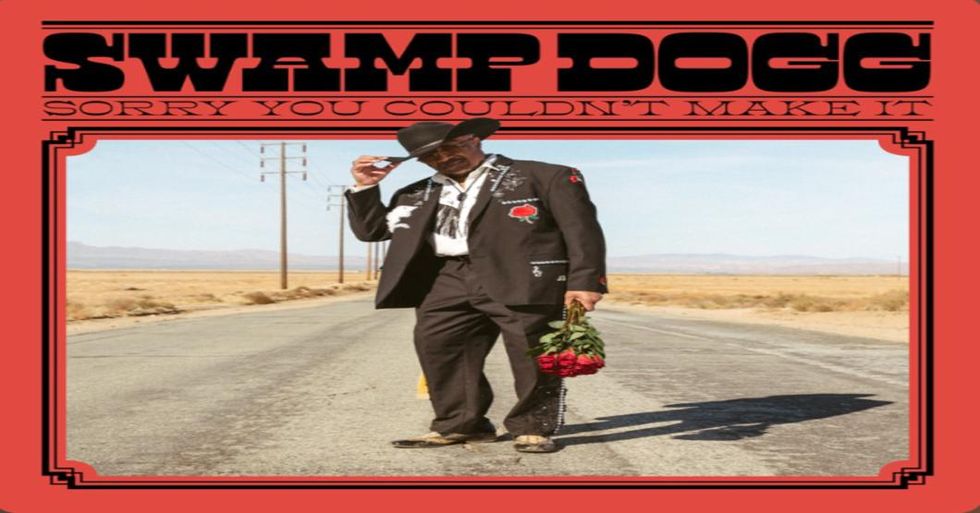 Apple Music
Swamp Dogg (also known as Jerry Williams Jr.) created a masterpiece with the release of his album Sorry You Couldn't Make It during March of 2020. This album could have been swept under the radar due to the rise of COVID-19 in the U.S. had it not been for Swamp Dogg's magnificent vocal melody, and melancholy musical tone. With features on this album such as John Prine, Justin Vernon, Jenny Lewis, and Ryan Olson; it's no wonder why Sorry You Couldn't Make It scored a high Metacritic rating. Notable songs on this record include; "Sleeping Without You Is a Drag," "Family Pain," "Memories," "I'd Rather Be Your Used To Be," and "Please Let Me Go Round Again." Throughout Sorry You Couldn't Make It Swamp Dogg focuses his talents on heartfelt lyrics towards someone he was (and could still be) in love with. This is shown through the lyrics "Memories, don't leave like people do/And that's why in my mind/I'm always gonna be with you" on the track "Memories," and "I don't know why I put my faith in you/You hurt me like no one with a heart could do" on the track "I'd Rather Be Your Used To Be." Represented through these lyrics, we can hear just how much pain Swamp Dogg had been through, and it makes sense that at the end of this record he begs, "Please let me go round again/Oh life can't you afford me another chance?" Overall, Sorry You Couldn't Make It was a wonderful tribute to the highs and lows of life, and a great example of somber country music.
5. Freedom Exercise - Josh Johnson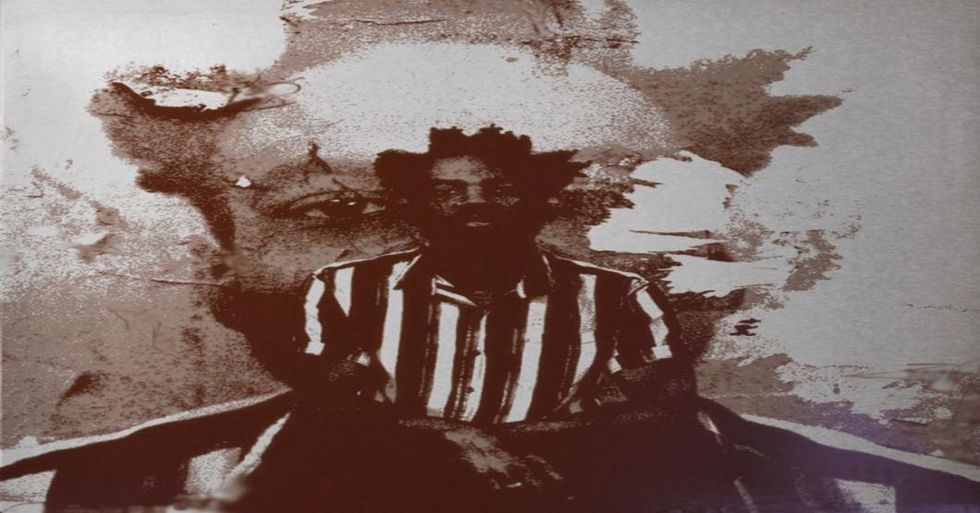 Apple Music
Hailing from Los Angeles, California jazz musician Josh Johnson released his album Freedom Exercise during early October of 2020. In this 10 track album, Johnson alters between smooth, erratic, and "coffee shop" jazz, thus creating an album worthy of this top 10 list. Songs on this album like "Nerf Day," "Western Ave," and "Simple Song" showcase his talent as a classic jazz musician, whereas songs like "New July," "Punk," and "Eclipsing" are prime examples of his experimental jazz. This album is perfect to listen to during rain or shine, hot or cold, and even those weird days where the weather somehow accomplishes all of those things. Freedom Exercise successfully demonstrated Johnson's ability as an artist, and displayed what he can do when given absolute creative freedom.
4. Dinner Party: Dessert - Terrace Martin, Robert Glasper, 9th Wonder & Kamasi Washington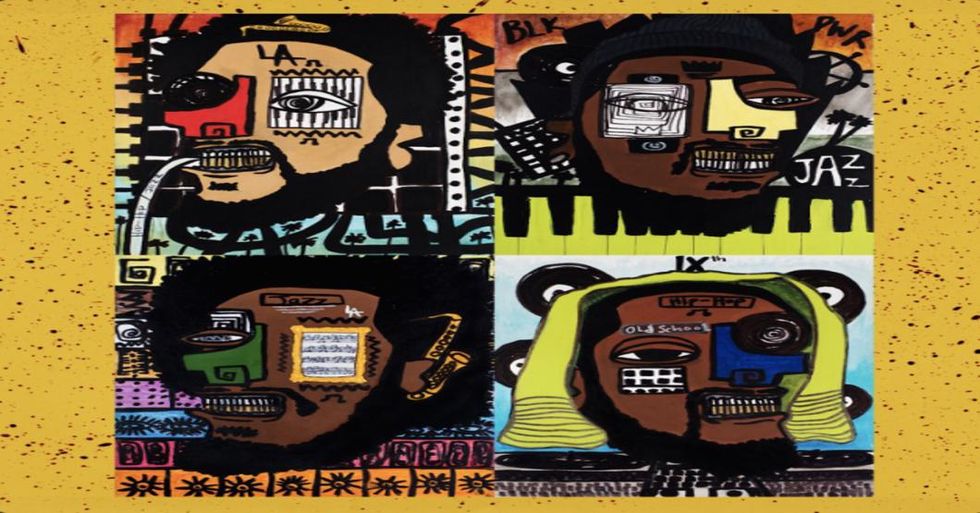 Apple Music
This brother of the album Dinner Party by Terrace Martin, Robert Glasper, 9th Wonder & Kamasi Washington is unmistakably wonderful to listen to. Not only does Dinner Party: Dessert show growth from Dinner Party, but it also flaunts hip-hop and r&b elements that help bring everything together. Featured on this album are artists like Snoop Dogg, Punch, Buddy, and Cordae of whom each bring their own creativity to the project. The track "Sleepless Nights (feat. Buddy, Reuben Vincent & Phoelix) opened up this album by getting the listener right into the hip-hop vibe; while other tracks like "From My Heart And My Soul (feat. Tarriona Tank Ball & Phoelix)," and "LUV U (feat. Snoop Dogg & Alex Isley)" deeply embody heavy jazz elements. Each track on this album will have you moving along to an amazing beat, and will nestle itself into your soul for the rest of time. As a result of Dinner Party having a vinyl release, I can only hope that Dinner Party: Dessert has one as well.
3. Gathering Swans - Choir Boy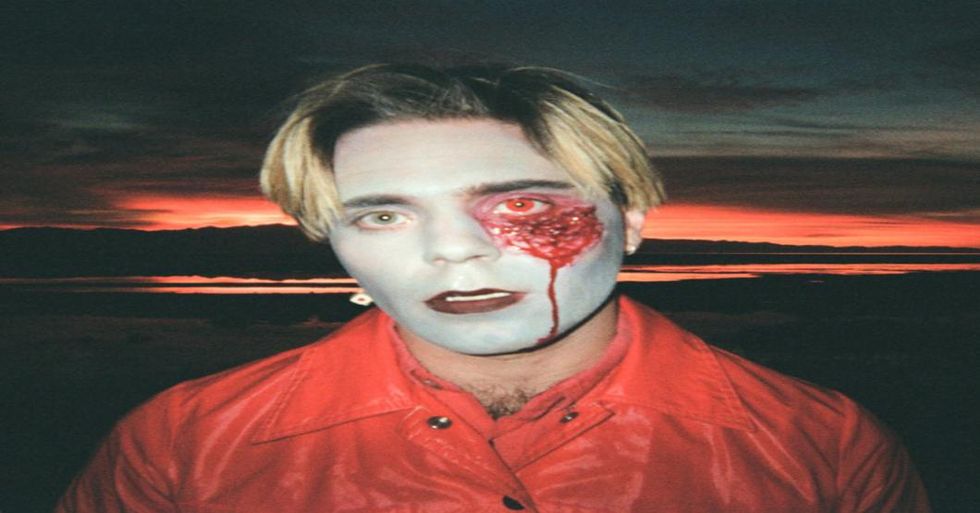 Apple Music
To put Gathering Swans by Choir Boy bluntly – this album kicked ass. Not only was this album a successful follow up to their 2016 album Passive with Desire, but it showed tremendous growth for this group. Consisting of members Adam Klopp on vocals, Chaz Costello on bass, Jeff Kleinman on saxophone/keyboard, and Michael Paulsen on guitar – Choir Boy effortlessly flourishes in the dream-pop genre of music. Opening up with the upbeat track "It's Over" Gathering Swans swam through masterpieces like "Toxic Eye," "Complainer," "Nites Like This," "Sweet Candy," "Shatter," and "Happy To Be Bad." What I enjoyed the most about this record was that you could actually hear the time and dedication that this Salt Lake City, Utah band put into it. Although this record was only 41 minutes in length, the time simply flew by – thus demanding the listener to put this album on repeat. Moreover, the vinyl variants of this album looked absolutely incredible. On a side note, during their "Choir Boy Karaoke" the band answered my question of "Who is the biggest complainer" to which Klopp replied, "George Costanza."
2. Abracadabra - Jerry Paper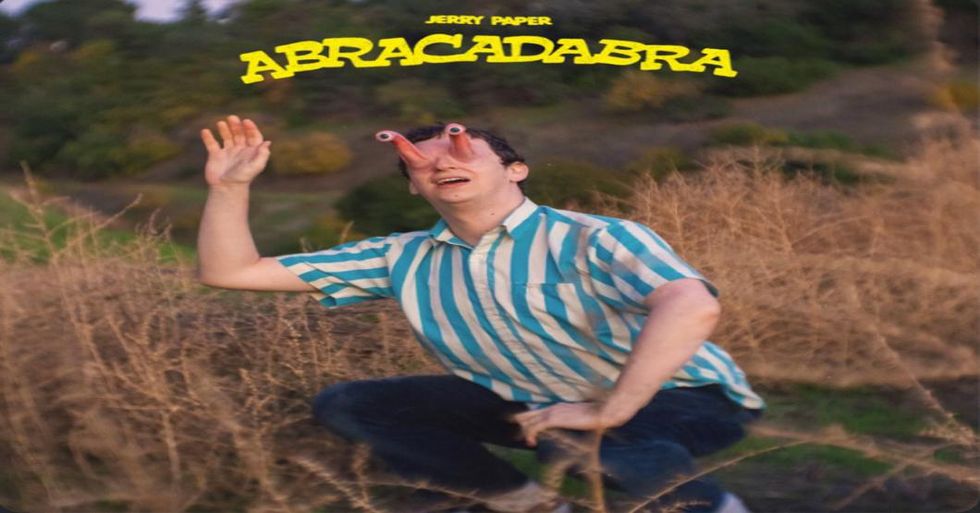 Apple Music
Enough good things cannot be said about Jerry Paper (aka Lucas Nathan) and the music they create. Paper has been dazzling listeners under name Jerry Paper since 2012 with the release of albums like; Vol. 1 in 2012, Fuzzy Logic in 2013, Feels Emotions and Big Pop For Chameleon World in 2014, Carousel in 2015, and Like a Baby in 2018. Their latest album Abracadabra has left a lasting impression on me that refuses to leave. Not only is this album groovy, but Paper's voice serenaded the listener throughout this 13-track album. On songs like "Quicksand," "Cholla," and "Memorial Highway," Paper expresses himself by the use of funk, pop, and r&b music. Whereas on tracks like "All I Need," "Game Night," and "Slow Down Buddy," Paper slowed down his music for the listener to really focus on what is being sung. Lyrics like, "When the clown arrived, you were getting high/Had the crystal ship in your hand/You never make mistakes/You're always looking straight/But then the clown arrived" on the track "Body Builder on the Shore" showed the playfulness of Paper in the way he describes this dad smoking crystal meth at a children's birthday party. The use of the word Abracadabra in the title for this album could also be seen as Paper playing a magic trick on 2020 by putting out such a feracious masterpiece. I cannot get enough of Jerry Paper, or Abracadabra, and I eagerly look forward to the music they put out in 2021.
1. Songs for the General Public - The Lemon Twigs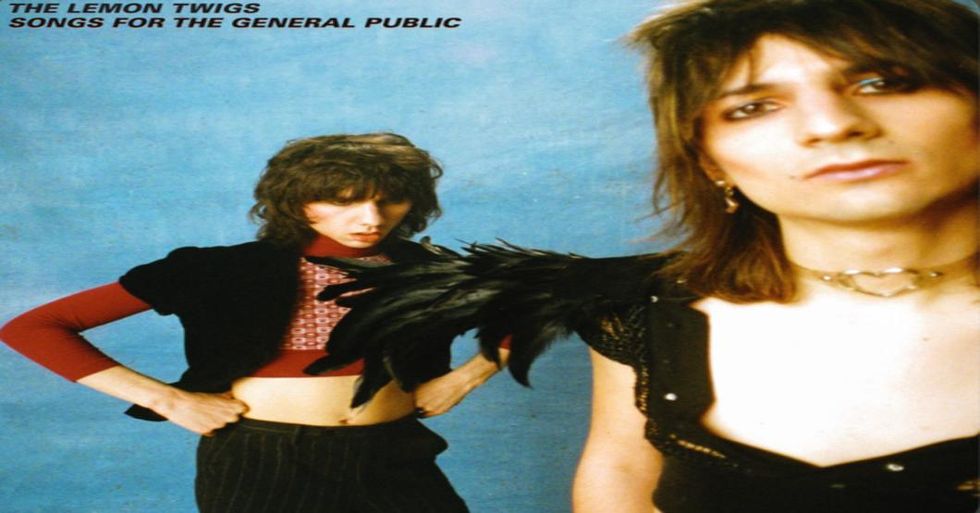 Apple Music
"Black Eldorado/Ripping through the street/So many faces/So many different places to meet" with that opening line off the first track "Hell on Wheels," the Lemon Twigs open up their third studio album Songs For The General Public. Hailing from New York, brothers Brian and Michael D'Addario have been creating music since 2016 with the release of their first official album Do Hollywood. During that album, the brothers found their footing and success in the music scene by introducing a blend of indie, psych, and glamour rock together. Moving forward in their career, they released the album Go to School during 2018 which modeled itself after a rock opera. Finally, we arrive to their most recent album Songs for the General Public which came out during the summer of 2020. In this album the brothers sought to create songs that they thought would befit the general public – hence the name of the album. With their unique '70s look, and musical similarities to artists like Bob Dylan, David Bowie, and Shannon and the Clams; they successfully achieved this goal. This album is something that most people will undeniably love because Songs for the General Public has heart to it, sensational lyrics, and thrives on strong instrumental uniqueness. In doing so, this album offers something new during every repeated listen to it. While I found this album to be perfect to listen to during long car rides, going camping, or lounging at the beach, Songs for the General Public has opened itself up for every season/occasion by including a variety of different material. Songs like "Hell on Wheels," "Leather Together," or "No One Holds You (Closer Than the One You Haven't Met)" feel motivational; whereas tracks like "Live In Favor of Tomorrow," "Somebody Loving You," or "The One" solidify themes of focusing on oneself. Some of my favorite verses on this album include; "You love someone when they're heart is hurting/but they could never be the one" on the track "The One," "They say the moon looks a lot/Like a toe nail tonight/So you hope it don't disappear" on "Moon," and "You were my confidant/Now once in a while, you haunt/My dreams, they turn to nightmares/The water into mud/The bed is soaked with blood" on "Hog." These verses stick out because not only are they memorable, but they're uniquely weird at the same time. Songs for the General Public will only get better with age, and has made me eager for the band to release more music as soon as possible.
From Your Site Articles
Related Articles Around the Web