In recent months, the topic of "safe spaces" has come up, and many millennials question whether colleges should provide said spaces for students. Safe spaces are essentially a certain space where people can feel comfortable and not be judged, regardless of sexual orientation, race, gender identity, disability, culture or religion. My issue with safe spaces is not because I believe it is unrealistic, I just believe that there are some people who take advantage of what a safe space is, which ruins it for others.
The debate for safe spaces faces a lot of negative backlash—the main concern being that it censors your freedom of speech. For instance earlier this year, Emory University came under fire because students found "Trump 2016" written in chalk around campus "triggering" and they believed it was threatening to their community, which is supposed to be a safe space. Now, I'm not a fan of Donald Trump at all, but when I see his name in chalk around USF's campus I just keep walking to class and minding my business because it is in no way harming me or my ability to function because a Presidential candidate's name is on the sidewalk. However, that is the issue of the term safe space being taken advantage of. Additionally, it is a college campus that is brewing with different beliefs, so to silence someones political stance because their candidate is unfavorable to you is undermining the reason you attend college in the first place.
Safe spaces are extremely helpful when they are used properly. Alcoholics Anonymous meetings are probably the most well-known example of safe spaces. That space is used to surround people with others who have battled through similar things in life so that they can all help each other to achieve the end goal of sobriety and happiness. LGBTQ+ groups are also safe spaces where members and allies of the LGBTQIA community can be together in unity and feel none of the pressure or anxiety that one might usually experience, especially by being a part of that specific community.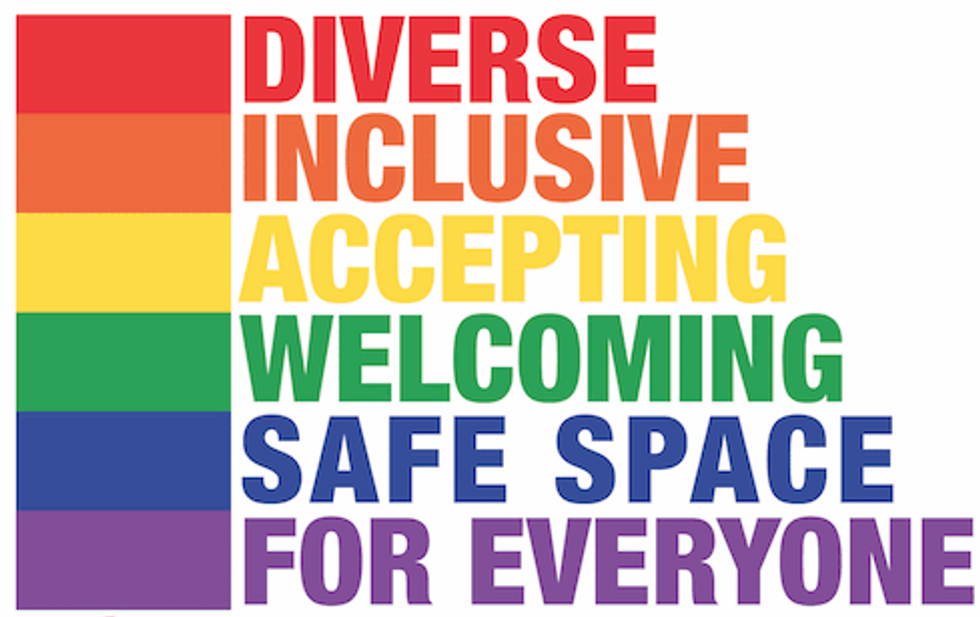 Extracurricular groups used for safe spaces are completely fine. However, colleges themselves are not to be considered such. In college lectures, it isn't uncommon for a professor to have a trigger warning before discussing topics that may cause other students in the class to feel uncomfortable. I feel that there is no issue with this, because you never know what someone has been through and what might trigger flashbacks especially with victims of sexual assaults or veterans with PTSD. But to expect a professor to not teach a specific topic altogether because it may offend a few people is an asinine way to think; if it were not important or relevant to the course (or your major) do you really believe your professor would be wasting their breath on it?
Nowadays it seems that everything you do or say may offend someone anyway—intentional or not. Begging for a safe space to hide from opinions that are the opposite of yours is counter-productive. Seeking a safe space in a world where being "accepted" does not seem to apply to you is productive. Everyone in America has the right to free speech, whether you like what they say or not. If you don't agree with them, don't listen. If you see something written that you don't agree with, ignore it. At the end of the day, it is a minuscule disagreement and there are people out there that actually use safe spaces in order to grow physically, emotionally and mentally. They don't use safe spaces to hide from the words of others because they use the words of others to strengthen them as human beings. The world is full of different opinions—offer yours, but don't hide from those who disagree.