I don't know about you, but my dogs love to run around and bark at everything! They are my crazy little babies, and I don't know what I would do without them. These here are definitely a few things that they would say if they if they could talk, and I bet many other dogs would say as well.
1. When you leave them at home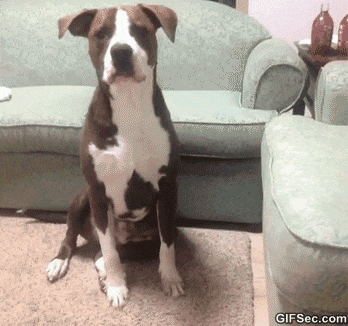 "You're leaving me? What did I do wrong? How long will you be gone this time? PLEASE TAKE ME WITH YOU!!!"
2. When you come back home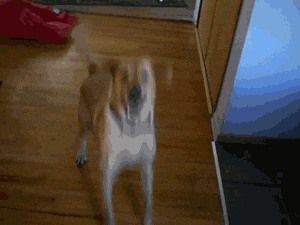 "YOU'RE BACK! I HAVE MISSED YOU SO MUCH! WHY AREN'T YOU AS EXCITED TO SEE ME AS I AM TO SEE YOU?! YOU WERE GONE FOR SO LONG I THOUGHT YOU WERE NEVER COMING BACK! I LOVE YOU HUMAN!"

3. When you ask them if they want to go outside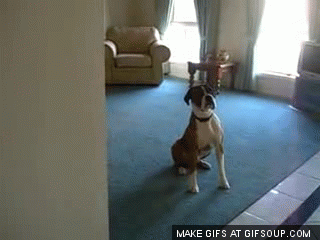 "Of course I wanna go outside! How did you know? When are we going? Are we going right now? I'm so ready for this walk! Hurry up! Lets go, lets go, lets go!"

4. When you are asleep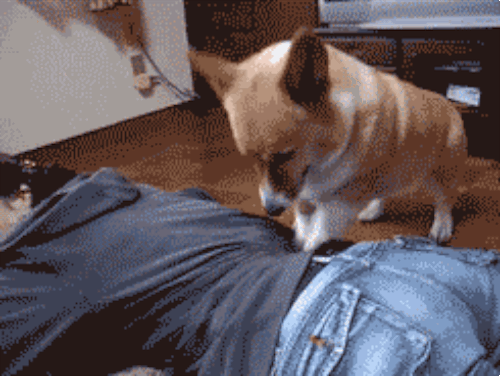 "Wake up human! Why are you sleeping? I slept all day. Why didn't you sleep all day? Can we play now? Better yet, can we go OUTSIDE?!"

5. When they are hungry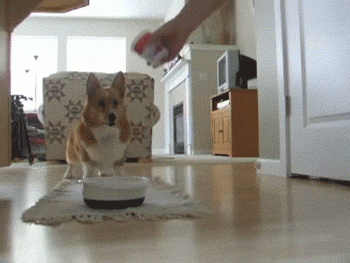 "I see that you are eating, do I get any of that? I'm hungry too. If I bet my adorable eyes at you and whimper a little bit, will you then give me your food? PLEASE?! You are standing up now. DOES THAT MEAN FOOD?! IT DOES MEAN FOOD! So, every time you stand up from now on, I should assume it means food, right? Hey, No fair! How come you get steak and I these weird little crunchy pebbles?"

6. When they lick your face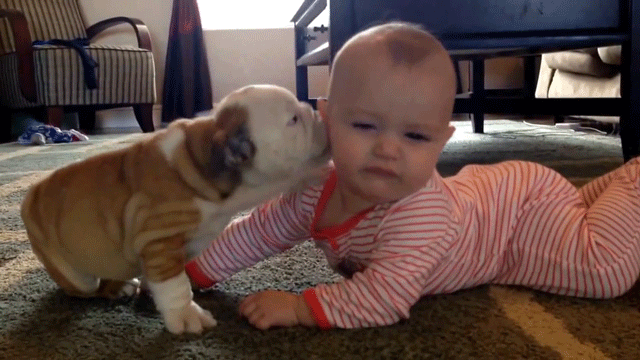 "You gave me kisses, now I give you kisses! Why don't you like my kisses? Why do you keep rubbing them off? What does me drinking out of the toilet bowl and licking butt have to do with anything? I STILL WANNA GIVE YOU KISSES!"

7. Playing fetch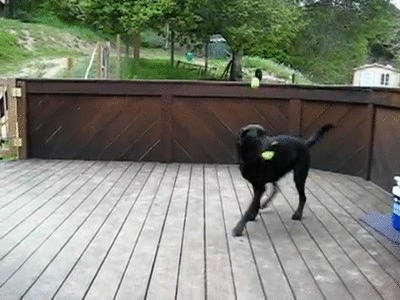 "Ohhh. I know what you are doing there. You think that if you wing this ball in front of my face, I will just automatically become hypnotized by it and run after it as soon as you, I MUST GRAB THAT BALL!!!!!!!!! AGAIN AGAIN AGAIN!!!"

8. Big dogs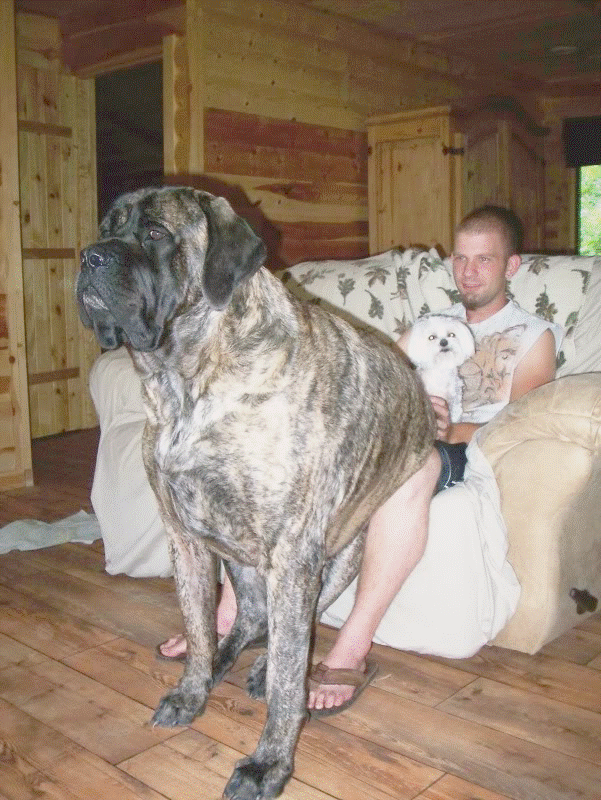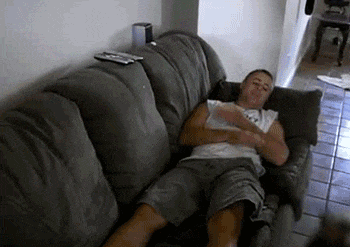 "I'm just gonna sit on your lap now. What do you mean I'm too big? The chihuahua gets to sit on your lap, why can't I? I'm now a lap dog, this is my new spot on the couch, deal with it."

9. Potty training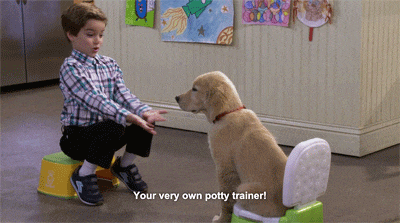 "I'm sorry human. I'm still learning about this 'using the bathroom outside thing'. I'm not sure if I really like it. I feel a little exposed, and I don't really like it. I'm just gonna keep going in the house like you from now on if that's OK?"

10. When they do something wrong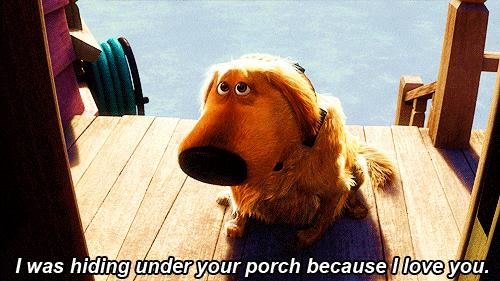 "I know you are mad at me and I'm sorry. Can you please forgive me if I lick your face? No? Still mad? OK, I'll go sit far away from you and look really sad until you decide to love me again. :( "

11. Thunder storms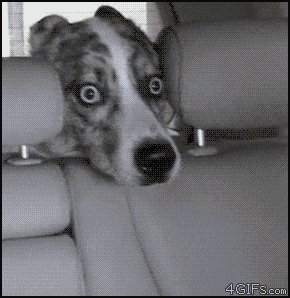 "HUMAN!!! What is that giant boom that keeps happening? I DON'T LIKE IT! MAKE IT STOP! If I hide behind you, will that solve it? NOPE, IT HAPPENED AGAIN! I'm gonna be in the bathroom hiding and shaking if you need me. Please let me know when the world stops ending."

12. Looking out the window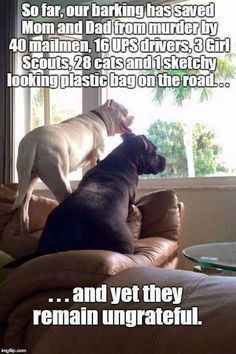 "LOOK AT THE LEAF THAT FELL!!! OMG AND A PERSON!!! There goes someone that I should actually bark at. WAIT, I SEE ANOTHER LEAF!!! HUMAN, HUMAN, COME LOOK AT THE OTHER DOG OUTSIDE!!!"

13. Treats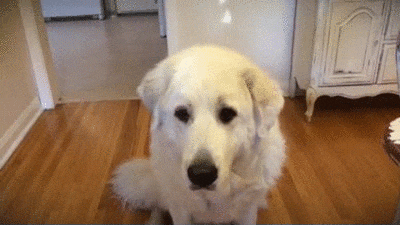 "Did you say treat? Which trick do you want me to do today? Lemme start with sit, It usually starts with sit. Catch? Ohhh, I know this one. It's the one where you throw it and I pretend to try and catch it, and then run after the treat and grab it before you can."

14. When you are making food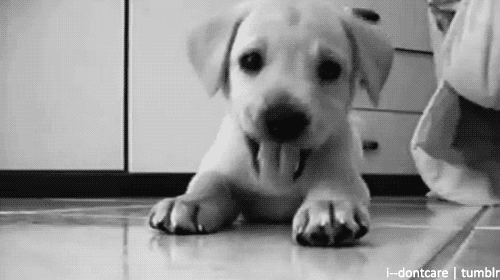 *Peaks into kitchen* "I smelled food, are you making food? CAN I HAVE SOME? Why not? How about if I do a trick and look adorable? HOW COME THE CAT GETS SOME OF THE TUNA? NO FAIR! I WANT SOME TOO!"

15. Going to the vet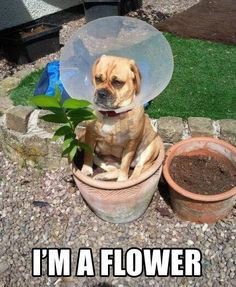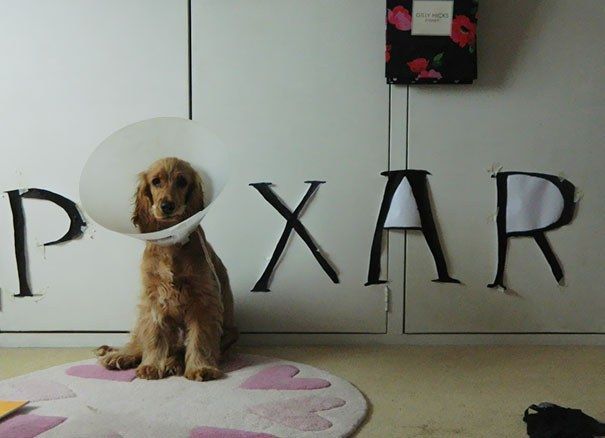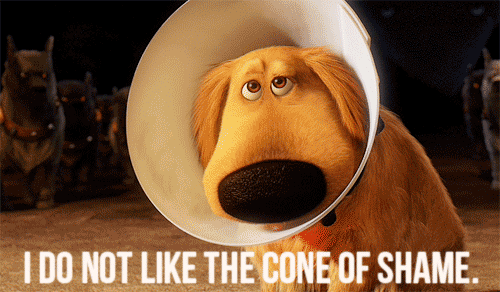 "The park? We never go to the park on this day. BUT, OK I'LL BUY IT! LETS GO TO THE PARK! OK, this is not the park. Did I mention that I am very mad at you right now? You lied to me. I do not trust you for the next few hours and when we get home I will not want as much of your attention. WHERE ARE YOU ABOUT TO PUT THAT THING?! I am very mad at you human! How could you let her put that there?! THIS HAS TO BE ANIMAL ABUSE! Seriously, a cone? I only scratched it because it itched! Now I can't get that itch. We better be going to a park on the way home! Still no park, really? Oh look, there is another animal in the house that has a cone like me... wait, that's not an animal, ITS A LAMPSHADE! GET THIS CONE OFF OF ME!"

16. When all you want is a cute puppy picture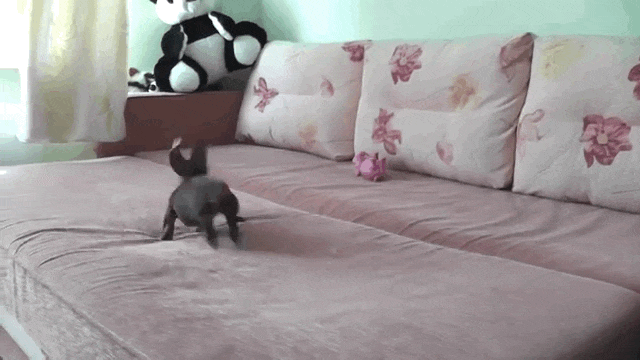 "Excuse me, but I don't feel like having my picture taken today, try again tomorrow. I'm just gonna keep running around the house every time you pull out the camera. No cute pictures for you! This is payback for the cone! I don't want to remember it!"

17. Having a party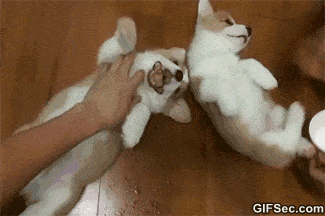 "What are all of these people I don't know doing here? Hold up, you can't let more it until I'm done sniffing all of the ones that are here already! OK, they just need to make a single file line and I will just go down the line checking them out and making sure they are okay. Who gave you permission to pet me? OK, keep petting me, I don't know you, but you are willing to give me a belly rub!"

18. Having other pets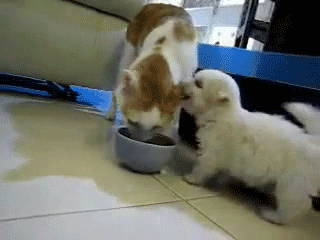 "I don't trust this cat. Why is he here? He's leaving in a few days right? How come the cat gets to sleep on the bed with you and I have to sleep in a cage like the hamster?! Does this mean I can eat the cat food, too? I WANNA PLAY WITH THE CAT!!!"