Trigger warning: In this piece, I will be talking about how I felt and continue to feel due to depression. I was initially going to sugarcoat and hide my true thoughts, but I felt that would go against the very point of my article.
I used to be a victim of a very dire condition: chronic Tumblr surfing.
(No, seriously.)
I spent a large portion of my procrastination time being absorbed into the soul-sucking world of Tumblr. I blame the charm of the eclectic hive of fandoms and people with the same interests as mine. This resulted in me regularly going to posts about
Cartoons such as Gravity Falls and Steven Universe
Anime fan drawings
Depression
Yes, depression. Out of all three, I spent most of my time looking at Tumblr blogs with angsty pictures and posts that romanticized despair and self-hate like this one: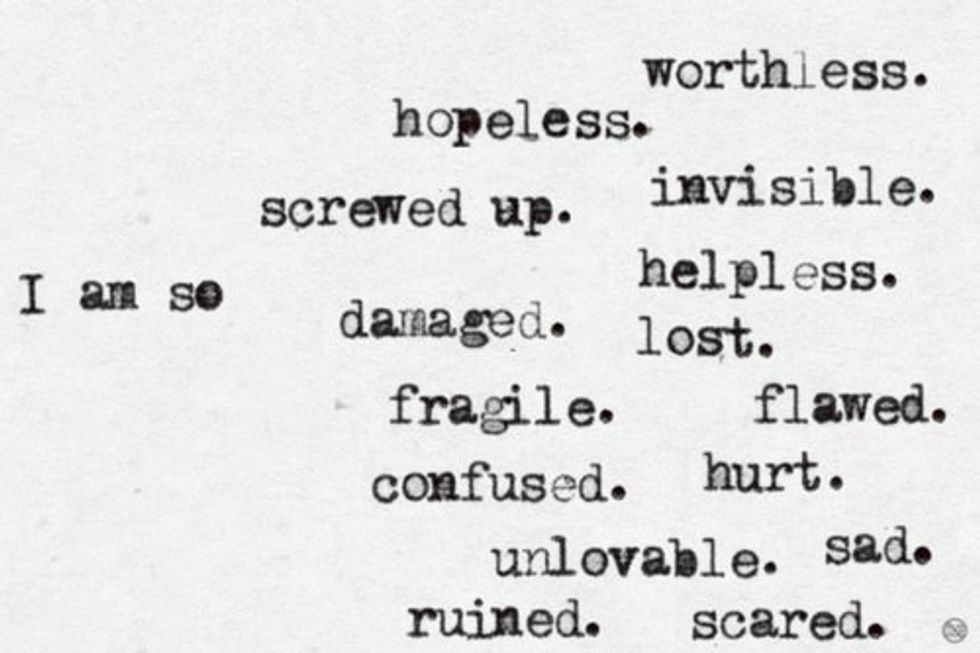 Initially, it felt good. It made my near daily sobbing sessions feel more than just wallowing in self-pity. I also felt better about admitting to myself that I was depressed. Or at least, objectively not fine. I felt that I didn't have the right to feel all of these horrible emotions and that I was being weak.
Since seeing all those depression posts calmed me down, I spent more time searching for more. Before long, I was reading only suicidal and self-hurting blogs. I let those blogs "teach" me that when I felt inconsolable, I should continue to wallow and sob and just feel plain awful. If self-pity didn't work, self-harm would. "At least you won't be hurting anyone else, right?". I regret saying this, but I also eventually admired suicide because it was portrayed as such a passionate and meaningful way to end the suffering. In hindsight, I realized that those blogs were only romanticizing self-injury and ennobling suicide.
I am lucky because I think I really could've died.
There is a stigma that depression is only superficial angst and sorrow. That only teenagers get depression because teenagers' emotions aren't serious, just like depression is. Because of this stigma, I was too scared to tell anyone how I really felt. I went to the internet because I thought it was the only thing that would listen to me.
Depression and other mental illnesses bear more burdens because they are less "defined" than a body illness. We think that as long as you are not bleeding, you are okay, but this is wrong. Not treating depression is statistically proven as a precursor to being suicidal, which leads to death.
Thankfully, there is much more being done to bring awareness to mental health, and the more awareness there is, the less power stigma has. But just because more efforts are made, doesn't mean we can be comfortable where we are and plateau. It is not enough to just announce "Mental illnesses are real!". We need to help groups who are at risk and educate children about the importance of maintaining mental health. We also need to tackle the stigma surrounding suicide and self-harm.
I definitely know that we can save more people if we try.
*If you need help, call the National Suicide Hotline. It really helps: 1-800-273-8255