The first time I felt I needed therapy, it was hard for me to believe that I could feel so disconnected with myself that I could no longer identify or rectify my own problems. It was bizarre how my childhood years were hitting me in fragments, shaping me into a confused and wounded adult.
It has been five years since I began therapy after being diagnosed with chronic depression. I have arrived at points in my life where I felt I was done. I have healed, and now I wouldn't need it for this same reason.
It took me all this time to understand that healing is infinite. It took me all this time to understand that depression never really leaves you. It sits there, waiting to enter you like a starving mammoth.
I have developed my own therapeutic lifestyle by now. I never succeed 100 percent, not even 50 percent, but every day I achieve some percentage. And that is the only percentage that I count.
For what you achieve is alive. The rest just flies away to come back in your spirit as the will to try again.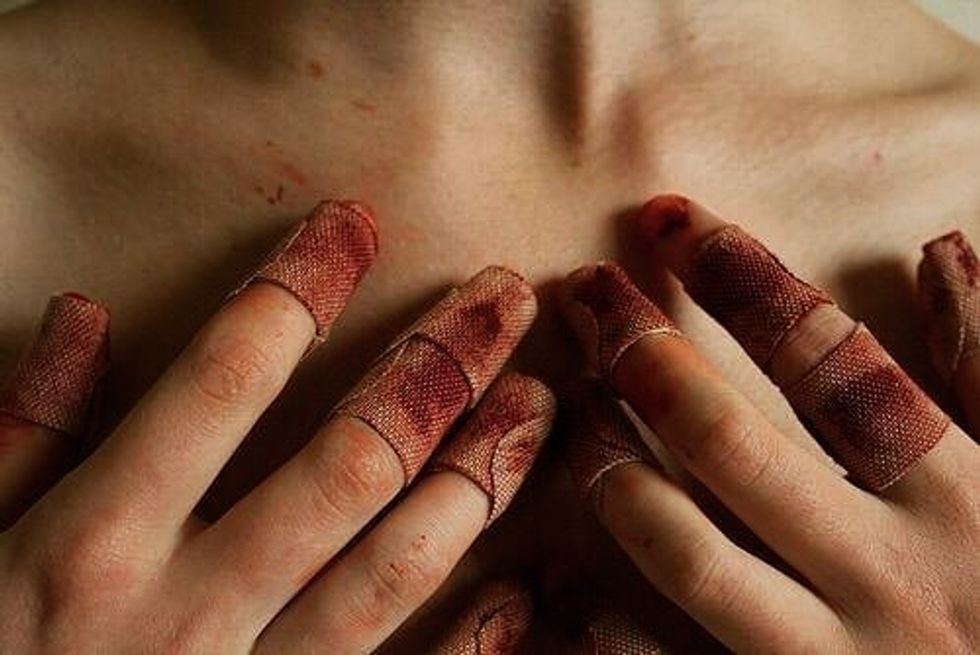 A few days back, I was failing miserably at making myself feel healed. I lost the ability to appreciate myself for trying and I wrote a poem to connect with my readers on social media. It read:

I spend my nights thinking about how the next morning will be my new beginning.
I will fill the vacuum in my voice box and when the chirping birds come singing the song of dawn, I will sing with them without chains holding my tongue back.
I will fix everything, fragment after fragment how Anna's mother sew stars on her college farewell dress and she looked like a galaxy.
I will fidget, swing, sway, crawl, throw my organs around like they're hot air balloons, meant to fly, in an empty room with no lights and forget what does my conscious face looks like.
I will wrap the scars and bruises on my skin with flowers - hibiscus, orchids, sunflowers, and lilies because I need to learn giving is a better ornament than harming.
I will write in bullet points about the battles that I lost and the long list of battles I never really fought, I will tell myself why it was the right choice.
I will open my mouth as wide as the space between my thighs and I will squeeze oodles of guilt and regrets out, I will take notes on how worthless and cancerous they felt.
I will turn my fingers into people who forgot me like an old English poem and I will caress them as long as they know how different honest affection feels than fake promises.
I will walk alone through the streets and when my heart feels it's better when he holds my hand and makes me twirl, I will sit on a merry-go-round and look at the clouds beholding me.
If you don't know by now, let me tell you, my beginning begins every morning a little cracked and by the afternoon it forgets ends don't come so soon.
My beginning loses the sight of the woman who's successfully healed her wounds faster than the swing my bullies pushed me on.
I am still this process. I am no more the instruction manual, I am now its language, I haven't reached the woman I chase but on my way to the clouds, I've already tasted thunderstorms and I know what does it mean to implode into oneself.
I BELIEVE IN THE POSSIBILITY OF DREAMS. I BELIEVE HOW I TELL MYSELF TO REPEAT, I AM ENOUGH, I AM HEALING, I WILL MAKE IT. I BELIEVE EVEN IF MY PAINS ARE ENDLESS, BEYOND THIS PAIN, I AM ENDLESS TOO.

The responses that I received, and just venting my negativity out, made me believe in the endlessness of who I am. I restored my faith in the process of healing, which is as human as our own selves. It is flawed and delayed, but it is a constant process. Every morning is a new life, and healing never leaves you if you hold it close enough.