I currently have four tattoos and plan on getting many more. My first tattoo experience occurred during my first few months as a freshman in college. I wanted a tattoo to memorialize my mother, who passed two years prior. Since I had never gotten a tattoo before, I didn't really know where to start. I needed to find a shop but given that I had only been in Tallahassee for a month, I had no idea where to go.
I heard good things about Euphoria so I decided to check them out and immediately regretted it. I showed them what I wanted, which was a phrase written in my mom's handwriting, and they told me that it was too small and sloppy. When I told them with tears in my eyes that my mom had written it, they told me to get her to rewrite it for me. Given that she was dead, I couldn't really do that so I walked out of the shop and bawled. I swore that I would never go back and I have kept to that.
Instead, I found another place, Tatty Daddy, that would do what I wanted. They gave no complaints and were able to tattoo me the day I stopped in the shop. It took all of 20 minutes, only hurt on the sides, and I was completely pleased. I placed it on my left wrist and it means "I love you" in Korean.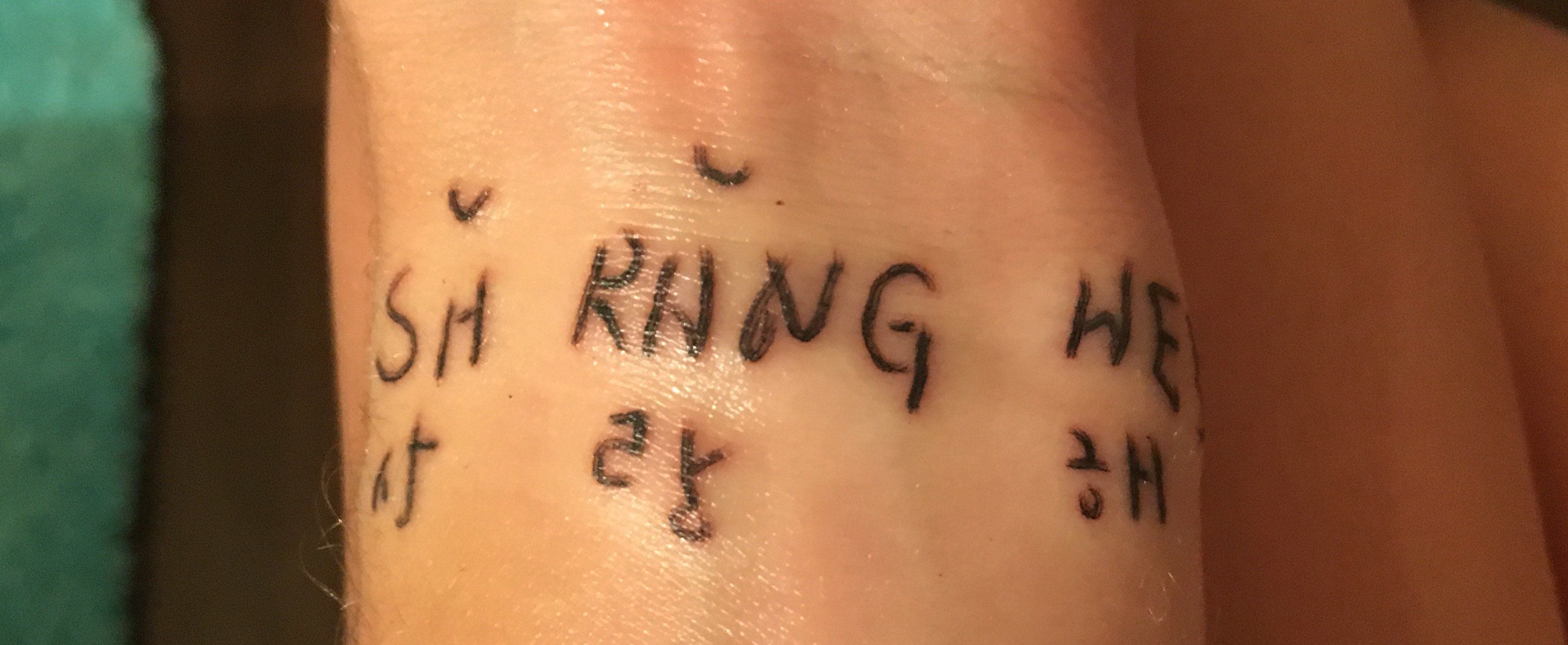 Personal Photo
During the next semester, I got my second tattoo. My brother and I actually got matching tattoos, he got his first and I matched the font he used but I put it on the opposite arm. I planned to go back to Tatty Daddy but they had closed down so I found a new shop, Empire. At first, they didn't have anyone to do it and were going to stiff me but then someone became available and gave me a good price.
Again, it only took about 20 minutes to get tattooed and most of it I didn't feel. The closer the needle got to my elbow and armpit, the more it hurt, but I barely felt everything in between. It says "a bushel and a peck" which comes from a nursery rhyme that my mom used to sing to me and my brother.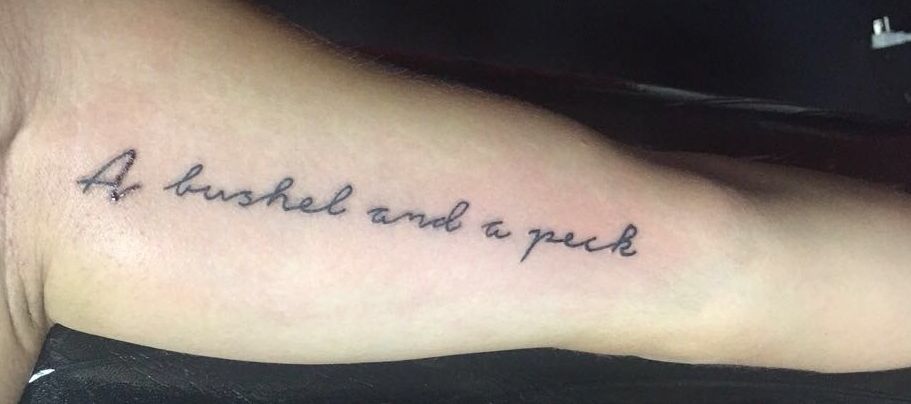 Personal Photo
Even though I wanted more, I waited for over a year before getting my third tattoo. I looked up ideas on Pinterest and kept a folder specifically for them. When I visited a friend in South Carolina, she wanted to get a tattoo so I picked one of my ideas and we decided to get them together. Sadly, she wasn't able to get hers but told me to go ahead and get mine.
Sticking to the pattern of small tattoos, I picked one that represented my excitement for travel. I love to travel and want to explore the world one day. Although the world and plane design came from Pinterest, I added "explore-discover" to complement the image.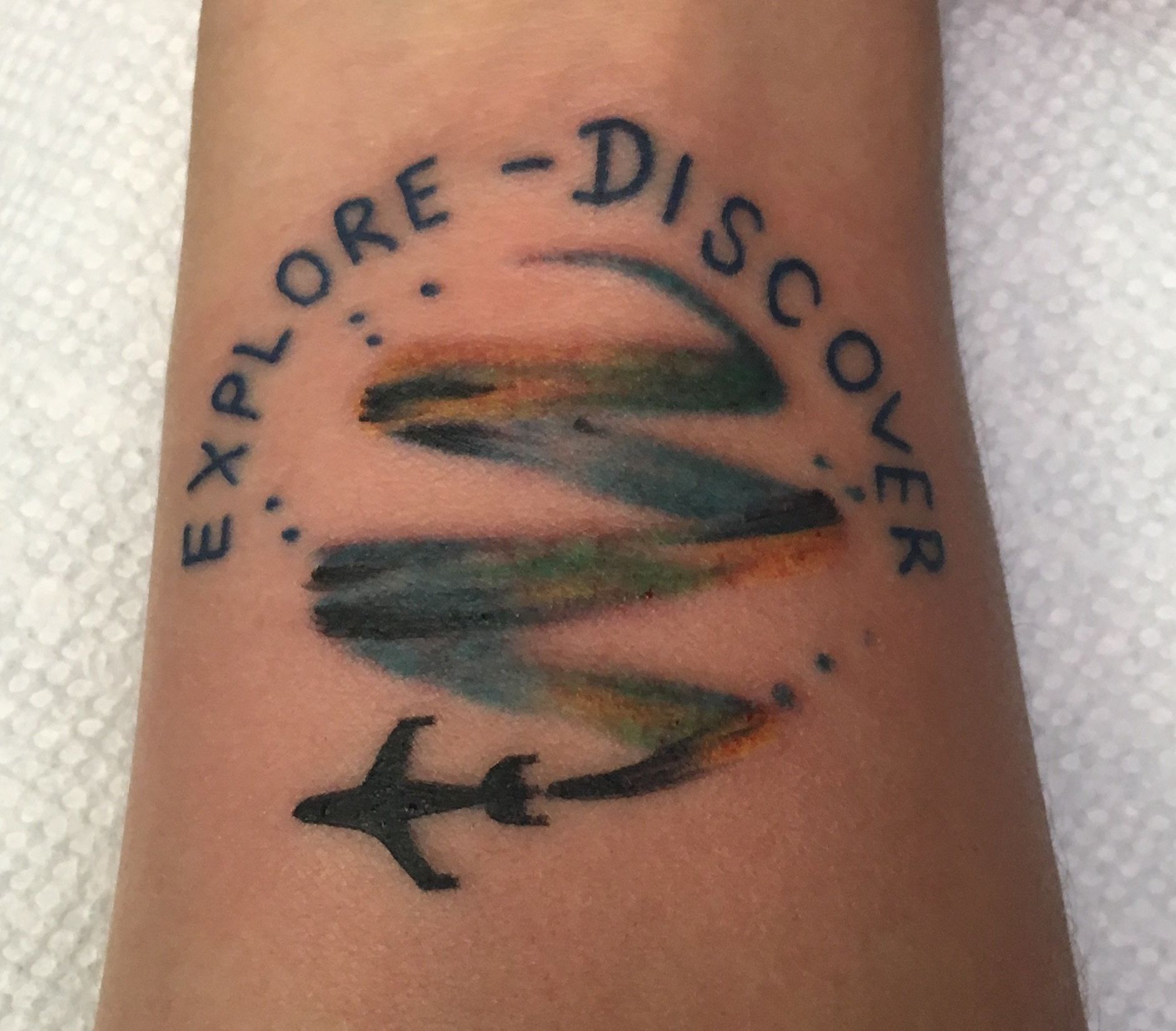 Personal Photo
Over the years, I thought of ideas and planned out a sleeve for my left arm in dedication to my mom. I have a lot of ideas and probably won't have enough space for all of it but I'm excited to get it done. Most of it won't get done until I have a steady salary job, but my latest tattoo has started a half sleeve.
I got a band of flowers around my bicep that runs into the nursery rhyme quote. I talked about getting it for a while before actually doing it. My roommate recommended a shop called Studio B so I got into contact with the owner. At first, I wanted to get it on the fifth anniversary of my mom's death but it didn't work out. School got super hectic so I waited about a month and a half until I found enough time to get it done.
When I arrived at the shop, there was already someone waiting to get their tattoo so my girlfriend and I hung out in the waiting area. It didn't take long before the tattoo artist came over to figure out precisely what I wanted. He stenciled out my tattoo and then we got down to business. I sat for the tattoo for two hours before my muscles started spazzing out.
I'm not going to lie, it was pretty painful in some areas but my tattoo artist told me that I took it like a champ. It looks amazing and I can't wait to get it finished. I wish I found this shop before because I would've stuck with them from the beginning. We'll see where I go from here.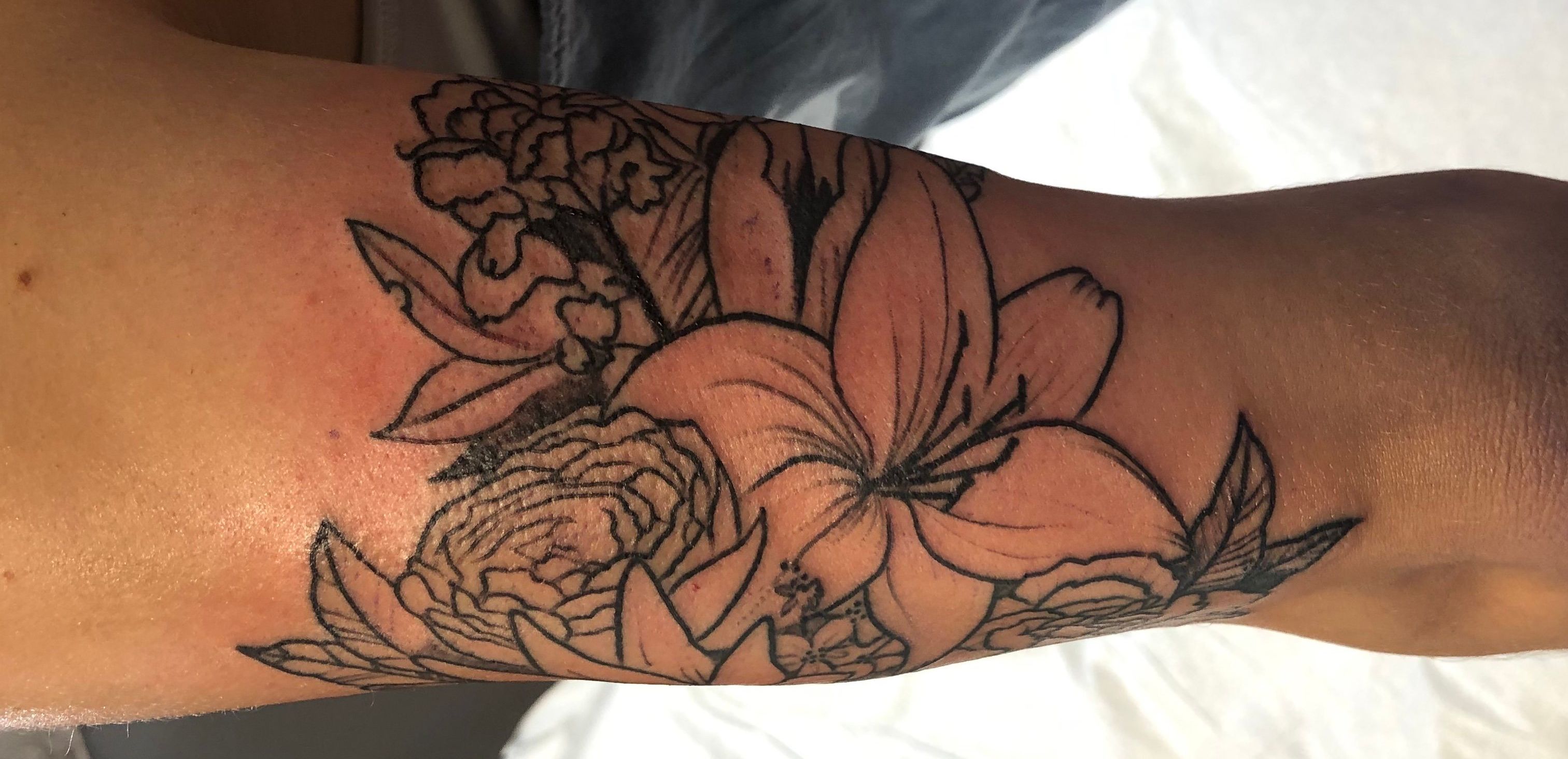 Personal Photo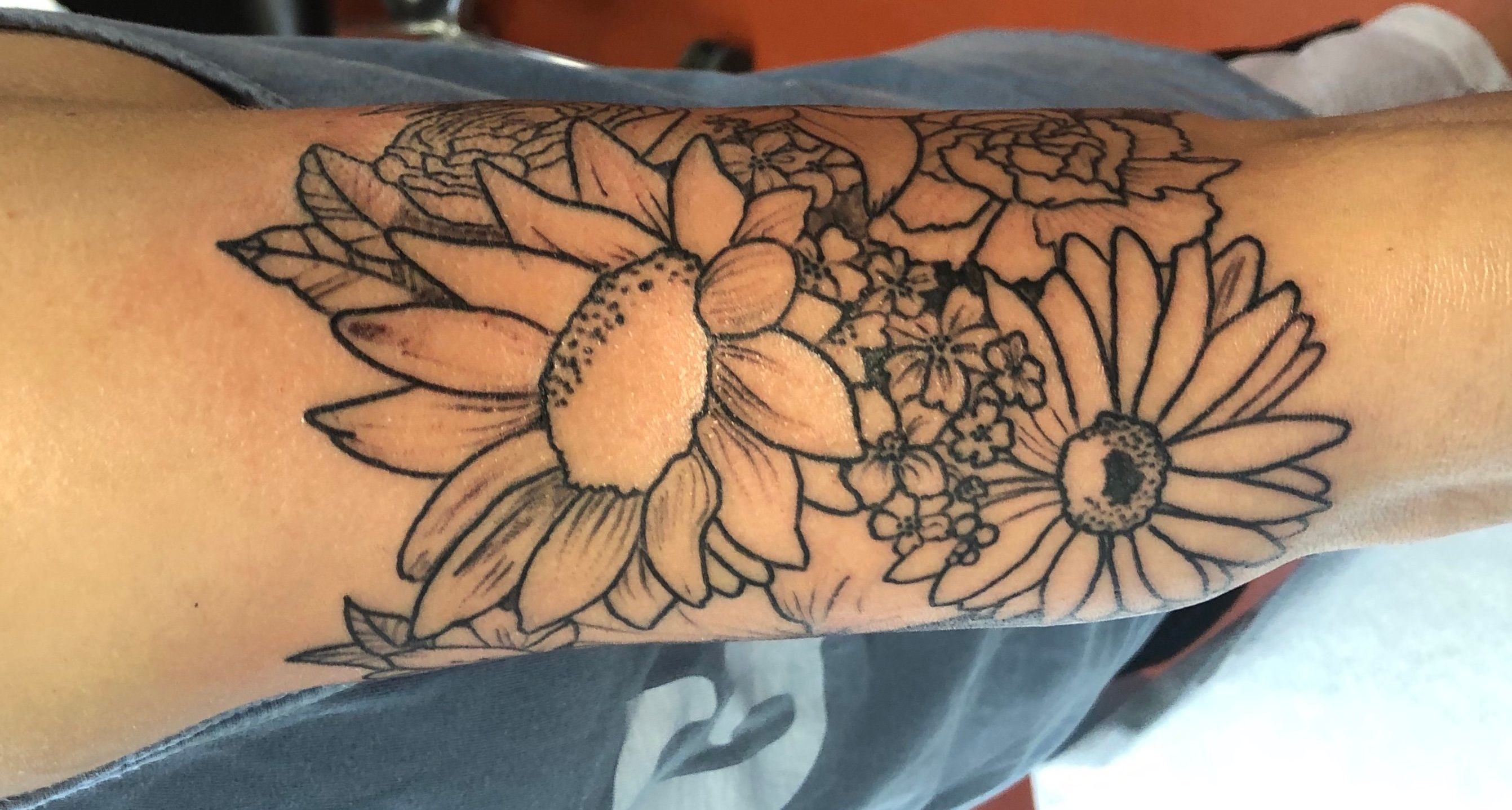 Personal Photo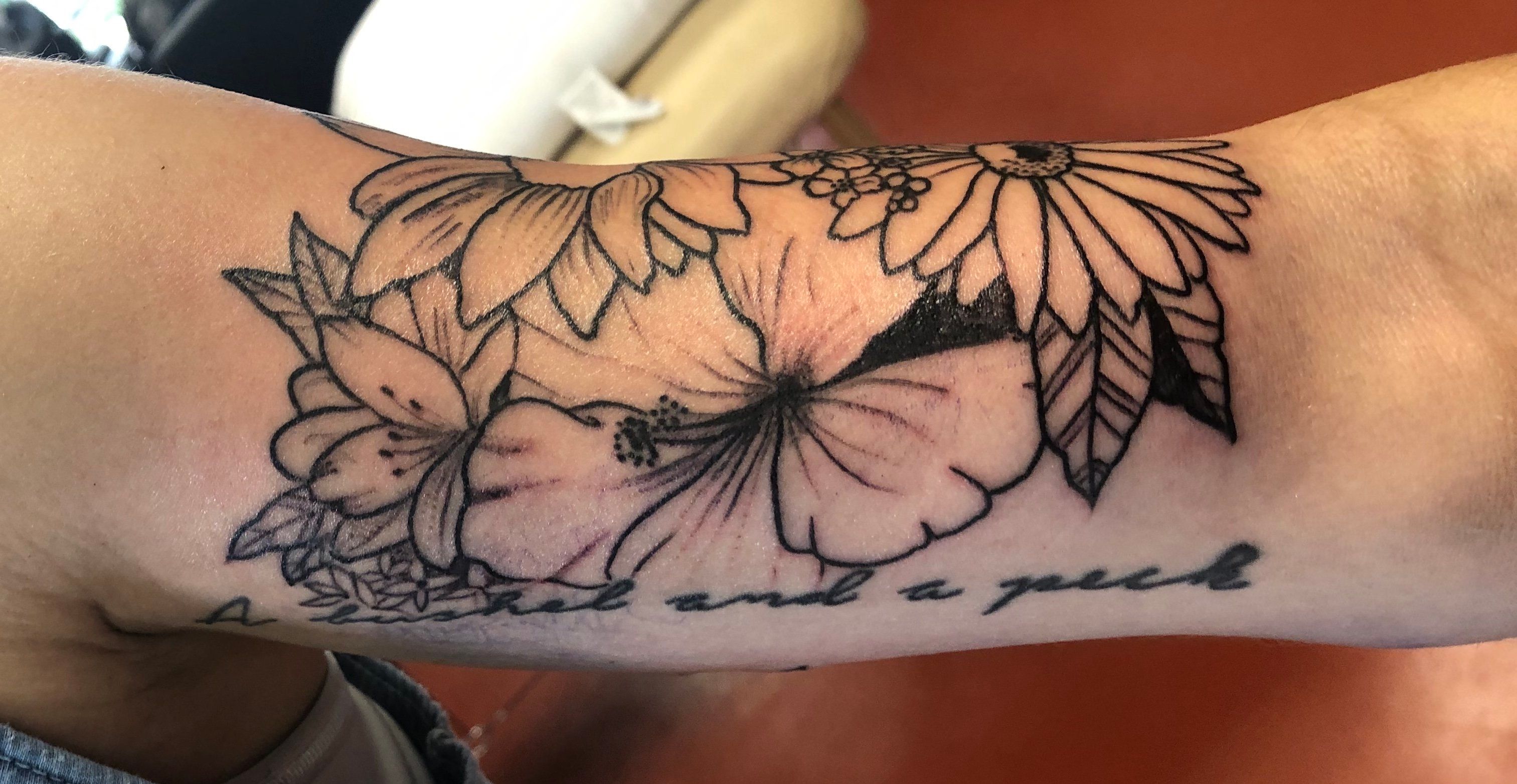 Personal Photo