- As a beauty writer (and product junkie), I've tried and broken up with dozens (maybe hundreds) of toners on my dry, breakout-prone skin. This is the only one I've stuck by for over a decade.
- Though I don't have particularly sensitive skin, I prefer a toner that doesn't have unnecessary ingredients like alcohol that dry out my skin, which is one of the main reasons I chose to try this.
- I talked to a dermatologist who sung the praises of rosewater and aloe vera when used by her patients.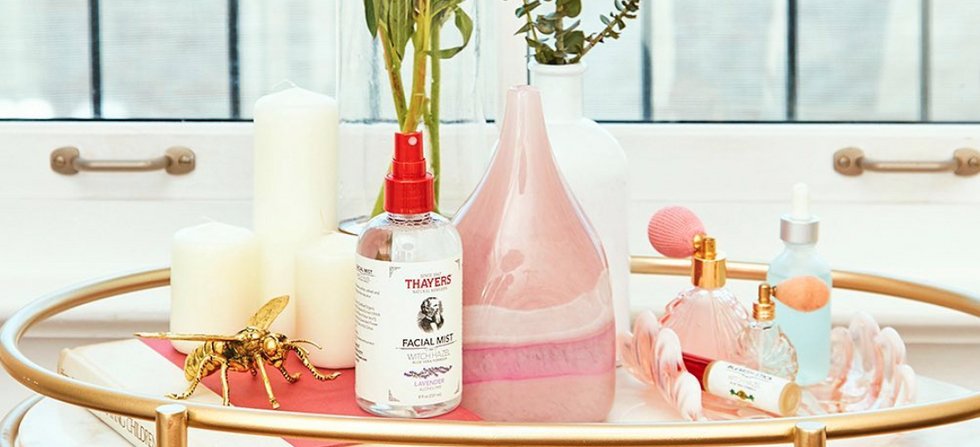 @thayersnatural
Memories of trying this Thayers toner for the first time over a decade ago conjure up cringe-worthy images of braces, acne, and poorly-groomed eyebrows. Though I now have skin that is mostly dry, my skin used to be so oily, people used to ask me if I had just wet my face.

Though the way I've used it has changed, its effects on my skin have remained exactly the same. It doesn't do anything spectacular, I'll admit, but it is one of the few astringents out there on the market that really gets deeps into the pores, cleaning them out without over-drying the skin.
Dermatologist Dr. Manjula Jegasothy tells her patients to use toner for two uses:
1. When they're been wearing a lot of makeup and even a good double cleanse won't take it all off, and
2. When they're too lazy to wash their faces (or on an airplane, long road trip, etc.)
Whether or not I've worn a lot of makeup that day, I'll splash some of this into a washcloth (you can use a cotton ball, of course) after cleansing my skin to get the last bits of makeup/pollution out of my pores before I apply the rest of my skincare routine. This toner has an incredible way of pulling stuff out of your skin that you never knew could have been there. I have had days where I wore no makeup at all, but I'll still end up with brown spots on my washcloth when I wipe this on my face.
If I've been going through a makeup-free phase (which I, and most of the world, have been), I'll pour some of this straight into the palm of my hand and press it into my face as a refresher before I either work out or jump straight into my morning skincare routine.
Several reviewers tout the toner's acne-fighting elements, which makes sense given the antibacterial properties in aloe vera:
"I had a lot of redness and breakouts on my chin and a few on my forehead. It truly just cleared them all up."
"This was the miracle 3 week cure for four years of cystic acne."
Though Jegasothy says aloe vera has been controversial in dermatology for a long time, she says that her patients (including myself) swear by the ingredient for skin inflammation. Though my skin is (mostly) breakout-free now, this is good for calming down the occasional hormonal breakout on the jaw or hairline. "With aloe vera, it's super important to test it on your arms before you commit to using it on your face," says Jegasothy. "Unfortunately, many companies don't use a good quality, high grade, raw aloe vera, and that can cause skin allergies."
But the shining ingredient for me in this is the rosewater. Not only does it make my face smell like an actual bouquet of flowers, it has been a staple in Middle Eastern and Indian cultures for millennia for its natural astringent properties. Who am I to argue centuries of ancient beauty rituals? And at $8, there's really nothing to lose.
Buy this toner from Amazon for $8.
As an Amazon Affiliate partner, Odyssey may earn a portion of qualifying sales.