If you have not heard of TFM.com, Total Frat Move, you are missing out on some of the raunchiest, funniest, binge-drinking videos taken from across the country. If you're not already following their Instagram account, you need to go hit the follow button right now. Who doesn't love a good unnecessary consumption method, a "drunk person falling down" video or some of the most creative "send nudes" you have ever seen. Imagine that the movie "animal house" never ended, and instead started blogging, you'll have a basic understanding of what this website is.
One of my most recent favorite post from the site features three of my favorite things: binge drinking, cute guys, and uh....do I even need to BS another thing? Check out the clip of this bro chugging $7 vodka. I agree with his friend, though: that was one of the most disgusting things I've ever seen in my life. He is still hella cute, though, and did anyone else notice the IM champion shirt? Almost as good as getting with a real athlete, I guess.
So, in response to this bro-based website, TSM (Total Sorority Move) emerged. The only difference between the two sites? Instead of featuring hilarious articles about drugs, drinking and screwing, TSM has articles about white wine, Starbucks and makeup tutorials. And all I did was go to their website, literally, the first three articles I saw were about those things; I'm not even being hyperbolic.
While they do sometimes have some gold on their website(Anatomy Of A Fuckboi, A Guide To Power Ranking Every Person You've Had Sex With and 33 thoughts You Had The First Time You Saw a Penis) most of what they write about falls under the "tame" category. The articles that tend to be funnier and better are a little raunchier.
And their Instagram? Less binge-drinking and more memes you send in your girls-group chat. While they may be the sister site to TFM, the content could not be more drastically different (and less amusing).
The sites also differ in their subcategories and offshoots. TFM has an equally successful Instagram account, if not more successful, called TFM girls. Yeah, that account you made your boyfriend unfollow on Instagram. But the same account you follow as motivation to go to the gym? The account features some of the absolutely most bootiful, im-breast-ive (okay, that one a stretch) hottest female undergraduates in the USA. Girls submit pictures and, if they are deemed hot enough, they're shared for thousands and thousands of undeserving boys to rub their tiny little wiens to.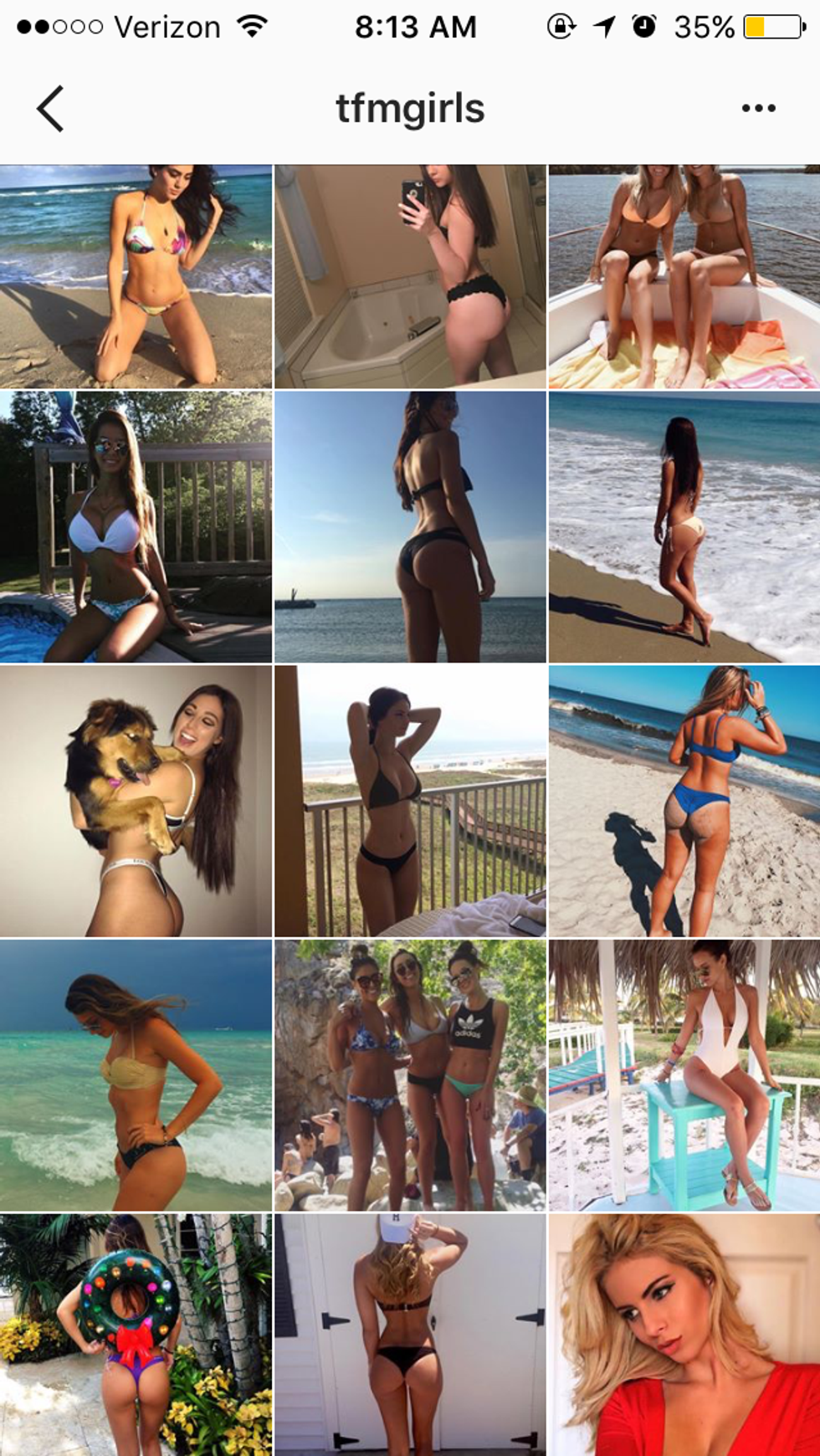 So, my question is, where are the TSM dudes? Do you know how many times I have wanted to look at gorgeous, college-aged boys myself? For all the straight ladies (and not straight dudes, I see you don't worry) there seems to be a severe lacking of "Instagram models" with dongs.
I wanted to a write an article that features the hottest dudes I've matched with on tinder to give me and my girlfriends something nice to look at while studying for finals (inspiration shoutout to fellow odyssey creator/editor Emi Gutgold showing off some of the hottest athletes she's stumbled upon on Bumble), but as I immediately opened Instagram to procrastinate (don't judge me), I was greeted by a half naked someone who managed to have big boobs and a six pack, 10/10 dime piece. I would much have rather opened it up to a tattooed, glasses-wearing, toned dude with a six-pack.
So, TSM this is my call to you: follow in your big brother's footsteps and make an account with sultry men for the gals to gawk at. I know a few guys right now that would definitely qualify to be a "TSM Dudes", and I'm sure all of you do too. Why are we depriving the female population of all the untapped hunk potential that lies across every college campus?
2016 might have been the worst year on record for misogyny, but we can enter 2017 with a dose of equality.
Please TSM, make an Instagram account of hot boys too.