You may not realize it, but the planning community is MASSIVE. Don't believe me? Just type in the word 'planner' in your youtube search bar and see how many videos pop up. I am a part of this planner community. I have been extensively planning for over a year now, and I love every second of it. Something about having a written plan makes me so much less stressed by my life. If you want to learn how to start your own planner so that you can become organized and less stressed, you've stumbled upon the right article. I'm going to explain to you exactly what you need to start up your own successful planner. Happy planning!

1. Buy a Planner
There are hundreds of different planners that you can choose from. My personal favorite is the Erin Condren Life Planner. I love the colors, the covers, and the layout is perfect for what I need. It's not essential that you get an Erin Condren, but if you do, feel free to use my referral link (https://erincondren.com/referral/invite/ragendarby0626) to get $10 off of your purchase.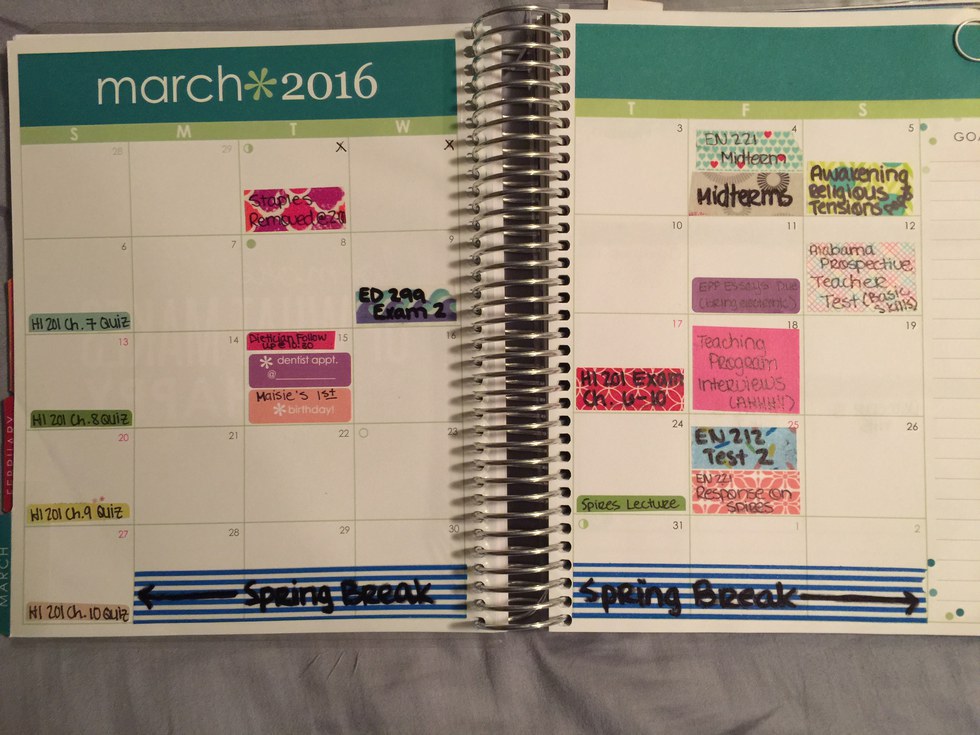 2. For an Added Custom Touch, Get a Personalized Cover or Case
I love having a planner cover that has my name on it. I have several that I bought through www.erincondren.com, but the one currently on my planner is one that I made myself with scrapbook paper and a laminator. If you have a planner that isn't Erin Condren, measure your current cover and cut down some scrapbook paper to use in order to give your planner a little more color. I also have a personalized neoprene case for my planner because I really hated putting my planner in my backpack and pulling it out with a million scratches on my brand new cover. The case is completely optional, but I adore mine.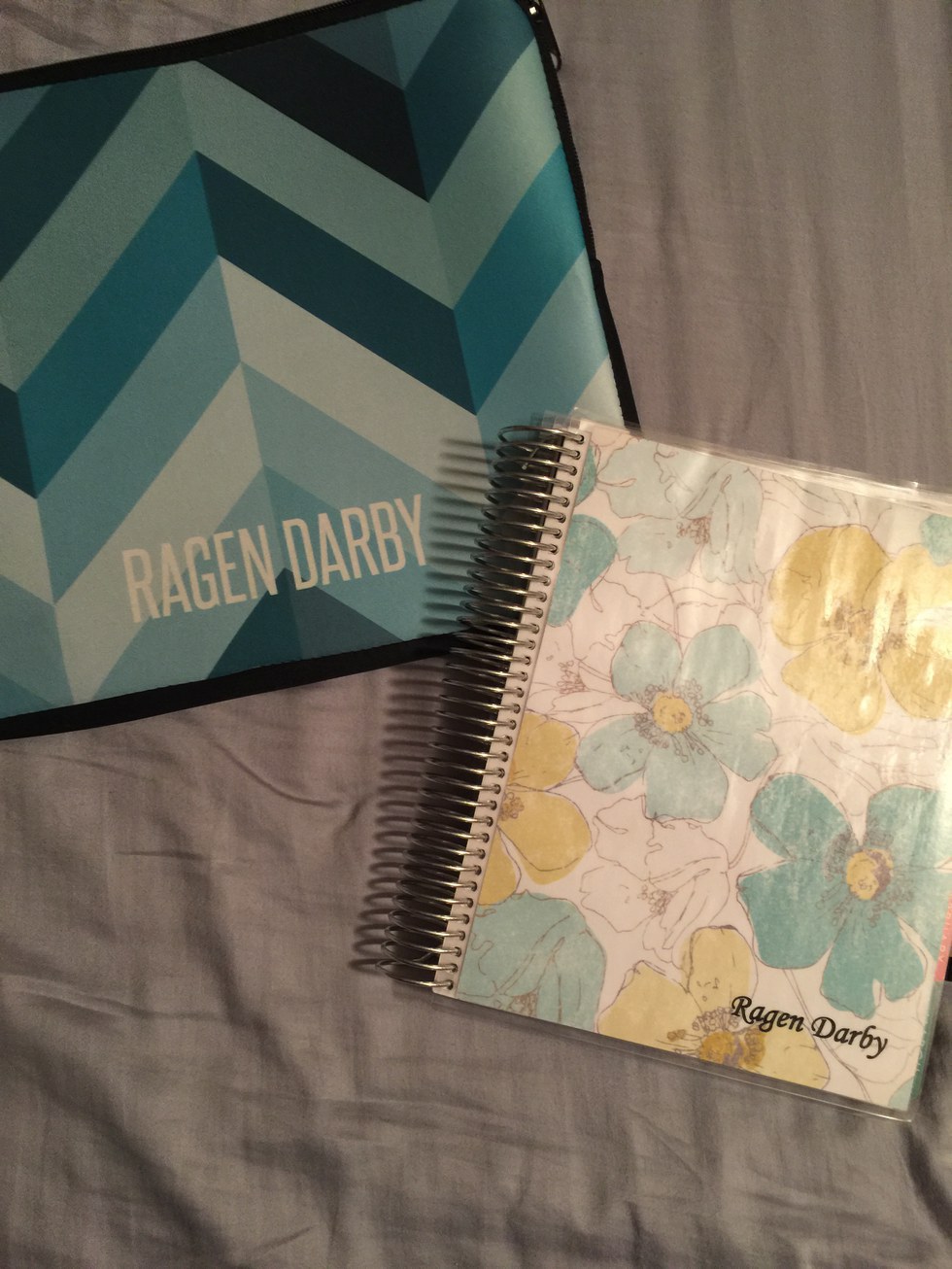 3. Use Stickers to Set Apart Important Dates
This is totally optional, but I use stickers to mark the important events in my planner. It just makes them stand out more, and isn't it 10 times cuter than it would be without them? I use three different stickers to write down different events. I'll explain each one! The picture below is some of my washi tape and washi tape stickers. I've gotten more since I took this photo, but I just wanted to give you an idea of how many planner supplies I actually had.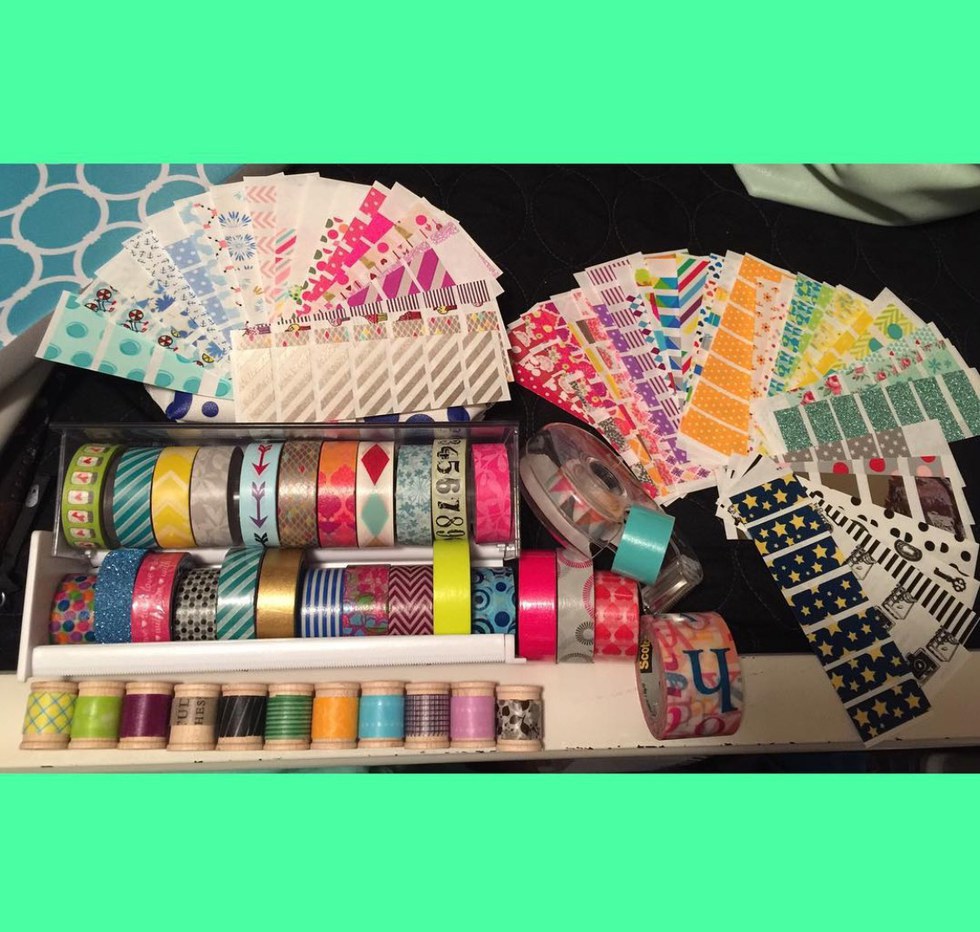 -Washi Tape: I use washi tape to set apart events that are more than one day. For example, I use washi for week long holidays like spring break or Christmas break. If I have three days to take a test in my online class, I use washi to block off all three days so that if one day doesn't work, I have the other two to try and get the test finished.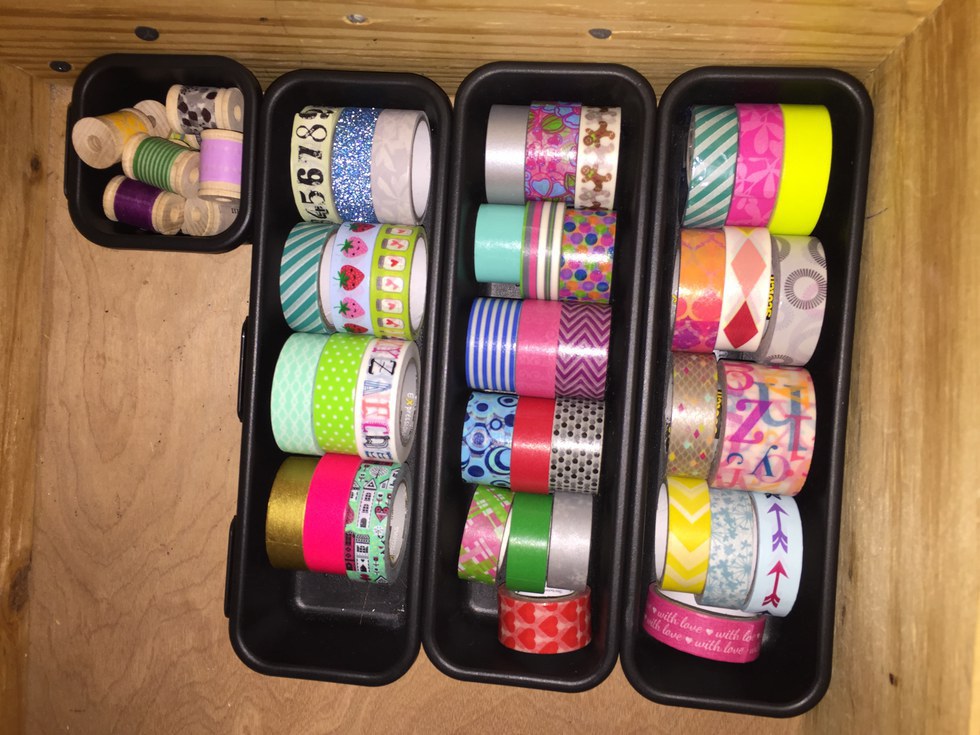 -Washi Tape Stickers: I use these to show when important deadlines or dates are. I use them to mark test dates, essay due dates, interview dates, and days out of school. They stick out when I open my planner so that I immediately know what is most important. I store my washi tape stickers in $0.99 photo albums because I'm able to keep them organized and all in one place.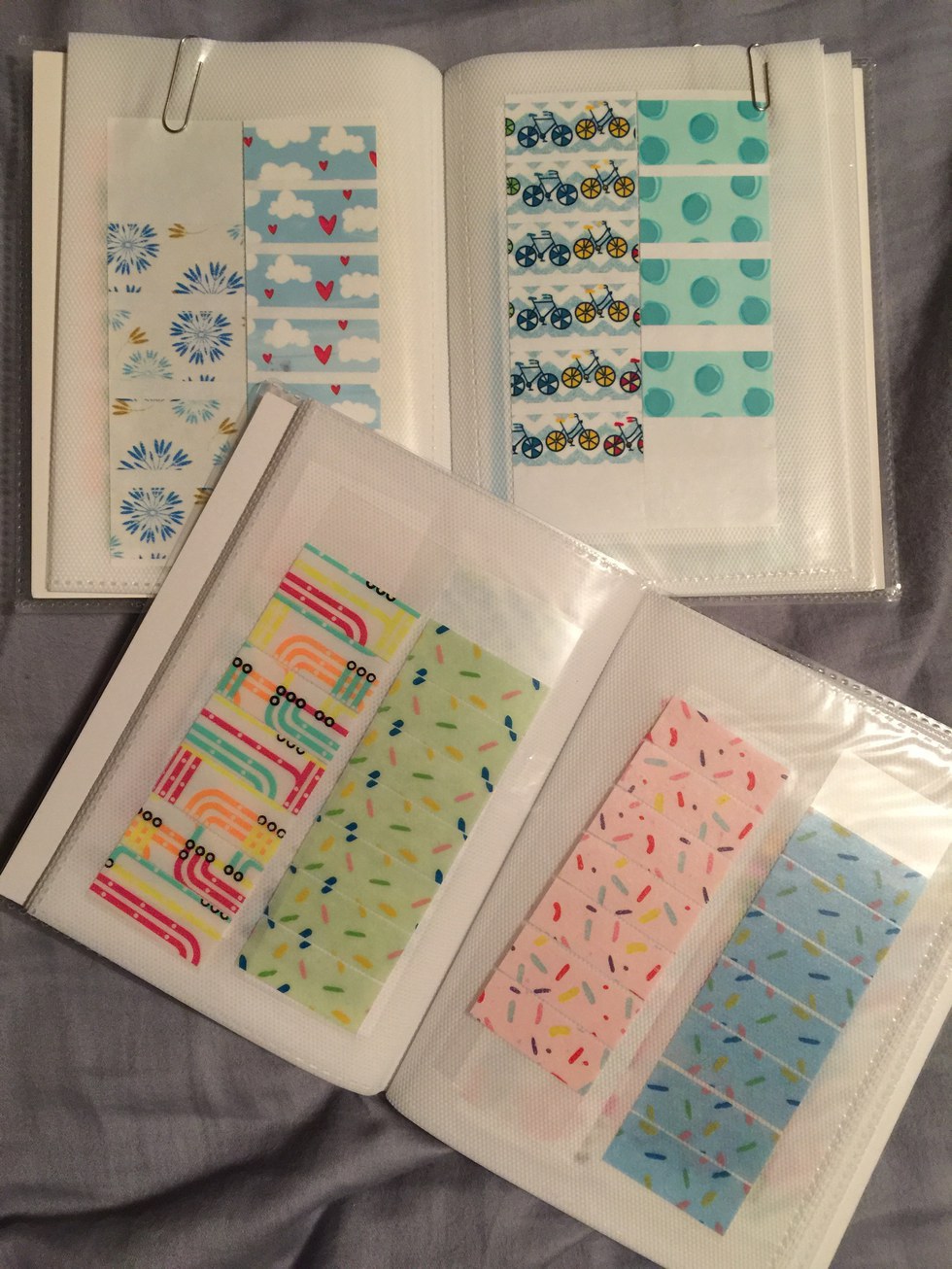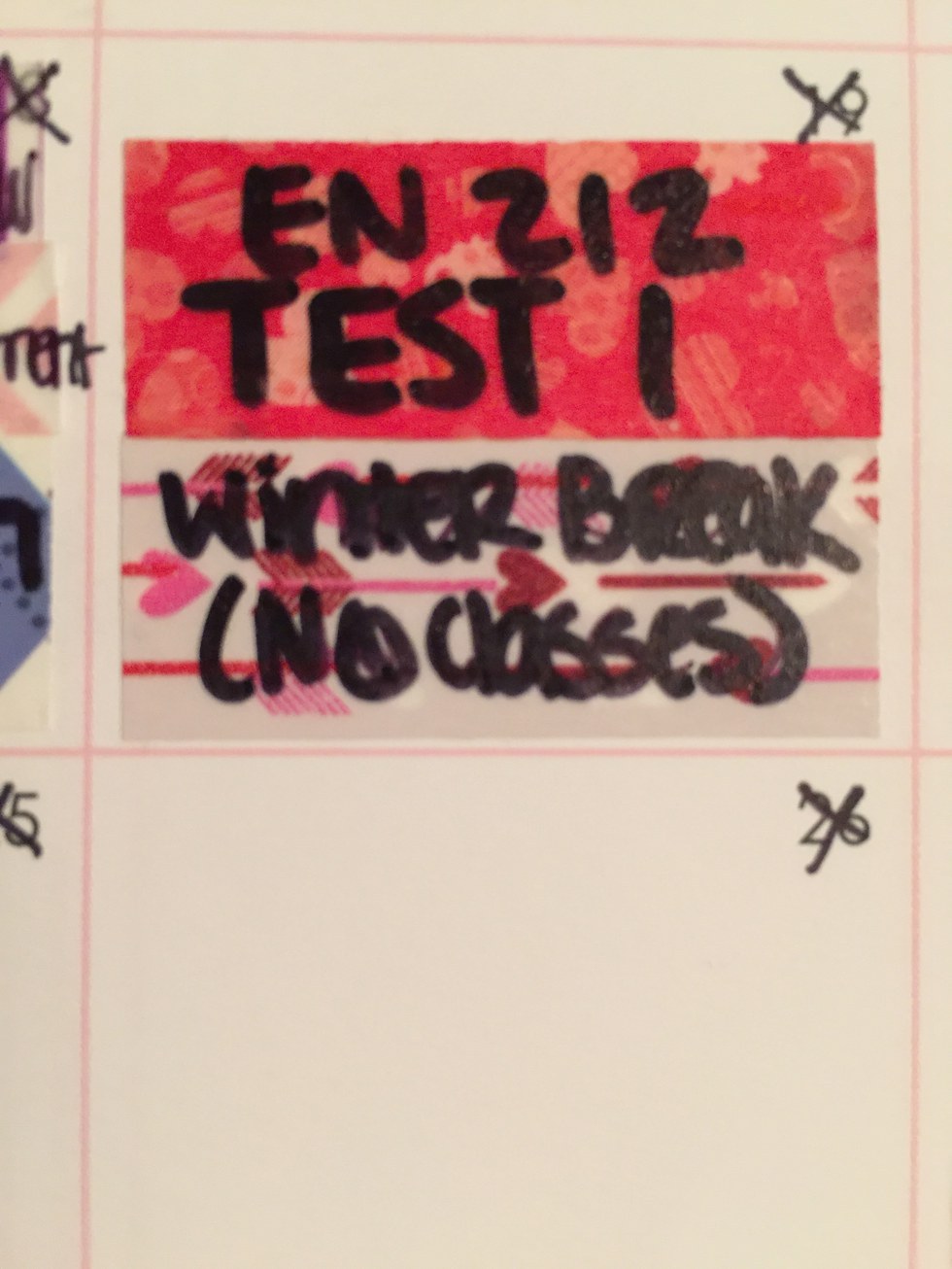 -EC Stickers: These stickers came with my Erin Condren Life Planner. I cut them in half so that they don't take up so much room in my monthly box. I use these stickers to set apart dates that aren't important enough to use washi stickers on. I put homework due dates and obligations I have outside of school on these stickers. That way, it still adds color to my planner, and I'm able to tell immediately that something important is happening without thinking it is a test or major assignment.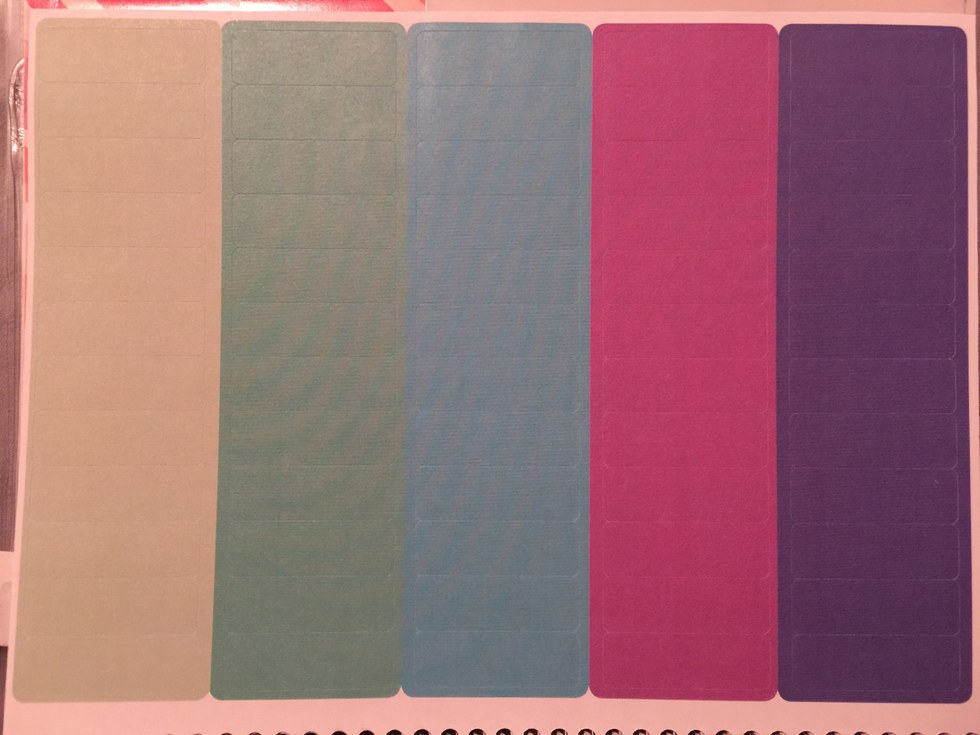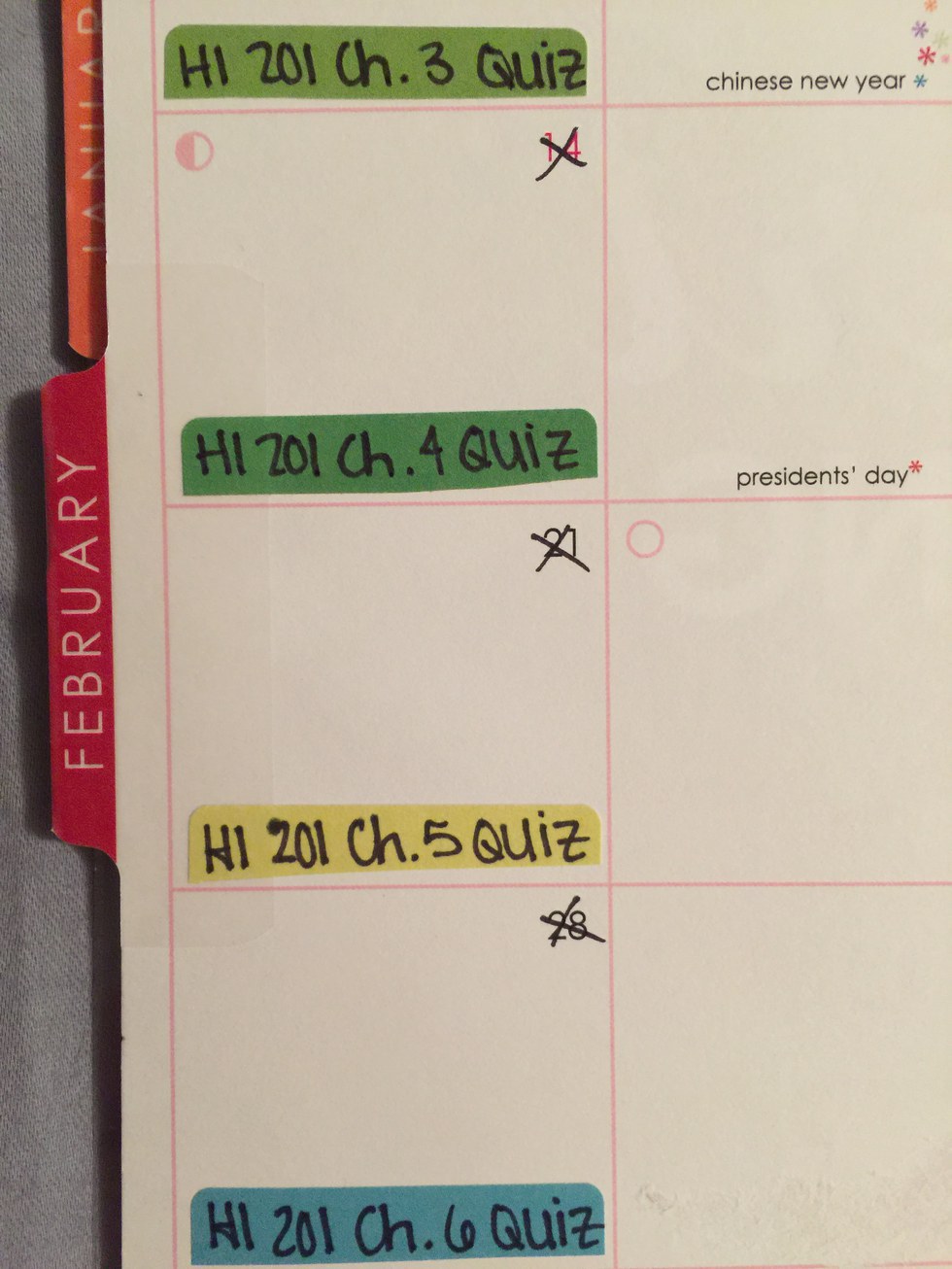 -Specific EC Stickers: Erin Condren also includes stickers that are already printed with specific uses. The only ones of these I really use are the doctor's appointment stickers.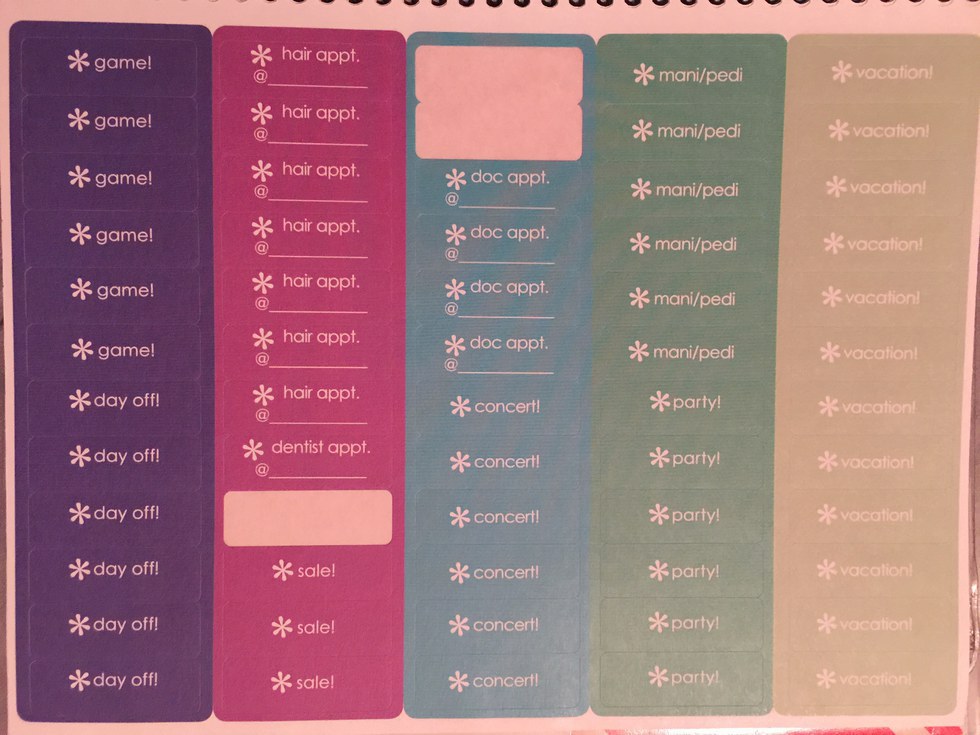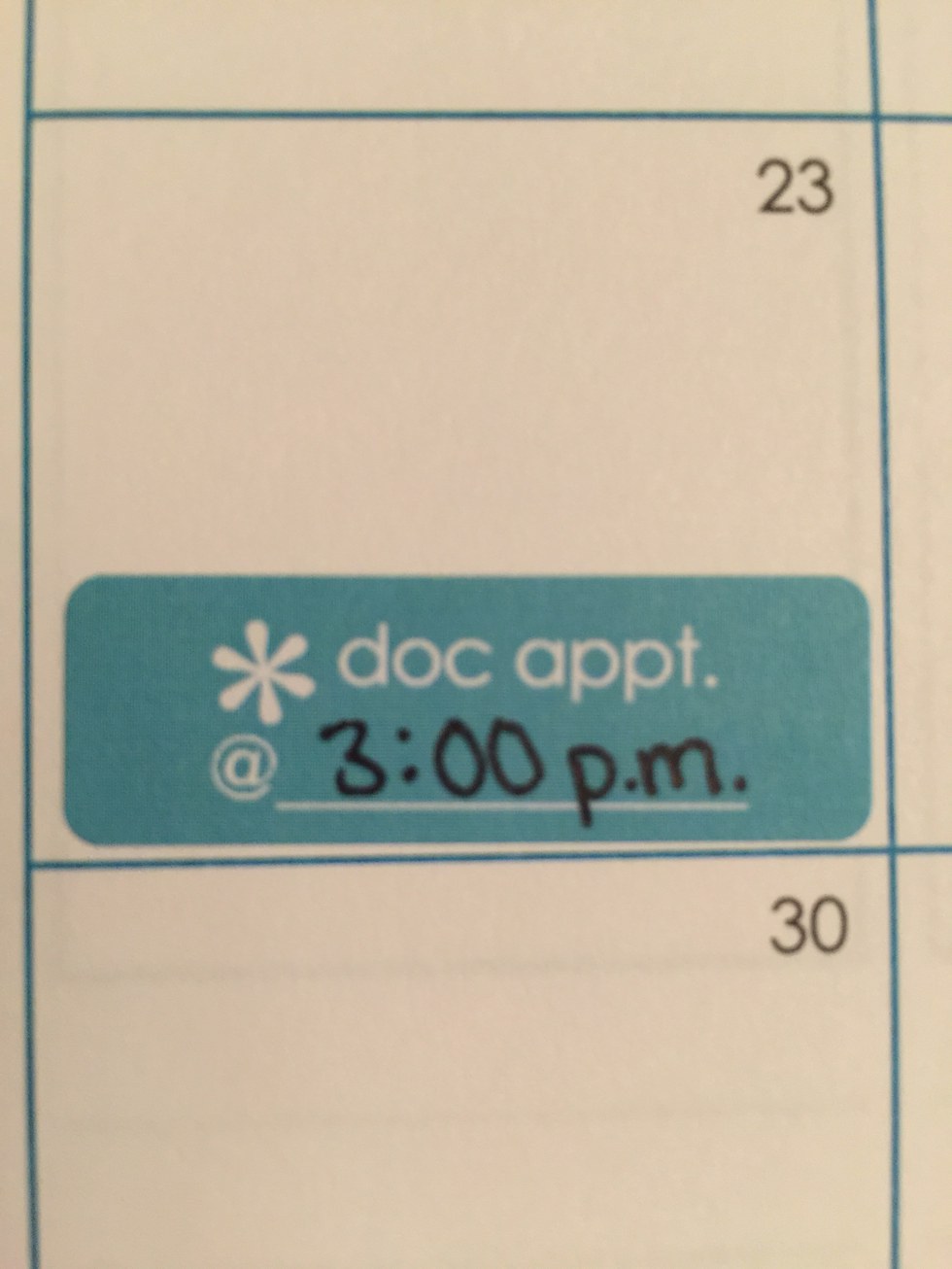 4. Find Pens You Love
This isn't the most important step in the planning process, but I am all about having a good pen. My favorite pens are Papermate Flair marker pens. I LOVE them so much. They're bold like a marker, but they don't bleed through your paper. And they come in packs with 10-12 different colors, so your possibilities are endless.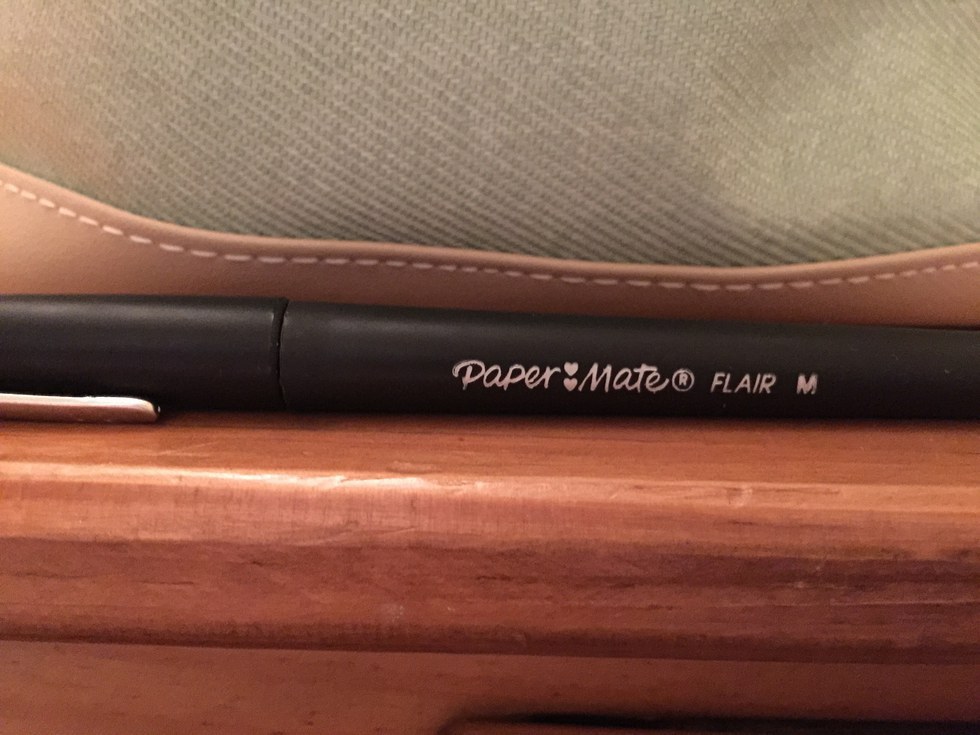 5. Decide How to Use the Weekly Section
The weekly section of my planner has three smaller boxes for each day. Originally, the boxes are meant to be 'morning,' 'afternoon,' and 'evening.' Instead, I use mine for 'homework,' 'tests/essays/studying,' and 'other.' This fit better for my personal use because I am able to see at a glance if I have any important tests or major assignments coming up. If something else works better for you, don't be afraid to redo the planner to make it the best for you. Customization is the key to making a planner you love to use.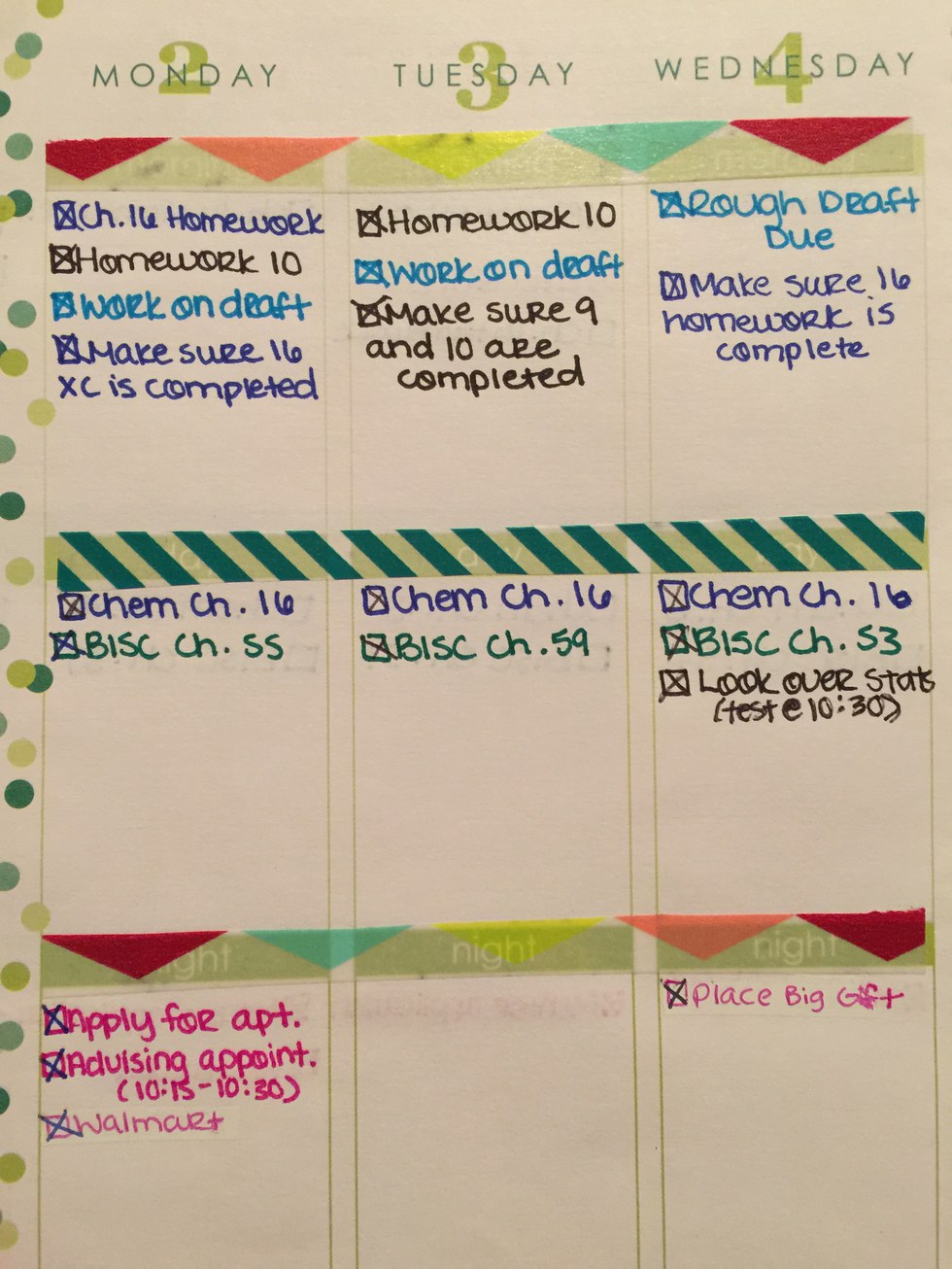 6. Keep It Up
A planner does absolutely no good if you don't use it daily. You can write in it once and completely forget it exists, but what purpose does that serve? Set aside a time in your schedule daily to check your planner and make sure you're up to date with what your obligations are.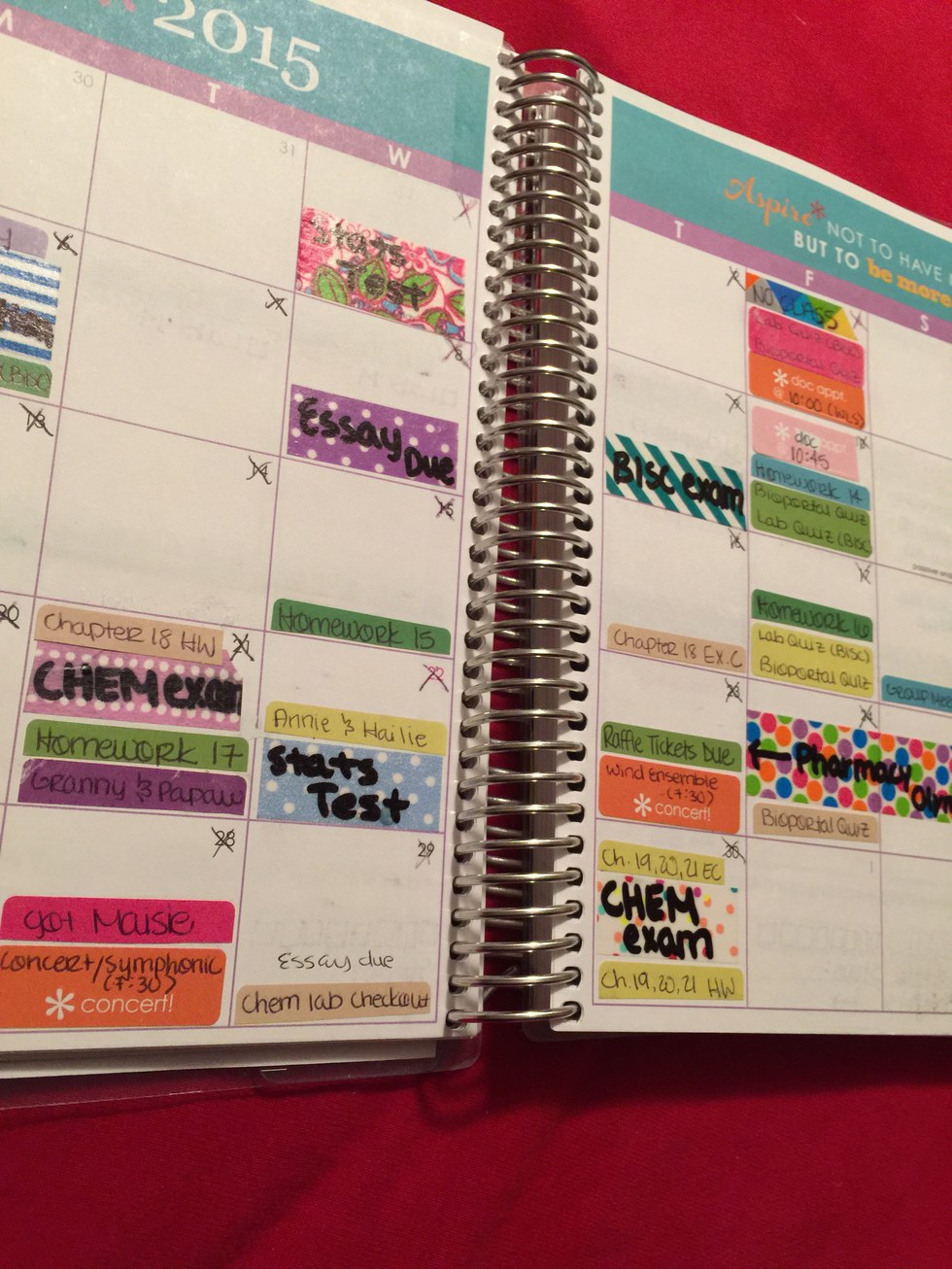 ---
Now I am one of the more dedicated planners who uses several different accessories to personalize my planning experience. Really all you need to start a planner is a planner and a pen. If you think planning might be for you, buy a cheap planner and see if you like it. If you become obsessed like I did, then spend more money on a higher quality planner like the Erin Condren Life Planner. I promise you won't regret it.