It's a little more than a week into the new year, which means that the resolutions are flowing. If you're anything like me, my resolutions get old fast and barely last until the end of the month.
While making the following list, I kept in mind Mother Teresa's quote, "Do small things with great love." Instead of trying to totally change immediately in 2018, I am going to try to do little things over the course of a day, week, month or even the whole year.
I think that it is important for people to remember what Mother Theresa said. Remember that change takes time and work. It won't happen overnight and we cannot expect ourselves to be able to change overnight.
It is also important to remember that just because a change or action is small, it does not mean that it has any less of an effect on our lives or the lives of another.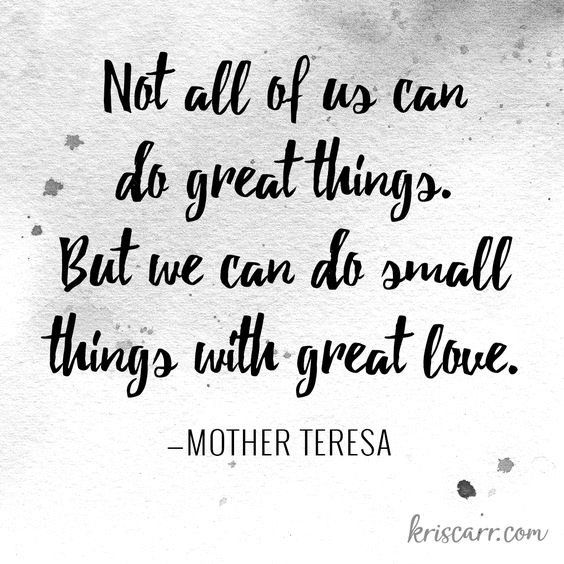 1. Smile more
2. Say hello to someone you wouldn't normally
3. Let people know that you love them
4. Hold the door
5. Take more walks
6. Start a savings jar
7. Read more
8. Volunteer
9. Hug more
10. Learn a new skill
11. Keep your phone off for a few hours a day
12. Start a daily devotion
13. Sit up straighter
14. Meet a new person each day
15. Start a conversation with a new person every day that you wouldn't normally
16. Laugh more
17. Organize something different each month
18. Take the stairs
19. Watch the movies you've wanted to see
20. Learn a new joke each day
21. Stretch more
22. Talk more and text less
23. Try one new food each month
24. Journal
25. Take a cooking class
26. Start saving money for a trip
27. Say more prayers of thanks instead or prayers of need
28. Play a new game
29. Plan a family game night or dinner
30. Revamp study skills