Shaun White won his third olympic gold medal Wednesday for his run on the men's halfpipe. In a brief press conference following the win, White was reluctant to take any questions that didn't pertain to his performance.
The subject of sexual assault accusations and civil suit by his former bandmate Lena Zawaideh was brought up by only one reporter in the conference. The civil case in question began in 2016 when Zawaideh came forward with the allegations and evidence of White's abuse going back almost a decade. They settled in 2017.
The case -- that seemed to have been kept from the public's attention as it was ongoing -- was not a topic that White was willing to even address.
As two female reporters had their hands raised for the entirety of the conference were left unnoticed, White was thorough in answering questions regarding his athletics. When questioned about the case with Zawaideh and the possible effects on his reputation, White seemed unconcerned with the issue.
"Honestly, I'm here to talk about the Olympics, not gossip," said White in response to reporter Matt Gutman from ABC News.
Mixed reactions to the conversation spread immediately over social media. Many people were quick to say that this should be left out of the sports world. Scrolling through the comments on a Youtube post of the press conference, there were endless responses of support for White that harshly criticized Gutman.
As we have seen in the past year with NFL players taking a knee during the national anthem, people become enraged when the focus is drawn away from sports and onto greater social issues. Especially when the focus is being drawn away by any cause that supposedly harms patriotism.
Some argue that White represents our country in the Olympics, so why should we as Americans not support him?

The better question is, why do we want a sexual abuser representing our country?
By referring to the incident as gossip, White seeks to belittle and undermine Zawaideh's experiences and voice as a survivor of sexual abuse. White athletic success comes a sense of power, one which we seem time and again being used to exploit others.
With the prominence of the "Me Too" movement rising, it will be hard for White to keep the allegations in the past. Twitter erupted Wednesday after the press conference with responses of disgust and disappointment.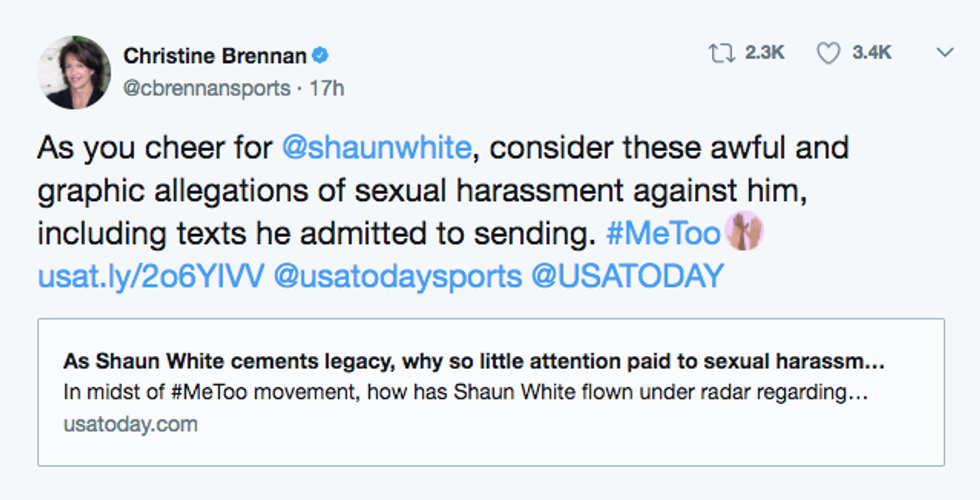 For the future safety of women in our society, we should question our reluctance to check the power of those at the top. Where are our priorities culturally if we believe success in one's field outweighs their abuse of another human being?
White has since publicly apologized for his statement saying, "it was a poor choice of words to describe such a sensitive subject in the world."
But in order to show true accountability and remorse, White should step up and acknowledge his own actions and abuse of power.