Red's Giant Hamburg was a staple of the Springfield, Missouri community for almost 40 years. It becomes a staple of the community because of the fact that it was located on the famous highway known as Route 66.
Route 66 was one of the original highways in the United States. It opened in 1926 and was officially disbanded in 1985.
The highway started in Chicago, Illinois and ran through Missouri, Kansas, Oklahoma, Texas, New Mexico, and Arizona before ending in Santa Monica, California. It is known as one of the famous roads in America.
Since Route 66 went through Springfield, Red's Giant Hamburg became a very popular place to stop and a grab some good food to eat. The restaurant later become the world's first 'drive-through' restaurant because of the popularity of the highway,
At the beginning of the year, it was announced that the iconic restaurant would be making a comeback after 35 years after the restaurant's closure in 1984.
Being a fairly new resident of Springfield and not knowing anything about the restaurant or its history, I had no idea what I was in for. I recently moved near the recreation of the iconic restaurant so I was very curious about trying it.
My roommate and I decided we would go try Red's in the afternoon. We soon figured out that we were going on the opening day when we drove up to the restaurant and saw all the people trying to eat there. We waited in the drive-through line for almost 90 minutes but it was so worth it.
Menu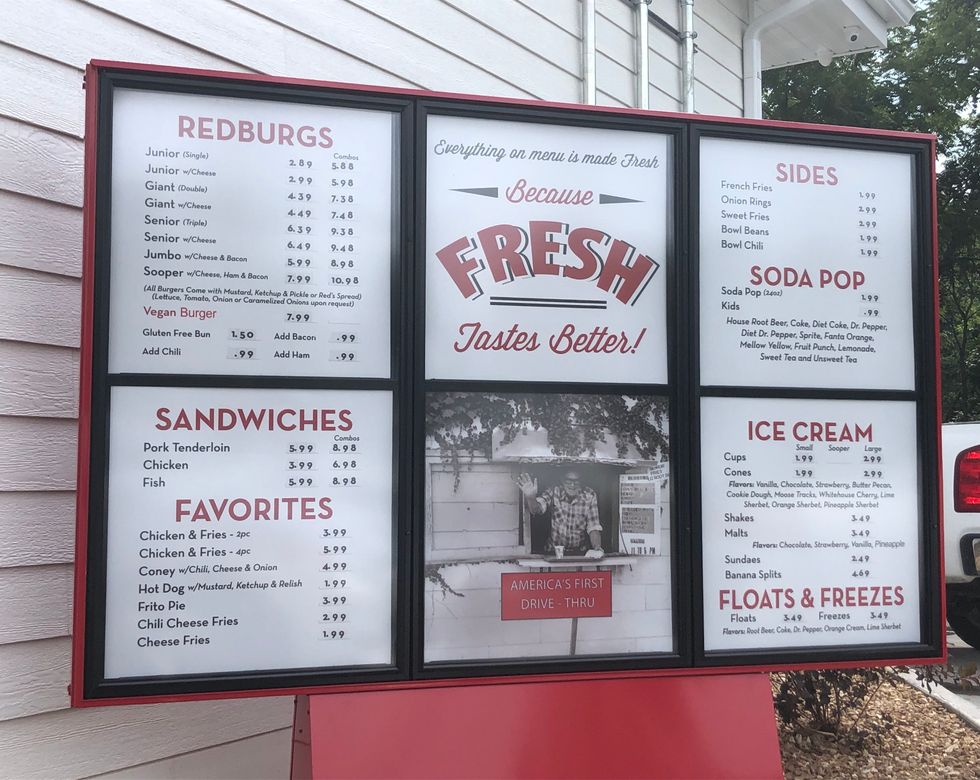 Levi Smith
As you can see from the picture above, they have a wide variety of options like chicken strips, french fries, milkshakes, etc. to eat but their main specialty is hamburgers.
My roommate and I decided to get the chicken, hers in strips form and mine in sandwich form, along with the fries and vanilla milkshakes.
Overall the food was an 8 out of 10. The best part of the meal was for sure the chicken sandwich.
The chicken was juicy and the breading was crispy. I would compare the chicken to ones from competitors like Chick-fil-A or Zaxby's. The vanilla milkshake was made with real milk which made it so delicious.
The fries were hand-cut and fresh but the only bad part was that they were a little under-salted which I guess is healthier than some salty fries.
If you are a resident of Springfield, Missouri, a student of Missouri State University, or just passing through then you definitely need to check out Red's Giant Hamburg.