The Internet has opened a lot of doors for us. It makes learning random facts easier. It helps us keep in touch with people through social media sites like Facebook. It allows me to have my articles published.
It also makes access to pornography only a Google search away.
No one wants to talk about it, but 93% of boys and 62% of girls view pornography before they turn 18. Sadly, we know what it looks like.
Do we know what it does to our worldviews?
I rarely write with an argument, but this is a subject that I am extremely passionate about. I have seen first-hand what porn can do in a relationship, what it does to the person viewing it, and what that can do to the people around the viewer. Porn is a dangerous addiction that can never fully satisfy the viewer.
Recently, I saw this statement on someone's bumper sticker: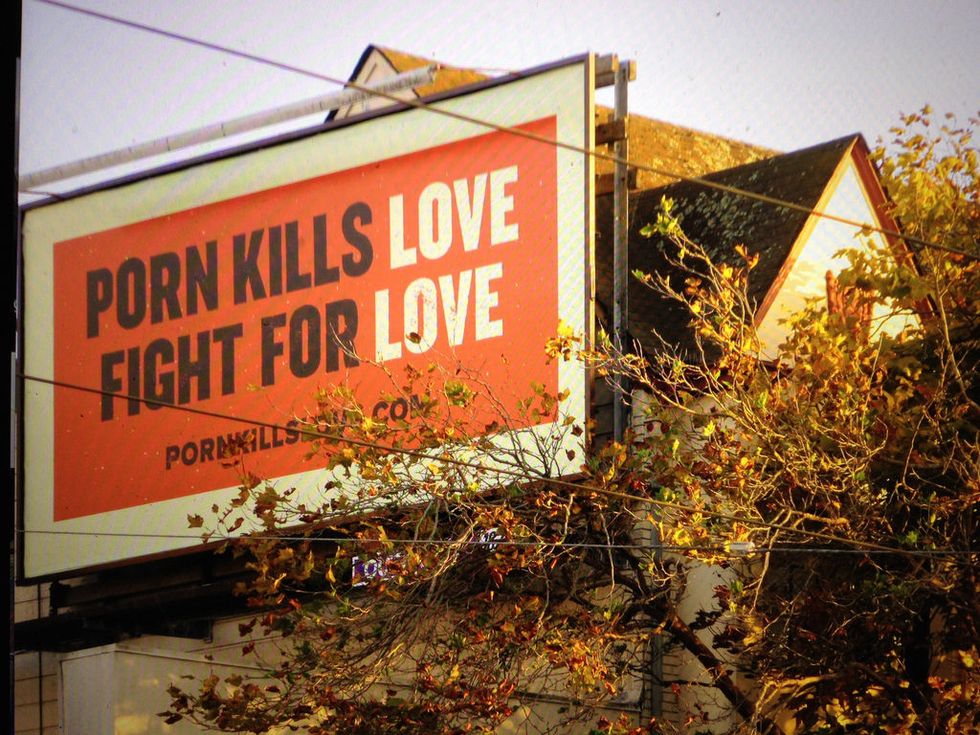 The sentence seemed almost self-explanatory, yet I wanted to know why porn "kills" love. Enter Google, which led me to Fight The New Drug, the creator of this slogan.
Fight The New Drug is an organization that "exists to provide individuals with the opportunity to make an informed decision regarding pornography by raising awareness on its harmful effects using only science, facts, and personal accounts."
FTND is super cool because it is not religiously affiliated with any specific belief system. So no, it's not just Christians who believe and argue that porn is wrong—there are actual, scientific facts that back up the negative effects porn has on society.
Here's why porn and love don't go hand-in-hand.
1. Pornography objectifies women's bodies.
Pornography values women based on what their bodies can do to the viewers. Love, on the other hand, is more than skin-deep; it is an intimate relationship between two people through emotional as well as physical connection. It's a bond of trust. Simply put, pornography shows women with only a physical purpose, but we are more than just our bodies.
2. Pornography is highly addictive.
Pornography is meant to shock the eyes. Whether the viewer is in a relationship or not, their view of sex changes because of what they see. According to a
survey
in 2012, "56% [of 1500 men] said their tastes in porn had become "increasingly extreme or deviant" the more porn they watched."
Just as other addictions have to be fueled by greater and greater amounts of whatever substance is being abused, our brains can grow used to the "beginner's images" we see. It will take more and more to reach the temporary satisfaction so desired.
3. Porn offers a twisted version of what sex is.
While people may have different tastes in what sexual activities they perform, pornography specifically glorifies "violence, domination, infidelity, and abuse." With pornography, often the younger the person is exposed, the earlier their view of healthy relationships becomes warped.
Our brains "build connections between [the] feelings of arousal and whatever is happening on [the] screen." So, viewing violent, degrading porn, while at first seeming shocking and out-of-the-question, can easily turn into what turns us on.
So, why this statement? Does porn really kill love? Are our views of healthy relationships becoming skewed just because we've seen someone naked on our phones or our computer screens?
Maybe this is a more important question to answer: what is love?
"Love is patient. Love is kind. Love does not envy, love does not boast, love is not proud. Love does not dishonor others, love is not self-seeking, love is not easily angered, love keeps no record of wrongs. Love does not delight in evil but rejoices with the truth. Love always protects, always trusts, always hopes, always perseveres. Love never fails." - 1 Corinthians 13:4-8
The word "love" does not show up nearly that many times in the original verse, but when you were reading it, you associated love with each of those qualities. Your brain was building the connection between what love is and what love does.
We have the perfect example of love: Jesus Christ. You can replace the word 'love' with the name of Jesus, and that verse rings true.
Pornography does the opposite: it does not teach patience. It boasts in self-pleasure, in not needing to wait to be in a relationship for your sexual desires to be fulfilled. Pornography breaks trust. Pornography will fail you because it cannot fill the hole in your heart that only Jesus can.
Porn kills love because at the bottom line, pornography is selfish.
Love is selfless.