A private picture gallery is a perfect idea to give your living space an extraordinary climate. Unforgettable photos and your favorite posters on the walls are sure to make the rooms more cozy. Learn how to create an aesthetic and safe photo decoration without damaging the wall surface. There are many ways to make our apartment unique and individual. A picture gallery will probably be one of the most interesting ideas that we can implement quickly and easily. You are sure to find your favorite photos on your storage disk, which you would like to bring back to your memory again and again and which you would literally want to have in mind. A photo wall to manufacture a really enjoyable activity that can be done quickly in one afternoon. However, we recommend preparing everything according to plan, because if you think it will be enough to drive a few nails into the walls, you are wrong. One rash act can damage your walls and pictures, or spend money unnecessarily on picture frames that you will never use. It is advisable to think about a clear working concept and then to follow it step by step. Thanks to this, you will solve the problem of empty and sad walls, spend a beautiful afternoon creatively, and surely put an individual picture gallery that will represent a unique and original decoration.
Not just in the living room
Who said that a photo wall can only fit in the living room? Of course, it would be most visible there, as this is where our family members and our guests spend most of their time. So that's probably where the impact would be greatest, but you're sure to find other rooms that would be great for a photo wall as well. Just as popular as the living room, the bedroom is the ideal place to give your pictures a second life. Here you can present the more private recordings as there will only be a few family members in this place. One of the most interesting spaces for a picture gallery is the bathroom. If the room seems too empty and cold, all you have to do is select a few pictures in picture frames and hang them up there. Be careful not to hang the photos near a sink or above a bathtub, as the high humidity in these areas can damage your pictures. The kitchen will also be a good place for our photo wall. You can place your favorite recordings directly on the refrigerator. A popular method is to simply attach the photos to the refrigerator door with magnets. This solution enables us to exchange the pictures more often and to surprise the guests again and again with a new photo gallery. A very pleasant arrangement is to hang the pictures in the hallway. Here you can optically reduce or enlarge the room using the picture frame.
A thoughtful picture exposure
When planning a private picture gallery, the first thing to consider is which wall you are going to decorate. Isn't the wall too thin or what wall surface do you have? Standard walls made of brick or plasterboard will easily support even large and heavy picture galleries. But if you have small and insecure partitions, it is advisable not to use picture frames. A photo wall looks best on a uniform background. It doesn't necessarily have to be a classic wall color. Pictures on striking dark backgrounds look very interesting. Dark blue, bottle green, or deep black walls will definitely create an excellent effect. You have greater freedom of choice when it comes to choosing a picture frame. Do not use patterned picture frames covered with structure. If the whole thing seems too colorful, our eclectic photo wall disappears into the whole mess. The end effect will not be satisfactory. Make sure that wall lighting will be an important aspect of our gallery. In the case of bright and sunny rooms, do not forget to print out the pictures in very good quality. Otherwise, the photos will fade and become blurred, which in turn makes the whole thing appear unaesthetic. In windowless rooms such as the hallway or often the bathroom, you should consider whether you should not illuminate the pictures with an additional light source. Thanks to this, the picture gallery would give a wonderful climate, especially in the evening.
A couple of optical tricks
When setting up a photo wall, you can freely change the room. A few tricks help to visually reduce or enlarge the room. If the room is rather narrow but particularly high, you can hang picture frames from the floor to the ceiling. It can be large frames of A4 and larger. Choose photos that show depth and expressiveness, such as B. A suspension bridge between two banks or a tunnel. You can also hang nicely framed mirrors between the pictures. This guarantees the visual effect of a larger room. If you are looking for a classic and elegant aspect in your living room, go for a black and white picture gallery. Frames in these colors and additional beige passe-partout will ideally appeal to all lovers of the glamor look. A timeless solution that will continue to be fashionable and elegant in a few years, without looking boring.
What does ... Passepartout mean?
In art, a passe-partout ([paspaʁˈtuː], French passer "go through" and part out "everywhere") describes a paper or cardboard frame for graphics, photos, and paintings.
Source: Wikipedia.de
Picture Frame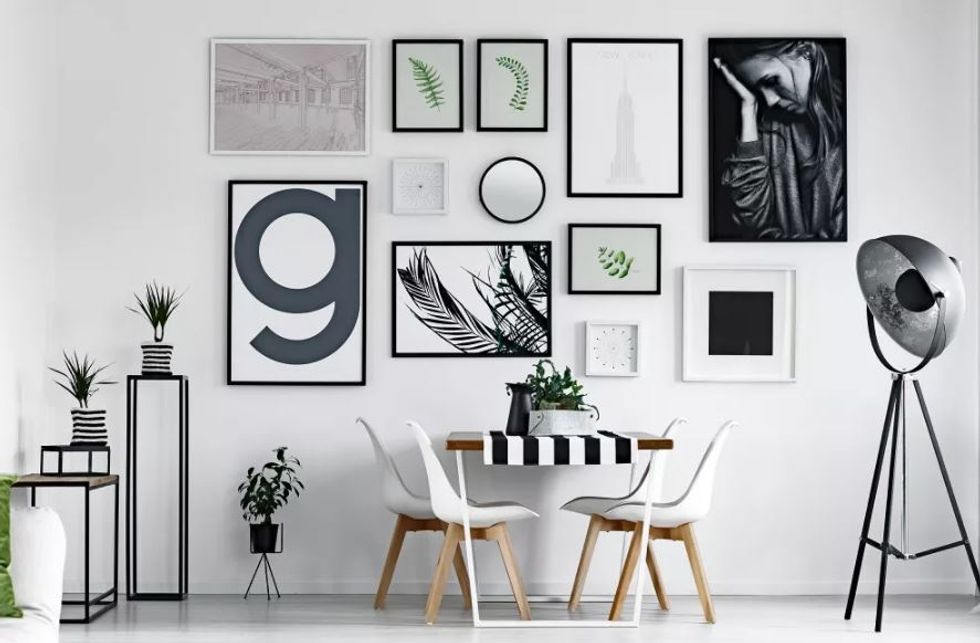 The most important element of a private picture gallery is without a doubt the picture frames. Their size, shape, color and structure create the atmosphere of the whole gallery. The arrangement of the pictures is very important, but the framing gives the whole thing the desired end effect. Do you notice in which room all the photos should hang? Should it be the representative living room or your modern bathroom? But maybe it should be a decoration for the nursery. It is also decisive whether family members can be seen in the pictures or rather picturesque and romantic travel areasPicture frames are a decoration in and of themselves. Classic ones made of wood present themselves perfectly as elements of the urban jungle or vintage style. Again shiny silver or gold with many decorations are ideal as accessories for the glamor look. Below are a few ideas for picture frames.
Size

When planning the picture gallery, it is extremely important to measure both the room size and the wall. If it's a large open space, then you can cover the whole wall with pictures without worry. Different frames would be advantageous here. Very large 70 × 100 cm, slightly smaller 30 × 40 cm or very small 13 × 18 cm will go perfectly with each other. However, when setting up a small part of the wall, all frames should be the same size. Square 16 × 16 cm frames look best when hung symmetrically. They bring order to the whole. It is much easier to look at the picture content, which is very important in a picture gallery.

Color

Picture frames in a uniform color cause the guest to deal directly with the picture and not with the frame. Here, too, the image content is in the foreground. The classic connection is of course black, white or wooden. Pay attention to the background. Black frames on a black wall will look very good in a large room, instead, white picture frames on white walls will be perfect in small rooms as everything blends together and don't look overwhelming.
The play of colors is not only reserved for children's rooms. Red, rosy or blue picture frames are ideal for monochrome rooms. Strong color accents give such rooms an individual character. If you put together many shades of color, the photo wall will not be boring and will attract everyone's attention.
An interesting variant is to combine the classic with the modern. If you hang black frames next to silver or gold ones and add a few colored frames to them, the end result will be great.
Shape
Don't be afraid to combine sizes, colors, and shapes. The more cleverly coordinated structures, the more impressive the end effect will be. We have so many different types of picture frames on the market that it would be a shame not to have them.
If you want to add variety to the composition of the picture, mix rectangular and oval frames together. Glue small seashells and stones that you brought back from your vacation onto the picture frames. There are no limits to originality.
You can also take photographs with small souvenir compartments in which small holiday memories hang alternately on the wall. This means that the wall doesn't get boring, as we can often exchange the little holiday utensils.
How do I choose the "right" images?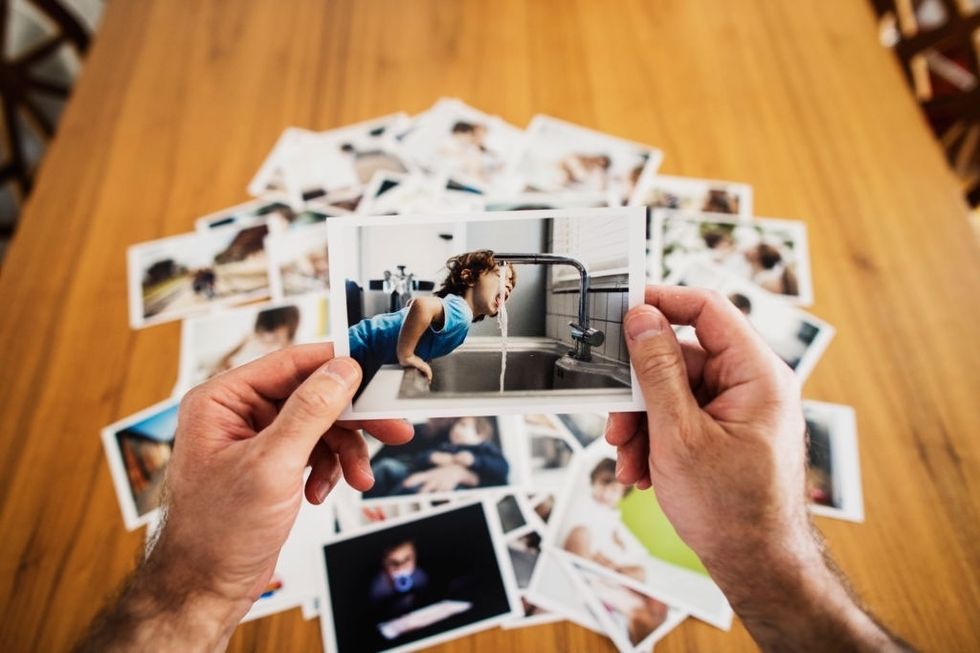 Getty Images
We can start building a private picture gallery with the selection of picture frames but also with the selection of pictures. Often the picture and its content determine the frame and space where we want to hang the pictures.
You alone decide which photos will decorate your walls. If you have an interesting hobby, are particularly good at skiing or horse riding, or if you are a nature connoisseur, show this and don't be ashamed to bump into it a little. Vacation pictures and weekend trips with beautiful city or nature scenarios will also look great.
In fact, there are actually almost no limits when it comes to the subject of images. Only you can decide whether pictures from your childhood or beach pictures from your vacation will decorate your walls. Just pay attention to the character of the room. Beautiful Instagram pictures of your delicious dishes fit perfectly in a kitchen and imposing and snow-covered mountain peaks are more suitable in a living room.
Color, sepia, or black and white?
Besides choosing the frame shape, don't be afraid to play with colors. Standard color images fit perfectly in a black and white photo wall as well as in colored frames. If you want to create a sentimental family gallery, choose pictures in sepia optics. Look great and perfectly underline all the feelings in the picture. Classic and monochrome photos look great in large formats. In addition, minimalist, almost invisible frames draw all eyes primarily to the picture content.
Family history captured in the picture
Photos with family members are always welcome. The pictorial family tree on the wall in the dining room is an original and interesting decoration. Funny poses and situations from your childhood loosen up the atmosphere and improve your mood after a hard day at work.
When choosing the images, always try to create a story out of them. Opt for a uniform motif, an element that will connect all photos in some way. It can always be different weekend trips with friends or portrait photos of your children from the time of birth to the present day. Such pictorial stories provide a lot of comfort and security for the whole family.
Vacation photos

Vacation and travel pictures are an absolute hit on photo walls. Exotic views and breathtaking landscapes look very good everywhere. Whether bathroom, living room or bedroom, always interesting and ideally suited to stimulate conversation.
But one should not forget about diversity. Don't print 10 pictures with the same sunset. It will be better if it will be a sunset on the beach, but the second one can already be seen in the mountains and the third one will shimmer through tree branches in the forest. Over the years you have probably collected a large number of different recordings.
Pictorial mixture
When setting up your picture wall, you decide how it should ultimately look. You determine the topic and motif yourself. You decide on the size, color, and type. We can give inspiration and whisper one or the other, but the end effect and the whole mood should suit your taste.
Your photos can differ in color, size, or shape depending on the topic. Your favorite posters or sentimental graphics also go very well with it, if you like it that way. Do not be afraid to realize your different ideas. The more diverse the more interesting it becomes.
Image arrangement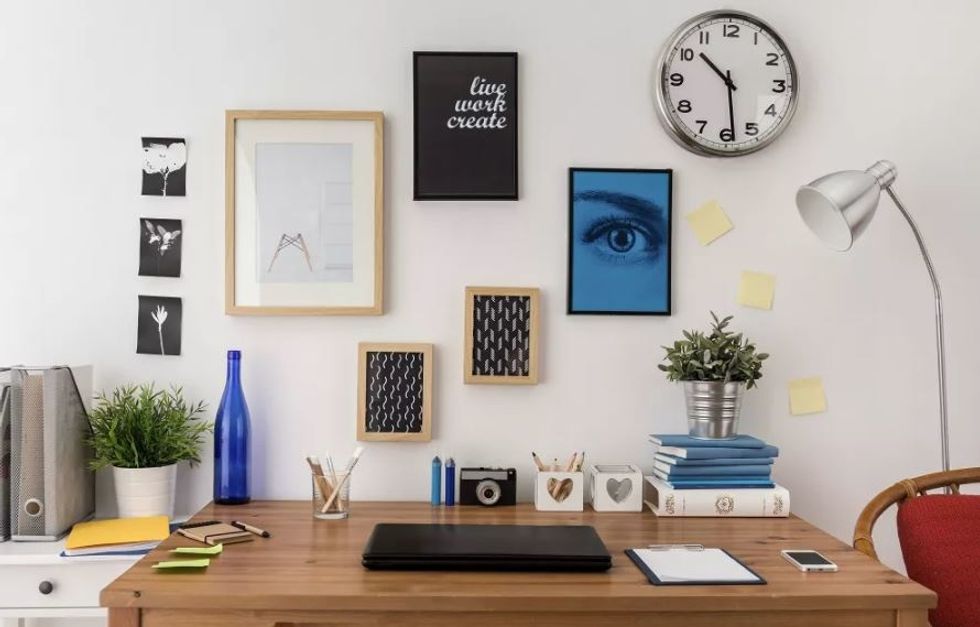 Google
Photos selected, picture frames bought, time to devote to arranging the whole thing. If you start the adventure with wall decoration, you definitely refrain from hammering nails. They only damage your wall and the individually scattered images on the wall do not ultimately result in a uniform picture. Learn a few best practices for setting up an image gallery. Our tips are sure to help you if you want to showcase more than a few photos. Pay attention to the distance between the pictures, the frame shape, or the size of the space you have available.
Simple composition
A classic arrangement assumes that pictures are hung on one axis. Horizontal or vertical does not matter in this case, the main thing is to keep the same distances between the images. Note that the pictures are placed at the occupants' eye level, approximately 150-160 cm from the floor. In a children's room, of course, the pictures must be hung lower accordingly. Suspended vertically, the pictures make every room appear higher. The horizontal position of the pictures enables a classic and elegant decoration to be made. If you choose monochrome frames in the same shape, all eyes will be focused primarily on the image content.
Symmetrical arrangement
Symmetry often helps organize a photo wall and determines mounting points that will make the next steps easier. The whole thing looks uniform even if you use different colors and shapes of the frames.
One of the most popular symmetrical arrangements is to fix the largest picture frame in the center and hang the smaller frames around at equal intervals. You can also define an invisible line and then hang up pictures in pairs, so to speak as mirrored pictures. Another idea is to think of an invisible frame and hang the pictures inside at equal intervals. Open arrangement
An open arrangement of the home picture gallery gives the greatest design options. Above all, this arrangement allows for new images to be added. A mixture of patterns and structures, on the other hand, has a very dynamic effect and certainly doesn't look boring. Working with colors and image size enables individual favorite photos to be specially exhibited. This arrangement works best on large wall surfaces. If you are not afraid to mix many different structures, shapes, and colors, you can use this arrangement successfully. A great advantage of this arrangement is its universal application. Even if you change your furniture decor or wall color, your open layout of your pictures will look great.
How do I mount pictures on a wall - a step by step guide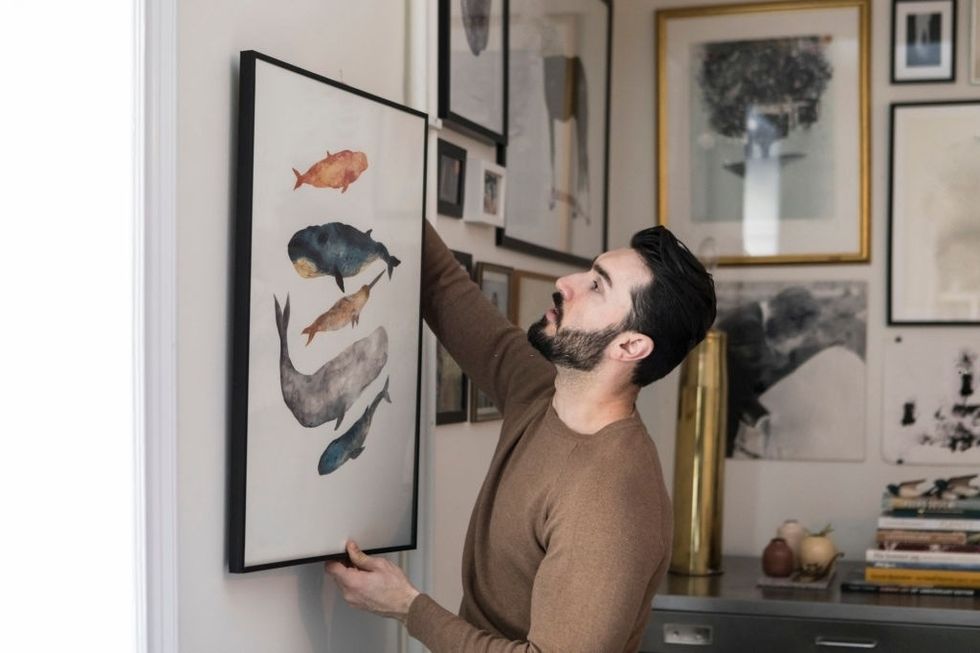 Getty Images/Maskot
Most important is the work plan. There is an empty wall in front of you. Your selected pictures, all in their respective frames, are already available. High time to hang it up. But how should you proceed so that both your residents and your guests are delighted? A few simple steps are sure to help set up a photo wall.
Visualization
In the beginning, put all the prepared pictures on the floor or bed. Arrange the picture frames the way you want to see them on the wall. Take a picture of the final version. Such a pattern will help you to correctly place the arrangement of the pictures on the wall.
Another good idea is to visualize the picture wall on a large surface of gray paper. Choose enough large wrapping paper, place your pictures on the paper, and draw your picture shapes. Next, put the pictures on their side and attach the paper to the wall with scotch tape where you want your photo wall to be. Prepare openings for attaching your pictures at the points marked. Now all you have to do is hang your pictures on the attachment points.
Double-sided adhesive tape - how do I hang my pictures without drilling and hammering in nails
The time of drilling holes and driving nails is long gone. There are far better methods of attaching something to the wall these days. There are many advantages to using double-sided tape. Above all, our wall remains undamaged. In the event that we change our minds, removing the double-sided adhesive tape is very easy. The tape leaves no residue and our wall stays nice and clean after dismantling.
The double-sided adhesive tape in our online shop was made from light acrylic foam. The tape is ideal for assembling glass, aluminum, steel as well as ceramics and plastics. Flat and narrow shape, transparent or gray, is perfect for attaching decorative elements such as B. picture frames. All you have to do is cut a long piece of tape, glue it to the back wall of the picture and then attach it to the desired location on your wall. Note that the full bond time is 72 hours. The double-sided adhesive tape is available in two colors and in widths from 5 to 20 meters. The tape made of acrylic foam is very universal and will certainly be helpful as an assembly tape not only for your picture gallery.
More ideas for an interesting photo wall
There are a number of ideas and ideas for a photo wall. In addition to the traditional solutions, i.e. hanging photos in picture frames on the wall, you can also present your photos in a completely different way. We have prepared a few suggestions here and we hope that they will be some inspiration to you. Before building a picture wall, prepare some accessories. Office supplies such as clips, drawing board pens, scissors are always helpful. Double-sided adhesive tape, a rope (jute rope, cotton rope, PP rope ), or a chain of lights are also very helpful.
Photomontage without a picture frame
You can easily stick the pictures you have chosen on the wall. There are a lot of brightly colored adhesive tapes on the market. Use this to give the whole thing even more charm. The photos do not need to be arranged symmetrically. Make a photo montage out of it and improvise according to your wishes. Everything will certainly present itself well. Such a light and loose arrangement fit perfectly into all eclectic interiors and children's rooms. The children will certainly be happy to help set up a photo wall. Your photo wall in this form can also contain other charming elements. Dry leaves, small souvenirs, or favorite posters are ideal for this.
Hang pictures on a string
An interesting and popular solution to another picture variation is to hang photos on a simple string. You can use all kinds of ropes for this. HERE we have already written about the universal application of different ropes. Prepare a classic white cotton rope, a golden brown and warm jute rope, or a colorful polypropylene rope in your favorite color. It all depends on what effect you want to achieve and what style you want your photo wall to be. On the selected wall, determine a place where the cord will be attached. Using two nails or drawing board pins, hang the string between them. Since a rope is elastic, you can give it the desired shape. You can now attach your photos to the string with clothespins. An enchanting and simple picture gallery is ready.We also recommend using LED fairy lights for a photo wall. In the case of a beautiful wall light decoration, the assembly is the same as with a cord. Just note that there must be a socket near the hanging fairy lights. Such a picture presentation also has a very helpful side effect. The whole thing becomes a decorative night lighting. You can find more bright inspirations HERE.
Photos on shelves
Another option for your pictures is a wall shelf. The so-called floating shelves are very narrow and are mounted directly on the wall. You can then easily place several picture frames of different sizes next to each other. Small travel souvenirs or other decorations often find their place with the pictures. You can always change your exposure on such hanging shelves, so it never gets boring. In our online shop, you will find metal floating shelves in classic RAL colors. You choose the shelf length that will fit your wall perfectly. An ideal solution for all children's rooms too. In addition to pictures, such shelves can also easily accommodate your children's favorite books or small toys. Everything is close at hand at all times.

An ideal idea especially for the kitchen. You can easily bring the photos to your fridge using various colorful magnets. Another method is to simply paint a wall with magnetic paint. This is how you get a large magnetic board. In addition to your photos, you can also add your favorite sayings or quotes. This solution is never boring either, as it can be exchanged very quickly and easily.
Private picture gallery, the best solution for an empty and boring wall.

You can create an original and unique decoration for your home inexpensively, quickly, and without much effort. Picture galleries are ideal to give the rooms more individuality and character. Photos always bring a warm and cozy climate and give a room a lot of security.
Picture frames, which we can buy nowadays in all sizes, shapes, and structures, are decorative in themselves. If you arrange them correctly on the wall, no one will pass by such an exhibition indifferently.
Don't be afraid to experiment. Compare colors, sizes, and textures. Oftentimes it turns out that the seemingly inappropriate elements make an interesting and perfect composition. Just always remember to plan your wall decor step by step and your private photo gallery will be a hit.

From Your Site Articles
Related Articles Around the Web