If your friends are anything like my friends, you guys take a LOT of pictures. For a while, I complained about this quite a bit. I thought it was so stupid that every time we went somewhere, we had to take a picture of it.
I thought that was stupid until I moved away from home. The summer before I left I got a huge order of pictures developed at Costco, and when I moved into my dorm and made my photo board, it felt a little more like home.
If you don't already have photos up in your room, I would highly suggest doing so, and if you particularly like taking pictures, I urge you to try to take at least one picture during an event or significant happening. I promise that having those hard copies of images from distinct memories will make you happy when you can look back upon them.
Here are 15 ways you can make those pictures shine in your dorm room:
*All of these images are from Pinterest and searching "photo dorm room" will let you browse countless more ideas*
1. On the wall beside your bed with other wall stickers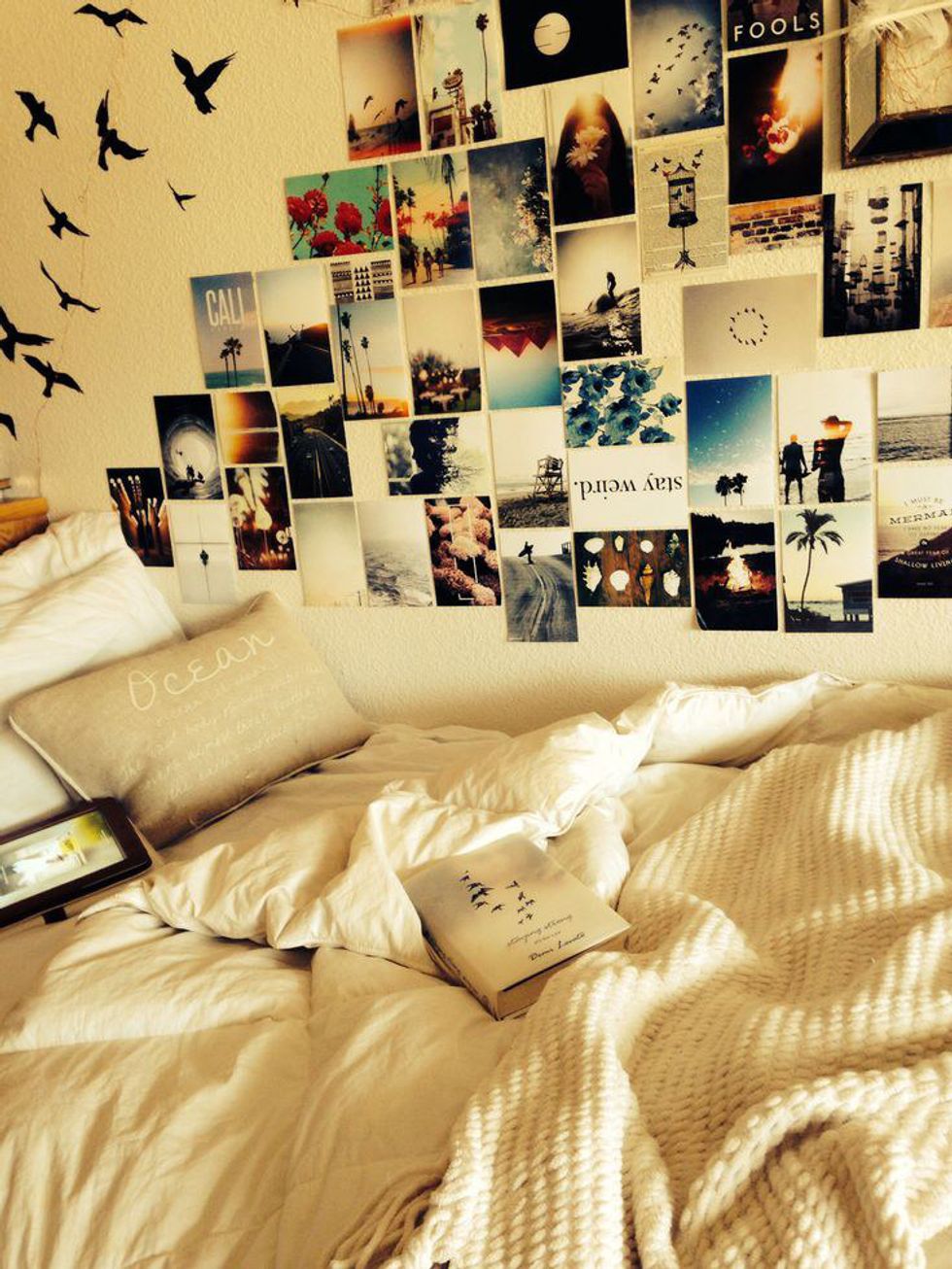 If you are balling on a budget like I am, you can sometimes find cute little wall decals at your local DollarTree.
2. Wreath style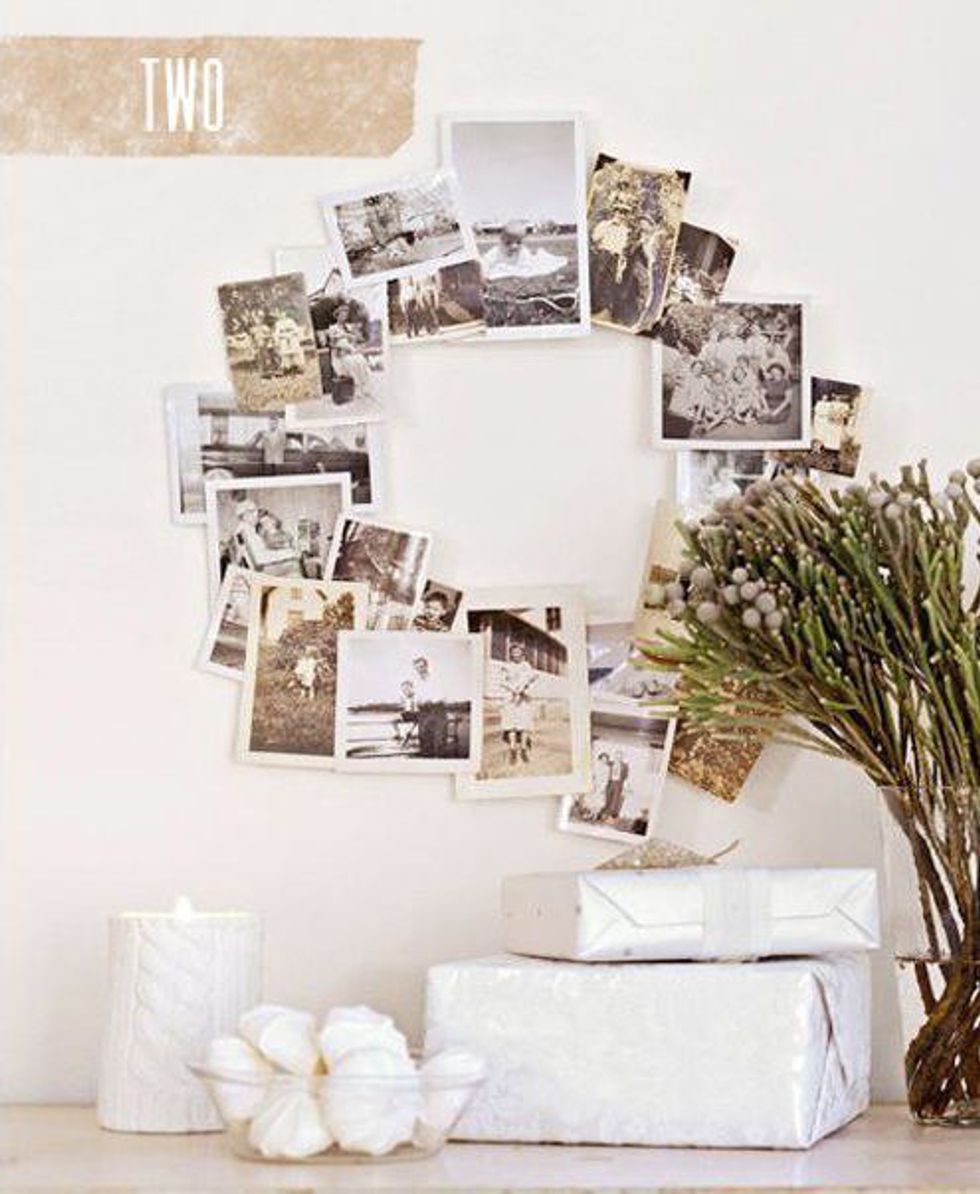 There are a lot of tutorials for this if you search 'photo wreath' on Youtube. I particularly like this style because you can display a large number of pictures without taking up a lot of space.
3. Bulliten board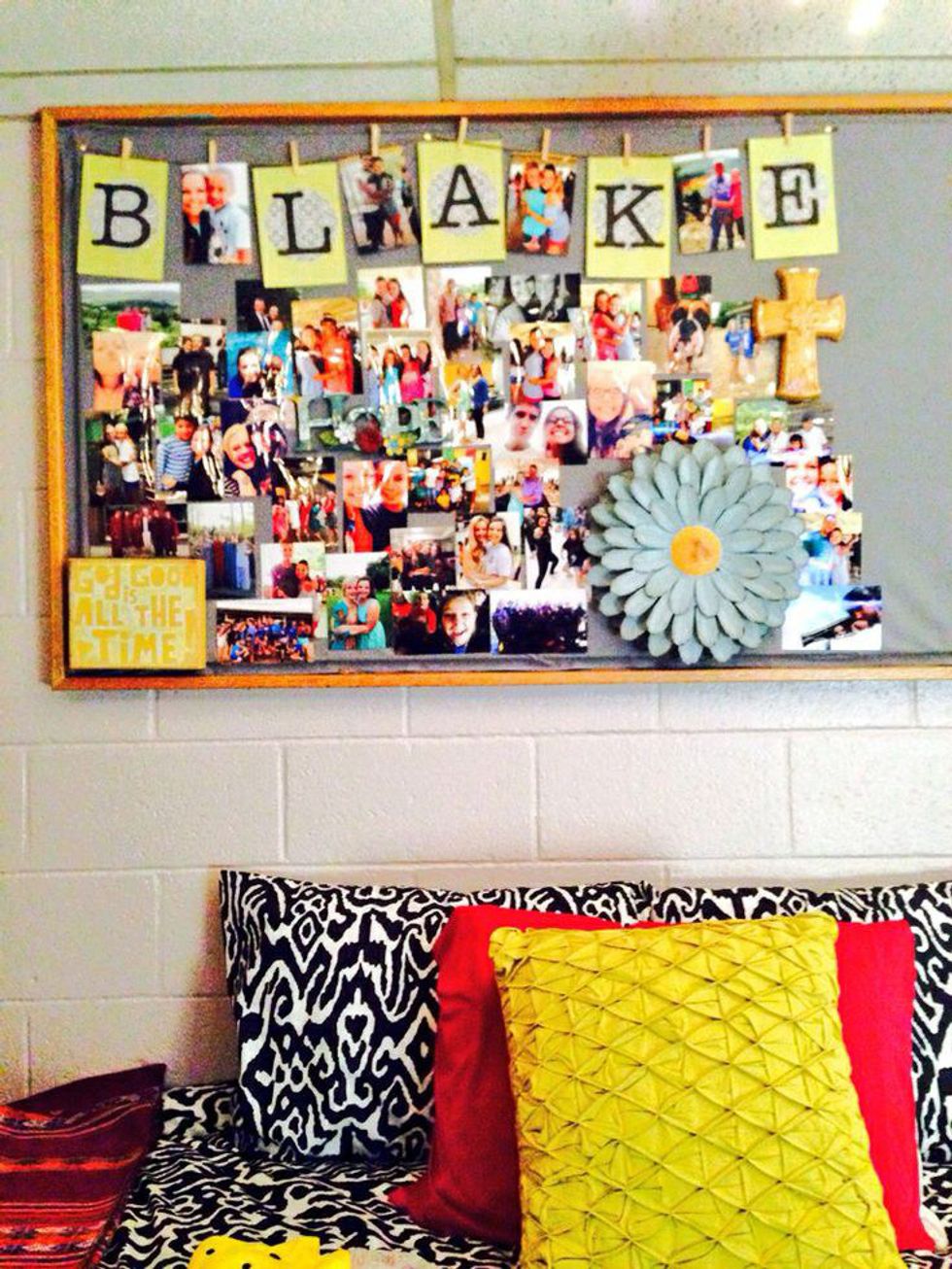 Here is my attempt... I opted to buy a plain brown bulletin board and paint the edges.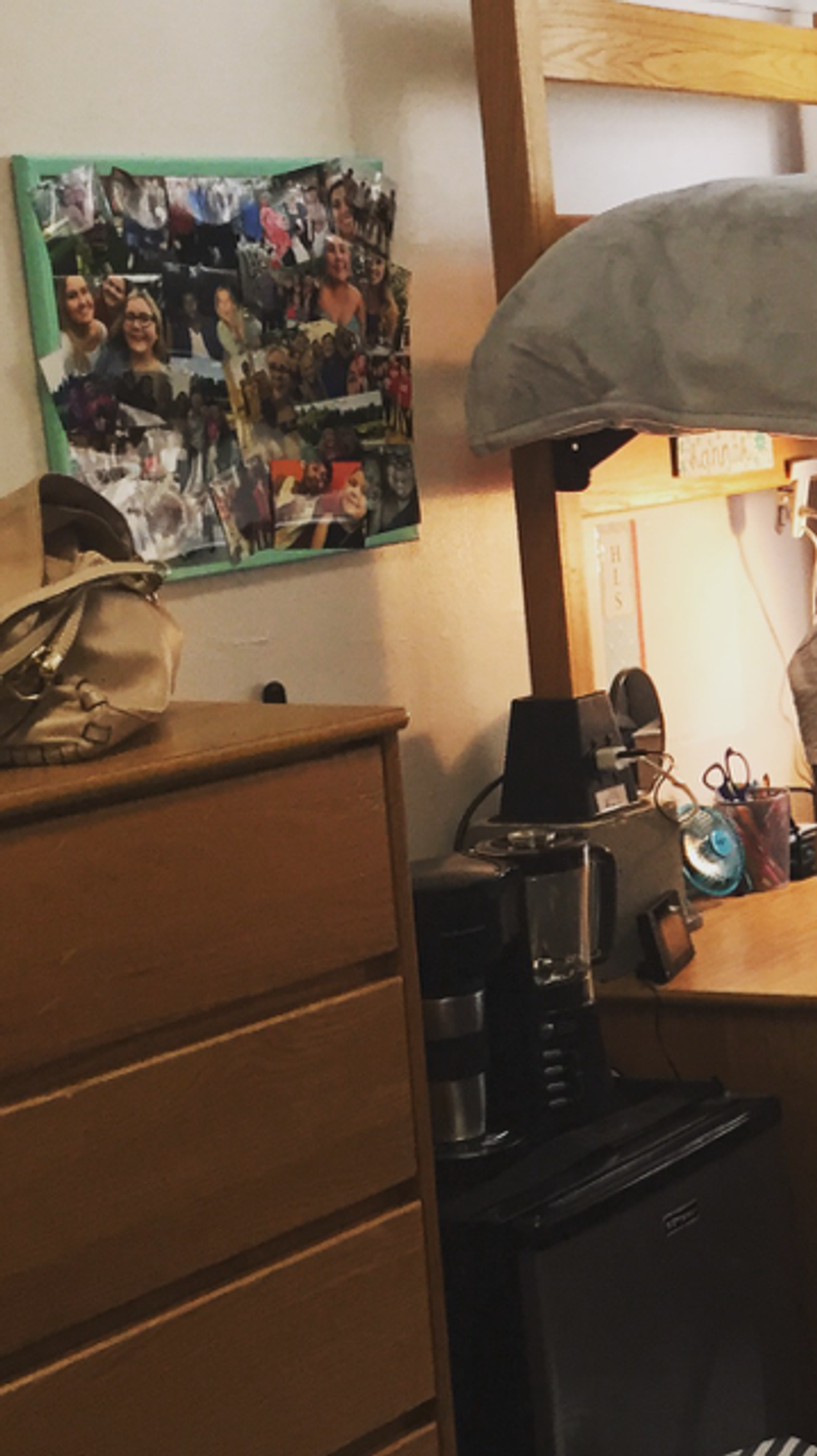 4. Fancy fringe along your desk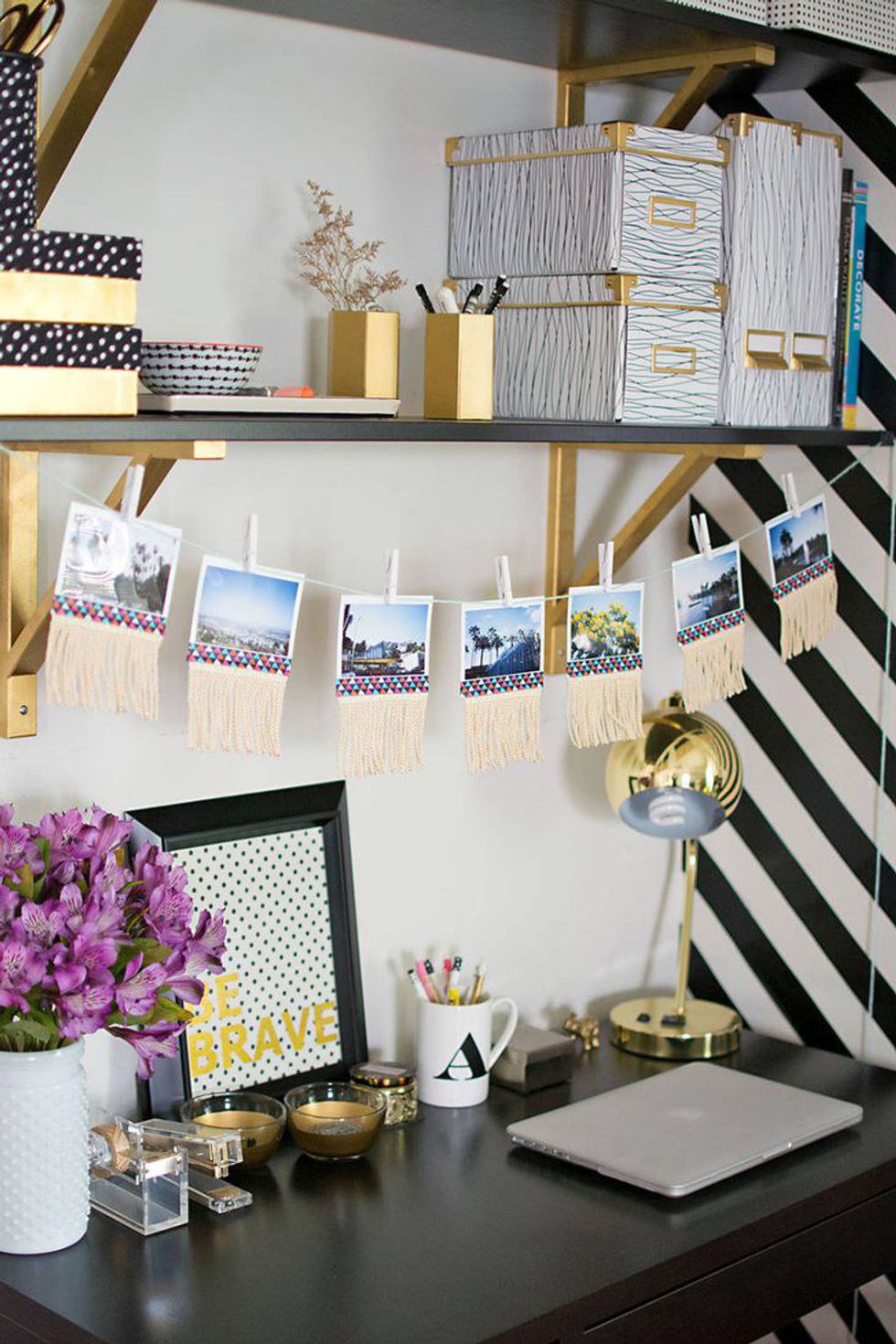 This is great if you are going for quality rather than quantity. If you have a few images that are really near and dear to your heart and want to display them in a fancy way, this is an awesome idea.
5. String lights along the corner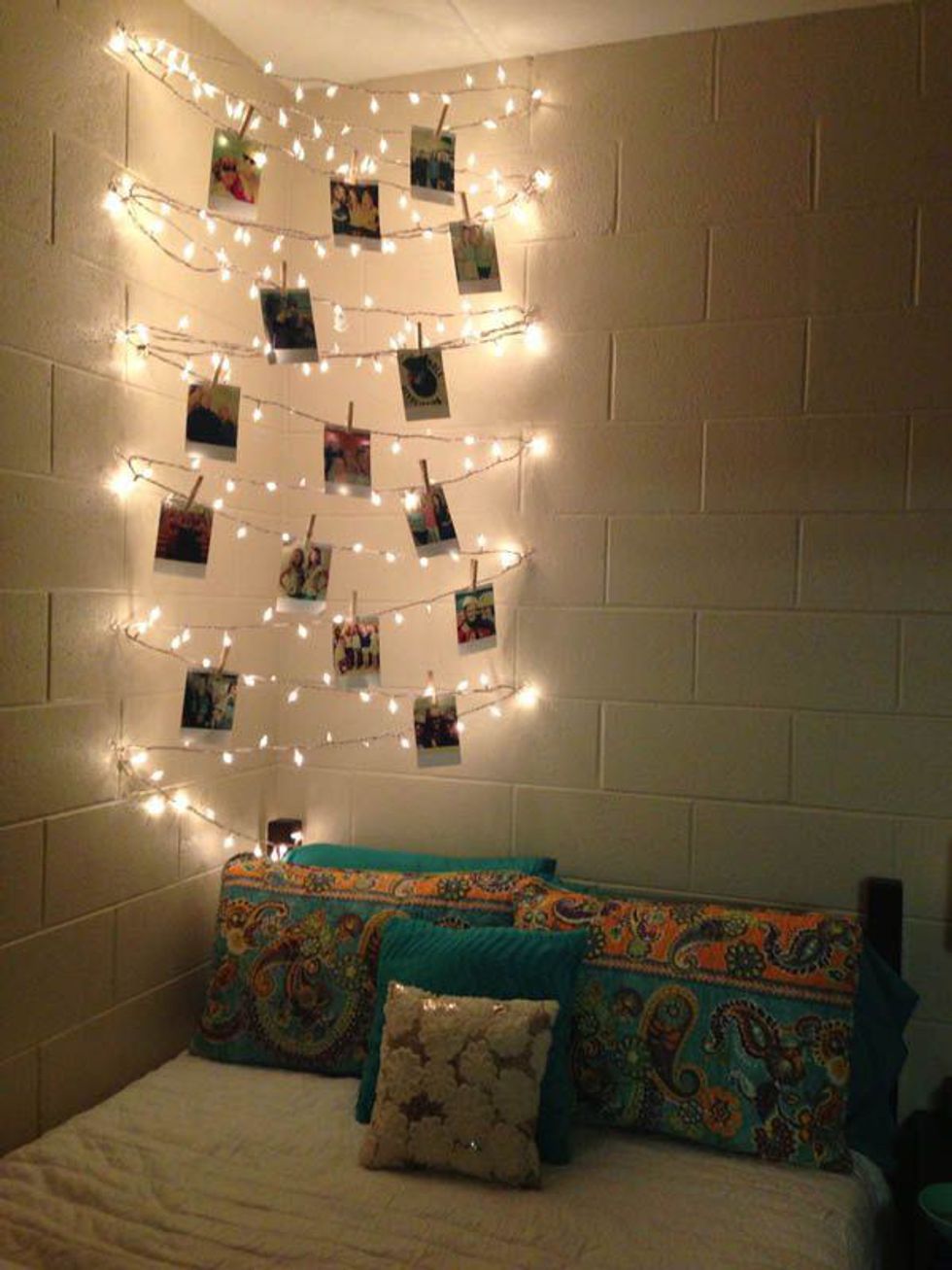 This particular method would require command hooks, since it is done on a hard wall. These can get a little pricey, so I would recommend buying them in bulk packs instead of 3 at a time. Trust me, you'll need all 20.
6. On wall with Friends decal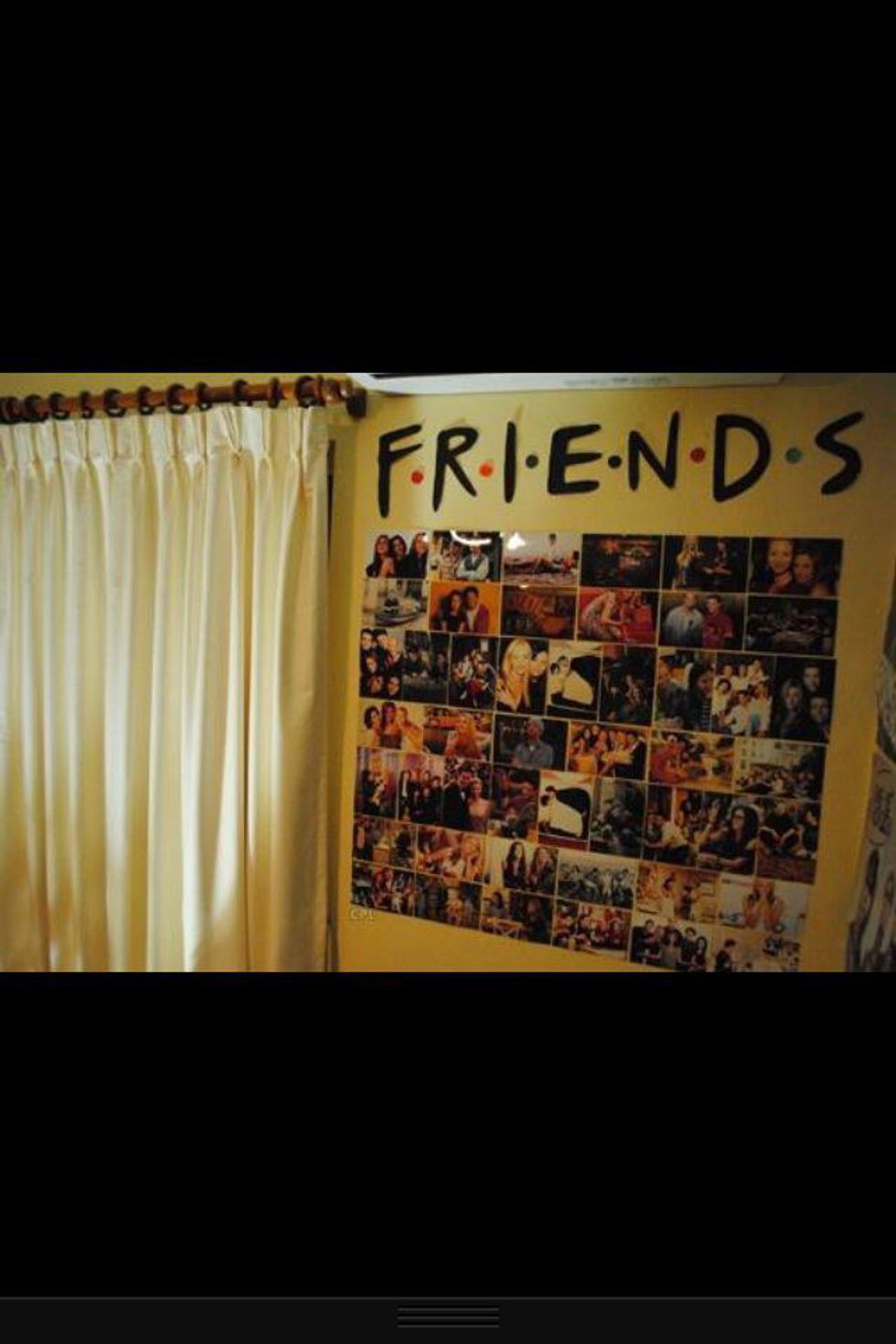 If there is one thing I love, it is the show Friends. This idea is super simple and would both fill up a blank wall and be a cute decoration in your room. There are tons of templates online where you could print the letters and cut them out.
7. All over in different sizes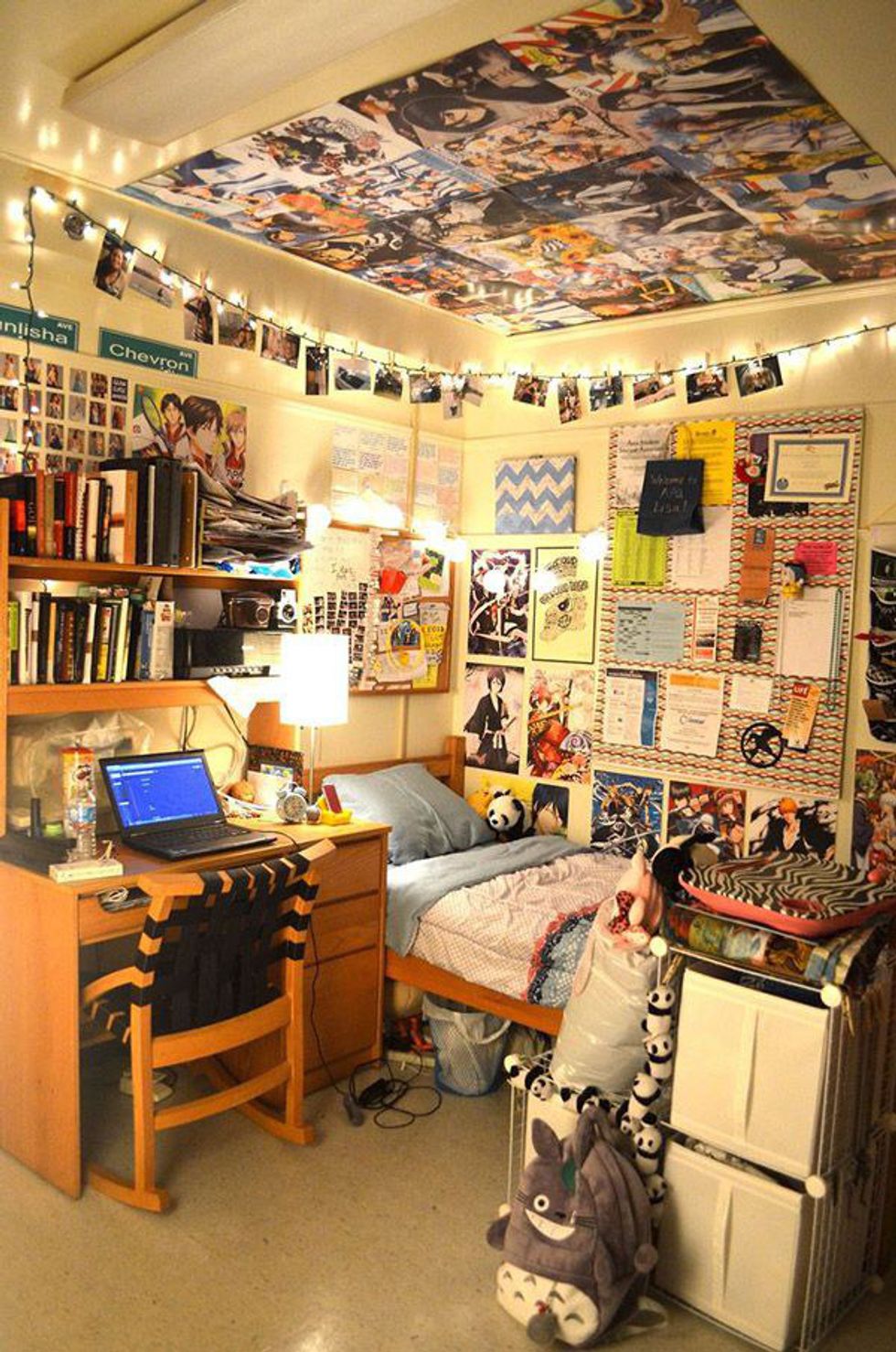 I like the idea of putting photos above a bed on the ceiling, and if you have a ton of pictures, several of the locations in this image would look awesome in any dorm.
8. Behind bed in asymmetrical layout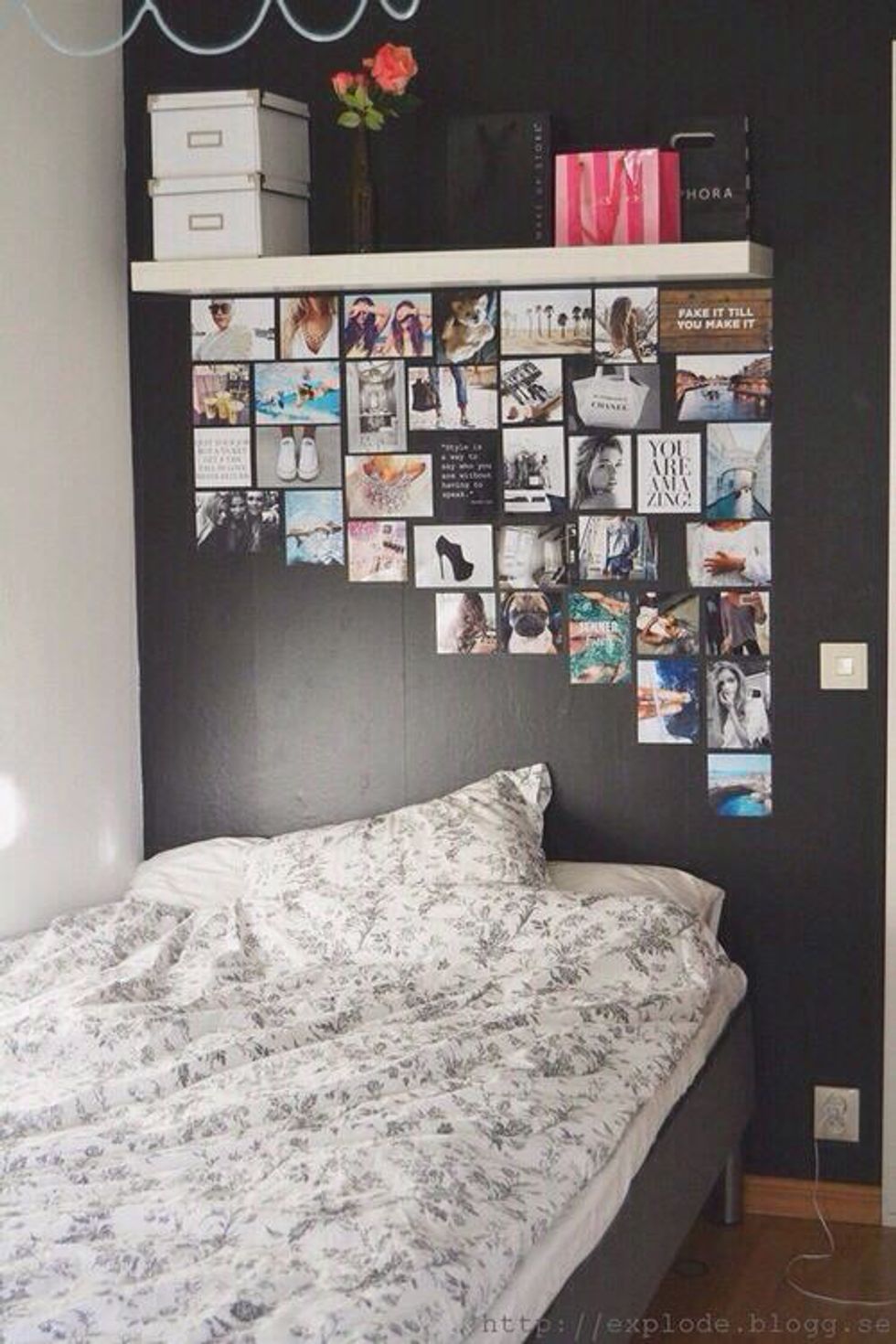 This is a more sophisticated look and also fills the blank wall behind your bed if you need to fill that space. I would recommend using 'glue dots' or something similar to them to attach the pictures to the wall so they lay flat.
9. Down flat on desk
I think this is going to be something new I will try when I get back into my dorm. In this picture, I believe it is actually laminated or has a glass sheet over it, but I am going to use packing tape and do a handmade lamination.
10. Clothesline/ clothespin style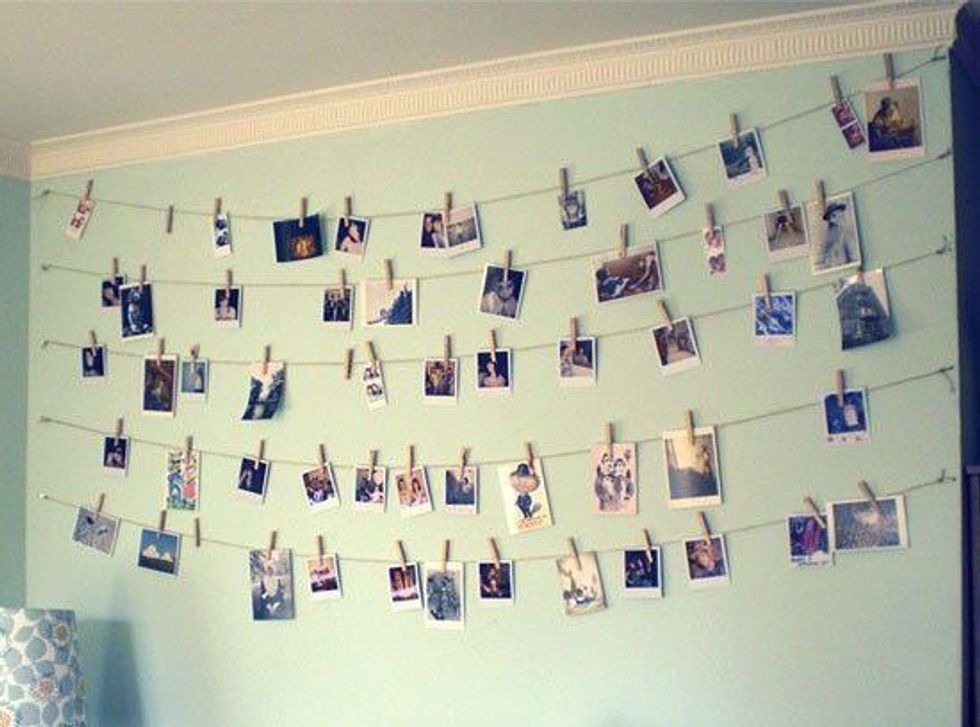 Here is my friend Jasmine's attempt at this idea! Notice how nicely it fills a large, blank wall.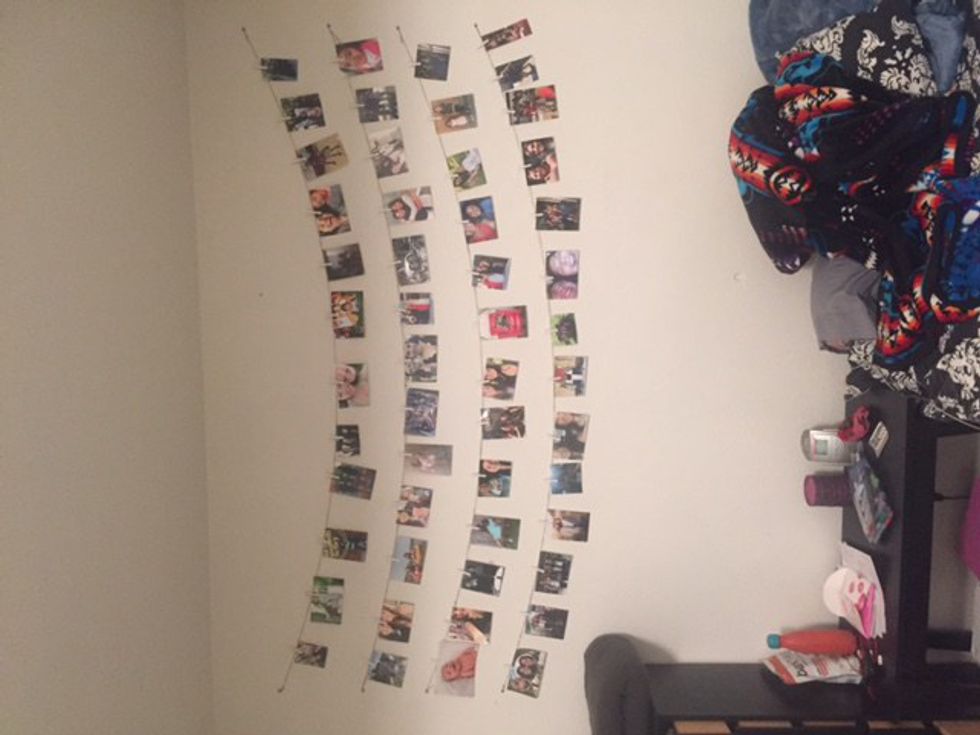 11. Bulletin board border
[rebelmouse-proxy-image https://media.rbl.ms/image?u=%2Ffiles%2F2016%2F01%2F09%2F635879612299343880-1211015514_4e96092e784f3961cdccffefa72fa214.gif&ho=http%3A%2F%2Fcdn1.theodysseyonline.com&s=981&h=5fbbb78bbf9b8da99392f4e5204de57e3e14e1ec4d628a188aba0eb6412694ce&size=980x&c=1306405093 crop_info="%7B%22image%22%3A%20%22https%3A//media.rbl.ms/image%3Fu%3D%252Ffiles%252F2016%252F01%252F09%252F635879612299343880-1211015514_4e96092e784f3961cdccffefa72fa214.gif%26ho%3Dhttp%253A%252F%252Fcdn1.theodysseyonline.com%26s%3D981%26h%3D5fbbb78bbf9b8da99392f4e5204de57e3e14e1ec4d628a188aba0eb6412694ce%26size%3D980x%26c%3D1306405093%22%7D" expand=1]
If you like the bulletin board idea from above but want to put other stuff on your board like a calendar, this idea might be great for you. The string lights also make this room seem more cozy.
12. Under shelf with mini clothespins
This idea is great for filling that awkward space below shelves. It uses clothesline and mini clothespins to hang smaller picture. I think it could be utilized below a lofted bed, or many other locations as well.
13. Strung along lights on flat wall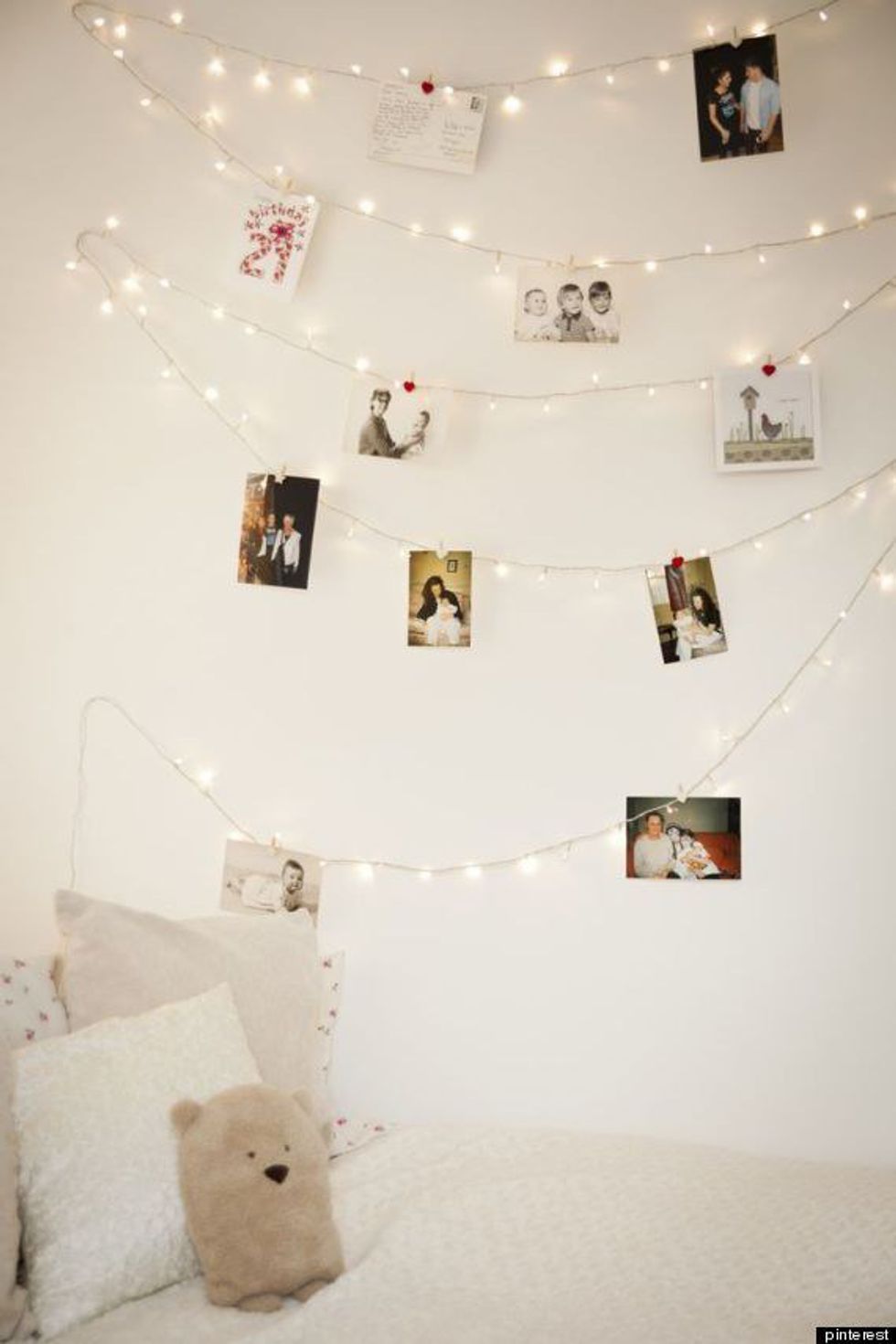 This can be done anywhere in your room. You'll need command hooks or something similar and mini clothespins. You can find these at any craft store.
14. Cute quote in middle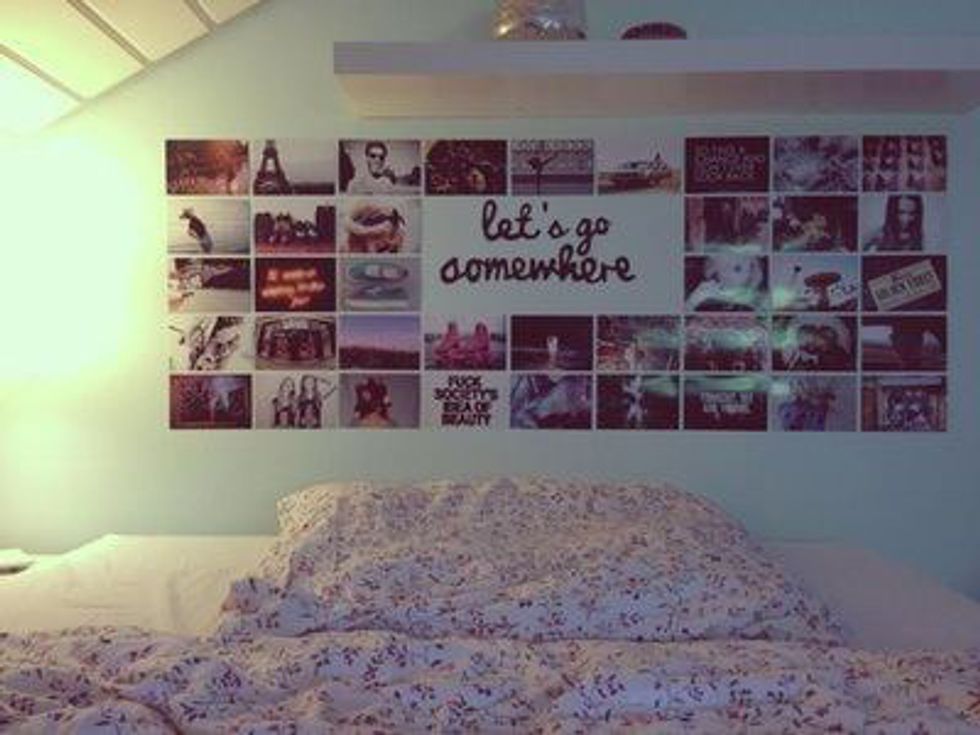 At most craft warehouses like Joann's or Michael's you will find several vinyl quotes like seen above. All you would need to do is purchase that, stick it on the wall, and stick the pictures around it.
15. In heart shape on wall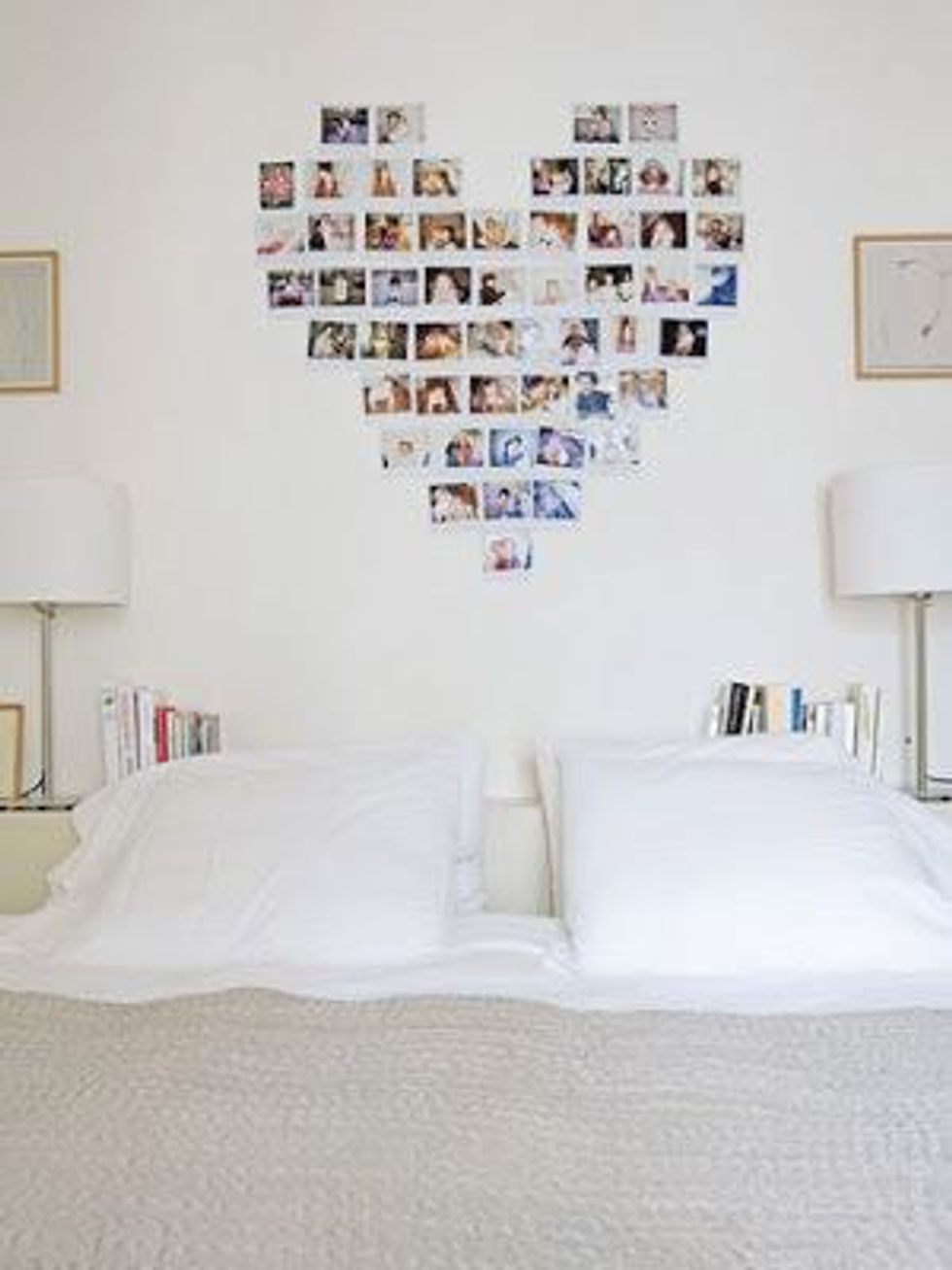 Here is my attempt at this concept from a couple years ago. I think this looks better when the pictures are a little more spread out than in my version, but they are both cute regardless.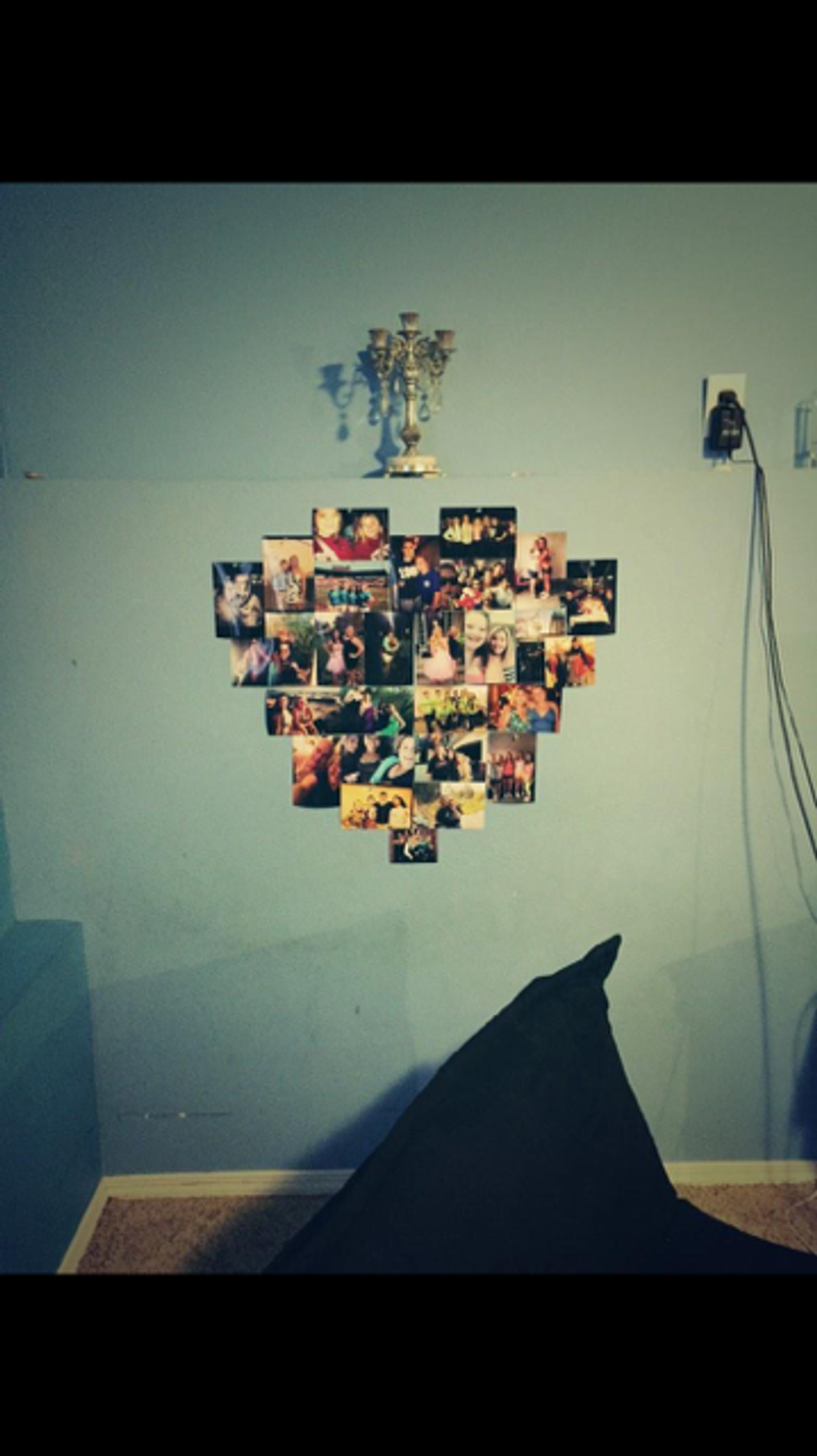 If you are thinking that you want to get some pictures developed, Rite Aid has a deal through the end of this month where you can get 50 4x6 prints for $5.99.
Get printing!