When I was no older than 13, I had already had labels applied to me by the people who were supposed to be helping me. I was given the diagnosis of Bipolar Disorder Type II, Attention-Deficit/Hyperactivity Disorder (ADHD), and Oppositional Defiant Disorder (ODD). Two out of those three were wrong. Can you guess which was right?

In case you don't know what those are, Bipolar Disorder Type II is a mood disorder in which one cycles between an extremely high mood (hypomania) and low moods (depression) (DSM V). These moods can last from a few days to months, but they don't happen in a single day.
My diagnosis should have been Borderline Personality Disorder which is "a pattern of instability in interpersonal relationships, self-image, and affects, and marked impulsivity" (DSM V).
ADHD is a chronic condition marked by persistent inattention, hyperactivity, and impulsivity (DSM V). This is the only accurate diagnosis given to me at the time. I take medication to help me with my attention problems. I am happy to say that for the first time in seven years, I am taking a lower dose of my primary ADHD pill.
ODD is a behavioral or defiance disorder defined by chronic aggression, frequent outbursts, and a tendency to ignore requests and purposely irritate others (DSM V). It's a fancy way of saying that your kid is a brat.
The thing that makes this diagnosis different from the other two is that there is nothing physiologically wrong with the brain. No chemicals or markers are consistently abnormal in children who have been tested.
You know, the funny thing about mental health disorders and diagnoses is that they never leave you. I will likely always carry those labels. And I despise them with every ounce of my being.
I would argue that the "diagnoses" put on children are worse than name-calling at school by their peers. They're both harmful labels. But the difference is that the diagnosis was applied by the professional. This is the person who is supposed to help you and make you feel better. You trust this person. You don't trust bullies when they call you names. You may be hurt, but you don't rely on the bullies emotional support. You know that they are just mean people.
How would like being told as a kid that you have a mental health disorder that makes you angry and vindictive and forces you to misbehave? I was so angry all the time because I was told that I had this mental illness that was synonymous with being a brat.
Every therapy session, every new psychiatrist, every hospitalization I was told this over and over again. So I started to believe I was a crappy, bratty kid. And I got depressed. It was incidentally at a hospital where I started cutting.
For most of my childhood, I was going in and out of therapy, hospitals, treatment programs, even homes. I would live with this family for a while and then that family, but I wasn't even in foster care. I was put on all sorts of medications.
Now, whenever a doctor asks me about previous hospitalizations and medications, I can't even begin to name them all. Not even my parents can. I'm not even a record of all of it exists.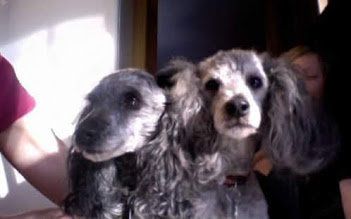 Sooty (left), Pepper (right) Tori Renovitch
Before I was in middle school I was abusing my family's puppies. The two toy poodles in the picture above were named Sooty (left) and Pepper (right). They weighed no more than 10 pounds. I am ashamed to recall all the times I would kick, hit, and otherwise hurt them.

They were completely innocent and I hurt them on a regular basis when I got mad. The guilt I feel now is only somewhat veiled by the fact that I now love and pamper my current cat Simba. I have never laid an angry hand on him and give him only the best care and the healthiest food.
Even so, I frequently wonder what happened to Sooty and Pepper after we gave them up to another family. They must be very old now. I wonder if they are still alive or if my abuse lethally damaged their small bodies. I pray that they are happier now wherever they are.
I don't believe for a second that Oppositional Defiant Disorder is real. There is nothing wrong happening in the brain. According to the DSM V, it is a behavioral issue that results from "harsh, inconsistent, or neglectful" parenting. Why are we putting extra, unnecessary labels on children that will mark and follow them for their entire lives? They will grow up and mature and, with any luck, those behaviors will fade away.
My message to the medical community is to stop trying to put a label on every behavior. There is no reason to give a child that kind of diagnosis. ODD isn't a mental health problem that needs medication to be treated. It's a behavior problem that can be reversed through therapy and better parenting. There is no need for a label that will only create problems for the child in the future.