The 2016 presidential election has brought out the most primitive of emotions of the electorate.
This election has rewritten the rules of what is considered "politically correct"-- perhaps it even threw out the concept of politically correct. It has been an election fueled more by scandal and Twitter wars than it has been by issues. I believe the lack of focus on issues has much to do with that many Americans simply have not come to terms with the idea of having a woman president, whether they realize it or not.
In a column put out by numbers guru Nate Silver, Silver pointed out the drastic difference in polls if only women or men voted. Clinton trailed Trump by 11 percentage points among men but led him by 33 points among women. "To put those numbers in perspective," Silver wrote, "that's saying Trump would defeat Clinton among men by a margin similar to Dwight D. Eisenhower's landslide victory over Adlai Stevenson in 1952, while Clinton would defeat Trump among women by a margin similar to … actually, there's no good comparison, since no candidate has won a presidential election by more than 26 percentage points since the popular vote became a widespread means of voting in 1824."
To me, the Trump campaign presents an interesting case study as to what would happen if a totally inept candidate who has proved himself "unfit" for the presidency for both his lack of moral judgment and knowledge of policy and world events ran vs. a qualified woman. This election is a case of unequal opportunity on the national scale.
Note: If you can't see through recent events that Donald Trump is "unfit" to be President you are not going to get anything out of this article. I encourage you to look at the collation of respectable Republicans withdrawing support.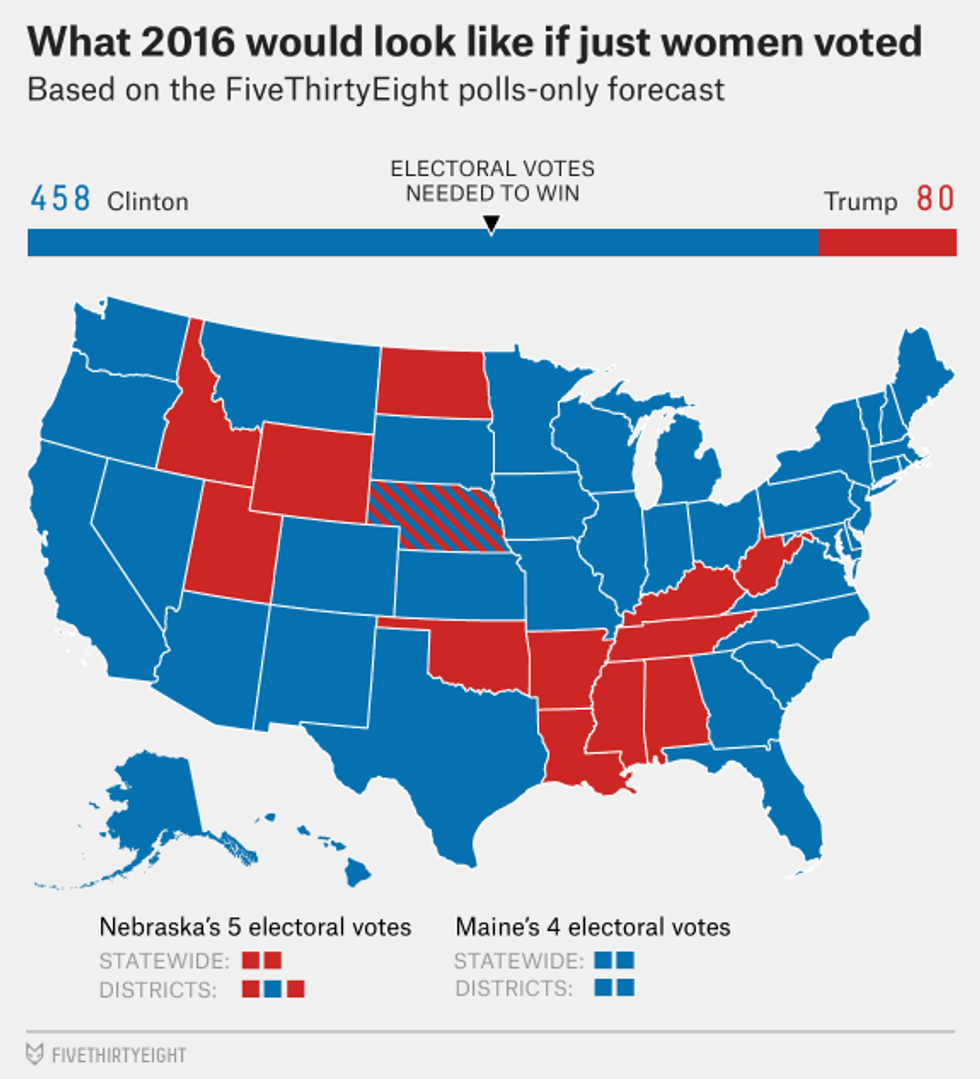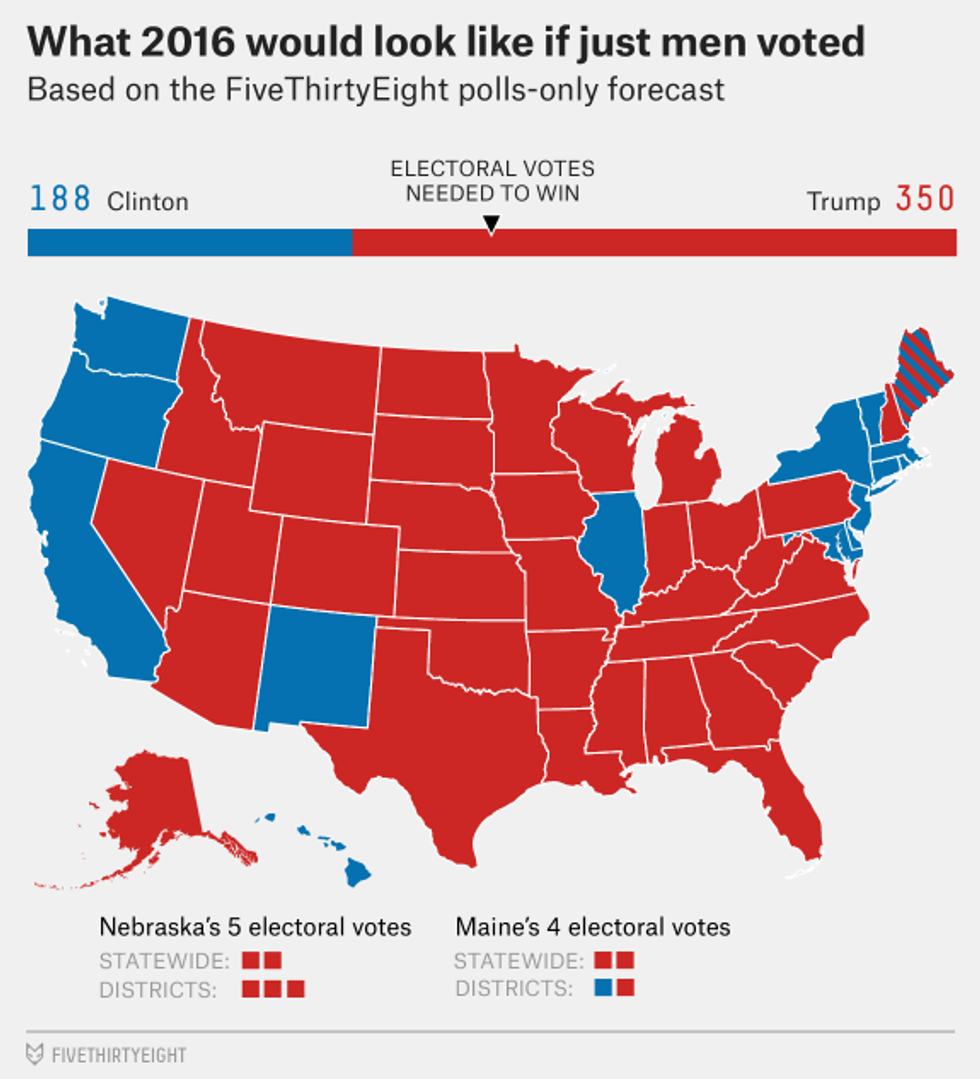 I believe many men, due to societal pressures of masculinity, are compelled to 1. vote conservatively, and 2. vote for other men. Generally, being conservative implies being comfortable with the past, i.e., "Make America Great Again." But what was great about America's past that is not still intact today? Gender/race inequality? Whether or not Donald Trump wants to admit it, the United States is still the most powerful country in the world by far, and is still the economic powerhouse of the world.
I think many men are able to look past Donald Trump's incompetencies because many men look past their own incompetencies as well. That is not a bad thing. Men and women are more similar than most people think, however, one of the things that I believe that is the defining characteristic between men and women is confidence to do something they know nothing about. This article by the Atlantic details that Confidence Gap. Men don't like to ask for directions. And Donald Trump surely isn't taking advice en route to the presidency, and in a way that may not be entirely apparent to most people, that's relatable. Men are also much more likely to apply for jobs they are not qualified for in comparison to women. Many men can relate to the outsider that is Donald Trump blindly pursuing the presidency.
In the United States, the picturesque vision of masculinity looks a lot like Stan Smith from Seth MacFarlane's American Dad. Stan Smith: a comfortable middle-class man, big chin, blonde wife, owns a firearm, staunch conservative, and spews out platitudes of American ignorance in conversation. He is portrayed as stupid, but powerful, the clear breadwinner of the family. Who is the stereotypical liberal in the show? Of course the rebellious emo daughter. As a man, am I willing to trade being a liberal and being viewed as rebellious and weak or should I stick to Stan Smith's archetype of being powerful and conservative. This is a question that many men can't get passed. They would rather vote for the stupid conservative than get labeled as being weak or un-American. I hope my future looks a lot like what Stam Smith has: money and power. Yet being a conservative and being ignorant in the name America does not have to go with money and power. Money and power are not owned by being a conservative just as much as it is not to being a liberal.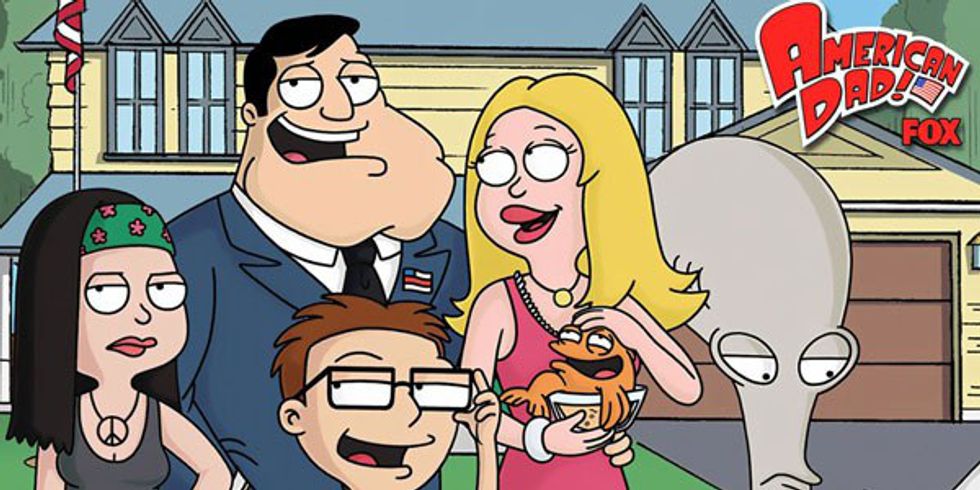 These stereotypes transform an election that should be about issues to an election that is indeed about money and power vs. going against conventional wisdom: i.e., a female president. Much of the electorate cannot get passed this fact, which is why you see an election of personal insults and candidates making use of fear tactics than you hear about issues. Trump's best strategy is to appear to be the powerful rich man that many men strive to be and some women even respect. It is really primitive. However, Donald Trump has made too much use of the not politically correct traits that follow American ideals of masculinity than is comfortable. Maybe it's worth igniting the discussion of what it looks like to be a powerful male leader, an alpha male-- masculinity at its highest level.
Yes I am more liberal, but I am as much a patriot as you can be and am not afraid to boast of America's strength, and even I don't like when Hillary plays the women card, yet I can see through the implicit biases that are shaping this election.
I have come to find that Hillary Clinton is the most qualified person ever to run for president, but even I had to look through some of the biases and preconceived notions I had about Hillary to recognize that fact.