Dear Universal Studios Hollywood,
Last week my boyfriend and I decided to splurge on the $105 tickets so we could experience the Wizarding Word of Harry Potter. We're both not in the best of financial situations, so this was a really exciting day, especially because "Harry Potter" has a special place in both of our hearts. We started our day by filing through security, where an overly rude security guard confiscated my pepper spray. I understand why he had to do so, but what he said was unnecessary. He looked down at the pepper spray he took from my purse, laughed and asked why I would need such a thing. I replied, "I leave late from work at night and it's for protection just in case anything happens." He laughed at my response and said there was absolutely no reason for me to be carrying that around. Luckily, the lady behind me pipped in noting how it isn't the easiest thing being a girl, and having pepper spray is a precautionary measure that makes walking to your car at midnight a tad less scary. He laughed once more and before preceding to look into my purse again he asked if there were anymore "weapons" I was concealing in my purse that would hurt him. As I was holding back tears, I replied no. He made me feel awful for owning something that I carry around to be safe and cautious. They way he went about the situation was just unnecessary. A simple, "I'm sorry, this isn't allowed," would have sufficed just fine.
My boyfriend and I then preceded into the Wizarding World of Harry Potter. All the childhood memories flooded back as we reached the entrance to Hogsmead and I couldn't help but feel giddy. Everything was so detailed, from the Hogwarts train, to the shops that lined the entry. We got in line for Harry Potter and the Forbidden Journey, the most sought after attraction. The magic of the park immediately died as the employees were scrambling around yelling at people to get out of the wrong lines (none of which were marked) and acting well, rude. I understand the chaos of working at a theme park, being previously employed at Magic Mountain myself, however when things get difficult you put on a smile to ensure the guests are taken care of and not aware of any difficulties. I couldn't help but think, "Man, if I was at Disneyland, every employee would have a smile on their face, be greeting me with some sort of sincerity and not shoving me around like cattle".
Once on the ride however, it was wonderful. I couldn't help but smile the entire time, and the details inside the Hogwarts castle we're stunning. I expected the rest of the staff to be friendly, engaged and at least fake that they're happy. Throughout the entire Wizarding World of Harry Potter, there were only two employees I interacted with that were genuine and excited, and in turn, made me excited too. I'll put his picture below and hope he gets the recognition he deserves, as he was truly the highlight of our visit. As for the employees cleaning the restroom though, there is no need to yell at people to move or raise your voice at everyone that the need to get to the back. Simply explaining and using an inside voice is all you need.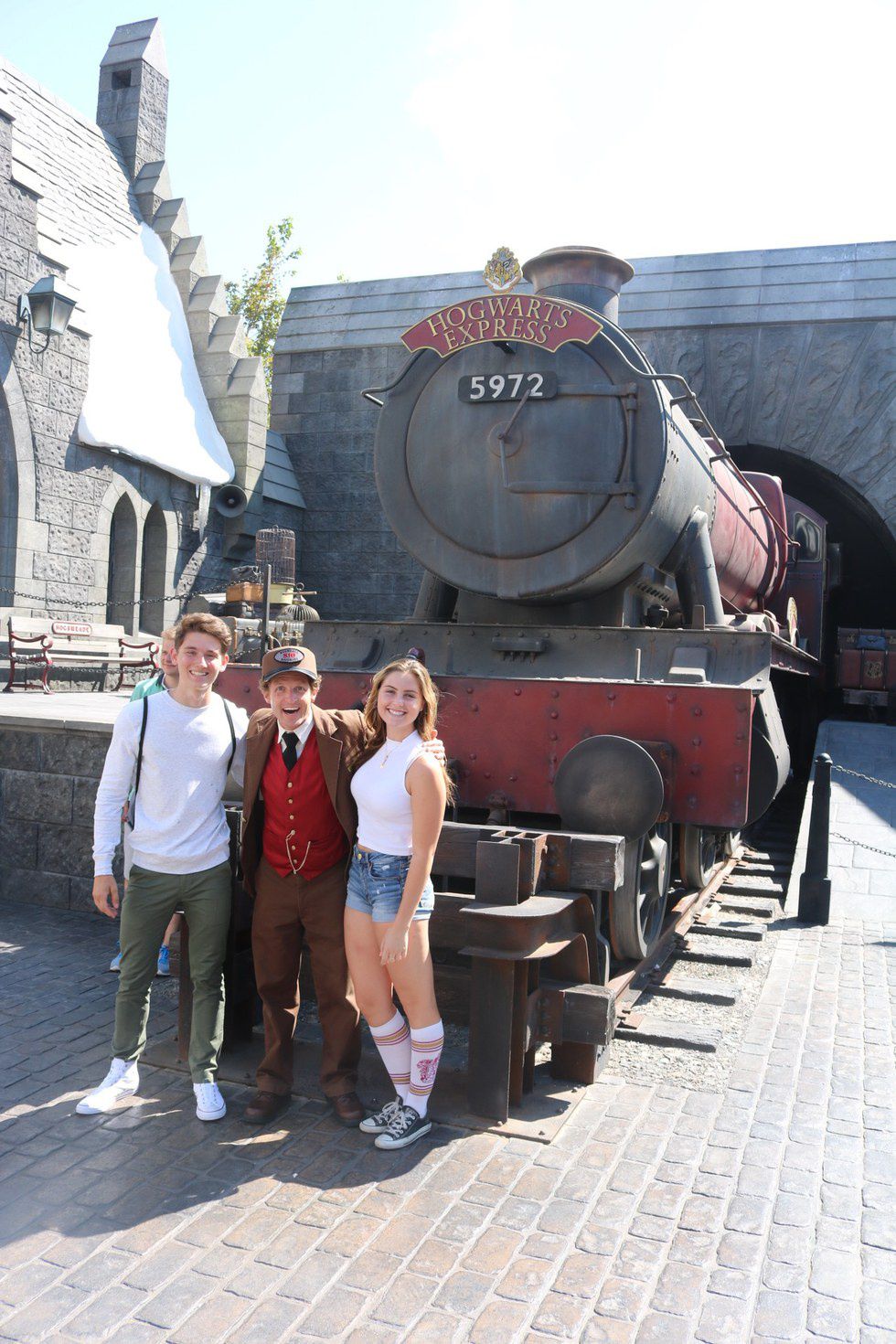 After moving on from the Wizarding World of Harry Potter, we moved down to the Lower Lot to ride Jurassic Park. We ate lunch at the Jurassic Cafe, where unfortunately my hamburger bun had mold on it. After walking around, being ignored and talking from one person to the next for 20 minutes, I finally found someone who apologized and replaced the burger. We preceded to try to get a picture with the raptor at the Raptor Encounter and was quickly ushered through a line, which I'll add was the most organized event I experienced at the park that day. However, once again, it lost a bit of the magic for me, as the "raptor trainer" would continually loose character to usher people to move faster so he could get pictures done. In retrospect, there were a few pros and cons to that experience, yet it could've gone better.
I must add, Universal makes you put a lot of bags/purses in lockers before you go on some of the rides. You guys do it for free which is very nice, however, the system on retrieving your items is a nightmare. You wait in a very crowded and confused open building while everyone is trying to do the same thing as you. The one locker system broke down while trying to retrieve my stuff and after waiting 20 minutes it was finally fixed. The employee who fixed it quickly handed me a pass allowing us to get to the front of a line due to the inconvenience which I found very considerate. I'll also note, the only other employee in the park that I found joyful and able to put a smile on my face was the tour guide of the Studio Tour. I wish I could remember her name, but she did a wonderful job and never seemed bored / miserable like the other employees I encountered that day.
I guess this letter is to let Universal know that I was disappointed. As a consumer I came in with high expectations, because the cost of a ticket is no spare expense. I would say if it weren't for the company of my boyfriend, I don't know if the price was worth the experience. I want to bring this to your attention because other people deserve to enjoy the best the theme park has to offer. I explained it to my mom in this way; It was like Disneyland and Universal were running a race and they both finished. Both did the necessary amount of work to get what needed to be done. However, Disneyland decided to run an extra mile because it could and it bettered itself in the end.

Hopefully others can experience all the good your park has to offer and none of the downsides, because if I were to splurge on ticket money again, it would not be to you, but Disneyland.
Sincerely,
Lauren Borchart