There are few things less satisfying than giving someone a product recommendation only to find out they actually took the recommendation and love it just as much as you told them they would. There exists a great sense of gratification in knowing someone valued your opinion enough to go out and make a purchase based on it.
We all have those products we love so much, we'll recommend them to anyone who will listen — whether it be the acne-clearing face mask you swear by, the comfy pair of leggings you've worn ten days in a row, your go-to cast iron pan, or the newly-released Halo Top flavor you buy Whole Foods out of every chance you get.
Now's your chance to shout your love for your favorite products from the (Odyssey) rooftops.
How To:
Here's where you come in! We want you and/or your friend(s) to create your very own product review on Odyssey using the template we created below. Remember: don't take it too seriously! Have fun with it and put your personality into it.
Then, follow these steps:
COPY the text in between the begin and end template sections below
PASTE it into a new post in Odyssey's CORE
Fill it all in and add photos. Don't forget to remove the example we've provided in the template.
Don't have an account? CREATE ONE.
BEGIN TEMPLATE
Cover Photo:
Your cover photo should, ideally, be a well-lit shot of you using the product or posing with the product. If you don't trust your own photography skills, you can use an image from the product's or brand's Instagram account. Be sure to credit the photo appropriately!
Headline:
Product + Its Biggest Highlight
Headline Examples:
Ilia's Serum Skin Tint Is THE Quarantine Alternative To Makeup, And It Looks Amazing On Camera
This Superfood Skincare Brand Is Donating 100 Percent Of Profits From Their Pride Kit To LGBTQ Education
This Kylie Jenner-Loved Wok Transformed My Cooking — I Just Bought The Collection On Amazon
Start with 2-4 bullet points summarizing the review, using Header 3.
Example: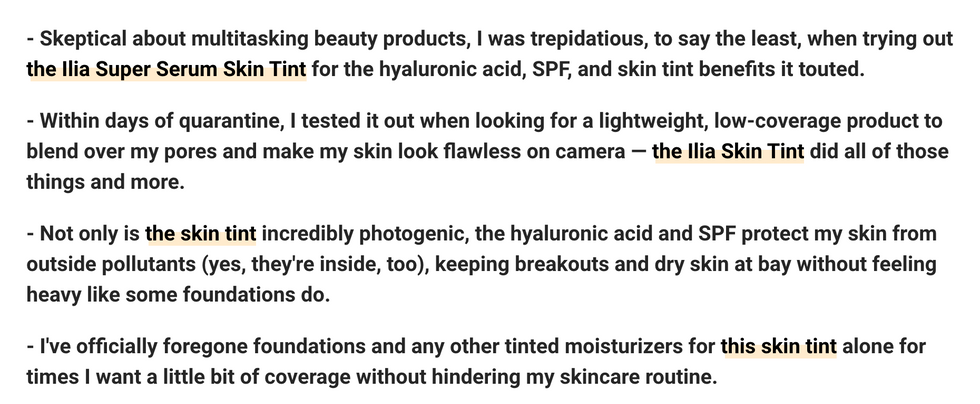 Write 2-3 short paragraphs using personal anecdotes and first-hand experiences with the product.
Explain how you found the product, what your experience was like first using it, what it feels like, what it looks like, and why you would recommend it to someone else. For example, if this is a skincare or makeup product, what skin type do you have?
Add a picture of you using the product, if you have it.
[Insert one or two pictures of you using the product. Here's a guide for embedding media in your content if you need it.]
Describe the design, style, or fit of the product.
Go into detail here about how the product feels when you use it. Is it suitable only for your skin/body type, or is it inclusive of all shades/skin types/sizes?
List the technical specs and/or dimensions of the product.
If this is a tech product, cooking appliance, or something related, here's where you can elaborate on the sizes/colors the product is available in.
Tell us about what makes this product stand out.
Tell us about any special features that make this stand out/better than other similar products we've used. Was there something unexpected about this product that made you love using it? Readers want to know.
Don't be shy about sharing problems you found using this product, too.
Here's where you can feel free to have a frank discussion of any problems you had while using this product (if you had any). You can also counter those cons to show why it's still worth it. (Example: This face mask is $190, but here's why it's worth it.)

Give us the bottom line.
Write a quick 2-3 sentence summary of why this product is worth buying and what you've said in the review.
Should you buy it?
Which model should you get?
What are some comparable alternatives?
Tell us where we can get the product, in Header 3.
Buy X product on X retailer for $X. [Link to the product there.]

Example:

END TEMPLATE
For a little inspiration, check out these other Odyssey Product Reviews: