- Skeptical about multitasking beauty products, I was trepidatious, to say the least, when trying out the Ilia Super Serum Skin Tint for the hyaluronic acid, SPF, and skin tint benefits it touted.
- Within days of quarantine, I tested it out when looking for a lightweight, low-coverage product to blend over my pores and make my skin look flawless on camera — the Ilia Skin Tint did all of those things and more.
---
- Not only is the skin tint incredibly photogenic, the hyaluronic acid and SPF protect my skin from outside pollutants (yes, they're inside, too), keeping breakouts and dry skin at bay without feeling heavy like some foundations do.
- I've officially foregone foundations and any other tinted moisturizers for this skin tint alone for times I want a little bit of coverage without hindering my skincare routine.
I'm the first to question an all-in-one product as gimmicky and unhelpful. More often than not, two-in-one or multifunctional skincare and makeup products end up being more about the hype than the timesavers and minimalist champions they're marketed as being.
When I was first sent the vegan and cruelty-free Ilia Super Serum Skin Tint to test out, I'll be honest — it went straight to the back of my beauty closet. How could a Hyaluronic Acid serum with SPF and a skin tint actually do all of those things effectively at once? But, once lockdown and quarantine began a couple of months ago, I, like many other beauty fiends, cut down on makeup use and instead increased focus on skincare.
Also like my fellow beauty fiends, there came the occasional hot FaceTime date, important Zoom call, or random Tuesday on which I felt like putting a bit more on my skin than a simple serum and moisturizer. But, because I've been doing so well with my skincare, I wanted something to add a bit of coverage for a photogenic look without interrupting the progress I'd been making.
Simply put, I was looking for the "effortlessly flawless I woke up like this" J-Lo healthy glow look without having to put eighteen pounds of makeup (and an Instagram filter) on my face. Because now presents itself as the perfect time to test out makeup, I grabbed the Ilia skin tint about two months ago, and I haven't let go of it ever since.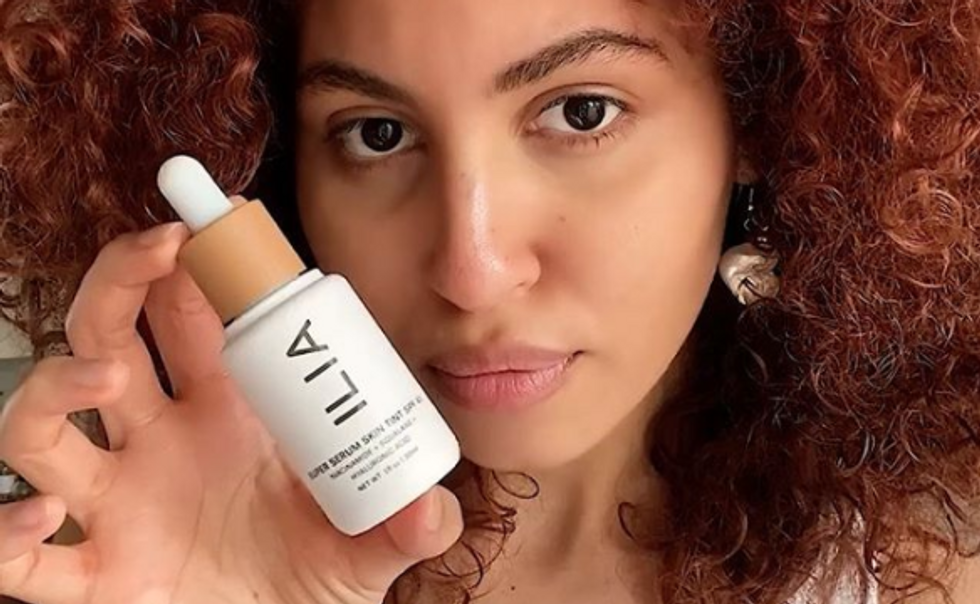 @iliabeauty
How I Use It
When I first used the dropper to squeeze out some product, I made the mistake of using far too much of it. I didn't realize what a long way a little bit of the product would go, and while I had initially squeezed out about four drops of the skin tint, I'd honestly only recommend using one or two.
I dot the tint on to my cheeks and spread it outwards toward my hair and jawline, dabbing any excess below my eyes to cover up dark circles. Because my biggest skin woe is the large pores on my cheeks (which, of course, appear even larger on camera), I really only focus the product on that part of my face. The problem with most foundations is that they oftentimes settle into my pores, making them appear larger and my skin oilier.
The Ingredients
The hyaluronic acid in this creates a nice little barrier on my skin, which I love for two reasons: it makes sure the product doesn't settle into my pores, instead smoothing over them like a blurring primer, and it also makes sure not to interfere with the rest of my morning skincare routine. At any moment in time, I'm wearing an under eye cream, serum, and moisturizer at the very least — all of which serve a specific purpose, so the last thing I want is to put something on top of it all that seeps into my skin, making it oily and dissipating all the effective skincare I have on underneath i.
Though this isn't a massive benefit to me now, I'm looking forward to using this on long summer days outside. Because of the barrier-creating, hydrating hyaluronic acid, it's the perfect product to wear out on hot summer days without having to worry about constant touch-ups or greasy skin. And, of course, the SPF in it makes it safe to wear for those long days spent outside.
Conclusion
At $46, the tint isn't cheap but it encompasses so many parts of a skincare and makeup routine, multitasking at its best for the most ideal product. And, because you only need a couple of drops per use, this is bound to last through many seasons to come, so I'd say it's definitely worth the price.
Buy the Ilia Super Serum Skin Tint from Revolve for $46.

As an Amazon partner, Odyssey may earn a portion of qualifying sales.