- Youth To The People is a clean, vegan brand I've relied on for years, from their cult-favorite kale, spinach, and green tea cleanser to their more recently-launched yerba mate enzyme face mask and hydrating glow mask for non-irritating, effective essentials in my skincare routine.
- It's become increasingly important for consumers to support brands that are doing good for the world, and with good reason. We want to know our money is going towards conscious companies who act with impact and stand for social justice.
- Youth To The People is one of those brands, and for the second year in a row, they've developed a Pride Minis Kit of three of their award-winning skincare essentials, 100 percent of whose profits go straight to GLSEN: founded by a group of teachers, their goal is to bring LGBTQ and minority education to K-12 schools in The United States.
I've always been a skincare cynic. When it comes to marketing gimmicks, I'll skeptically try pretty much anything with (mostly) inevitable disappointment. When I started seeing a bunch of hype about Youth To The People's superfood cleanser with kale, green tea, and spinach in it, that is exactly how I felt — till I tried it and became its biggest fan and advocate.
About a month ago, years into my committed relationship with the cleanser, I was lucky enough to sit down (virtually) with Youth To The People founders, cousins Greg Gonzalez and Joe Cloyes. They had just sent over their Pride Minis Kit, stocked with the aforementioned kale, green tea, and spinach cleanser, Yerba Mate Enzyme Mask, and Superberry Hydrate + Glow Mask.
Each product a love of mine in its own unique way, I swooned over Gonzalez and Cloyes telling me about their passion for the community they cultivated out of their gender-neutral, cruelty-free skincare brand. Based upon the very principles of love and acceptance, the brand's Pride Kit made such a perfect union with nonprofit GLSEN last year, they decided to partner together on the kit again this year.
Founded by teachers over three decades ago, GLSEN is committed to educating the K-12 youth on minority and LGBTQ communities to fight discrimination in schools, fostering more accepting and positive relationships amongst this country's youth.
But, it's not just a kit you'll purchase to give to a good cause and throw out or leave around your place as a last-minute gift when you forget about your friend's birthday.
I used to think I had oily skin. In truth, I was using such chemical-ridden, alcohol-filled products that were drying out my skin and stripping it of its natural oils that my skin was over-compensating by being a total oil slick. Cleansers are the biggest culprit of this, because to give you that "squeaky clean" feeling, ingredients labels feature over-drying sulfates and alcohol.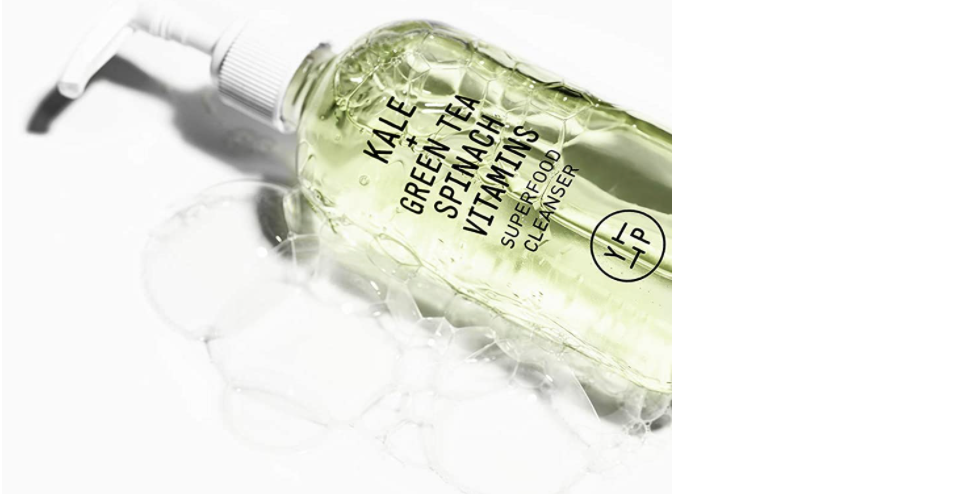 Youth To The People
The Youth To The People Kale Superfood Cleanser was the first cleanser with clean ingredients I tried — my first question before testing it being how a product with such clean and natural ingredients could actually deeply cleanse dirt and leftover makeup out of my skin.
This cleanser is the perfect balance between some of the natural, oil-based ones I've tried that stick to my skin and aggressive, chemical-heavy ones that leave my skin feeling taut and thirsty.
The gel consistency lathers nicely on my skin, getting rid of all leftover makeup if I've worn any that day. Because it's so gentle, I'll also use it on vacation when I'm typically not wearing any makeup at all for weeks at a time.
Unlike cleansers that you use for a moment and forget about later on, this one actually seems to deposit bits of product on my skin that last throughout the day. The green tea in it is cooling, refreshing, and great for giving a bright glow to the skin, almost immediately.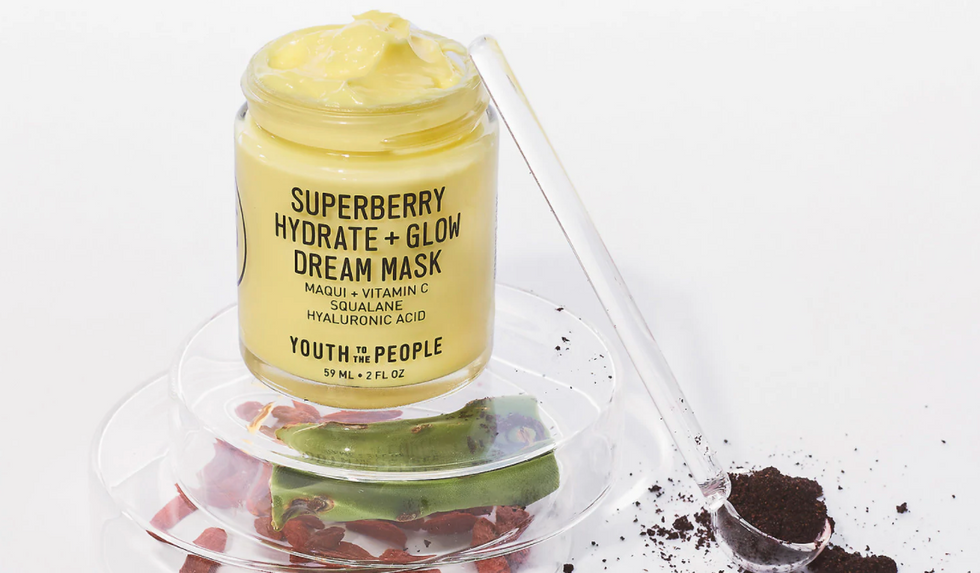 Youth To The People
I started using the Superberry Hydrate + Glow Mask about a year ago. It was sent to me with perfect timing — I was traveling a lot, and looking for hydrating products to use on impending long flights. You know those pictures of celebrities getting off their private airplanes? They look impossibly fresh-faced — that was the glowy look I was seeking, and this mask is the answer.
The key to using this is not wearing it alone.
I pair it with a hydrating moisturizer — you won't want to use an oil, as it will stop the mask from being able to penetrate your skin. After patting a moisturizer or hydrating hyaluronic acid-based serum into my skin, I layer this mask on top.
I got off a series of two ten-hour flights en-route to India while wearing this, and it was the first time my skin didn't immediately start flaking or breaking out about two hours in to being miles over Earth. I recommend this to every single one of my travel-loving friends, and each one of them has thanked me for it.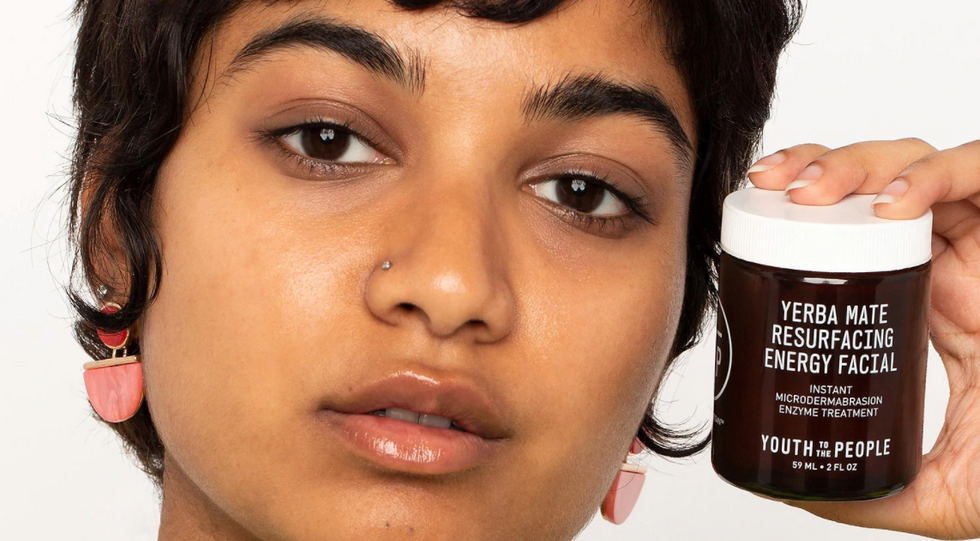 Youth To The People
The Yerba Mate Resurfacing Energy Facial is the newest to my collection. I've only been using it for a couple of months now, but I've already ordered another full size of it. I haven't spent much time outside recently, but I've also been wanting to keep up a good facial exfoliation routine.
This was the answer to my light and gentle exfoliation prayers.
I swipe a light layer of the pink, creamy, tiny bead-filled mask on my skin for about five minutes before I head into the shower and let the steam from the shower really open up my pores to drink up as much product as possible. It doesn't dry up on the skin like a lot of other masks do, so another five minutes in to my shower, I'll typically massage this into the skin.
The tiny, gentle beads provide a physical exfoliation on top of a chemical one from the enzymes in the mask. I usually don't like this because the little beads in a mask can be aggressive and harsh, leaving my face red. These, however, are bamboo and earth-derived for super gentle, micro-exfoliation without any harsh or unnecessarily aggressive scratches to my sensitive skin.
Best of all, like the cleanser, it truly deep-cleans my skin without over-drying it.
Buy the Youth To The People Pride Kit at Sephora for $34.
Odyssey may earn a portion of purchases made via links on this page.