Freshman year, in my Rhetoric 101 class, we had to write an argumentative paper on anything we wanted. For some reason, I chose to write about net neutrality. I can't tell you why I chose to write about it (albeit, quite terribly), but the fact is that I did. With recent events, I'm glad I have some knowledge of what net neutrality is and why it's important. Although, back to these recent events, guess that's not super important anymore.
Let's start at the beginning. Since I'm no "techie" (is that what they're called?), I'll let someone else explain net neutrality:

Seems pretty easy to understand, right? Internet Service Providers (I.S.P.s) want more $$$ (because capitalism), websites (such as YouTube and Netflix) don't want to pay more for their content, causing you (the consumer) to suffer and have slower service. Not only that, but I.S.P.s think they have the right to block you from seeing certain content-- sounds, I don't know, like a government could help control that, doesn't it?
In 2016, a federal appeals court upheld a White House-supported effort to make providers treat all web traffic equally, that both the Federal Communications Commission (FCC) and President Obama said was essential to prevent broadband providers from blocking or degrading internet traffic. Seems somewhat reasonable, right? There was heavy criticism from Republicans and the telecom industry, calling the regulations "burdensome" and "unnecessary". Ted Cruz called the rules "Obamacare for the Internet." Interesting.
The chairman of the FCC, Tom Wheeler, said the regulations ensure the Internet remains a platform for innovation, free expression, and economic growth - things that have no reason to be blocked by greedy companies.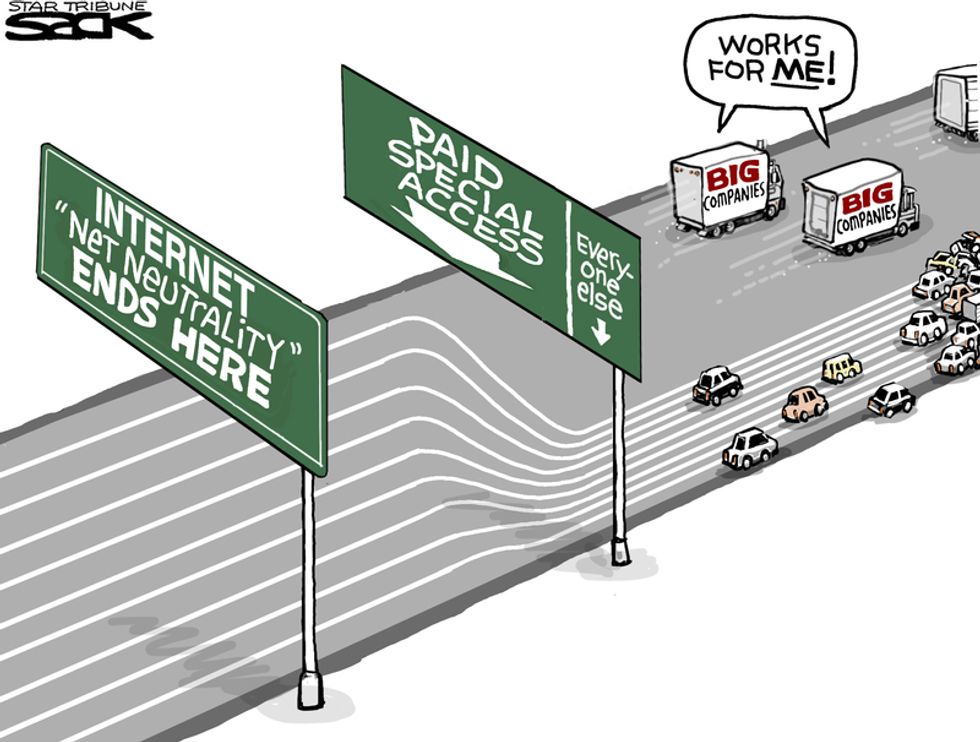 Now, let's get into last week's vote. The Senate voted to repeal this ruling from 2016 and if Trump signs the legislation (which is very likely), providers will be able to monitor their customers' behavior online as well as -- without permission -- use personal and financial information to sell highly targeted ads. Some of this information includes browsing habits, app usage history, location data and Social Security numbers--all of which can be sold to the highest bidder.
While some argue that I.S.P. providers having this information makes it safer from thieves and hackers.... is it really? Would this also be fair to everyone if certain websites were slower than the others? What about content being blocked? Could the government aid providers in blocking content? We'll have to see what Trump decides (although, we can guess what he's going to do) and hopefully, our freedom online won't be taken away.