Every year, the NBA uses a lottery system to determine the order of the first 14 picks of the NBA Draft. Even if a team has the worst record in the league, they still are not guaranteed the first pick in the draft. This makes Lottery night very intense as the drop of a ping pong ball can affect the future of franchise for years to come.

Coming into lottery night, the Boston Celtic had the highest chance of earning the number one pick in the draft. The Celtics acquired this pick from the Brooklyn Nets in a 2013 trade that sent Boston legends Paul Pierce and Kevin Garnett over to the Nets.
The Phoenix Suns were predicted to finish second in the lottery, and the Los Angeles Lakers had close to a 47% chance of remaining in the Top 3. The Lakers needed to finish in the Top 3, otherwise their 2017 first round draft pick would have been forfeited to the Philadelphia 76ers and their 2019 first round pick would have been sent to the Orlando Magic; all due to the Dwight Howard trade.
Despite all the math, all of the calculations, and the percentages, Top 3 picks almost never go as predicted. Last year, the Top 3 picks were chalk, but the 2017 Draft did not follow suit. Listed below is the draft order for the lottery picks in the 2017 NBA Draft. Along with the the draft order, I have included what draft selection I believe each team will make.
Pick Number 1:
Boston Celtics (from the Brooklyn Nets)
My pick: Markelle Fultz (Freshman, Washington); Guard
The Boston Celtics are currently playing for a chance to reach the NBA Finals, but they can secure that they will contend in the future as well in June. I believe the Celtics will choose to select Fultz and add another scoring threat to play alongside point guard Isaiah Thomas into their backcourt. Fultz averaged 23.2 points, 5.9 assists, and 1.6 steals during the 25 games he played this season. Fultz was ranked as the number one prospect by most coming out of high school, and he will follow suit as the first pick in the 2017 NBA Draft.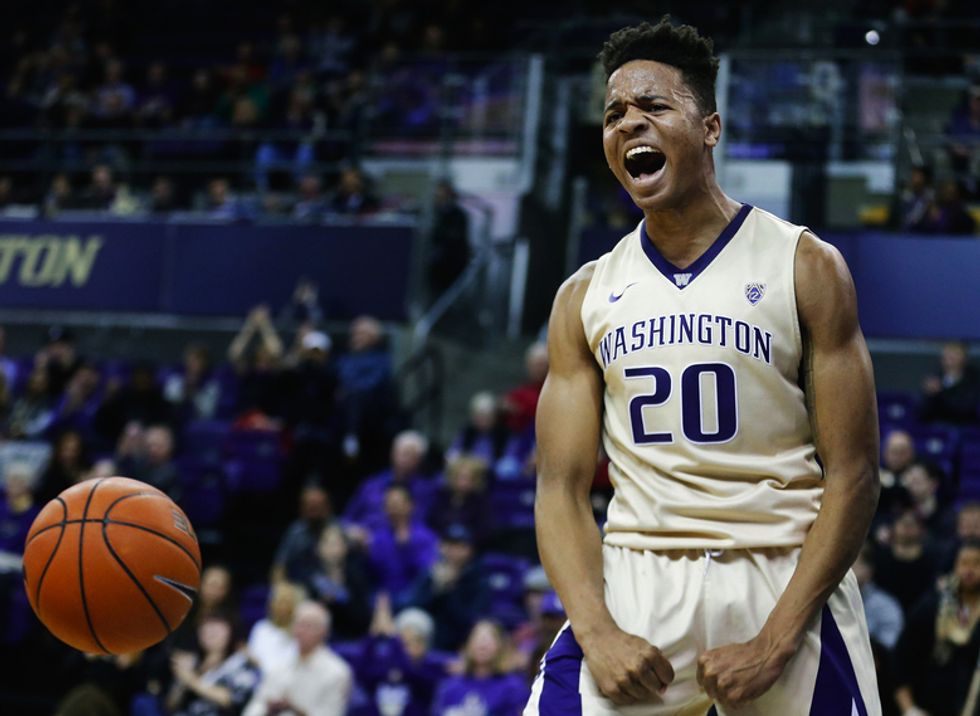 Pick Number 2:
Los Angeles Lakers
My Pick: Lonzo Ball (Freshman, UCLA); Point Guard
The Lakers have struck lottery gold. They not only kept their pick in this year's draft, but they also moved up to the second overall pick after being predicted to be placed at third overall. With this selection, the Lakers won't stray far from home as they will take the hometown kid, Lonzo Ball. At UCLA, Ball averaged 14.6 points, 7.6 assists, and 1.8 steals per game. Despite his eccentric father, Lonzo Ball is a maestro on the basketball court. His elite passing ability along with his feel for the game make him a great prospect. The Lakers already have young scorers in D'Angelo Russell, Brandon Ingram, and Julius Randle. They need someone to feed them the ball and to run the offense. Ball is that man.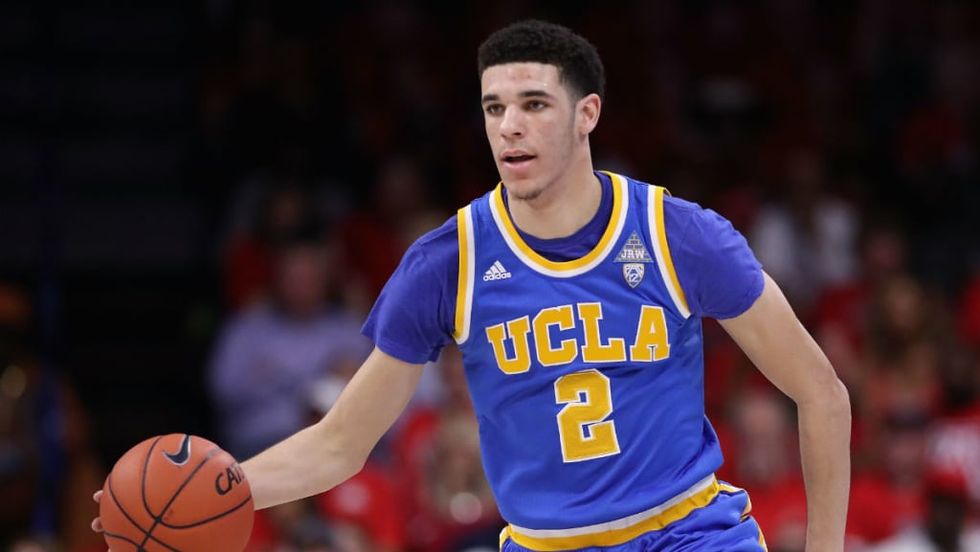 Pick Number 3:
Philadelphia 76ers
My Pick: Josh Jackson (Freshman, Kansas); Small Forward
The 76ers snuck into the Top Three again this year. They were predicted to come in at number four overall, but Philadelphia beat the odds. With Ben Simmons, Joel Embiid, and Dario Saric already on the roster, the 76ers have a nice young core. They need shooting on the outside, but they cannot pass up taking the uber talented Josh Jackson. At Kansas, Jackson averaged 16.3 points, 7.4 rebounds, and 3.0 assists a game. I believe that Philadelphia will slot Ben Simmons at point guard, which will give way for Jackson to play at small forward on the wing. Jackson has the potential to be a solid defender with his length and his athleticism is above and beyond. He must work on his jump shot, but Jackson is a tantalizing prospect regardless.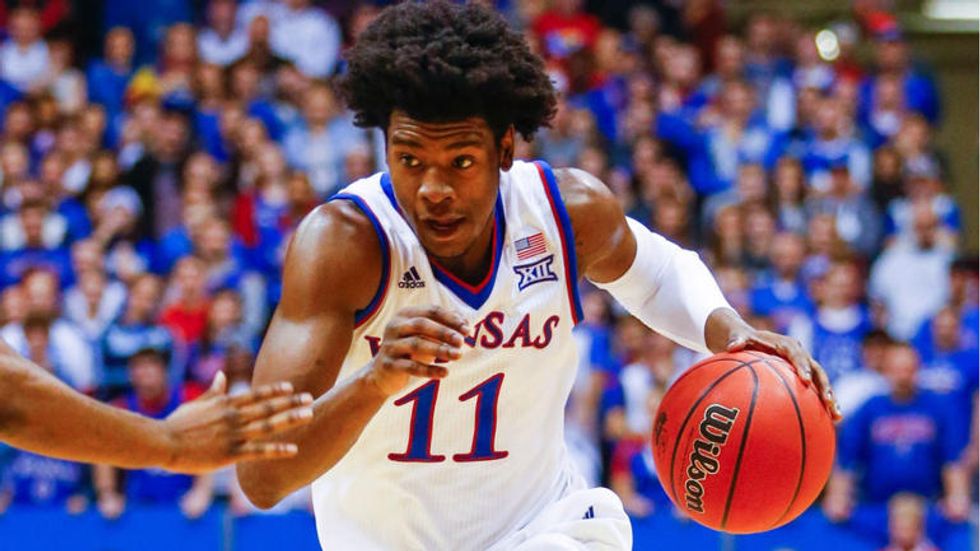 Pick Number 4:
Phoenix Suns
My Pick: Jayson Tatum (Freshman, Duke); Small Forward
The Phoenix Suns got the short end of the stick this year. They finished with the second worst record in the league, but only earned the fourth overall pick. This is disappointing for them, however they can still find a great prospect in Jayson Tatum. The Suns have Eric Bledsoe, Brandon Knight, and growing star Devin Booker in their backcourt. They could use a wing scorer in Tatum. At Duke, he averaged 16.8 points, 7.3 rebounds, and 2.1 assists per game. Adding a dynamic scoring threat to go alongside Booker will make the Suns very dangerous offensively in years to come.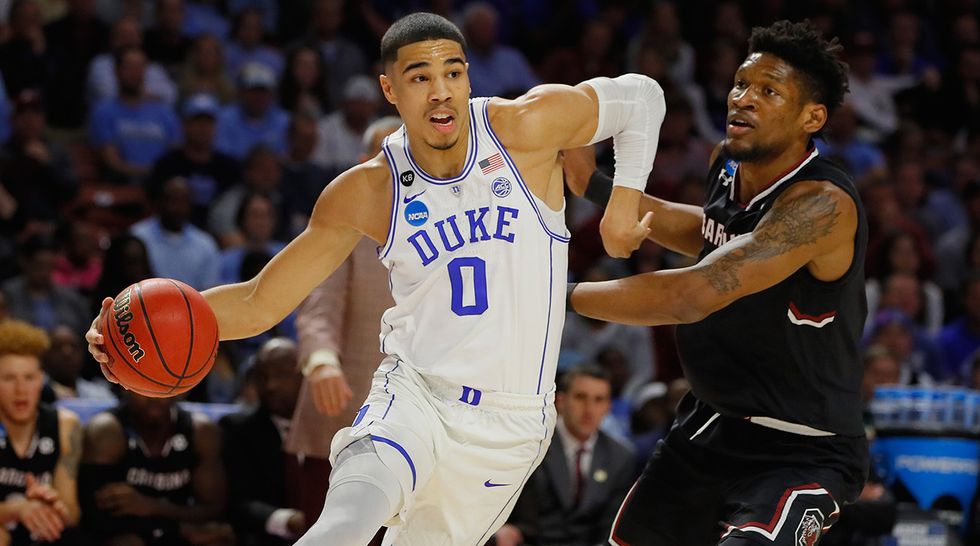 Pick Number 5:
Sacramento Kings
My Pick: De'Aaron Fox (Freshman, Kentucky); Point Guard
The Sacramento Kings dealt their All-Star center, DeMarcus Cousins, this past season. They need a star to replace him. There are not any big men worthy of a Top 5 pick, however they can get a potential star at point guard in De'Aaron Fox. With elite speed and length, Fox can impact the game on both ends of the floor. Offensively, Fox can blow by most defenders and get to the rim. He needs a more consistent jump shot, but his explosiveness is deadly. Defensively, Fox uses his quickness and length to disrupt opposing ball handlers. He takes pride in shutting down his opponents. With Fox, the Kings get a player that wants to win and a positive influence for an organization that lacked one for a long time.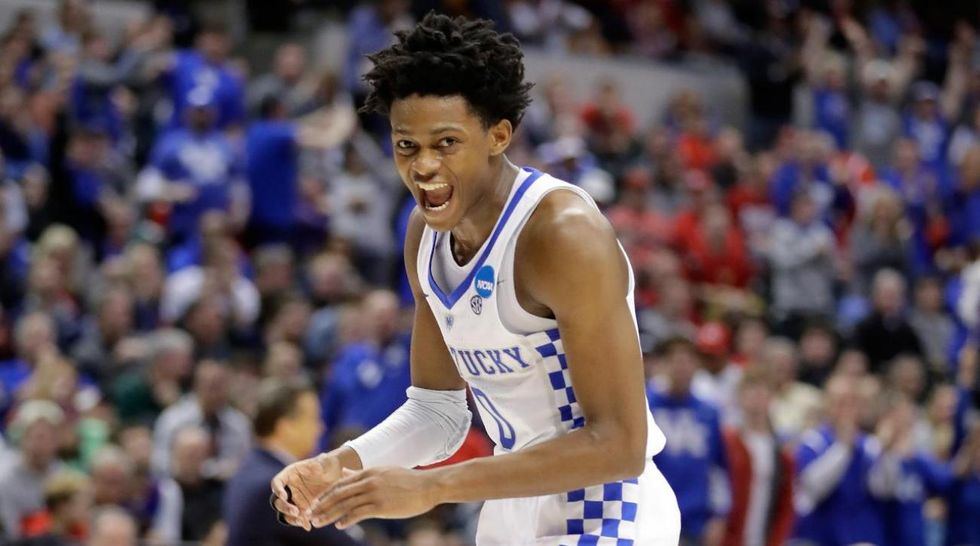 Pick Number 6:
Orlando Magic
My Pick: Dennis Smith Jr. (Freshman, NC State); Point Guard
The Magic could go several places here. There are several tantalizing prospects at on the board at various positions, but I have them selecting a point guard. The Elfrid Payton experiment at point guard has not worked out so far. I have Orlando taking the explosive guard, Dennis Smith Jr. in order to rectify the backcourt situation. Smith will offer a scoring punch that has been lacking in the backcourt ever since Victor Oladipo was traded to Oklahoma City. At NC State, Smith averaged 18.1 points, 4.6 rebounds, and 6.2 assists per game. With his explosiveness along with his scoring punch, Dennis Smith Jr. will be a great addition to the Magic.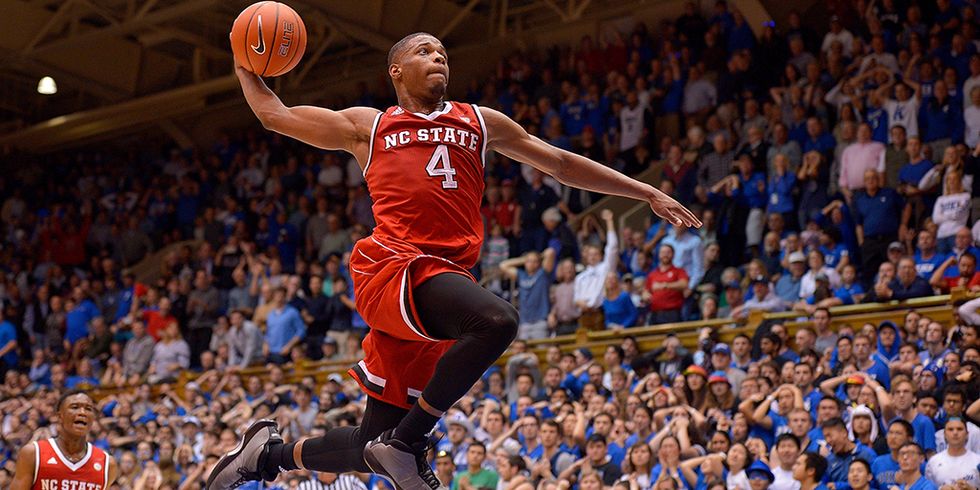 Pick Number 7:
Minnesota Timberwolves
My Pick: Jonathan Isaac (Freshman, Florida State); Forward
Minnesota has two budding stars in Andrew Wiggins and Karl Anthony Towns. Adding Isaac to this duo would make Minnesota dangerous and versatile on both ends of the floor. Standing at 6'11 (potentially still growing), Isaac has drawn comparisons to Kevin Durant as he can handle the ball and shoot despite being so tall. His length also helps him be a good defender as well. At Florida State, Isaac averaged 12.0 points, 7.8 rebounds, and 1.5 blocks per game. Isaac needs to add some strength to his long frame, but he has shown that he is willing to rebound and battle down low. The Timberwolves have a bright future with a core of Wiggins, Towns, and Isaac.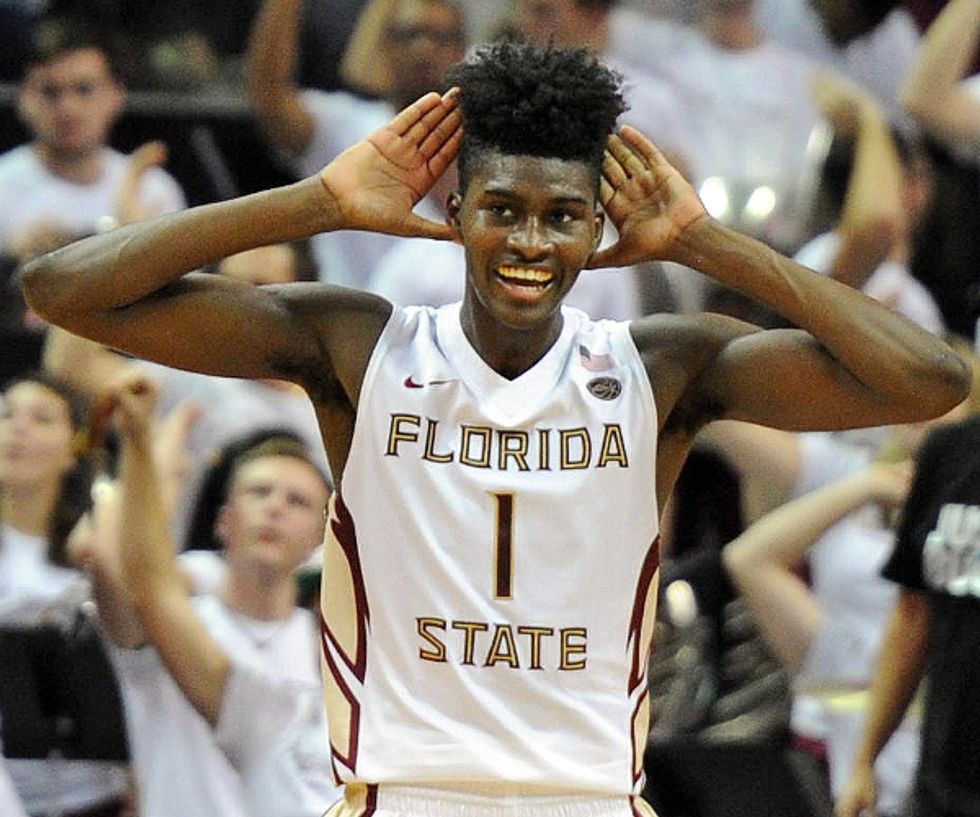 Pick Number 8:
New York Knicks
My Pick: Malik Monk (Freshman, Kentucky) Shooting Guard
The Knicks have a young star in Kristaps Porziņģis, but they need to add pieces around him. Carmelo Anthony is still a star in this league, but it is clear that the Knicks management wants to part ways with him. Despite falling to number eight overall in the draft, the Knicks can still land an elite prospect in this scenario. Malik Monk gives the Knicks a deadly shooting threat from the outside. With the three point shot becoming all the rage in the NBA, adding a specialist such as Monk is crucial. At Kentucky, Monk averaged 19.8 points, 2.5 rebounds, and 2.3 assists a game. Monk along with Porziņģis will be a potent offensive duo for years to come in the Eastern Conference.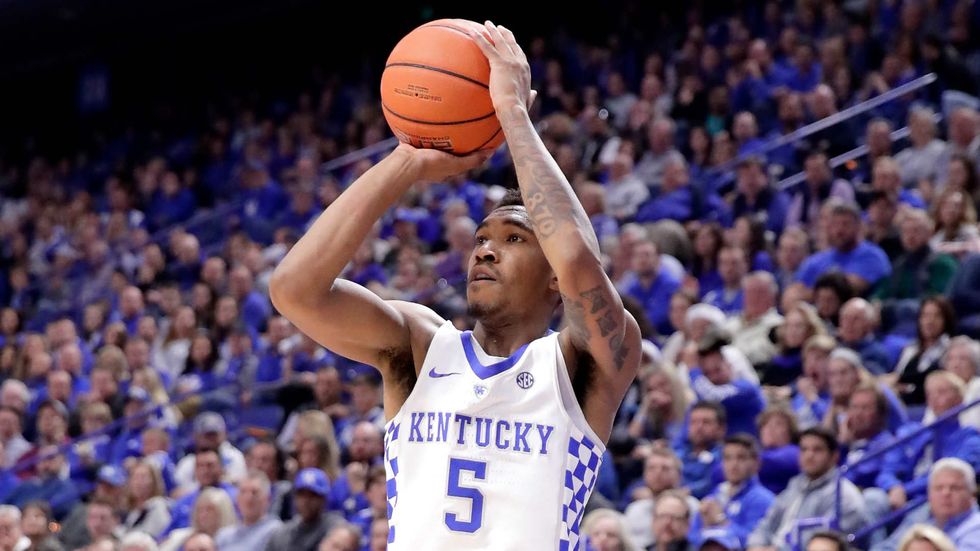 Pick Number 9:
Dallas Mavericks
My Pick: Lauri Markkanen (Freshman, Arizona); Power Forward
The Dallas Mavericks must look to the future as future Hall of Famer Dirk Nowitzki gets closer to retirement. Lauir Markkanen, a seven-foot big man out of Arizona, has similar traits to Dirk in that he is an adept shooter for his size. Averaging 15.6 points and 7.8 rebounds per game, Markkanen can be a threat from the outside will also offering decent support at the rim. He doesn't offer nearly as much on the defensive end however as he doesn't have the length to be a great rim protector. Overall though, Markkanen can offer the Mavericks an offensive scoring threat as a big man.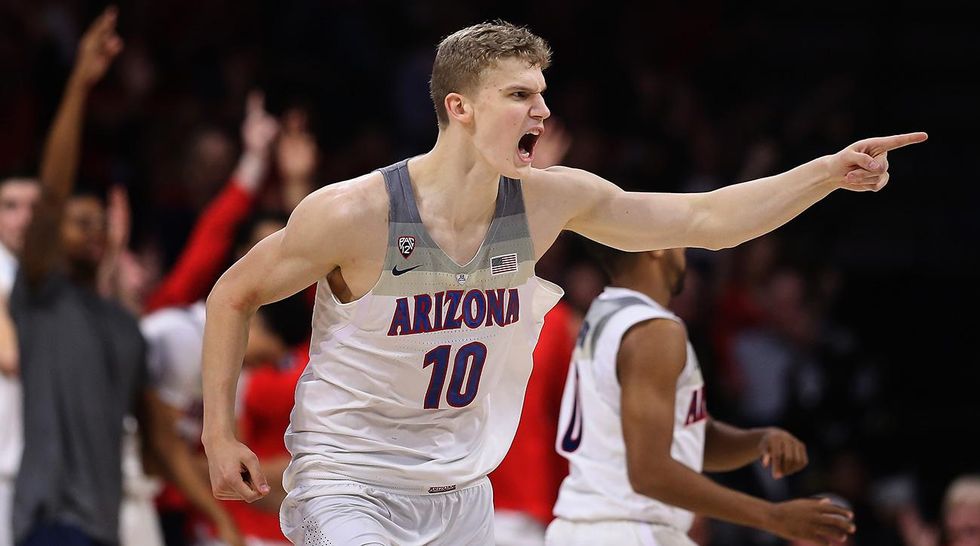 Pick Number 10:
Sacramento Kings (from New Orleans Pelicans)
My Pick: Luke Kennard (Sophomore, Duke) Shooting Guard
The New Orleans Pelicans have the potential to be a deadly team next season. With All-Stars Anthony Davis and DeMarcus Cousins in the front court, the Pelicans can abuse opposing teams down low. However, the two big men need proper spacing to give them both room to operate. This is where Kennard comes into play. At Duke, Kennard averaged 19.5 points per game while shooting 43.8% from three point territory. This deadly three point shooting will force defenders to stay tight with Kennard, thereby giving Davis and Cousins more space to post up. At Duke Kennard was also a main ball-handler so he can help initiate the offense as well.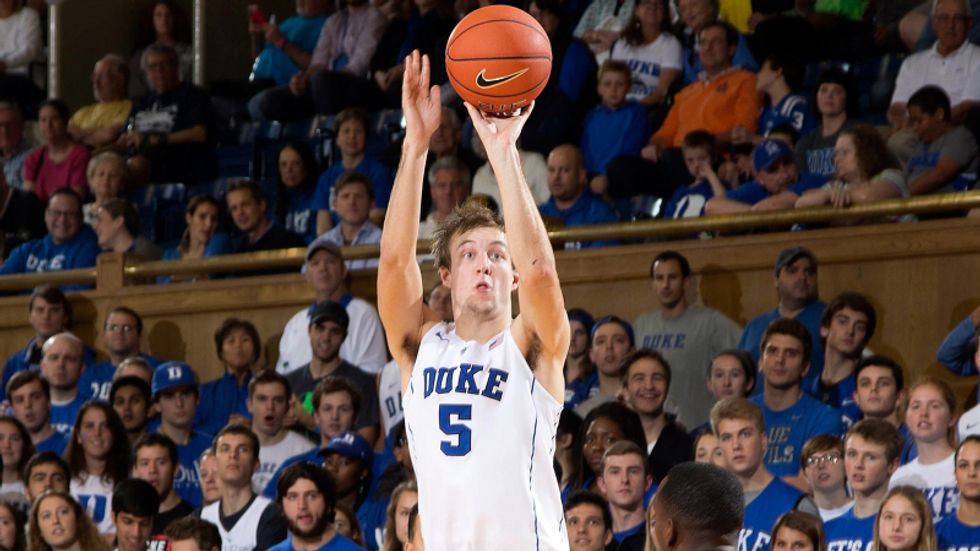 Pick Number 11:
Charlotte Hornets
My Pick: Zach Collins (Freshman, Gonzaga); Power Forward/Center
The Charlotte Hornets are in a tight spot. They are good enough to compete with most of the league on a night to night basis, however they have not been consistent enough to garner enough wins. The Hornets have playoff experience, but they fell back this past season. Adding another big man in Zach Collins may help them get back into postseason play. Standing at 7 feet tall, Collins averaged 10 points and 5.9 rebounds per game, but he put together a few great outings in the NCAA Tournament. Collins has the ability to hit a mid range shot and also showed some ability as an effective rebounder. He can be a putback machine. Collins really showed his prowess as a shot blocker, particularly against South Carolina when he had six blocks. Collins is still a bit raw, but he has the tools to be an effective big man.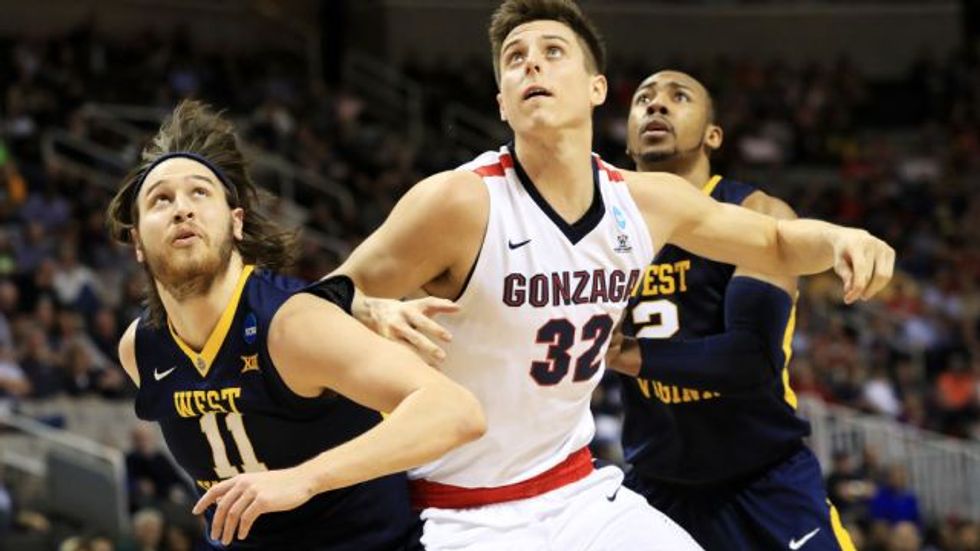 Pick Number 12:
Detroit Pistons
My Pick: Donovan Mitchell (Sophomore, Louisville); Shooting Guard
Pistons' Head Coach Stan Van Gundy loves players that are tough and that show effort on a nightly basis. Mitchell fits this bill perfectly. Standing at 6'3, Mitchell is a bit undersized to be a shooting guard but he makes up for hit with his length and his great athleticism. Averaging 15.6 points, 4.9 rebounds, and 2.1 steals per game, Mitchell offers a good combination of offensive and defensive potency. Mitchell is not the best outside shooter, but he showed signs of progressing this season. Mitchell will add to the toughness and grit of the Pistons current backcourt.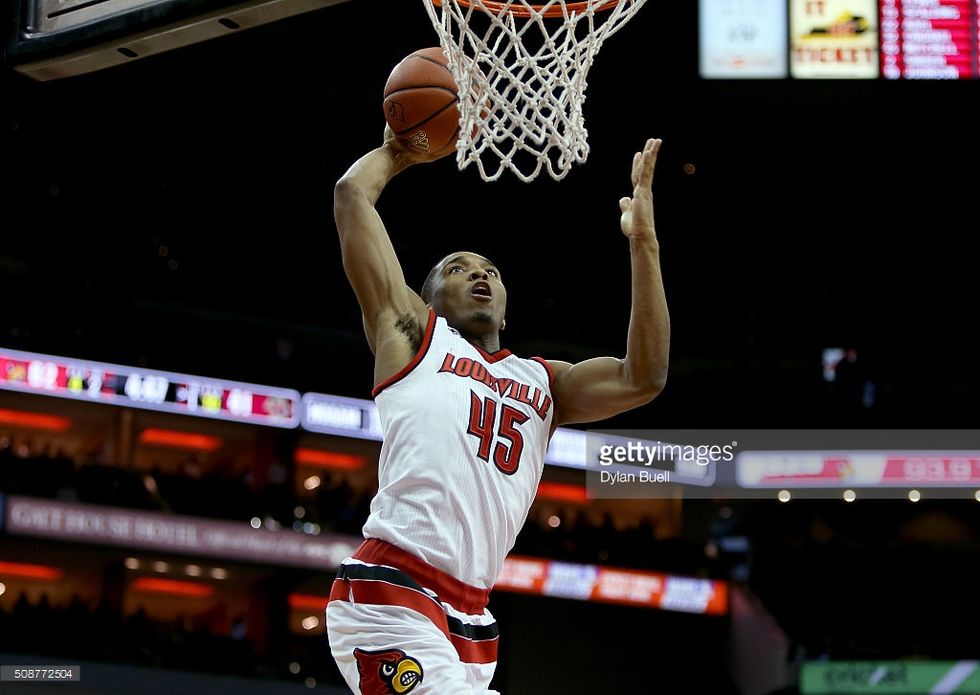 Pick Number 13:
Denver Nuggets
My Pick: Frank Ntilikina (France, Strasbourg); Point Guard
Emmanuel Mudiay has been good but not great so far for the Nuggets. With the selection of Ntilikina, Denver can add a talented piece to the backcourt while also adding some pressure to Mudiay. Ntilikina stands at 6'5, a good size for a point guard. He moves smoothly across the court and shows great court vision. He is not an explosive athlete, but Ntilikina can run a team, get to the rim when necessary, and knock down open jumpshots. With Mudiay, Jamal Murray, Malik Beasley, and now Ntilikina, the Nuggets will have accumulated several talented assets in the backcourt.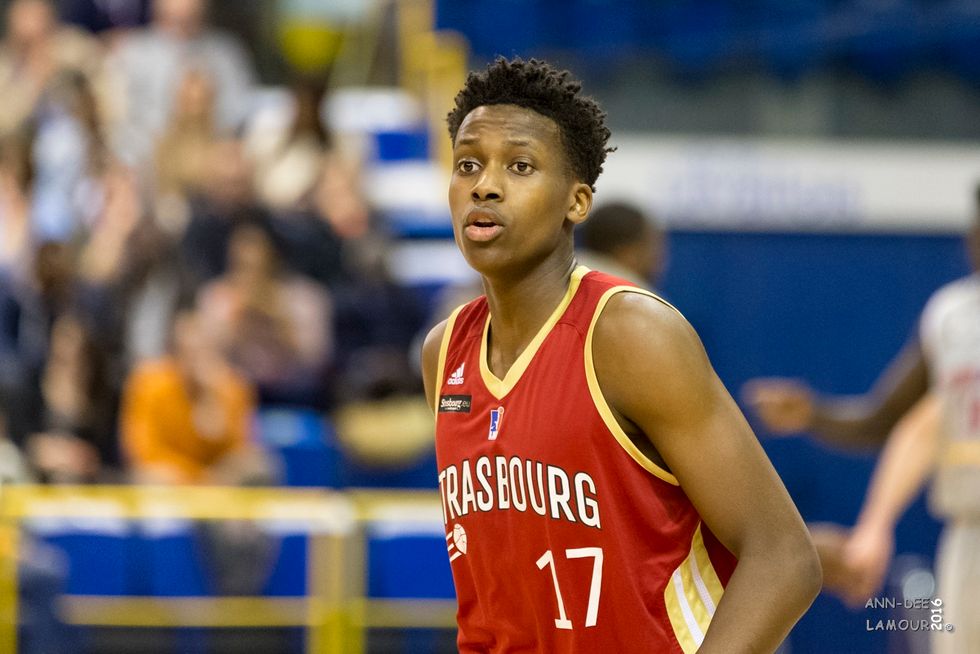 Pick Number 14:
Miami Heat
My Pick: OG Anunoby (Sophomore, Indiana); Shooting Guard/Small Forward
The Miami Heat could have been higher up in the lottery, but a surprising winning streak along with stellar play from cast off players such as Dion Waiters made the Heat into a near playoff team. The surprising play of this team may make several of the Heat's free agents a bit overpriced. With Waiters and James Johnson both being free agents, Miami may look to the draft to replace either as opposed to shelling out a ton of money. Anunoby suffered a season ending ACL injury this season, but if he checks out medically he can be solid player for Miami. Standing at 6'8, Anunoby can play either shooting guard or small forward and he can be a good defender at either position. Averaging 11.1 points, 5.4 rebounds, 1.3 steals, and 1.3 blocks per game, Anunoby has the athleticism to jump out of the gym. His shooting from the outside needs to improve, but under the guidance of the Miami Heat's strong organization, Anunoby should develop nicely.