Some teams made great moves that leaped them years ahead of their scheduled rebuilding process. Then some teams made moves so bad that their future hope for the playoffs was virtually dusted (Infinity War reference for all my fellow Marvel nerds out there). Below I'll list my biggest winners and losers of the 2019 NBA Draft.
Winner: New Orleans Pelicans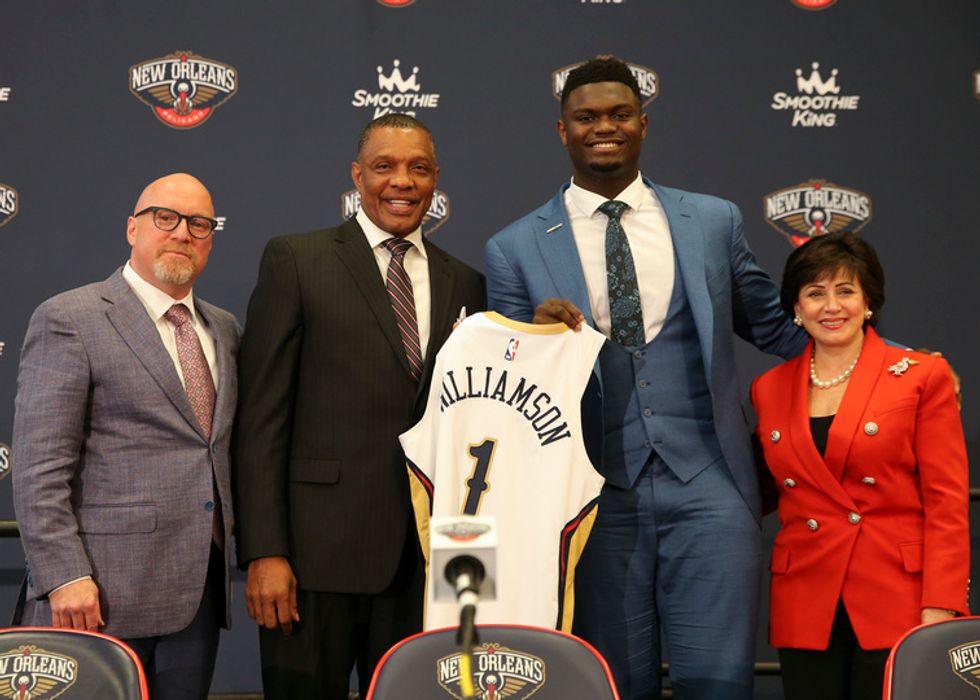 Zion Williamson's introductory press conference (left to right): Executive VP of Basketball Operations David Griffin, Head Coach Alvin Gentry, 1st overall pick Zion Williamson, Owner Gayle Benson

NBA/New Orleans Pelicans
If you had told me after the draft lottery that Pelicans would have the best draft out of every team in the entire NBA... I probably would've believe you. They got Zion Williamson for crying out loud!! However, they made many more great moves that resulted in them mostly filling out their starting lineup and bench.
In the Anthony Davis trade to the Lakers, they acquired Lonzo Ball, Josh Hart, Brandon Ingram, and three first round picks, including the 4th overall in the 2019 Draft. Although they could've drafted another superstar with the 4th pick to pair with Zion, they opted to trade the pick to acquire more capital. They shipped the 4th, 57th, a future second round pick, and Solomon Hill's contract to the Atlanta Hawks (who selected Virginia's De'Andre Hunter 4th) for the 8th, 17th, and 35th picks in 2019. It's a complicated trade, but the main thing to know is that this was an incredible trade for New Orleans. They needed depth and young talent more than anything, and they did that by drafting Jaxson Hayes (8th), Nickeil Alexander-Walker (17th), and Marcos Louzada Silva (35th). Hayes will most likely be the starting center to replace Anthony Davis, which fills out the starting lineup fully. New Orleans will have a young starting lineup for the time being, but they will most likely develop very well over the next few years and skyrocket their chance to contend in the immediate future.
Loser: Phoenix Suns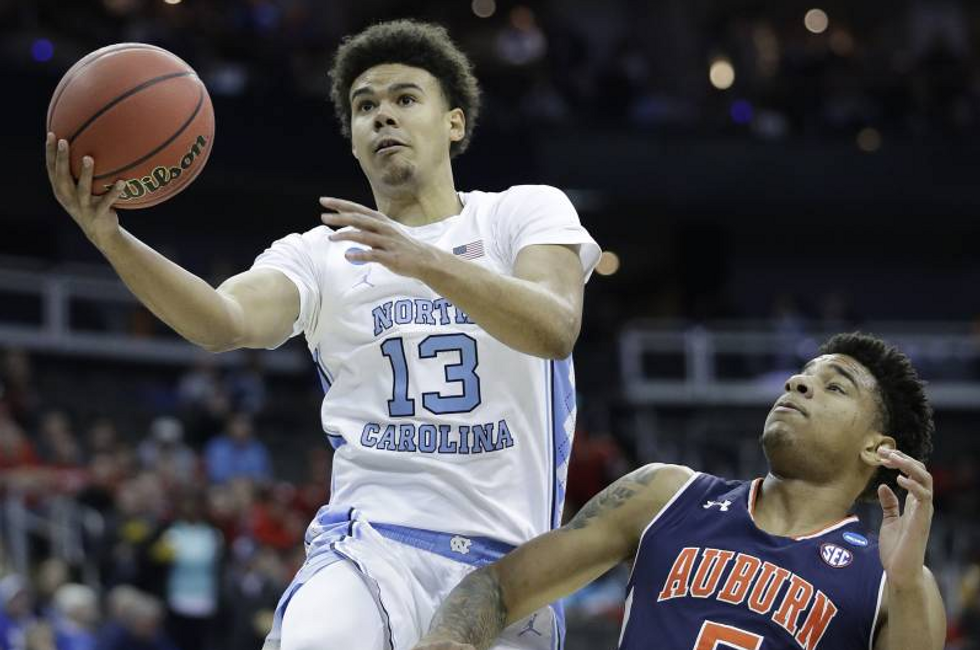 Phoenix's draft selection at 11th overall: North Carolina forward Cameron Johnson

Charlie Riedel/Associated Press
I don't get it. With the 6th overall pick, they were in great position to make a leap in young, dynamic talent with a player like Jarret Culver, Sekou Doumbouya, or Romeo Langford, but they didn't. They traded the pick to Minnesota for Dario Saric and the 11th overall pick. It's not a terrible trade, but it wasn't one they needed to make. They needed young talent, and they drafted UNC's Cam Johnson, who is not young at all compared to the rest of their roster. In fact, when the trade is finalized, Johnson will be the second-oldest player on the Suns roster (behind veteran Jamal Crawford). He's a good player, but he was a reach at 11 and does not fit Phoenix's agenda very well.
Phoenix also made a salary dump trade of T.J. Warren to the Indiana Pacers on June 20th. This isn't related to the Draft as much, but he plays small forward, which is the same position as Cam Johnson and likely the reason they drafted him so high. The only problem I have with this move is that Warren was one of the best players on the team, and this looks terrible for a Phoenix organization that is trying to rebuild while they still have Devin Booker. If I were Phoenix, I'd be praying very hard that Saric can help Booker and Deandre Ayton shine so the organization doesn't look COMPLETELY foolish, which will already be difficult.

Winner: Memphis Grizzlies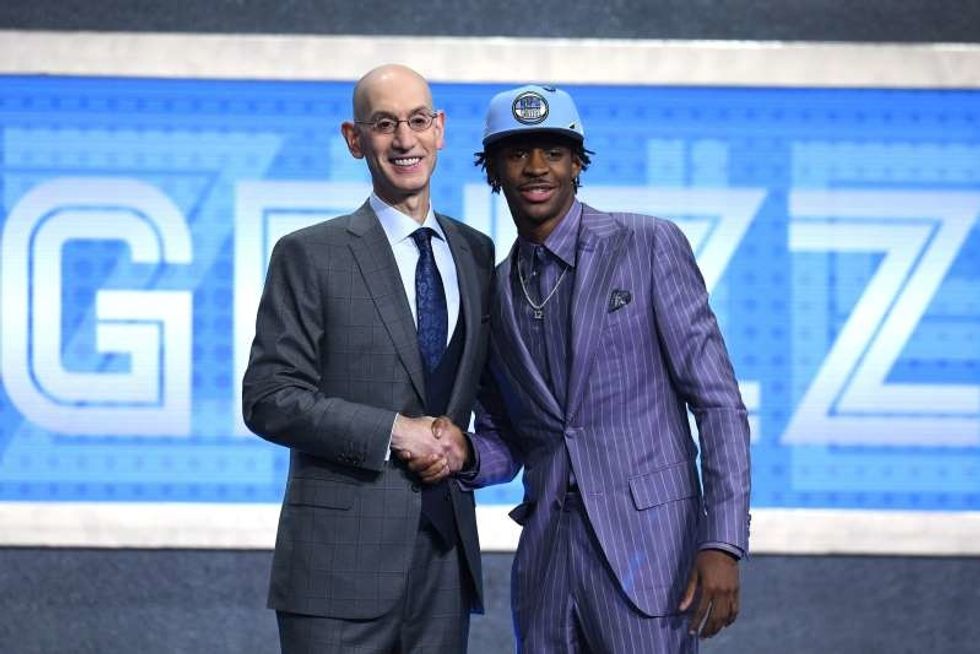 NBA Commissioner Adam Silver and selection, Murray State PG Ja Morant
Sarah Stier/Getty Images
Let me just go ahead and say that in all my years as a Grizzlies fan, (I'm 19 and have lived in Memphis my whole life. Do the math.) I have never been more excited about the future of the franchise. We traded away Mike Conley, our point guard of the past, for Murray State superstar Ja Morant, our point guard of the future. This was made possible by Memphis having the biggest draft lottery jump in franchise history, jumping up SIX spots from eighth to second. Morant will be able to run an NBA offense from day one, and he will pair extremely well with Grizzlies superstar Jaren Jackson, Jr., who was the 4th overall selection in the 2018 NBA Draft.
In the Mike Conley trade, Utah traded two first-round picks to Memphis, including the 23rd overall selection in 2019. The Grizzlies traded up with Oklahoma City, who had the 21st overall pick, and selected Gonzaga forward/center Brandon Clarke. This was a VERY good value pick for Memphis, as Clarke played more center for the Bulldogs and his role off the bench will likely not interfere with Jackson, Jr. running as a power forward. He's looks a lot like a young Zach Randolph, and he'll be a fantastic addition to the Grizzlies.
Loser: Boston Celtics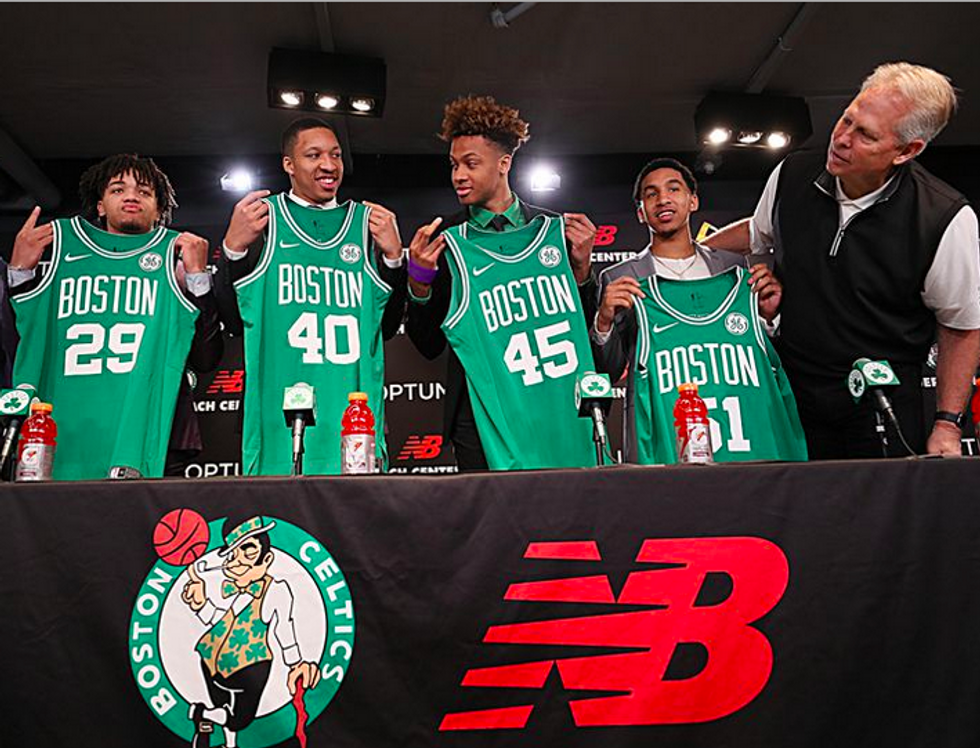 Celtics draft picks Carsen Edwards (Purdue, R2, P33), Grant Williams (Tennessee, R1, P22), Romeo Langford (Indiana, R1, P14), and Tremont Waters (LSU, R2, P51), and Celtics GM Danny Ainge
Suzanne Kreiter/Boston Globe Staff
Boston really needed to make some moves if they were going to try one last time to sway Kyrie Irving's mind about leaving the Celtics. They didn't do that. Their top pick was Romeo Langford, who suffered from a thumb injury during his only season at Indiana University. He had a good season, but his injury limited his production very much and Indiana didn't even make the NCAA Tournament. In my opinion, they reached on Langford at 14th. This was a very high reach for Boston to make, and they gambled for the future when they needed to be making smart, win-now picks for the present.
With center/power forward Al Horford expressing his desire to leave the Celtics, they needed someone to fill his role who could play a lot of minutes and score efficiently. They drafted Grant Williams from Tennessee, but it just doesn't seem like the right fit for what Boston needs, as he played more forward and less center. However, he does have a high basketball IQ. They got good value picks in Edwards and Waters, but they will need developing.
Finally, to add to Boston's very (below)-average Draft night, they traded away backup center Aron Baynes and 24th overall pick Ty Jerome to Phoenix for a 2020 first-round pick. The pick does nothing for Kyrie, as he's a free agent this offseason. Now they have effectively nobody to develop their frontcourt rookies and, in Kyrie's eyes for this offseason, they got nothing in return. Boston has only gotten worse this offseason, and they're going to get much worse when Kyrie decides not to resign.