This summer's free agency period completely changed the framework of the National Basketball Association for the next four seasons. As opposed to following the superteam blueprint that the Golden State Warriors reinvented in the last half-decade, most superstars opted to pair up with only one other and attempt to establish their new dynasties as a duo.
However, this isn't the first duo era in the NBA. Many Hall of Famers played most of their careers as one-half of a championship-caliber duo. Michael Jordan and Scottie Pippen. Magic Johnson and Kareem. Bird and McHale. Even Kobe and Shaq. However, those duos have come and gone, and there are plenty more to rule the league now. I'll give my top five and why I think they could all compete for the NBA title this season.

Honorable Mention: Luka Doncic and Kristaps Porzingis (Mavericks)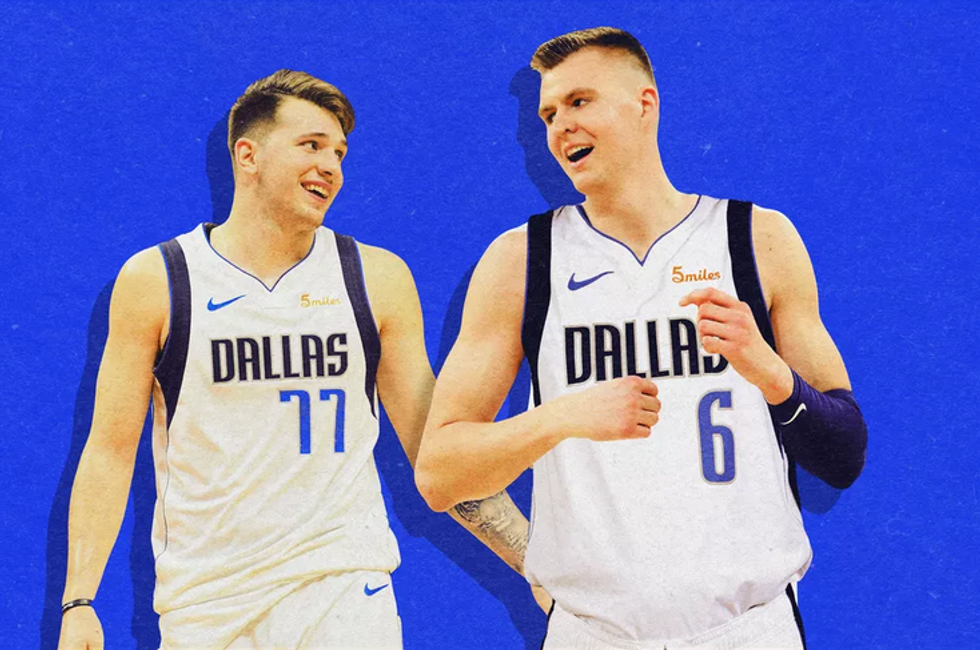 Dallas Mavericks' Doncic and Porzingis
Getty Images/Ringer illustration
The ONLY reason that the EuroMavs aren't actually on this list is because Porzingis hasn't played a game for them yet. I know for a FACT that this is the best young duo in the NBA and could be contending with the Lakers and Clippers for Western Conference Championships, but I just can't do it yet. They both have the potential to be All-NBA selections, and a core like Doncic and Porzingis that can run the floor like they can? If I was the rest of the NBA, I'd be seriously worried to play the Mavericks.
Special shoutout to Mark Cuban for orchestrating this trade to near perfection. The opportunity to acquire a player of Porzingis' potential should never be ignored, and he put the Mavericks in position to thrive after Dirk Nowitzki's retirement. The Knicks, on the other hand... let's just not even go there. That's an article for another time.

5. James Harden and Russell Westbrook (Rockets)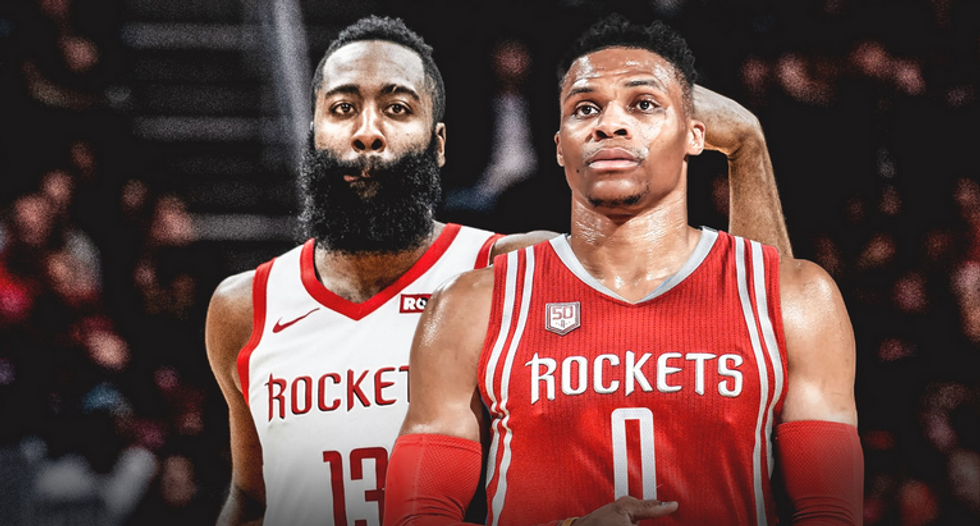 Houston Rockets' Harden and Westbrook
The Rockets are riding a very fine line for me. The move is good, I guess. In my opinion, they didn't really need Westbrook. They just needed to get rid of Chris Paul, who's consistently been a locker room cancer for every team he's played for. They just did so by trading him to the Thunder for Westbrook.
Two elite scorers. Two stars who are passionate for the game. Two former MVP's. The trade was enough to get them onto my list, although it adds no extra prestige to their resumes. It looks pretty good for the Rockets from a surface-level perspective, but I do have concerns.
They're both incredibly inefficient. James Harden shoots 44% from the field, and Russell Westbrook shoots 43%. Yes, they're both triple-double machines, but there has to be more efficiency all-around, or this team is going to lose in the playoffs in the first or second round for the next few years.
They're also both a loud presence in the locker room. It's James Harden's team, but if Russell Westbrook tries to assume that role, there's going to be serious issues. If there are "subtle" shots fired from one superstar to the other, I wouldn't be surprised in the slightest if we saw a Kevin Durant/Draymond Green-like beef from the very beginning.
Finally, they aren't great defenders, both on-ball and off-ball. The only thing I have to say for this is that the rest of the Rockets (I'm looking at you, Clint Capela) better play tight defense on the court, because they're not going to be getting much from Harden and Westbrook. If the surrounding cast can step up when the superstars don't, this team will be dangerous.
4. Kyrie Irving and Kevin Durant (Nets)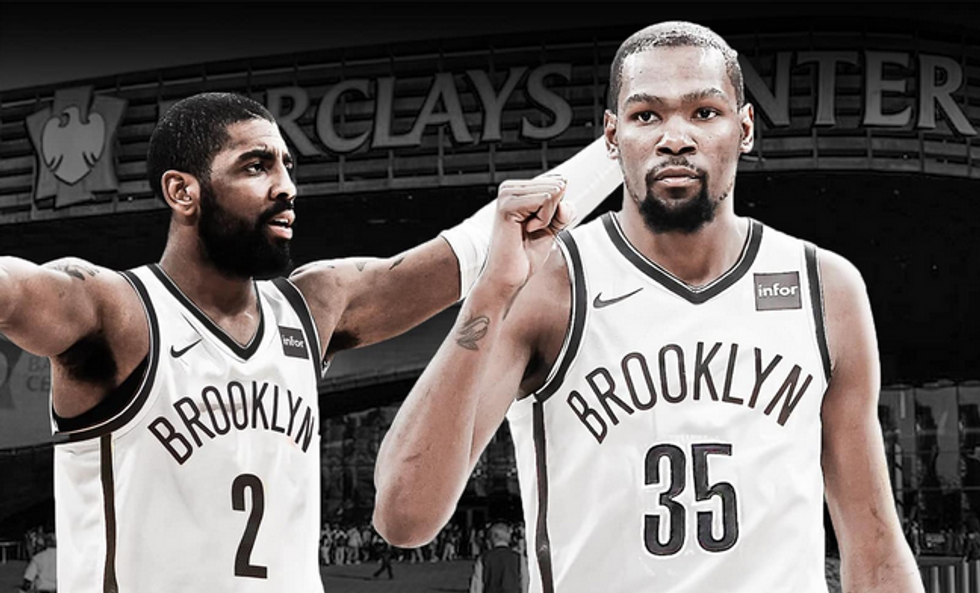 Brooklyn Nets' Irving and Durant
ESNY Graphic, AP Photo
I will just say that the Brooklyn Nets have officially replaced the New York Knicks as the premier destination in to play basketball in New York. But, like I said earlier, that's an article for that at a later time.
Kyrie Irving made his impending departure from Boston very obvious during the 2018-19 season, as he was frustrated with the franchise and Celtics head coach Brad Stevens. Kevin Durant was less obvious, but reports of him being underappreciated by the franchise and its fans were one of the big factors that led to his departure from Golden State. Who better to link up than two All-Stars who were sick and tired of their situation?
Both players are NBA champions who played major roles on their title-winning teams, with Durant winning Finals MVP twice. They bring experience and a winner's mindset to a young core of players like Caris LeVert and Spencer Dinwiddie. The only drawback is that Kyrie will be a solo superstar for the 2019-20 season, as Durant ruptured his Achilles in Game 5 of the NBA Finals against the Raptors. It will be interesting to see just how well the Nets play without KD this year, but they'll certainly look to contend in the years following.

3. Steph Curry and Klay Thompson (Warriors)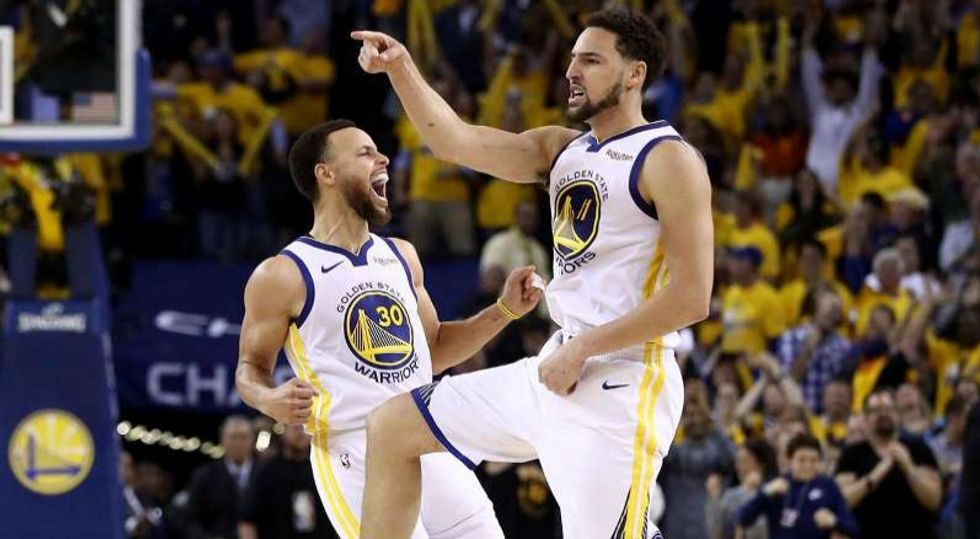 Golden State Warriors' Curry and Thompson
Ezra Shaw/Getty Images
Steph and Klay have left nothing to prove. Both have won multiple titles with Golden State. They're the two best shooters in NBA history. They'll both most likely be Warriors for their entire careers. Many people expect that both will be Hall of Famers.
The only reason they aren't higher is that, just like Kevin Durant, Klay had a season-ending ACL injury in the NBA Finals and will miss most (if not all) of the 2019-20 season. I think they easily have the capability to be THE top duo in the league, but they can't prove it together until Klay is all healed and playing alongside his Splash Brother again.

2. LeBron James and Anthony Davis (Lakers)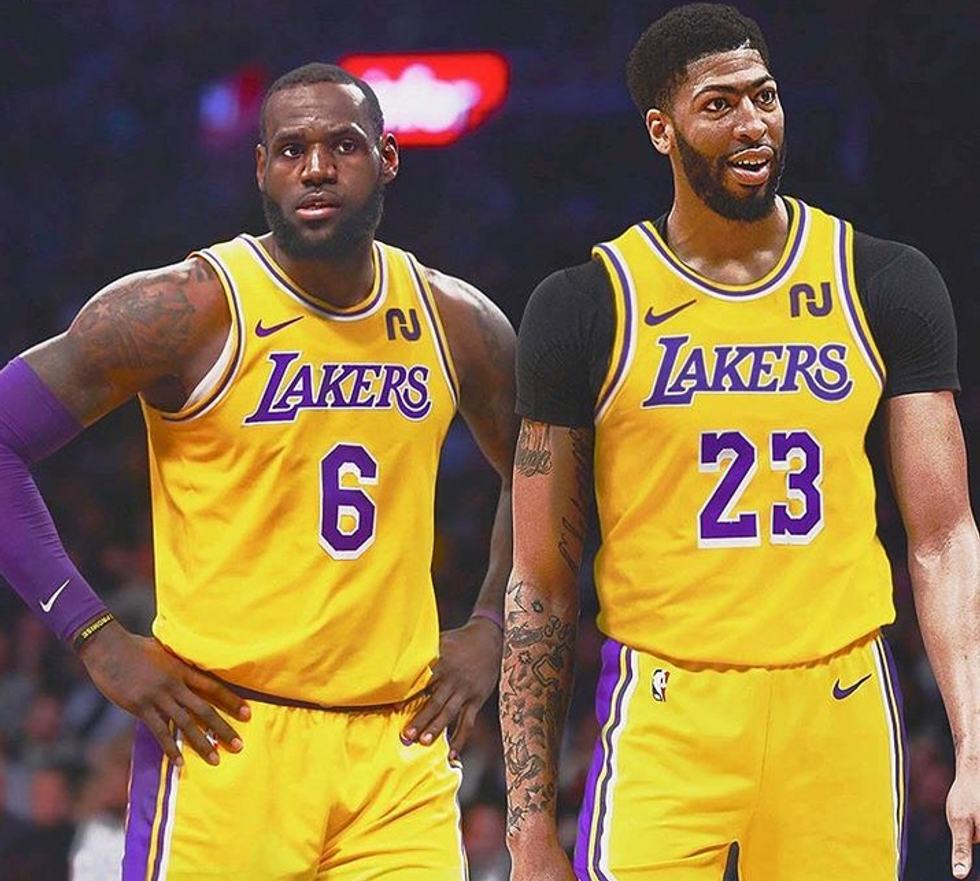 Los Angeles Lakers' James and Davis
Jake Pablo
LeBron James is the best basketball player in the world. I'm sorry if you don't agree with that, but it's a fact. Then, the Lakers messed around and traded for a top-five player in the league in Anthony Davis. THEN the Lakers actually found a way to fill out the roster, adding players like Demarcus Cousins, Quinn Cook, and Danny Green. What else could a team possibly need?
With reports that LeBron will be running point guard this season, this will open up his vision of the court and the ability to run a vertical offense through AD. I am beyond excited to see these two incredible players in the purple and gold together, but I'm specifically even more excited to watch them play against the other duo in LA...

1. Kawhi Leonard and Paul George (Clippers)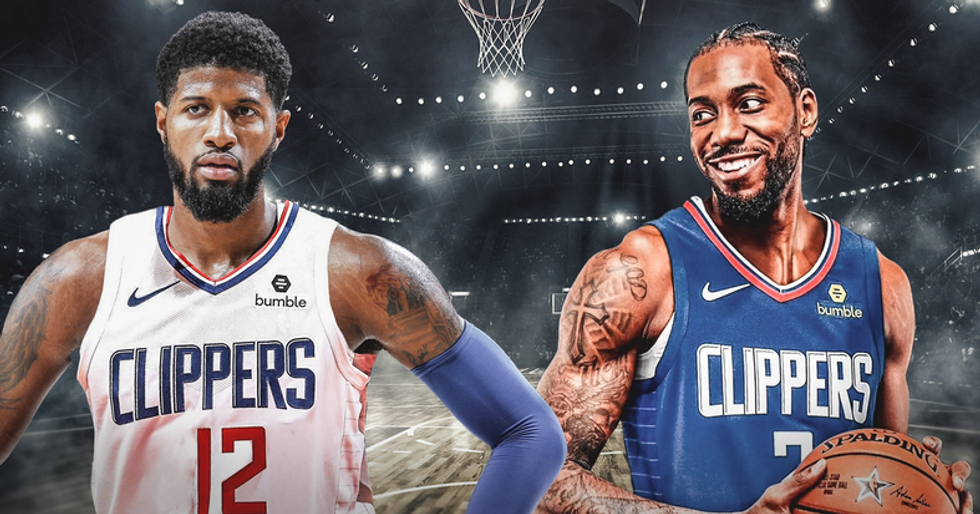 Los Angeles Clippers' George and Leonard
Not only did Kawhi Leonard deny the Lakers an unstoppable dynasty. Not only did Kawhi Leonard deny the Raptors the superstar that Canada worshiped. Not only did Kawhi Leonard sign with the LA Clippers. HE GOT THEM TO ALSO TRADE FOR PAUL GEORGE! People, this is why free agency is like Christmas to me.
Kawhi Leonard is, in my opinion, the best two-way player in the entire league. Paul George, also in my opinion, is the second-best two-way player in the league. When you put BOTH of these players on the same team? It's honestly ridiculous. This is the best duo in the entire NBA, and I'm greatly looking forward to watching the Battle of LA for the next few years.
**Slight rant coming** I have a serious problem with the difference in the way people talk about Kawhi Leonard and LeBron James, but I didn't feel like writing a whole article about it. Don't get me wrong, I got love for Kawhi and his game, but this is ridiculous. The biggest example of this is this most recent free agency period. Kawhi Leonard basically said to the Clippers "I want to play with Paul George. If you can get him, I'll come play for y'all." They traded for PG, and Kawhi signed with them. Kawhi was praised by the league for his incredible recruiting skills and bargaining with the Clippers. HOWEVER, when LeBron had Cleveland clear some cap space from the Lakers before the summer of his free agency, he was recruiting Anthony Davis to join him in LA the entire time. When the deal finally went through this season, the league praised him for being weak and not willing to work alone. WHAT'S WITH THE DOUBLE STANDARD PEOPLE?? There was literally no difference other than LeBron played in LA for one season and was injured for a large portion of it. Why should he have to completely build from scratch with a Lakers team that hasn't made the playoffs in six seasons? Has this man not earned the right to bring in his guy to play with him in the final years of his career? Put some respect on The King's name folks.