The best day of my life was when my best friend got down on one knee and asked me to marry him.
I have never felt the way that I do about my fiance. He's my best friend. He's my soulmate. I have never loved anything or anyone, like the way I love him. AND, I met him on Tinder. Yes, really. I met him on Tinder. Tinder gave me my husband, how awesome is that???
It was love at first sight. I knew I wanted to marry him from the very day I met him. When ya know...ya just know, ya know? We've talked about getting engaged/married for a long time. I have hardly been able to stand it since the day I knew my ring even existed!!!
Then...
IT HAPPENED.
I had been hearing about Columbus, Ohio's Rose Garden for months now. Roses are my favorite flower, favorite scent, and I love the way they look. Their very essence is beauty.
In March, I started hearing about how beautiful it was. As the months passed, I heard about how we should go on a date there. Eventually, we found a day that we both would schedule off to go on our "Big Date Day".
I was so excited, and I'll admit...I'm nosy. I have been asking forever when we were going to get engaged because I'M SO EXCITED to marry him. On Friday, July 20th, my life changed forever.
We went to the Rose Garden, walked around a little bit, and I saw this big beautiful gazebo. The weather was my favorite kind of weather: rainy. There was a small break in the thunderstorm, and it was barely sprinkling. It was a lovely scene. The gazebo was even tucked into the trees just ever so slightly. It looked like it was right out of a movie.
Sitting in the gazebo was a caricature artist. He had some of his tools and utensils set up around him along with a suitcase. He had a poster hanging up with his artwork with his name and company on it. My fiance asked me if I wanted to go get a caricature done by him. I laughed it off and said no thanks, because if he wanted one, then I could draw it for him. Plus those things can get pricey.
(By the way, I want to be a cartoonist, and I've grown up with art all of my life. Art is one of the most important things in my life (aside from my fiance!!!))
We talked and joked around with the caricature artist. I told him about my art, and how that's what I want to do one day too! I noticed some people in the background during our caricature and was really curious about them. The photographer seemed strange, but the two old ladies donning umbrellas looked like two sisters having some fun in the rain for their pictures.
I laughed about it and thought out loud about how the photographer's beard looked like it was only hanging by a thread. The artist assured me, while laughing at them, that it was probably just some college students doing a project for class. I agreed and giggled, and kept my eyes on my fiance.
My fiance had his hand on my leg and kept squeezing me tight. Eventually, he stood up and I assumed we were finished with the caricature. The artist asked our names, and explained that he was just doing the portraits for fun and to tip him if we liked it! I excitedly stood up to see it, and saw the word "Will."
Confused, I watched the artist as he stood up, and turned the picture around... what it said....I'll NEVER FORGET.
"Will you marry me? Ashley?"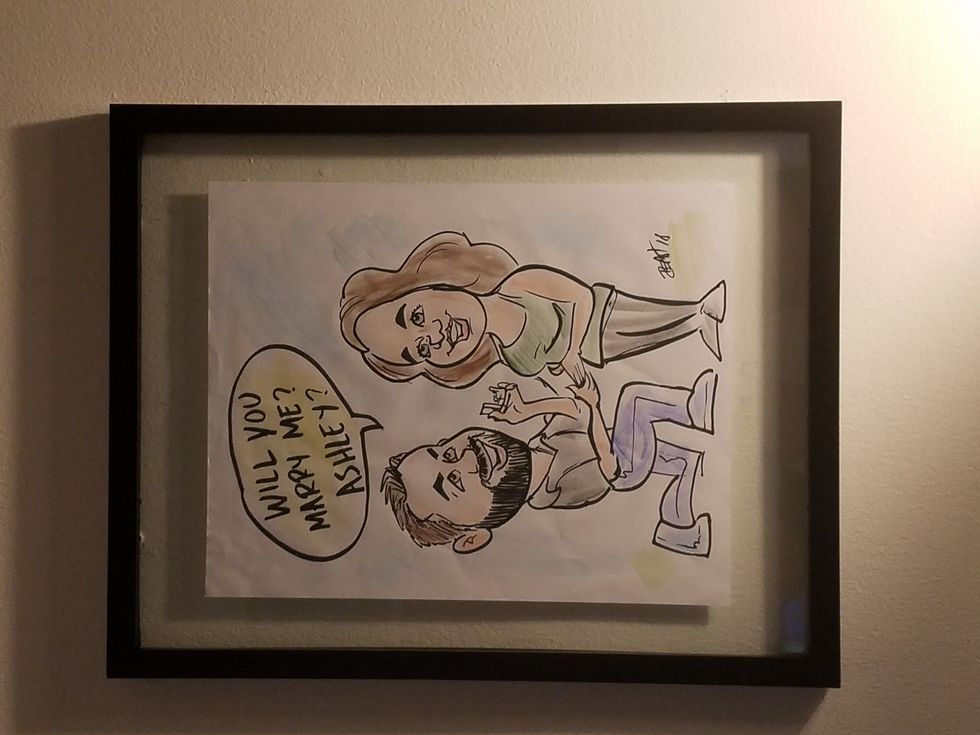 The caricatures my boyfriend hired the artist to draw to propose!
Stunned, I turned around to see the love of my life on one knee. I stood in front of him with so many emotions, with only the thought of "YES!" on my mind. His eyes filled with tears, and he asked me "Ashley Noel, will you marry me?"
*SWOON*
I thought I said yes but it came out "sjhfwoihfigasdsfe!!!" I took off my promise ring and put out my hand for him to replace it with my brand new engagement ring. His eyes were still brimming with tears and I said, "No! Don't cry, I'll cry!" But it was too late for both of us. Tears had escaped down both of our cheeks; my wildest dreams coming true!!!

He stood up and I kissed him. It felt like it was the first kiss of forever. As I kissed my new fiance, I heard cheers of "WHOO!!!!" in the background. It turns out the caricature artist was a good friend of my father's (who is also a cartoonist), who my fiance had hired to act as a street artist. (He's so clever).
And the weird photographers with the old ladies? They were my fiance's best friend, his wife, and her sister! They had been in on it the whole time. My fiance had planned out the ENTIRE thing to surprise me! Our friends got costumes together and were in disguise so I wouldn't recognize them (which my fiance didn't think would fool me, but it SO did!). However, I was definitely right about the beard, but I had NO idea that that would be the day my life changed forever.
After the initial shock of it all, plus lots of hugs and kisses...we took a bunch of pictures together. We took pictures kissing (obviously!), pictures in the disguises, pictures with the artist, and pictures with our good friends. It was unforgettable.
To celebrate, we decided to get dinner. We went back and forth about what sounded good, but finally, my fiance and I decided to go to Applebee's (our fave place EVER!!! Really it should've been the only choice). I spent the rest of the night switching between staring at my ring, and my new fiance.
It was perfect...I've been dreaming about this day since I was a little girl, and I can't thank my fiance enough for making it so well thought out and special. I felt like I was the only girl in the world, and I was on top of it to make it even better. Every day I prayed for a man like this. Now, I'll pray and thank God every day for giving me a man like that.
That's the story of the best day of my life... when the love of my life asked me to spend forever by his side as his wife.