As Millennials we are often viewed by older generations as lazy, unaware, and even narcissistic. Older generations assume that we either don't care about everyday issues or that we're blind to the problems that our country is facing. They think that we're too engrossed in our own lives and problems. But here's the problem with that logic. It's wrong.
Instead of focusing on the current issues that we can't fix, like global warming or social security, we would rather focus on trying to shape a better future for ourselves. We would rather focus on creating the future we envision and want to be apart of than trying to meet the expectations that society has put in place to tell us what our lives should look like. We would rather construct our own unique paths than continue on the more conventional route towards adulthood.
Does this mindset really come as a surprise to anyone?
We were raised to be our own person and make our decisions. We've grown up hearing that we can do anything we want. We've been told to think big and to follow our dreams. So when we finally listen and decide to focus on ourselves and the future we actually want, we're deemed as self-absorbed and naive, we're told we're setting ourselves up for failure, and we're told that our expectations for our future are unrealistic. Surrounded by negativity and doubts, it's no wonder Millennials are always stressed out.
According to the Stress in America study, conducted by the American Psychological Association (APA), Millennials are the most stressed out generation in America. The study discovered that Millennials, which is defined as individuals between the ages of 18 and 35, reported higher stress levels than Generation X, Baby Boomers, and Matures. In the study, all participants were asked to rank their stress on a scale of one to 10, with 10 being "a great deal of stress". This ranking led the APA to learn that Millennials are the most stressed out generation with average stress levels of 5.5 compared to Generation X (5.4), Baby Boomers (4.5), and Matures (3.5).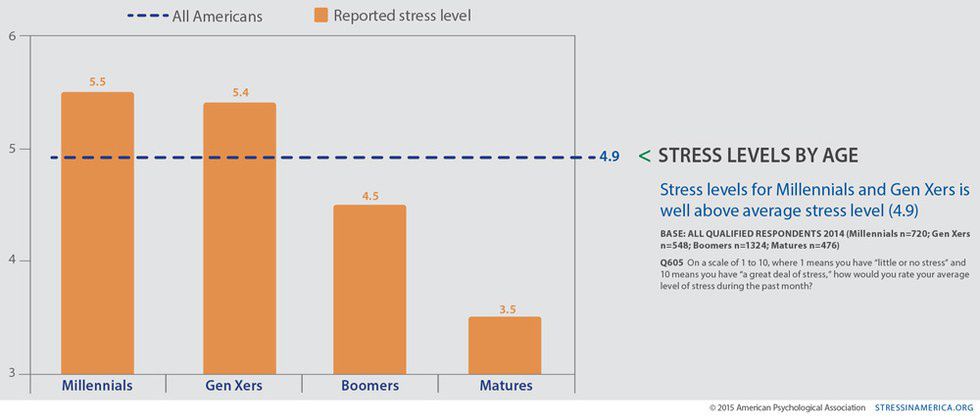 Although all generations were discovered to be stressed by work, money, and job stability, 76 percent of Millennials indicated that work is a significant stressor in their lives and that 52 percent of them reported having trouble sleep due to this stress. Katherine Nordal of the APA explains that this stress is partially due to the fact that, "many of these young people have come out of college or graduate school with horrendous student debt into a job market where there are not very many jobs." This often forces Millennials to rethink their futures and what their next step is. The stress of the unknown can lead to serious mental, emotional, and physical health problems such as high blood pressure and severe anxiety.
Even though most Millennials understand that their stress levels are unhealthy, many of us are still having trouble managing our stress. The study determined that Millennials prefer to relieve stress by watching television (58 percent) or surfing the Internet (67 percent), which aren't necessarily the healthiest ways to manage stress. This is why the APA suggests setting healthier stress management goals.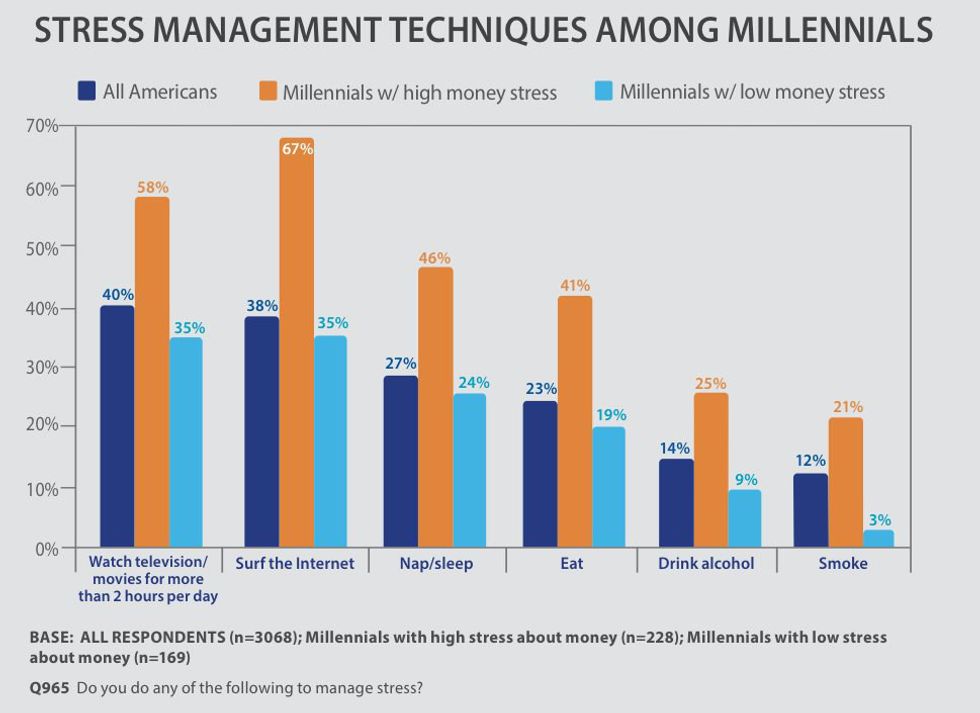 By setting healthier stress management goals such as exercising, eating healthy, or getting enough sleep, the APA believes that all generations - especially Millennials - will hopefully start to feel less stressed.