If you go to Towson University or know someone who goes there you might know of #MightyMare, if you are in Greek Life at Towson you definitely know what it is, but if you are a sister of the Phi Phi chapter of Delta Phi Espilson or know Mare personally it means so much more.
Before I get into the whole idea of Mighty Mare, i will tell you a little bit of Mare's story. My sister Mariana is the most fun-loving, caring, and stongest person you will ever meet, she also has Cystic Fibrosis. From having CF Mare needed a double lung transplant four years ago. Not only did she have one double lung transplant but about a month ago she got her second double lung transplant. Before she could get her transplant it was a lot of waiting and praying that she could be healthy enough to get on the transplant list. She finally did and got the call that her new lungs were ready. She is now in recovery and is getting stronger everyday.
Mighty Mare isn't just a hashtag, its a campaign that started right at the heart of DPhiE with Kayla Hester. Kayla is Mare's big and when she found out that Mare needed another double lung transplant she looked to her sisters for help in starting something that would one day become bigger than she could have ever imagined. The Mighty Mare campaign started with a dream and a bracelet idea. Kayla wanted to raise as much money as possoble to help with Mare's transplant and also help spread awareness of what Cystic Fibrosis is.
As sisters of Delta Phi Epsilon we strive to fund for the CF foundation as it is one of our major national philanthropies. CF hits home for us at Towson because of Mare and her journey. Since Mighty Mare has started so much as been done to spread awreness. So many different things have been sold including mugs, t-shirts, and bracelets. We have done all in our power to make our voices heard and let people know what Mighty Mare is all about.
Our biggest tribute and effort to make this known was our performance as a chapter at Greek Sing, a dance competition between the differnet greek organizations on campus. The theme for the week was superheroes and our super hero is Mare. The performance was dedicated to her and got a lot of positive feedback from the rest of greek life. Not only did we suprise Mare wirth this tribute but we also suprised greek life.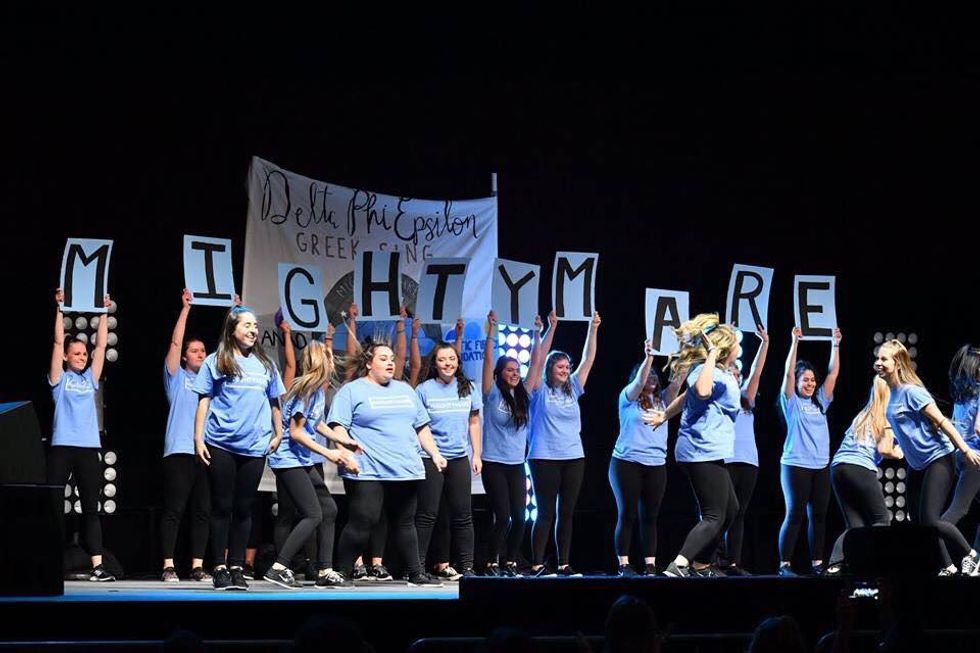 After this performance I truly knew what sisterhood was. To be able to use this performance as a platform to show what we care about and make this event something deeper than it is meant the world to us. I could have never imagined ending up in any differenct chapter because that night truly showed me how much we value our sisterhood and how much we care for each other. Honestly, we were just happy to be able to get the time and oppertunity to tribute this to Mare and did not even care about the outcome of the awards that night. In the end we did place third and I could not be happier that our hardwork was seen by others.
Being a sister of Delta Phi Epsilon has taught me to be selfless and giving to those who need it. Mighty Mare has taught me to be strong and to always know that i will have a chapter supporting me at all times no matter what I do.
We do this All For Mare!
Mighty Mare is sisterhood, Mighty Mare is support, Mighty Mare is love, Mighty Mare is our superhero.