You may know (unless you've been living under a rock) that Prince Harry and the former Meghan Markle got married a couple weekends ago! If you haven't seen the highlights of the wedding, do it!!! It will make you believe in love and have your heart melt from the way they look at each other.
As much as we wanted to see the celebrities arrive (did you all see Oprah?!?) and the dreamy groom nervously waits for his bride, we were all waiting to see Meghan's dress!! The moment the Rolls-Royce pulled in front of the chapel, we were all waiting for the glowing bride to step out.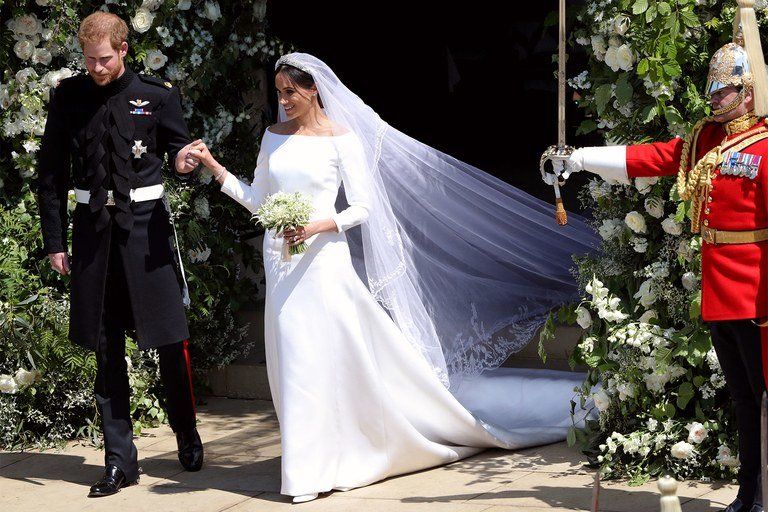 The crowd was so happy to see her! However, not a lot of people were happy to see her wearing that dress. People commented that it was underwhelming, it wasn't fitted well, or it was straight up too simple for someone who is about to become a Duchess.
First of all, she's look beautiful no matter what she wears, if she wore a white trash bag down the aisle, I may question it but she is absolutely gorgeous.
She's an actress, a model, and for goodness sakes, Prince Harry fell in love with her, didn't he??
Second of all, the simplicity of the dress only draws everyone's eyes to her beautiful features. She is a beautiful woman and she can absolutely pull off a white dress without the sparkle and white lace like other wedding dresses. With being the Duchess of Sussex, she has to take up modesty in what she wears and what she does. She doesn't need the decor to show off her beauty.
She's about to become a duchess for goodness sake!
Can we also take a minute to point out that Meghan is an American!? This a huge step for the British monarchy, considering it was frowned upon not too long ago (thanks to the knowledge of "The Crown" on Netflix). This girl is a superhero in my eyes. She can wear whatever she wants!! It's her day. And again. She married a dreamy prince.
But like if you really feel strongly about this dress for its simplicity, look at the gorgeous train!! It was 16 foot long and completely sheer with flowers embroidered in the veil! When the wind picked up, it would send the veil flying if it wasn't for the adorable page boys holding it for her as she practically walked herself down the aisle!!
It's not every day that we see a royal wedding happening, especially an American girl getting married to the royal bad boy.
So, we see your Pinterest board, sweetie. It's full of future wedding venues and dresses that you hope to someday say yes too. But, come on, this is Meghan's wedding day. It's her dress. Her ceremony. Her love story that we were lucky enough to access live from the TV or on our DVR's (because let's be real, 4:30 a.m. was not going to happen for me).
Let her live in the moment and admire that no matter what, she looked stunning.