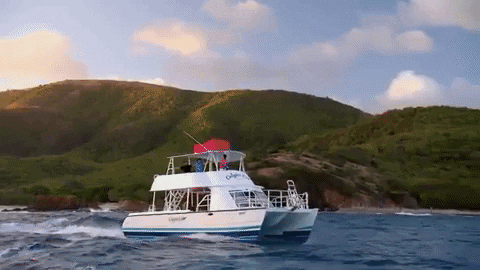 Giphy
If you're anything like me, you've already binge watched Lifetime's "Married at First Sight" on Netflix and have some issues with a few couples on the show. In simple terms, "Married at First Sight" is a reality TV show that follows four couples who all meet their spouse for the first time at the altar. They are matched up by a group of experts based on qualities and similarities they share with their new partner. Season 9 was filmed in Charlotte, North Carolina, and these couples - specially chosen by experts - meet for the first time at the altar and begin the eight-week experiment in a legally binding marriage. After the eight weeks, they can choose to either stay married or get a divorce on "Decision Day."
Disclaimer: Spoilers Ahead
---


1. Greg and Deonna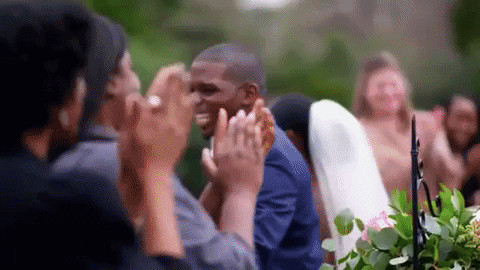 Giphy
From the get-go, Greg and Deonna had really good chemistry. They both had a really strong emphasis on religion and wanting to incorporate it into their marriages. Deonna was very standoffish at first, though, because she hadn't been in a relationship for over ten years. She had taken time away from dating to work on getting her degree and starting her career. This was a huge shock to Greg, as she wasn't as receptive to his affection as he was hoping. They still were both very committed to their marriage and went out of their way to get out of their comfort zone and try new things for the other, like zip lining and eating bugs (YUCK!).
The major challenge in their relationship was that Greg wanted Deonna to be more open with her emotions and let down her walls. In the beginning, it was extremely hard for her, but as she began to trust him more, she became more emotionally vulnerable and even admitted to be heading down the right path to "grow in love" with Greg. While Greg had always been open about his feelings towards Deonna, as she opened up throughout the season, you could see how much happier they both were becoming. They eventually decided to continue to grow their marriage on Decision Day.


2. Keith and Iris

Giphy
Keith and Iris were a very hard couple to read from the beginning. Immediately, they were physically attracted to one another and shared a lot of the same morals and values. The issues that arose came from the lack of sexual maturity and experience on Iris' side as she was a 27 year old virgin. The issue wasn't with her virginity, though, but rather how she shielded behind it and used it as an excuse. She refused to engage in any physically intimacy besides kissing and hugging, as she was just too "uncomfortable" with it. Keith was very understanding, but she almost hung it over his head that she was a virgin. The relationship experts tried different bonding exercises to get them to both open up, but Keith quickly realized Iris was just too immature to fully commit to any.
Come Decision Day, Iris was still adamant on staying married, but Keith had his doubts. I think Keith knew after the honeymoon that this relationship wasn't going to work out, but he still wanted to give Iris time to open up to him and feel more vulnerable around him. Unfortunately, that just never came. I also think Iris had put a huge emphasis on marriage and wanted it to work very badly, but I agree with Keith's final decision that she didn't have enough relationship experience or maturity to be married right then.
They really did seem to mesh well, so maybe in the future - once they both learn more about themselves - they can revisit the idea of pursuing a relationship again.
3. Matt and Amber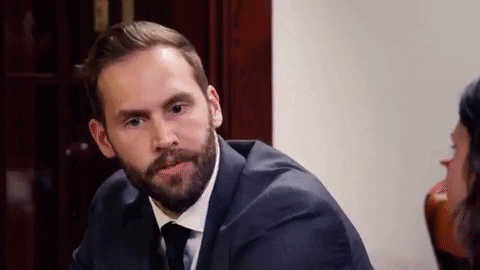 Giphy
If you've seen this season, you know how much of a shocker it was to see these two. A 6'9 basketball player and a 5'2 elementary school teacher was just the start of this relationship being far from normal. Matt was used to the transient bachelor lifestyle while Amber was eager to settle down and plant her roots with a family of her own. Seeing these two next to each other looked quite bizarre, as you can imagine, but they seemed to have immediate chemistry at their wedding and into their honeymoon. Matt still wasn't quite sure he was ready to fully commit to Amber and quit his career of being a basketball player (foreshadowing). This became a huge point of discussion in their relationship.
As the marriage progressed, Amber expressed concerns with Matt staying out late or not coming home at all for days at a time. When meeting with the experts, they specifically asked if there was another woman, and he said it was "disappointing" that was even a question. Amber also said he would say what she wanted to hear when the cameras were rolling, but when they weren't, he was nowhere to be found. In one of his famous disappearing acts, he "accidentally" left his wedding ring at home as he was running out of the house to see his friend (suspicious much?). On the night before Decision Day, Amber's friend reveals he had seen Matt leave with another woman from the bar. This was the ultimate turning point in Amber's decision. She called him out and they both decided to divorce.
To me, Matt was selfish from the start. He seemed extremely cocky, even when he was walking down the aisle on his own wedding day. I immediately got bad vibes from him. As the marriage progressed, Amber was very open and trusting when she shouldn't have been. She gave him multiple chances to change his behavior, which only ever lasted a few days until he would fall back into his old routine. Being a former professional basketball player, I think he went on the show just for more fame and attention. He was already talking about quitting to work for his friend and his mobile detailing business. Matt got scared he would lose his street cred, so he signed up to be on television. He even later would brag about going to sleep with an Instagram model at the final reunion. Amber deserved better.


4. Jamie and Beth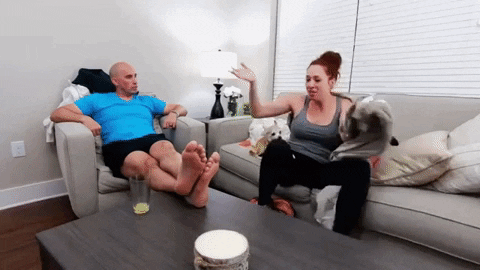 Giphy
Whew. This couple was a headache and a half during their eight weeks after the wedding. They always would say they felt they were on a "rollercoaster" in their relationship, but I would argue it was more like a washing machine - around and around and around. The minute they would "resolve" one issue, the other would make a comment that set the other one off. It isn't normal to have such fueled and abrasive arguments in any sort of relationship, especially in only eight weeks. I'm surprised there were never noise complaints or the cops being called on their apartment with all the screaming, slamming of doors, and flipping of furniture they did.
One issue Jamie had from the start, though, was that he was extremely condescending. Anytime an issue arose, he would threaten to leave the house and leave their marriage. He called all the shots. He would yell at Beth in public and embarrass her, and then get on her about embarrassing everyone else while her actions were a reaction from how he treated her. He was very insecure and used them not having sex as leverage against her. On their one-month anniversary, Beth gifted Jamie a coupon book full of sexual favors he could use. Later, they were having a serious discussion after one of their arguments and he pulled a coupon out. To me, it was very inappropriate and showed he wasn't interested in fixing their problems and only wanted sex.
There were many comments and actions made from the both of them which revealed this was the start of a very painful and toxic relationship, but to the viewers' surprise, they both decided to stay married. One can only hope they have resolved their differences and put in the work to create a healthy and safe marriage.