I remember being nine years old and hearing Gaga's voice for the first time. When "Just Dance" came out, everyone around me was loving it until they saw the face behind the voice. All of the singles that came from The Fame started filling the radio stations near me, they were on TV, and Gaga was everywhere. My mom's boyfriend at the time played some of her music and I remember it was always my favorite compared to the country music he normally listened to. The first time I saw Lady Gaga was in her video for "Poker Face" and if I had any doubts at nine years old I knew two things: that was the first real piece of art I had seen since watching the "Smooth Criminal" video by Michael Jackson, and that I was most definitely queer.
Over the ten years that I have followed Lady Gaga, I have seen a true transformation in the woman that we all know and love. Everyone around me never thought she would make it because of her unique style and her badass attitude. I knew from the start that she was going to be big and I could not wait to see that growth.
As a kid, I was bullied and I was an outcast. All my life, I have worn "boys" clothes and felt like I never really had any control over my body. At nine, I was still really young and had not hit puberty but I already knew that I hated my body. My hair was too long, my voice was too high, my face was too round, and my chest was too big. Inside, I felt like I was a different person. Lady Gaga was the thing that got me through this period of my life and still is.
When I looked at Lady Gaga, I saw myself. I saw how she distracted everyone from what she looked like with her bold fashion choices. The way she would make a record and fly to the top of the charts and get praised for her music. Then, she would be on an awards show and later on people would make comments about her outfits, her personality, her dancing, everything about her was judged. Gaga was the truest replication of what I was feeling.
Like almost every other queer person, when "Born This Way" came out I lost my mother fucking mind. I finally saw someone besides Ellen standing up for people like me. The song was everywhere and it was because it was a new Gaga song, but people were hearing the story of my life because of someone braver and with a bigger platform than me.
If we speed up to October 21, 2016; the day "Joanne" came out. At this point in my life, I was out to most everyone and I was starting my freshman year in college and I needed "Joanne" more than anything. The "new" Lady Gaga that appeared with "Joanne" was so real and it felt like when I came out. "Joanne" was not a new Lady Gaga, it is Lady Gaga in her rawest form. This album was a reflection of my coming out. Everything about this era of Gaga felt right.
Due to the major difference, Gaga received a lot of backlash from critics, fans, and everyone in the media. The reason this album is a reflection of my coming out experience is that it's real, painful, raw, and thrilling. With the new album came a new Gaga that not everyone had seen before. The advocacy, outreach, and even the Superbowl performance were new for viewers.

I swear to everything in my life, Lady Gaga has changed me. This woman has taught me to love myself and embrace the person that I am. The pure emotion that Gaga shows in her work has helped me learn to accept my mental health issues and grow from them instead of using them against myself like I did before I found her. One day, I hope to have the heart that she does; all she does is love and care and advocate for things she believes in.
Lady Gaga, you have changed my life. Your music, fashion, talent, and realness has helped me to grow into the person that I am today. You are an icon for our generation and for every person alive. Watching you over the past ten years has only helped me grow and be more driven in every aspect of my life. I won't rest until I see you, my hero, perform live. Everything about you has changed my life and I would give anything to have an impact on someone's life the way you have had on mine. Thank you for everything you have done for me and for everyone else that has had the opportunity to hear your voice. We love you Mother Monster.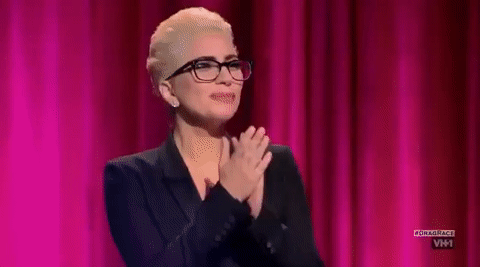 media3.giphy.com