When Lonzo, Liangelo and LaMelo ball all committed to play basketball for the UCLA Bruins, most basketball fans would have said things are about to change at UCLA. Lonzo the oldest of the three brothers had just averaged a triple double his senior season at Chino Hills High School, and led the school to a state title with the help of his younger brothers. Everybody was now gear up to see what the family was going to do the next year. With star brother Lonzo going to UCLA, eyes were sure to be on him.
Then, on the night of November 24, 2016 the world was introduced to the true star of the Ball family: The Father Lavar Ball. During an interview with ESPN's Jeff Goodman, Lavar made the claim that UCLA would win the National Championship. From there the rest is history. No matter how great Lonzo, Liangelo, or Lamelo would do as players, the spotlight would always manage to find its way to Lavar.
Or did Lavar take the spotlight and shine it on himself?
Rather than let his sons play on the court speak for themselves, Lavar has been all over the media making claims about his children as basketball players. In December 2016 when he said that all three of his children would be "one and done players". At the end of February he claimed that Lonzo is better than Steph Curry, he also claimed that all three of his children should be offered BILLION DOLLAR ENDORSEMENT DEALS before any of them set foot on an NBA court.
Lavar is doing all of the right things as a parent. He has all the confidence in the world that his children will be great and does a great job of making sure the entire world does as well.
At a certain point enough is enough, and we have been at the point for quite awhile now. It is now to the point where people are more interested in what Lavar has to say over what his kids do on the court. When the yougnest brother Lamelo put up 92 points in game, and pulled up from half court to start the game in another, there was Lavar running his mouth making sure the media would watch them.
Again as a father he is doing all the right things supporting his kids 100% and then some.
Throughout the month of March however, things have seem to become about Lavar and his BBB brand over his kids and their future as players. With claims like "Back in my heyday, I would kill Michael Jordan one-on-one," it is no longer about Lonzo, Liangelo and Lamelo.
IT IS NOW ALL ABOUT LAVAR BALL.
This has become even more evident after USA Today released an article detailing the power struggle at Chino Hills between Lavar and coach Stephan Gilling. Gilling claimed Lavar would try to force his style of play on the players from the stands he would force his way into the locker room and show zero respect towards the first year head coach, he even kept his 2 kids behind after the game the article talks about.
The struggle between the two most likely cost Chino Hills the state title as the team failed to repeat. Then this past Friday Lonzo and the Bruins of UCLA dropped their Sweet 16 matchup against Kentucky. Lonzo was average compared to what we have grown to expect from him with just 10 points and 8 Assists on 4-10 shooting. Along with that, he was horrendous on defense as draft hopefulls D'Aaron Fox and Malik Monk abused Ball. Fox finished with 39 points and Monk with 21.
It has been a fun couple of months watching Lavar in the media make these claims and as most would say, " A fool of himself. Nobody thought he was crazy to think Chino Hills would repeat as champs or that UCLA could win the title this year, but his claims yesterday have made it evident that it is time for him to shut up.
On ESPN's First Take yesterday, Lavar made the same claim as he did back in November that UCLA will win the title next year, this time with middle brother Liangelo.
It has now become crystal clear that all of this is about Lavar Ball the man and not Lavar Ball the father and he now needs to SHUT THE HELL UP.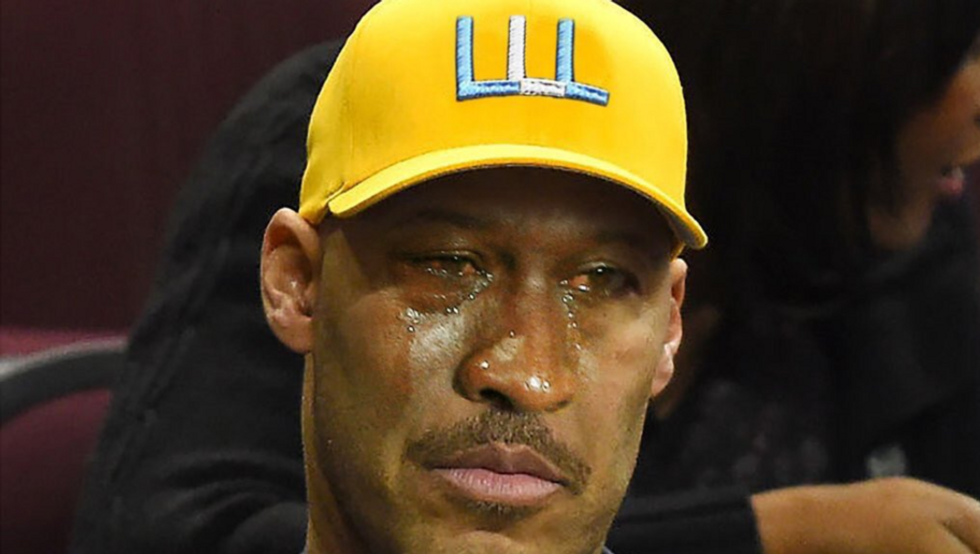 If not we shall continue to see this.