If you haven't updated Instagram, read the tech section of the news or just don't care, you probably don't know about Instagram's big news. First, you can now filter which comments can be left on your photos or even disable your comments altogether. The design is perfect for celebrities like Kylie Jenner, who is already using the new feature. Secondly, Instagram has created a new feature called Instagram Stories, and while it is an exciting new release, it is causing a bit of controversy.
Instagram explained the update on their own profile and their blog:
"With Instagram Stories, you don't have to worry about overposting. Instead, you can share as much as you want throughout the day — with as much creativity as you want. You can bring your story to life in new ways with text and drawing tools. The photos and videos will disappear after 24 hours and won't appear on your profile grid or in feed.

You'll see stories from people you follow in a bar at the top of your feed — from your best friends to your favorite popular accounts. When there's something new to see, their profile photo will have a colorful ring around it.

To view someone's story, just tap on their profile photo. It's easy to view stories at your own pace: tap to go back and forward or swipe to jump to another person's story. If you want to comment on something you see, you can tap and send a private message to that person on Instagram Direct. Unlike regular posts, there are no likes or public comments.

Your story follows the privacy settings of your account. If you set your account to private, your story is visible only to your followers. However, you can also easily hide your entire story from anyone you don't want to see it, even if they follow you. When watching your own story, swipe up to check out who's seen each photo and video. You can even choose to feature a particular part of your story by posting it on your profile."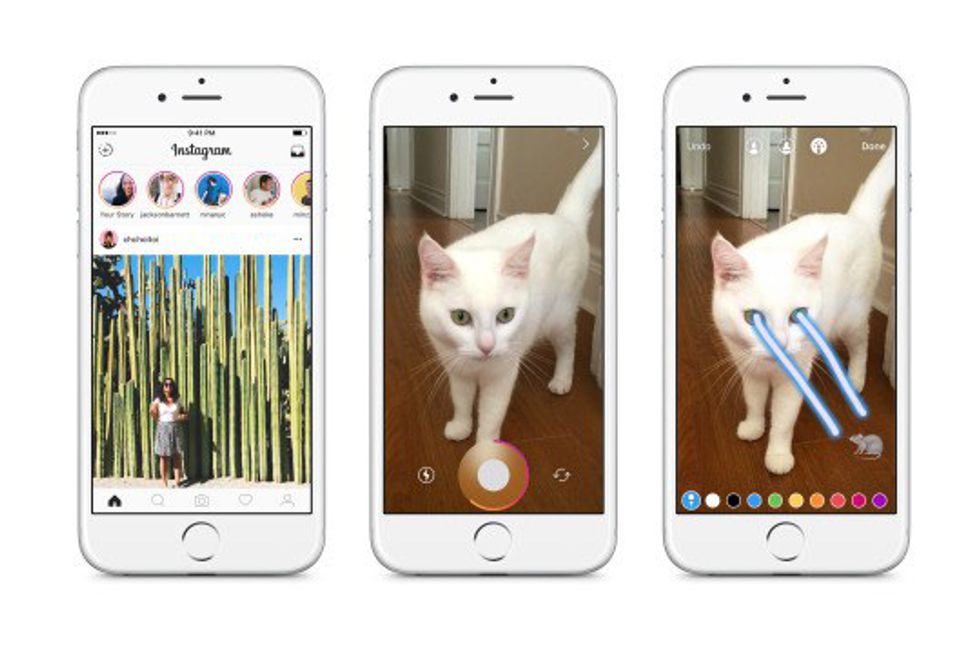 Well, the idea bears a striking resemblance to the already established app Snapchat. The entire premise of Snapchat is to create stories of videos and text for those who follow you. The only two big differences between this update and Snapchat is that you can swipe to go back to a story on Instagram and that Snapchat has animated filters that overlay on your face.
So that's the problem. Besides a couple of things Instagram, which is owned by Facebook, has copied the design of Snapchat. According to one journalist from TechCrunch, who interviewed the CEO of Instagram, Kevin Systrom, "[Snapchat] deserve[s] all the credit." Are you as confused as me? Because this statement is indirectly admitting to ripping off Snapchat. However, this wouldn't be the first time Facebook stole an idea from another app. As the TechCrunch journalist pointed out, Facebook recreated TimeHop as On This Day, or applied features like Twitter's hashtags and trending topics to their own design. Yet, as of right now Snapchat has not cried foul. In fact, the only ones speaking out about the theft are those who use the apps (myself included).
I will say this, though: even though there seems to creative theft afoot (not creative inspiration), I do like the update. Personally, my phone hates Snapchat (probably because it is so old), and it takes it forever to load stories and shuts down when I try to use filters. I don't have that problem with the Instagram update. Also, while on Snapchat I would watch all my personal friend's stories, but with the update I now have a glimpse into the lives of my favorite Instagrammers and friends.
So what now? I'm kind of torn. While I don't appreciate the hijacking of someone else's creativity, I do think the app is killing two birds with one stone, making Snapchat obsolete. I just want to know if Facebook/Instagram is going to rectify the wrong by buying Snapchat (if you call that rectification) or by apologizing. Or is Snapchat going to fire back, slapping Facebook/Instagram with some sort of lawsuit?
Whatever may be the next action taken, Instagram has accomplished their goal: they are "a place to share the moments you want to remember ... shar[ing] your highlights and everything in between, too."