Virginia Gutierrez drove home when a police officer stopped her because of a non-working tail light. An outstanding student, with a full-ride scholarship at Arizona State University, Gutierrez wanted to become a nurse. That night, she didn't have an Arizona driver's license and her car got taken away. The following day, she tried to get her car back. But instead of leaving the police station in her car, she left on a bus heading to Nogales, Sonora, Mexico.
Gutierrez, like many others in the past ten years, was deported.
Gutierrez's cousin, Araceli Villezcas, experienced at an early age the struggles that the undocumented immigrant community faced before SB1070. After her cousin's deportation, Villezcas decided to advocate for her community and mobilize the youth.

Teenager Villezcas, second from right, volunteering at the Adios Arpaio Campaign by Araceli Villezcas
Later, Villezcas joined a student walkout against SB1070 in 2011 as a freshman at North High School. Lizeth Zamudio, along with other student leaders, led the student walk-out, during which students marched to the Arizona state Capitol. Now in 2020, both of these young women work for One Arizona.
One Arizona is a non-profit organization that started in 2010 in response to the issues originating from SB1070. Ten years later, they serve the community along with their more than 20 member organizations, and build "a culture of civic engagement and democratic participation and registering 190,000 people to vote in 2018 alone."
This year commemorates the 10-year anniversary that former Gov. Jan Brewer signed SB1070 into law. Ever since then, organizations like One Arizona have set up a goal to "close the gap between the percentage of people of color votes and nonpeople of color." According to Zamudio, increasing civic participation in the community gets them closer to electing officials that share their same values.
"My way of showing up is being able to mobilize those who can vote so we can continue to change policies and continue to not see anti-immigrant bills like SB1070," said Zamudio, One Arizona's deputy field director.
One Arizona's goal this year is to get 250,000 registered voters with the help of organizations like Mi Familia Vota, Chispa Arizona, Arizona Coalition for Change, Central Arizonans for a Sustainable Economy (CASE), and Arizona Center for Empowerment.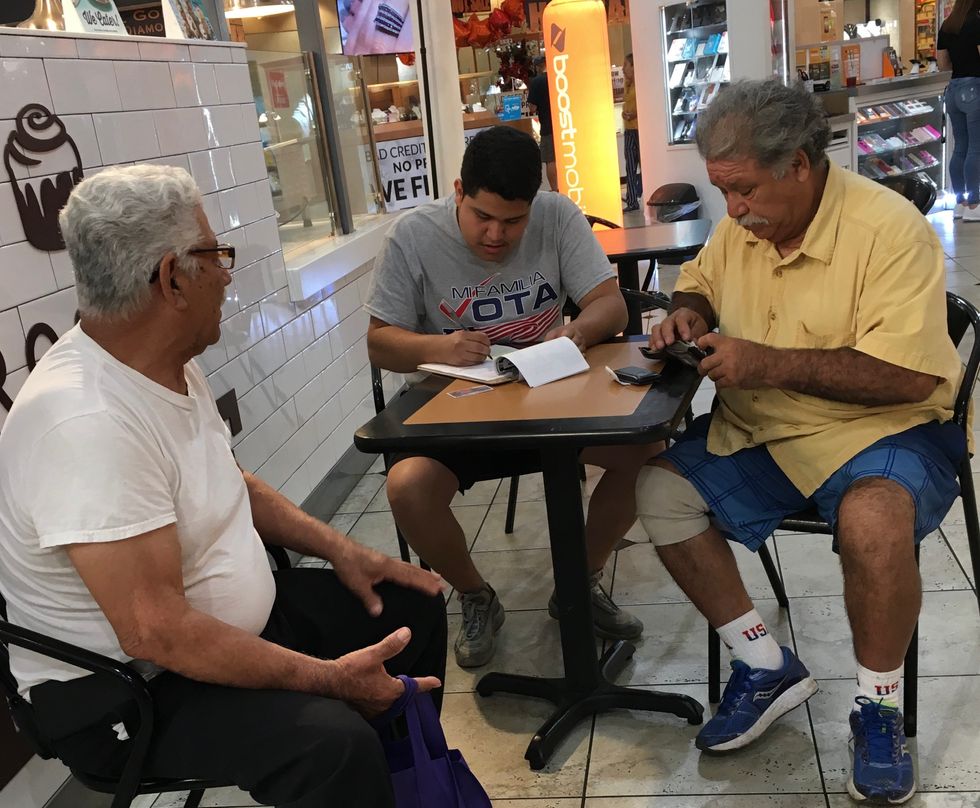 Eli Fuentes registering the community to voteby Fernanda Ruiz
The Latinx community is now considered the largest ethnic minority voting bloc, and their decision will greatly affect which candidate will earn the presidency in the 2020 election.

The Arizona Public Opinion surveyed 600 likely voters from March 3 to 4, in which they determined Biden beat Trump by six percentage points.
"Even though we are known as a Republican state, a lot of people that you meet, talk to --people on the ground, working families -- they don't share those same values," Villezcas said. "The problem was, how can we get them to the polls? This is what these organizations have done over the past ten years ever since SB1070, it became the kick-off point where we thought, 'We need to change this state.'" Villezcas is the program coordinator in One Arizona
Ten years later, Arizona legislators wanted to bring back SB1070 measures akin to SB1070 as Governor Ducey asked Arizonans on his State of the State address to "vote yes to the rule of law and no to sanctuary cities." This statement opened up the floor for SCR1007 and HCR 2036, bills that would have affected immigrant families the same way SB1070 did.
Soon, organizations in the Valley along with community leaders showed up to the Capitol and expressed their dissent on the bills proposed. The community gathered to fight for their rights the same way they have done these past ten years, and they succeeded.
"We kind of changed the way politics happen in Arizona, we are still changing it, and I don't think it is gonna end any time soon," Villezcas said.
The work of these organizations in the state influenced the Latinx community to advocate for their rights and become politically engaged. Organizations like Mi Familia Vota, Promise Arizona, Central Arizonans for a Sustainable Economy (CASE), and Arizona Center for Empowerment (ACE) offer programs like citizenship workshops, English classes, and youth leadership development.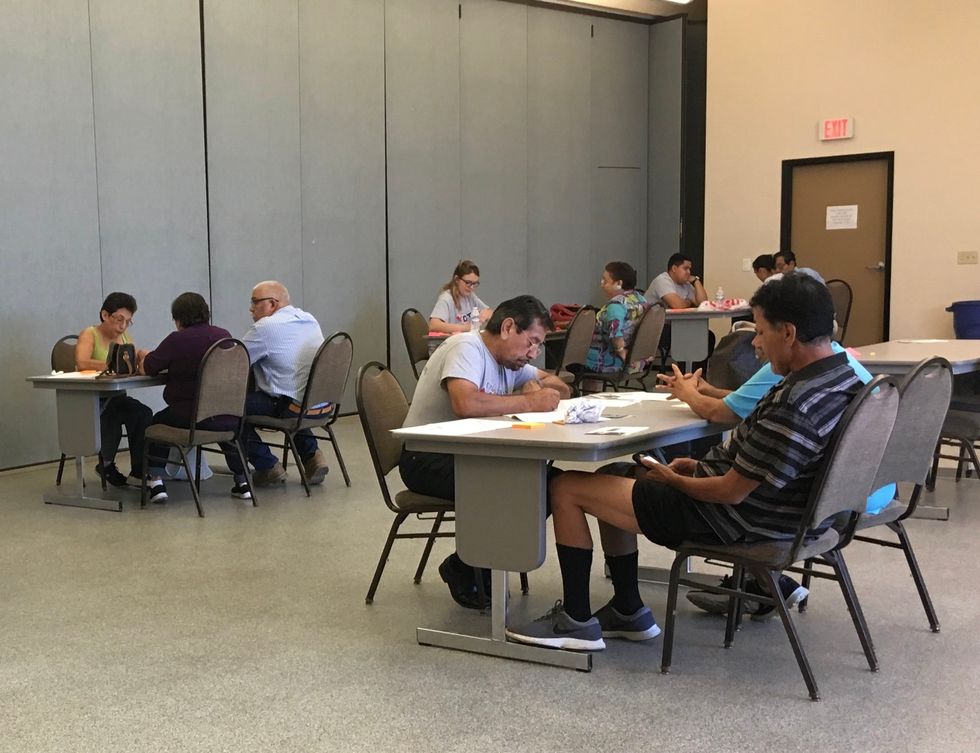 One of Mi Familia Vota's citenzship workshops this past summer. by Fernanda Ruiz
Alexis Delgado Garcia, a student at Arizona State University, at 18-years-old, is a Phoenix organizer at Living United for Change in Arizona (LUCHA). Delgado said how LUCHA motivated him to advocate and inspire others to contribute to their community. After President Trump put an end to the Deferred Action for Childhood Arrival program in 2017, Delgado led a march at Alhambra High School, where he opened up a space to discuss the situation, and find ways to get together and prompt an initiative on the issue. After the march, various students at his high school joined LUCHA.

"My heart is at LUCHA. They showed me my power and how much I mean to them. I found my home at this organization, my community. Gina, my organizer, she is the one that brought me into this organization and I'll forever be grateful for that," Delgado said.
Like Delgado and his peers, these organizations try to make the youth part of the conversation as they become politically engaged in how democracy works in the country.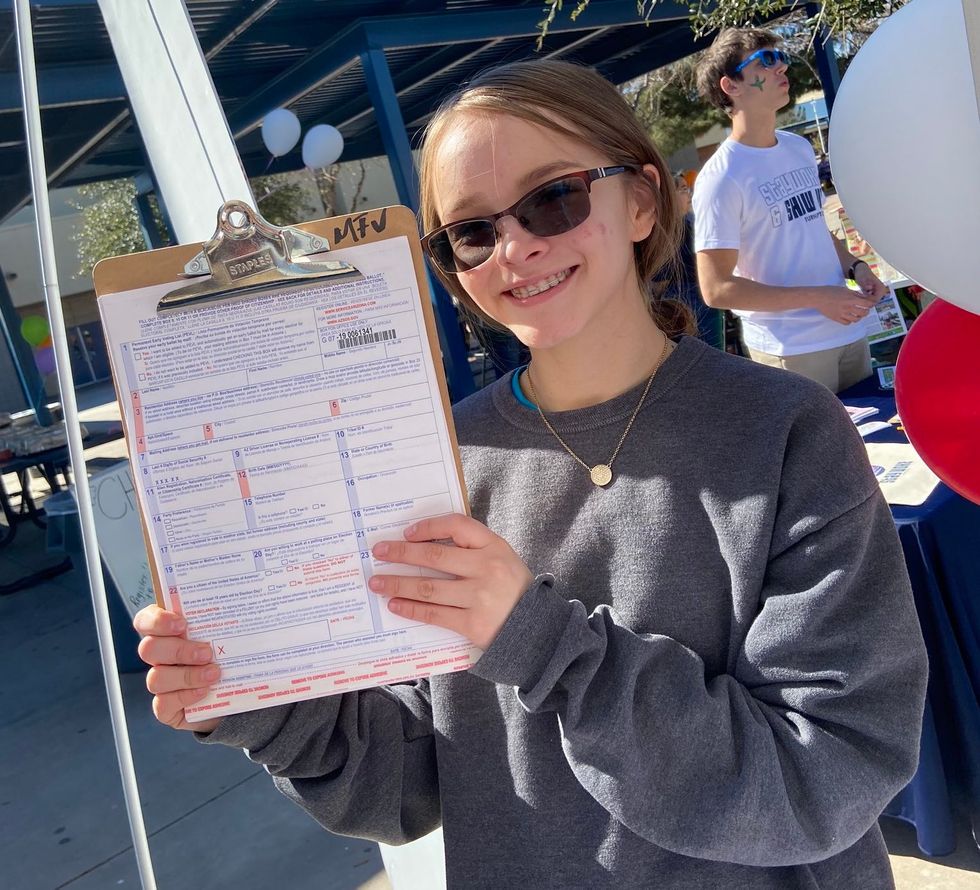 Britnee Montoya registered to vote at the Show Up 2020 Campaign Launch Partyby Fernanda Ruiz
One Arizona launched the website Resilience in the Desert on April 30 to showcase the work that all these organizations have helped built in the past ten years since SB1070.

"Over the next 10 years, Arizona moved from being the State of Hate to building a foundation of progressive values. Today, Arizona is a swing state because of the mass mobilization of communities of color and young, engaged voters."
LUCHA, along with Colors of the Comunidad and Rep. Raquel Teran, is also working to create "Resilience: Resilencia- Commemoration Mural for SB1070." The mural will be displayed inside the Arizona State Capitol Museum.