If you give a 20-year-old an engagement ring, she will want to plan a wedding.
She probably won't know where to begin, so you'll have to round up her friends to help her. When they all get together, they will want to come up with ideas and will ask to borrow your computer.
Then she'll search for venues and decoration ideas. When looking for ideas, she might notice the perfect dress and will ask to go to the store.
When she gets to the store she will try on at least 10 dresses but fall in love with just one.
When she is finished, she'll head home with a smile.
When she gets home she will want to take a nap. You'll lay down with her as she curls up next to you. You'll tell her about how excited you are for what the future holds. You'll talk about how young you both are. But that doesn't matter because you know that together, with love and understanding, you can make smart decisions.
When she hears this, she will become so excited that she'll want to look at ideas some more. But you'll both go to sleep because you're both students who need to go to class in the morning.
She'll continue to ask for your opinion, and she will continue to work hard toward the goal of getting her degree. This might slow down the planning of the wedding, but you'll be happy together.
As she continues to go to school and makes plans she will look at her ring. Looking at the ring, she will remember the journey that got her to where she is today. She will remember when you first met and when you first kissed. She will remember when she first decided she wanted to marry you.
And chances are after she looks at her ring, she will want to plan a wedding.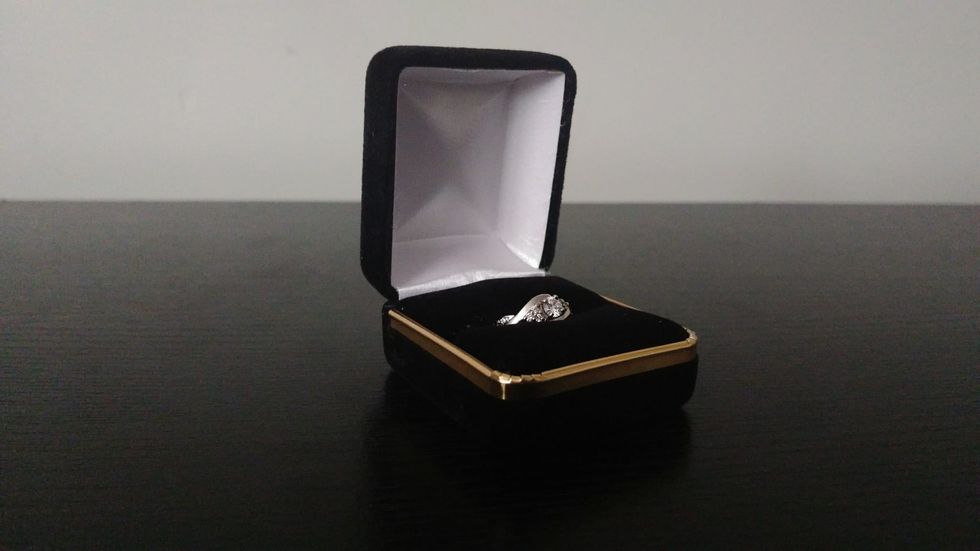 Getting engaged young makes people ask you a lot of questions. "It will be a long engagement won't it?" "Are you going to transfer schools?" "You are going to graduate first, right?" "Are you sure you aren't too young to be making this decision?" The questions are endless.
However, getting engaged at a young age should not be viewed as a negative choice. It shouldn't matter how old two people are. As long as they both understand the commitment and promise they are making to one another, then it should not be anyone else's place to judge the choice.
Most importantly, it does not mean that either of you has to put your goals and ambitions on hold. Two people can plan a wedding and get married prior to having achieved their own personal goals. As long as two people have the love and commitment needed to grow together, there is no reason to think one of them needs to make sacrifices in order to get married.
The choice to get engaged young can be intimidating, and it isn't for everyone. However, to be able to say that you know what it is like to face trials and grow with another person, to the point that you want to make an everlasting commitment to them, is a beautiful thing.