As anyone with a pulse will tell you, foreplay is critical to setting the stage for the intimacy and pleasure to be shared with your partner. There is no better way for you to demonstrate your skills in the bedroom than by giving your partner a preview at all of the fun that's to come.
So if you want to learn how to satisfy your lover AND yourself a bit more, here are 12 foreplay moves that will drive your partner absolultely crazy:
1. Don't be afraid to mess with their ears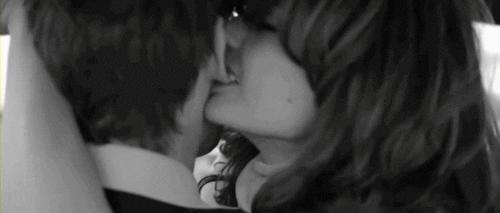 It might seem weird at first, but playful bites and nips to the earlobe in the middle of an intense make-out session can be surprisingly arousing. Try tracing their outer ear lightly with the tip of your tongue, or suck on their earlobe in between soft, steamy kisses on their neck. And blowing gentle breaths into their ear will almost always give them chills from head to toe.
2. Catch them off-guard with unexpected touches
You've already enchanted your partner with your sensual kisses and wandering hands…but breaking them out of their daze with something new is bound to excite them even more. Slide your hands into their back pockets and press their body firmly against yours. Or grab their wrists and hold them above their head as you overpower them and take charge. Don't be afraid to change your usual pace, opting for softness instead of roughness or vice versa. If you and your partner are adventurous souls, then experimenting in the bedroom will turn you on like nothing else.

3. Ask them to take your clothes off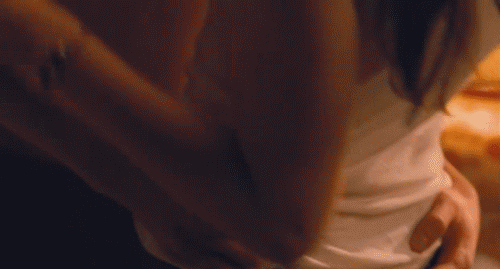 Break away from the kiss momentarily to whisper in their ear that you want nothing more than for them to strip you completely naked. They will love being able to stroke over your skin with their fingertips as they lift your shirt and unclasp your bra, slowly unveiling you to them in a process that they'll almost be too eager to complete. The romantic tension will definitely be mounting by the time you're down to just your underwear. Just knowing the beauty that awaits them will make the wait even more worth it— and make them all the more eager to please you.
4. Wrap your legs around their waist and pull them in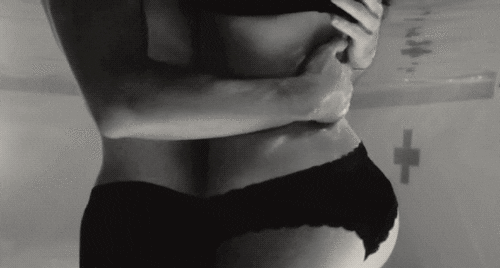 Let your partner know that you're not yet satisfied. Keep them locked in place as you continue to drive them absolutely crazy. Tighten your legs around them to silently proclaim how badly you want them right at that moment. Never underestimate the power that feeling desired will have over your partner.
5. Kiss them all the way down their body
Let your lips gently kiss a trail down their belly, your fingertips following in their wake, getting teasingly close to their waistband, but not straying any further. Or lay them down on their stomach and kiss up their spine and between their shoulders, finally pressing your lips to the back of their neck and feeling their skin prickle with goosebumps. Sometimes, it only takes a fleeting touch to drive someone right over the edge.
6. Sit on their lap and grind on them
Obviously, grinding in your partner's lap will more directly stimulate their genitals and increase arousal more acutely. But there is something incredibly sexy about sliding seductively into their lap and purposefully moving your hips to press against them in a certain way. You can even turn this playfulness into a lap dance or strip-tease…or both.
7. Trail your fingertips down their thighs
You can send shivers down your lover's spine without even nearing the genital area. Instead, lightly scrape your fingernails down the lengths of their thighs and along the insides, following these paths with your lips. Wrap your hands back around your partner's thighs and grip onto them harder if you want to turn up the intensity a bit. The nerves in their thighs will generate a strong pleasure response that will ultimately make its way even further south, arousing them even more.
8. Trace the outline of their lips with your tongue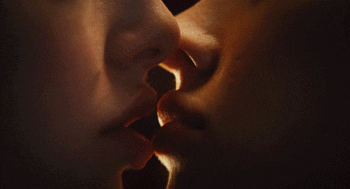 The area around your lips is extremely sensitive—your body will respond enthusiastically to just the tip of your partner's tongue gently making its way around your mouth. Incorporate your hands by resting your fingertips on your partner's cheeks, stroking their skin softly as you kiss everywhere but their lips. In just a few moments, they will be out of their minds with their desire to kiss you.
9. Make kissing their hand a little more sensual
So you're lounging with your sweetheart on the couch in front of the TV…it's the perfect time for you to take their hand and absently press your lips to the front and back of their palm. Kiss each of their fingertips and, if you're feeling devious, suck on them as you gaze lovingly into your partner's eyes. Caress the inside of their wrist with your thumb as you scatter kisses all over— if you're lucky, you might even get to feel their pulse spike for yourself.
10. Take advantage of temperature change
Blow a few teasing breaths over the skin you just kissed or licked to give your partner a startling sensation. The sudden coolness in the middle of such a heated encounter will shock them in the best way possible. This move is especially effective when you use it on your partner's neck, ears, and chest.
11. Keep your clothes on as long as you can stand it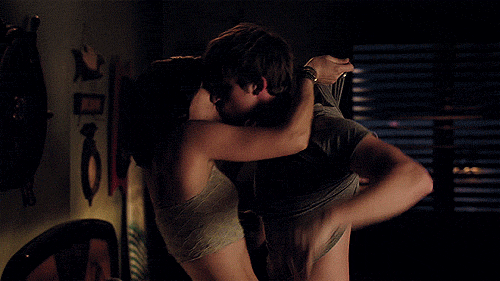 Skin-to-skin contact is all you crave, so you better not let yourself have it so soon. Not giving your partner access to your bare skin will only cause them to work harder to please you (and themselves). It's all about building up intensity until you're certain you'd fall apart if you were teased any longer. And once you give in and strip, the sensation of their skin first meeting yours will be absolutely explosive and all the more exciting.
12. Make it all about the hips
A person's hips are incredibly responsive to even the slightest stimuli. All it takes is a dainty stroke of your fingertips down your partner's torso and across their hips to have them quivering with anticipation. Drive them even further off the edge by following their hip bones with your tongue and giving them a few teasing licks along their waistband.
Remember, as with all sexual activity, your partner's consent is a MUST before you attempt any of these techniques. Your partner should never have to repeat themselves if they ask you to stop. What's enjoyable for you should always be enjoyable for them, too. And with that being said, it's time for you to call up your lover and see if they're free this afternoon for a little experimenting...