The week leading up to Christmas has always been my favorite time of the holiday season. With people bustling around every which way, scrambling to find those last minute Christmas gifts, wrapping supplies, baking goods, and food items for the big day, it can be easy to get caught up in the Christmas rush, rather than just enjoying the holiday season.
Adding to the Christmas rush, because people are doing tons of last minute shopping, people are also wrapping presents on a tight time schedule and in a hasty manner. Gift presentation is one of the things I notice the most. I know some of you are probably wondering why I get so caught up with how a gift is wrapped when it is only going to get torn apart. The answer is simple. Gifts that are wrapped nicely show that someone took the time to wrap it, rather than throwing all the gifts in a big Christmas bag and throwing tissue paper on top.
It can be super enjoyable and relaxing too to take the time, sit down, and wrap presents. To help with wrapping all of your gifts for those special people in your life, I have complied a list that explains how to present the perfect Christmas gift that will be sure to have that certain "wow factor."
1. Pick Your Gift Wrapping Location
As crazy as it sounds, picking a relaxing environment to wrap gifts makes the process much more enjoyable instead of having it be a tedious task. First, pick a place where you can spread your supplies out (you don't want to feel cramped because then it will be harder to wrap the gifts). Next, put on a good Christmas movie to set the mood. I love watching traditional Christmas classics like Rudolph and Santa Claus is Coming to Town when I wrap Christmas presents. It really makes it feel like it's Christmas!
2. Pick Your Theme
Every Christmas tree has a theme. Whether it is traditional, winter wonderland, or multi-color, it is important to pick wrapping paper colors that coincide with the theme of your tree. It ties the whole room together when the wrapping paper and Christmas tree theme match. In my house, the Christmas tree theme is ALWAYS traditional with red, green, gold, and silver adorning the tree. For wrapping paper, I usually try for ones with these particular colors in them.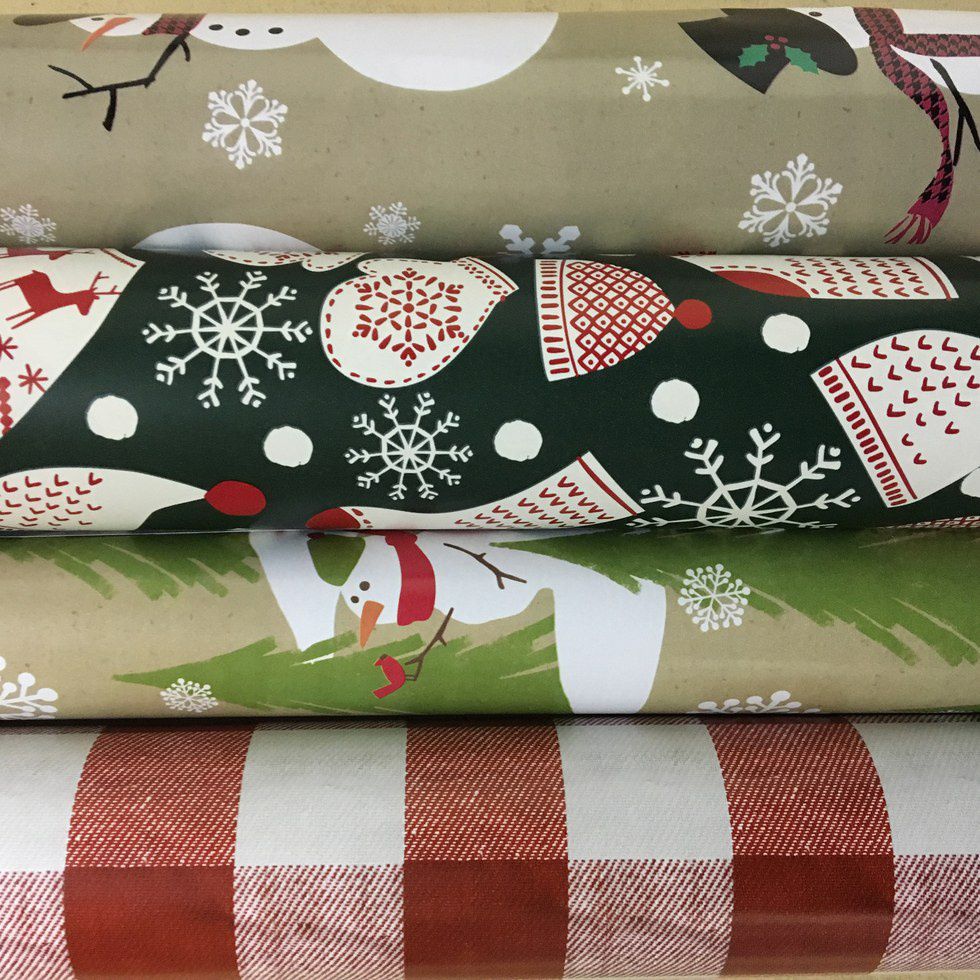 3. Festive Name Tags
Name tags are a must when it comes to wrapping presents, because lets be honest, how else are you going to know whose gift is whose?! You can find sooo many festive gift tags and for a good price too. Most gift tags come in sets with many different patterns and sizes, which makes it perfect for any size gift. The ones shown below came in a pack of 60, which is A LOT of gift tags and will allow you to have a good amount left over for next Christmas as well. Finally, gift tags can also be found anywhere. Walmart has a good selection, as well as stores like Marshall's and Home Goods.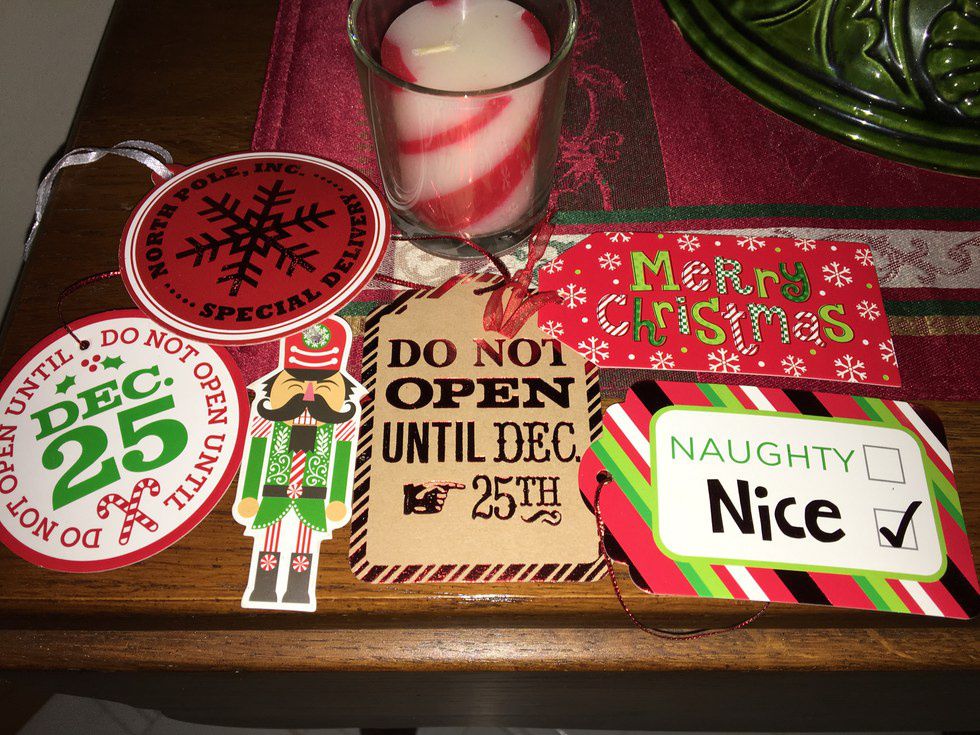 4. Gift Wrapping Sets
Gift wrapping sets are ahh-mazing. Included in gift wrapping are usually some ribbon, gift tags, bows, and other accessories. Just like with gift tags, you can get major bang for your buck by purchasing a gift wrapping set. They can also be found at similar stores like Walmart, Marshall's, and Home Goods. The one I have shown below is from Marshall's and also matches the theme with the wrapping paper. It includes gift tags, ribbon, red and green pom poms, and red and green jingle bells.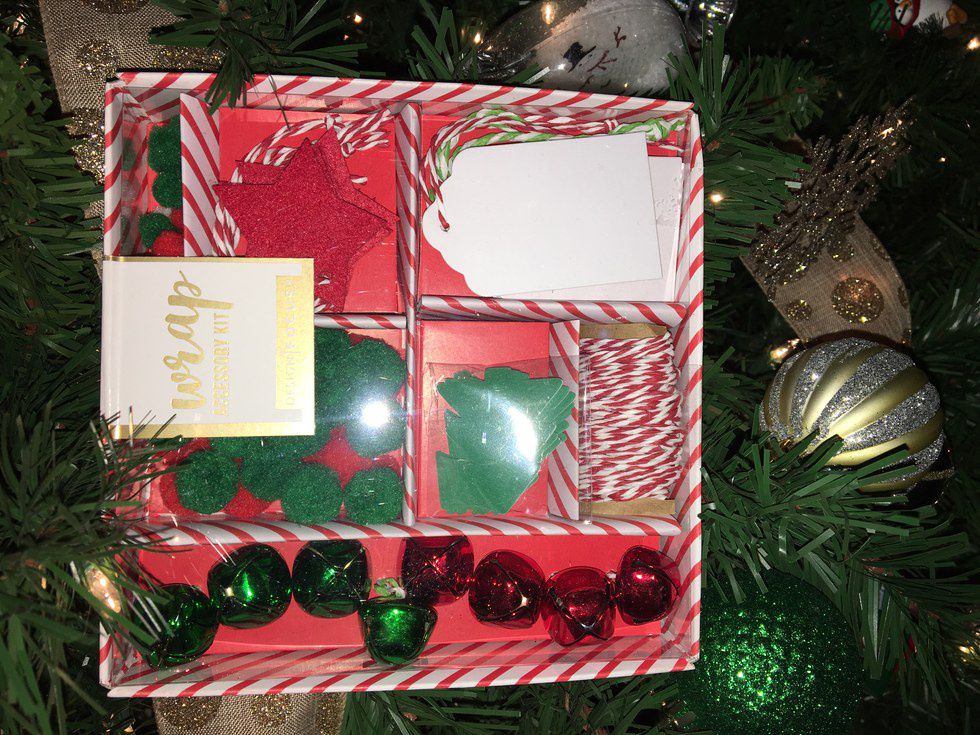 5. Bows and Ribbons
Bows and ribbons are the crown jewel to a Christmas present. They can be found in either large bags of 50 or so bows, but can also be found in gift wrapping sets. Marshall's and Hobby Lobby have cases full of bows and ribbons that will give you mega bang for your buck. They come in many choices of colors and sizes that are perfect for any theme! The bows pictured below came in a variety pack with several different bows and ribbon that complete any Christmas present, as well as add some style and flair.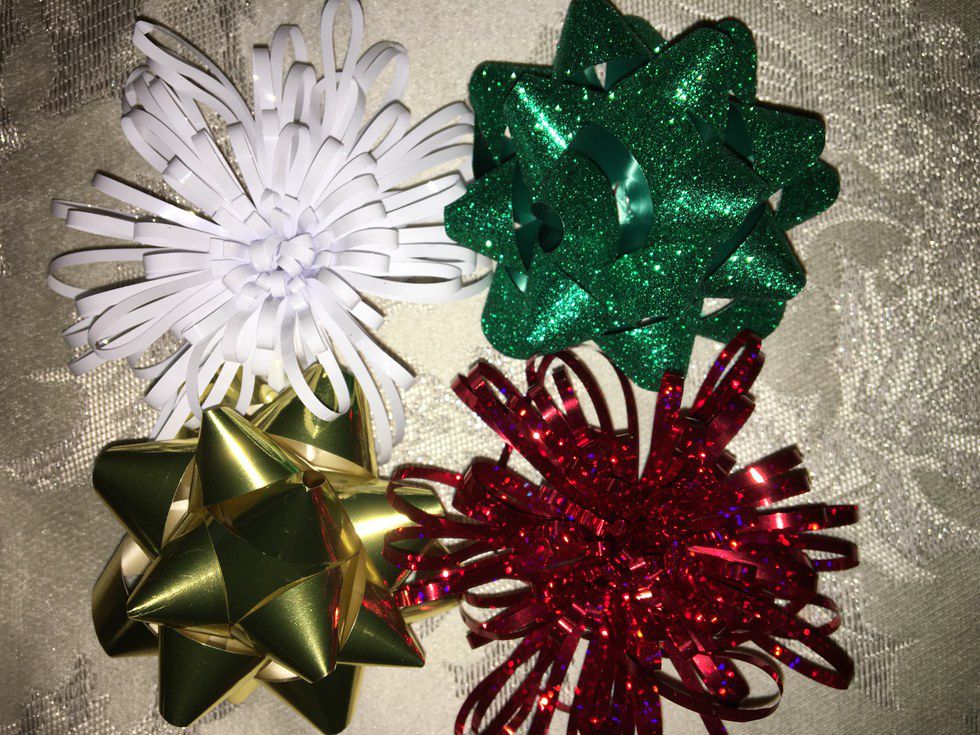 I hope these few tips to presenting the perfect Christmas gift will be helpful this Christmas season. Below, I have added a couple pictures of my finished Christmas presents with the hopes that they will inspire everyone to wrap the perfect Christmas present. Merry Christmas everyone, enjoy your holiday season!