Let's face it, college is no piece of cake. It can be one of the most stressful times in a person's life. With the constant readings, assignments, and tests it's hard to keep up at times. Especially for those balancing multiple jobs, making tuition payments and paying bills. Most of the time, you are a crazy nervous wreck of worries and anxieties that just feel like you can't keep it together. Sleepless nights, tears, stress, more tears, stress and then some more tears. I understand your stress. I feel your pains and worries. I too am undergoing the constant college struggle. Although college may seem like a large burden of assignments and tests that are rather impossible, I am here to shed some light through this dark tunnel of despair. The journey of your college career does not have to be such large ball of anxiety and worries. By keeping calm and staying organized, you can lessen your worries away. Here is some organizing advice from an experienced college student, who finds too much joy over a yearly planner, and enjoys taking notes in the margins of a textbook. Call me a nerd if you will but, these techniques have been proven to be successful. Just ask my GPA. Here is a list of how to stay organized in college.
1. Make your class schedule
You do not have to be a tech genius to put together this class schedule. All you do is go into Microsoft excel and create a table similar to the one in the picture. You can create a weekly schedule or even daily schedules. Each class is color coordinated. If you are a visual person this is perfect for you to visualize the time you have in class, what time you have to study, and please leave some time to relax and rest.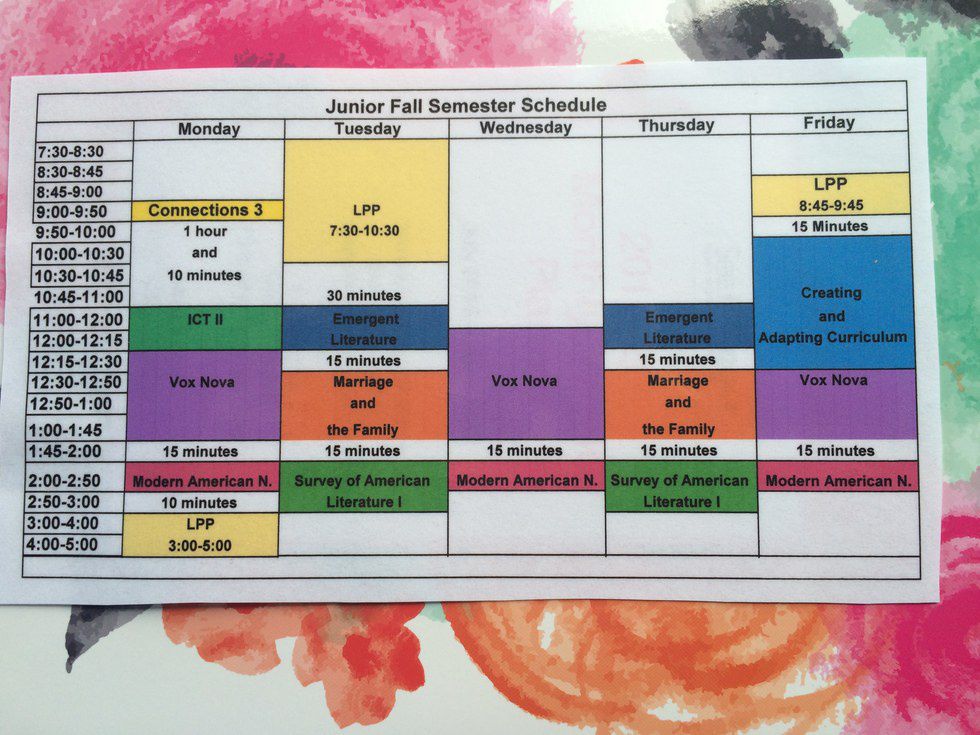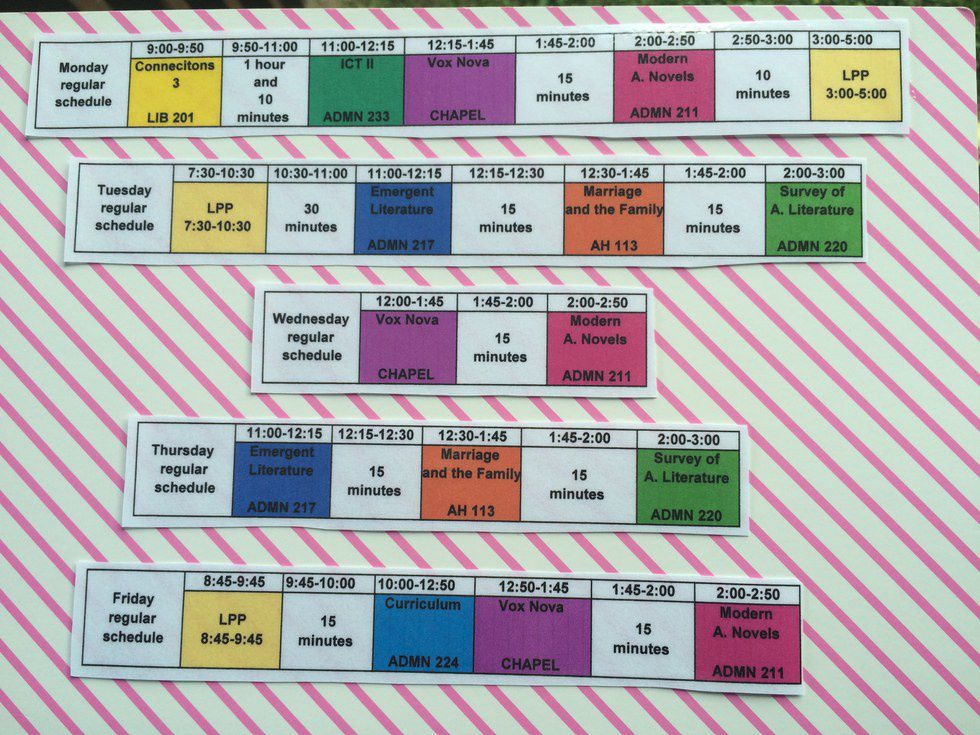 2. Three words: GET A PLANNER
This is my number one advice to staying calm and organized. Write all your assignments in at the beginning of the semester. Color coordinate your classes, too! If you look at my class schedule above, it matches the subject's highlighter color in my calendar. This allows you to visualize not only all the assignments that are due, but also the color allows you to quickly associate what class it is for. To countdown to the end of the semester, I also mark at the beginning of each week what week number it is in the semester.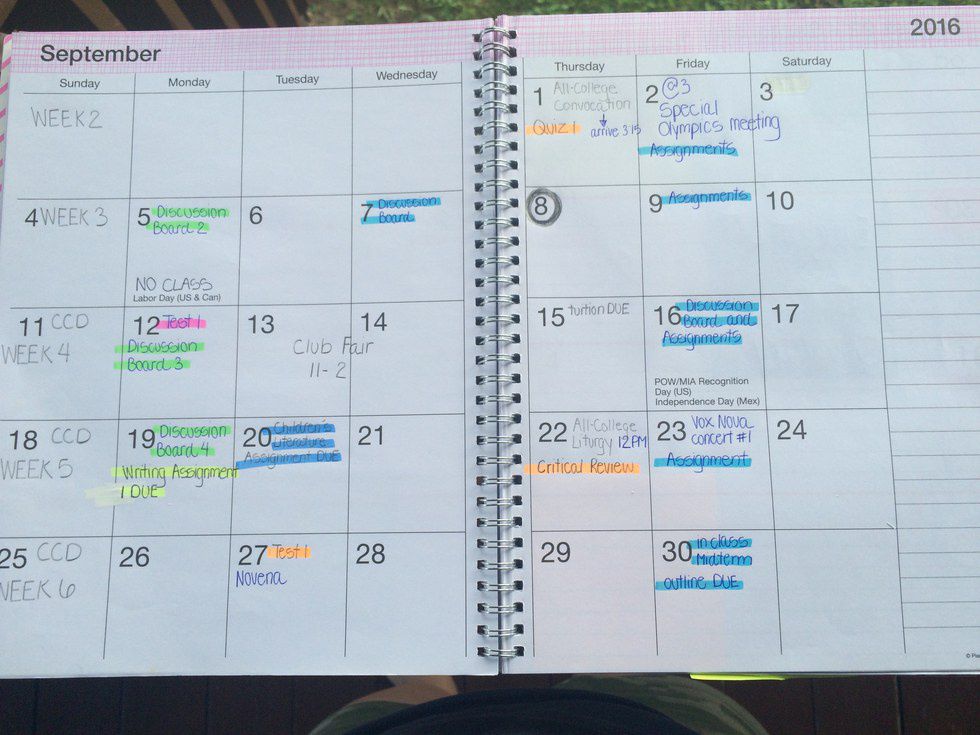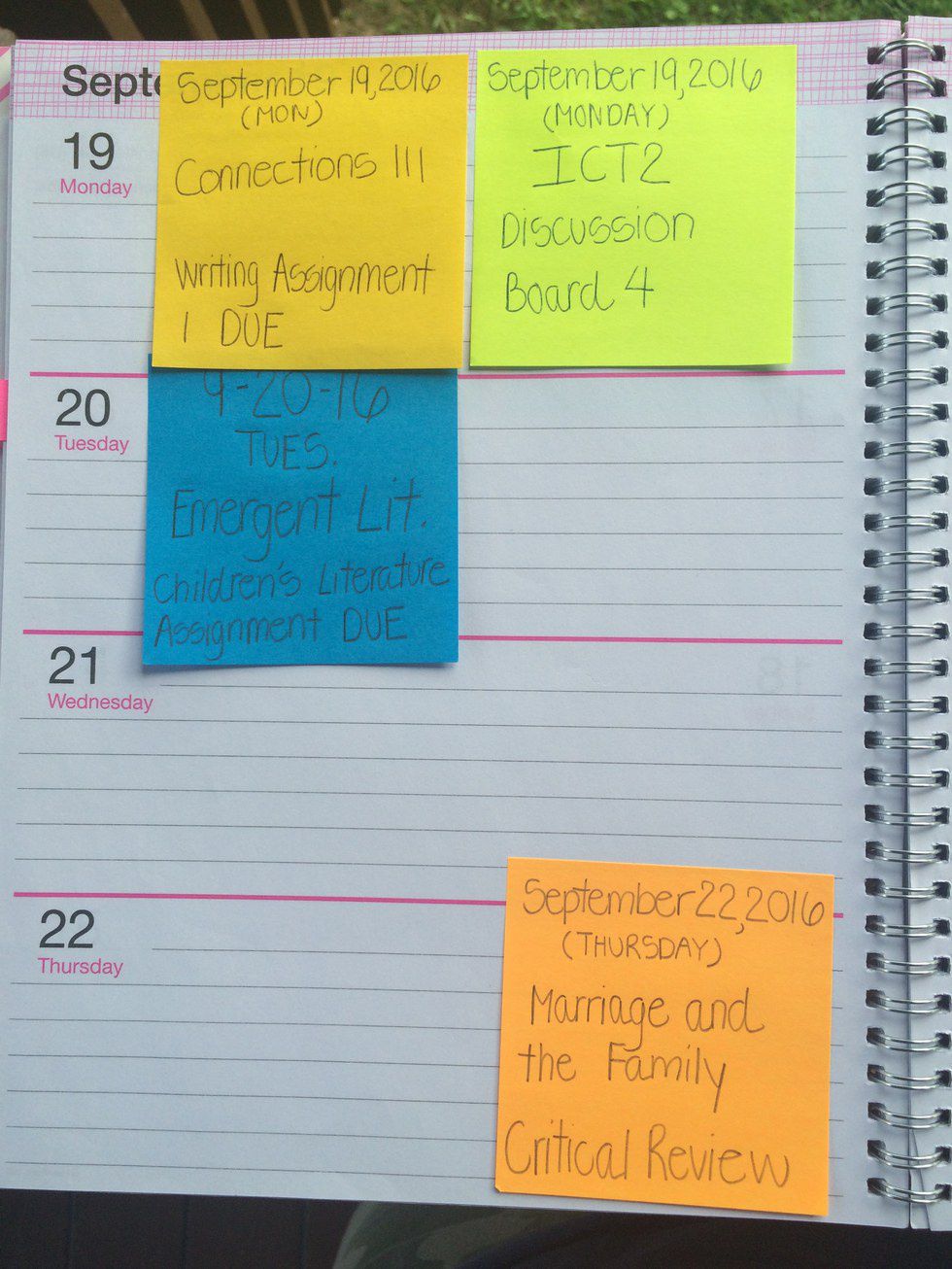 3. Post-it notes
Best creation ever! You can use them to mark where you left off in a textbook, to write key ideas on a reading and mark it right on the paper, or use them in your planner. I use the small thin ones as page markers in textbooks. I mark the beginning page and end page of the assigned reading to give me a visual of how much text I need to get through. I also use post-it notes in my individual weeks of my planner to show what assignments are due that week. Again the color coordinating allows me to quickly recall the class it is for.
4. Invest in some highlights
I cannot urge you enough to use highlights. Mark key sentences, vocabulary and ideas in your textbooks or use them in your planner to color coordinate your assignments.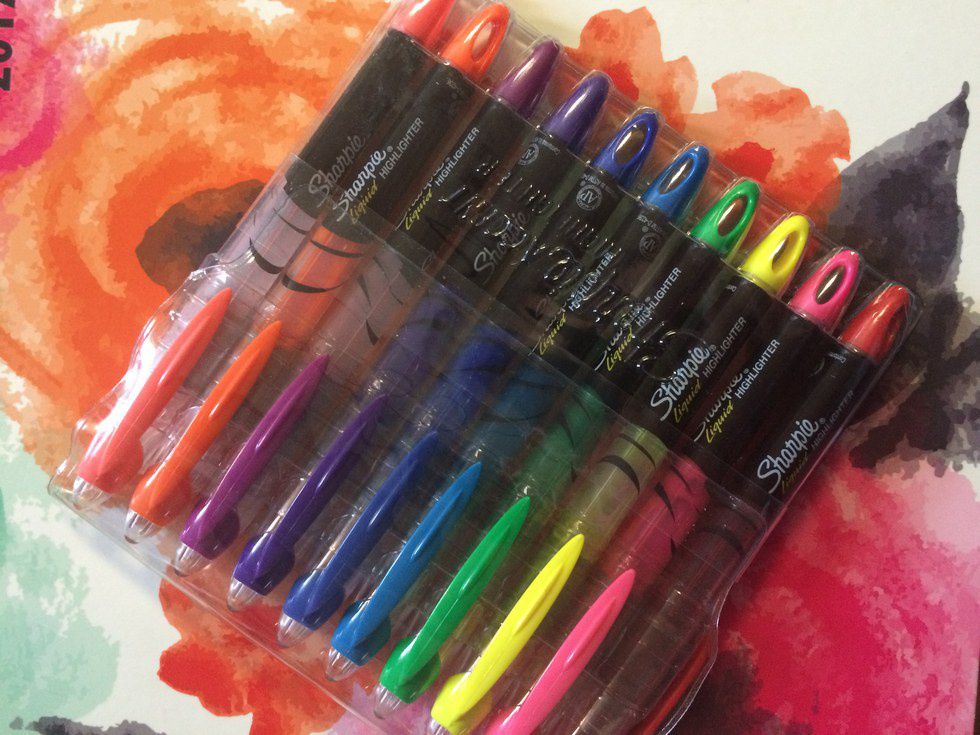 5. Binders and loose leaf
Rather than combining all your papers, tests and notes into one folder and notebook, I get a binder with pockets for each class. This can really help you to stay organized because all you have to do is hole punch your PowerPoints and notes into the binder. Rather than designating a whole notebook for a class that you have no idea how much paper you will actually use, if any, loose leaf allows you to use as much as you need and even add more. Binders are also a two for one because they can also be a folder with the pockets to put your papers, syllabus and assignments.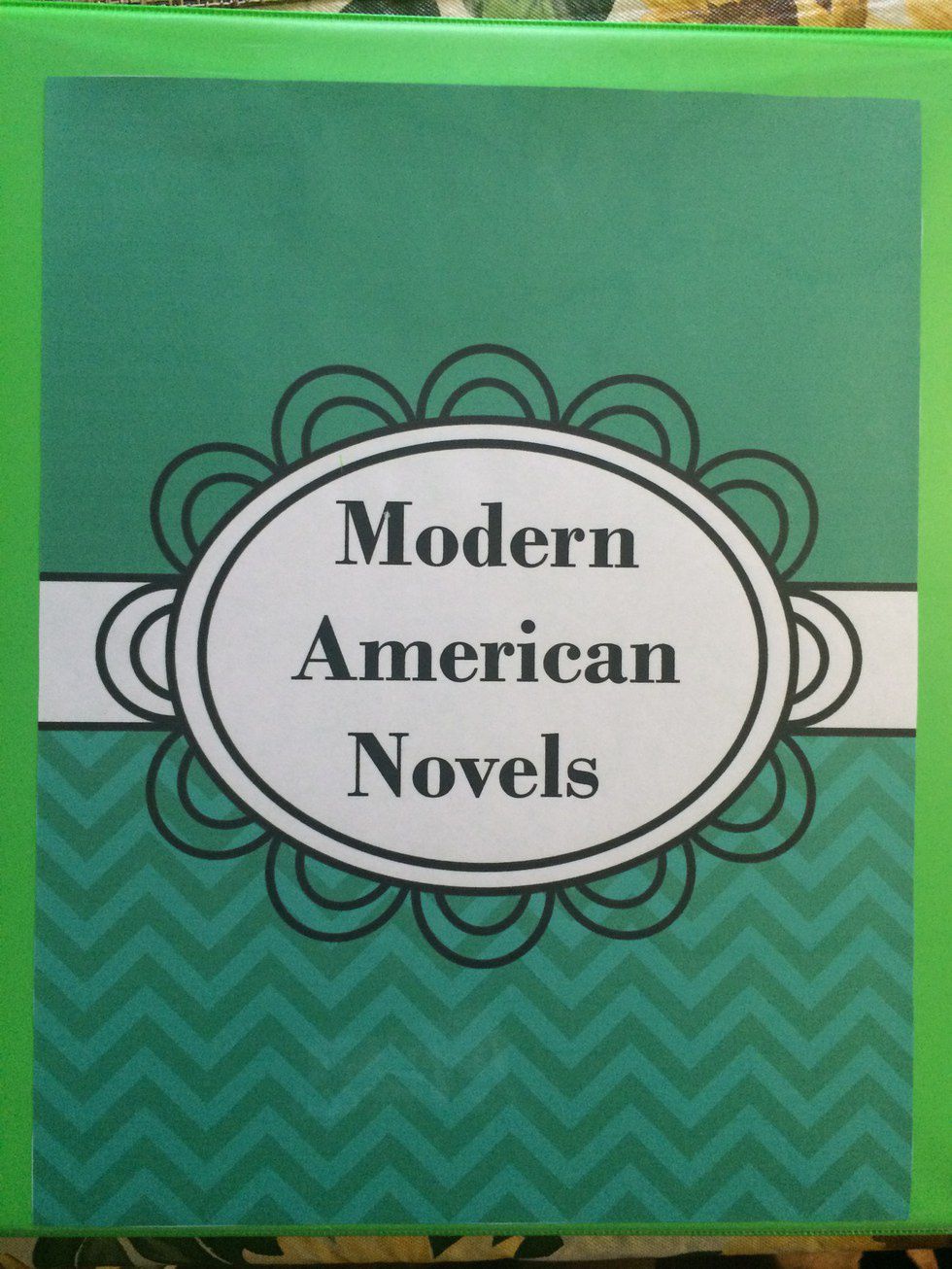 6. Your syllabus is your bible
Print out every syllabus. This is your go-to, your reference, and your life! Keep each syllabus in your class binder. Mark every date in your planner! This is how you will survive college. It is the key to due dates, class policies, office hours, assignment descriptions, and so much more. Guard it with your life and actually use it!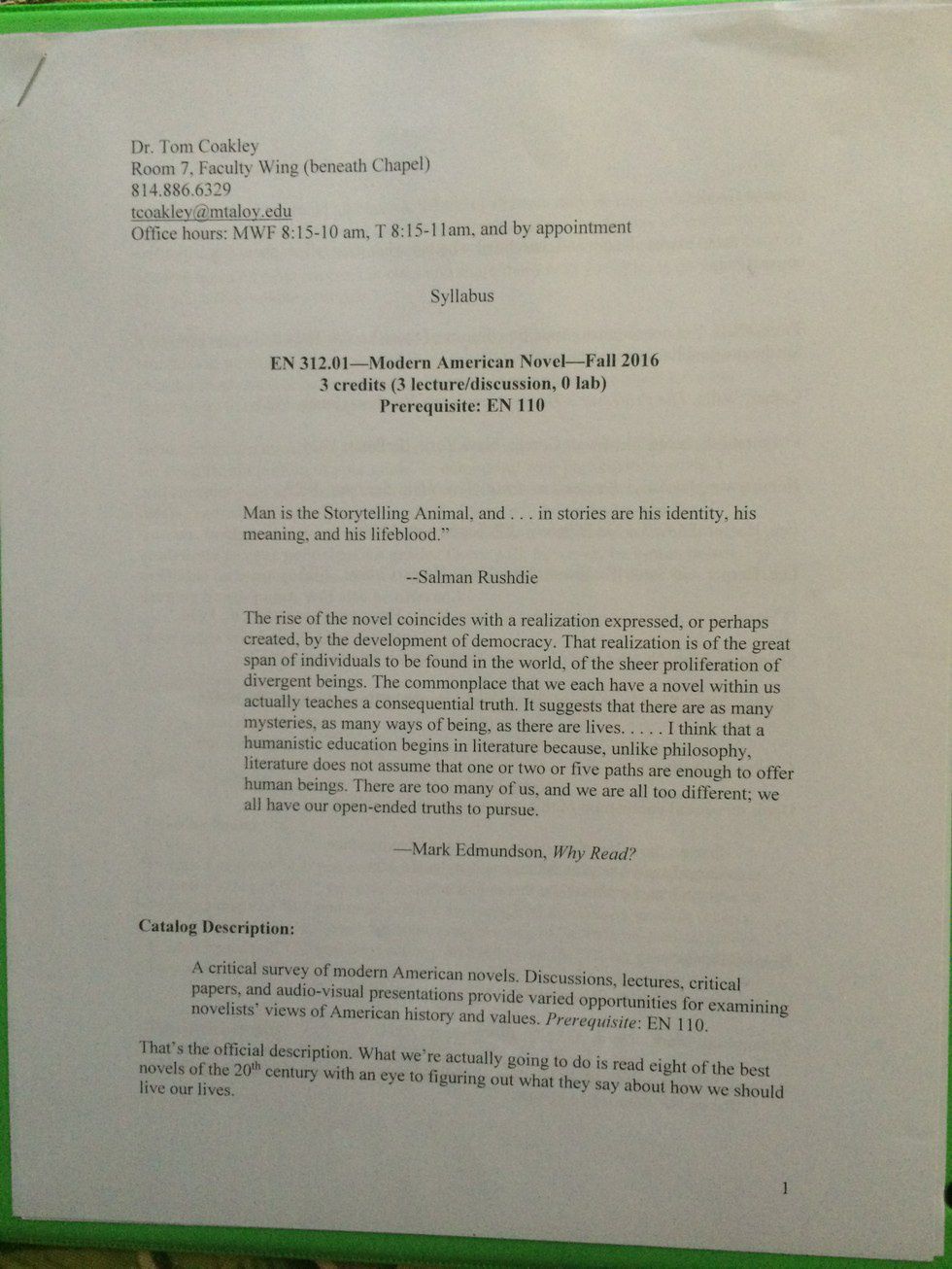 7. Date your notes
This may seem like a simple task, but it goes a long way. If you miss class or want to compare notes, dating them allows you to see where you started and ended.
8. Don't be afraid to write in your textbooks
Taking notes isn't just for in a notebook, while reading it is so important to summarize and comprehend what you are reading. Underline, circle, highlight and short-hand your notes. Fill up the margins with key ideas to help you remember what you read. This makes studying so much easier because rather than going back and reading the entire chapter, you have key ideas and words that stand out.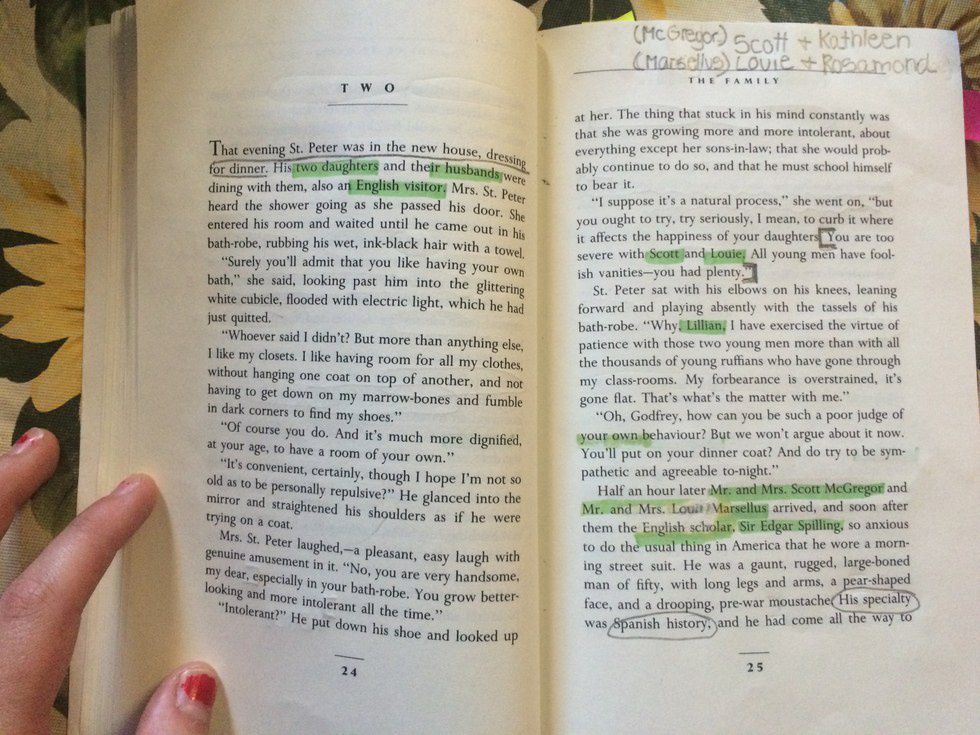 9. A reading assignment chart
Let's face it, half of your college career will consist of your face in a textbook, or on it. To keep track of what needs read and when, make a table in word. And you know me, don't forget to color coordinate!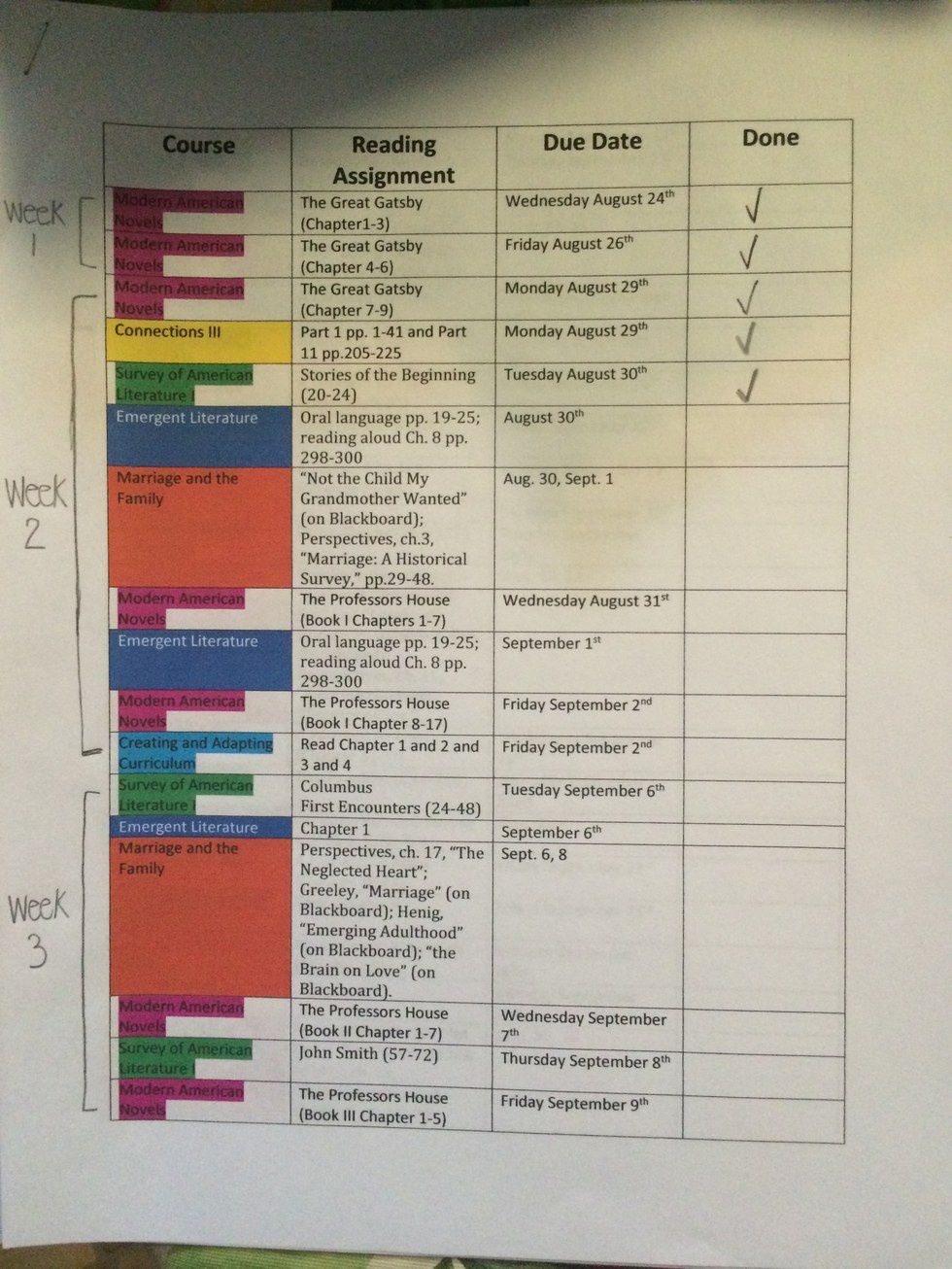 10. KEEP CALM
Through all the stress and tests, stay calm. Organize and prioritize but always stay calm.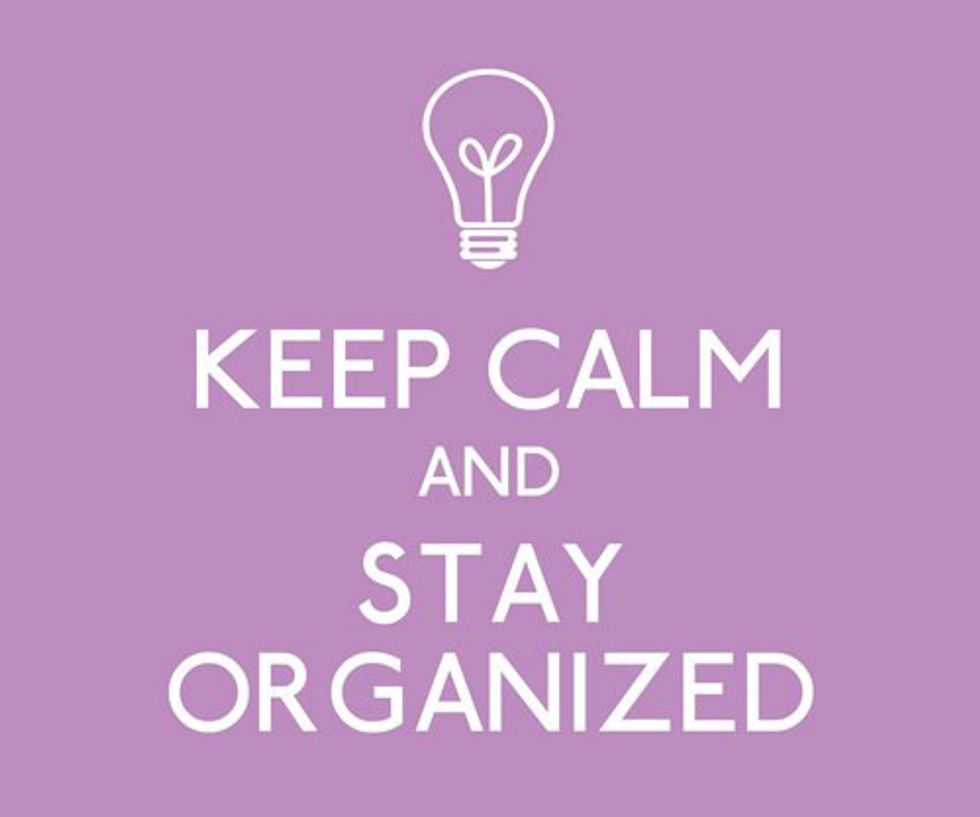 All of this advice may seem like a lot of work and that it's not going to pay off. Trust me, it will. These tips have helped me survive two years of college, making the dean's list and with a current GPA of 3.98. I hope that my obsessive organizing helps in some way and I would love to hear of new organizing ideas. Remember to keep calm and stay organized and have a great semester!