As a kid, I spent hours on the couch watching Disney Channel — obsessively. It was practically a right of passage for any 2000s kid progressing into their late teens.

I loved every series but, even now, Hannah Montana holds a gold medal in my heart. How could it not?
The story of a teen struggling with a desire for normalcy while living a double-life as a secret pop-star was every kid's dream. To be completely honest, it kind of still is mine.
Miley struggled with the daily drag of homework, boys, and parental rules while Hannah Montana had fame, success, and masses of adoring fans. Who wouldn't have wanted to be her?
Now you can! Well, kind of.
Here are some of my favorite looks from legend Hannah Montana (or, Miley), and ways you can create them with today's trends.
Yellow tee with a blue, tulle dress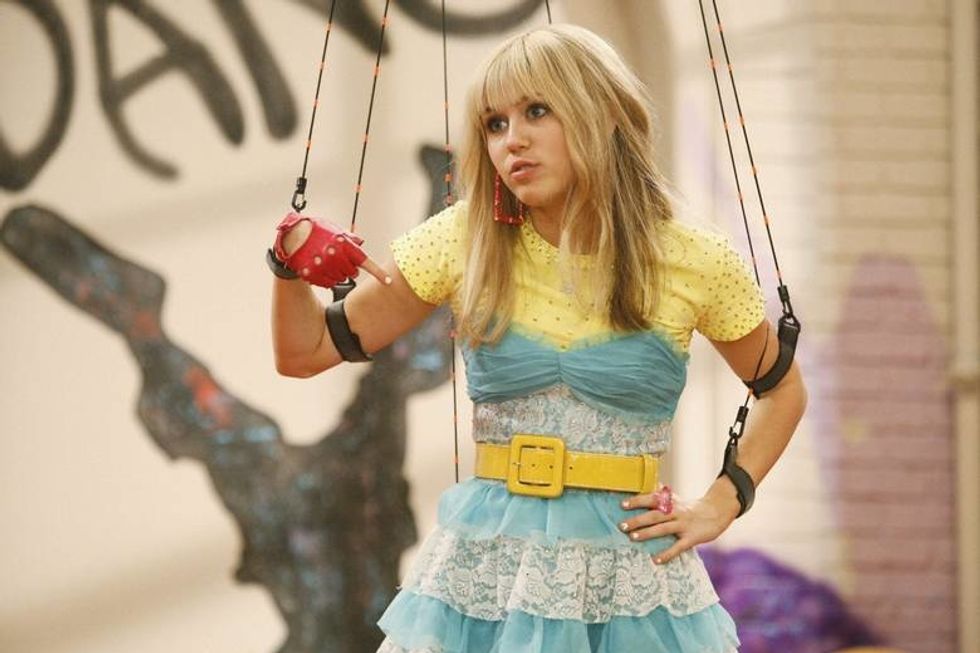 Here we have a banana yellow t-shirt and matching belt layered under a baby blue dress.
While the ruffles and massive belt buckle scream early 2000s, there is an easy way to recreate this colorful outfit into a modern look.
Swapping out the yellow T-shirt for white gives you a neutral base to go anywhere with.
A black bodycon dress paired with a silver chain belt is perfect for the more edgy modern vibe. Or, keep it fun with a colorful strapless dress paired with a white belt to tie the whole look together.
Throw on some chunky sneakers and you have a fun daytime fit that is perfect for shopping with friends or lunch on a rooftop.
Monochrome with a bit of print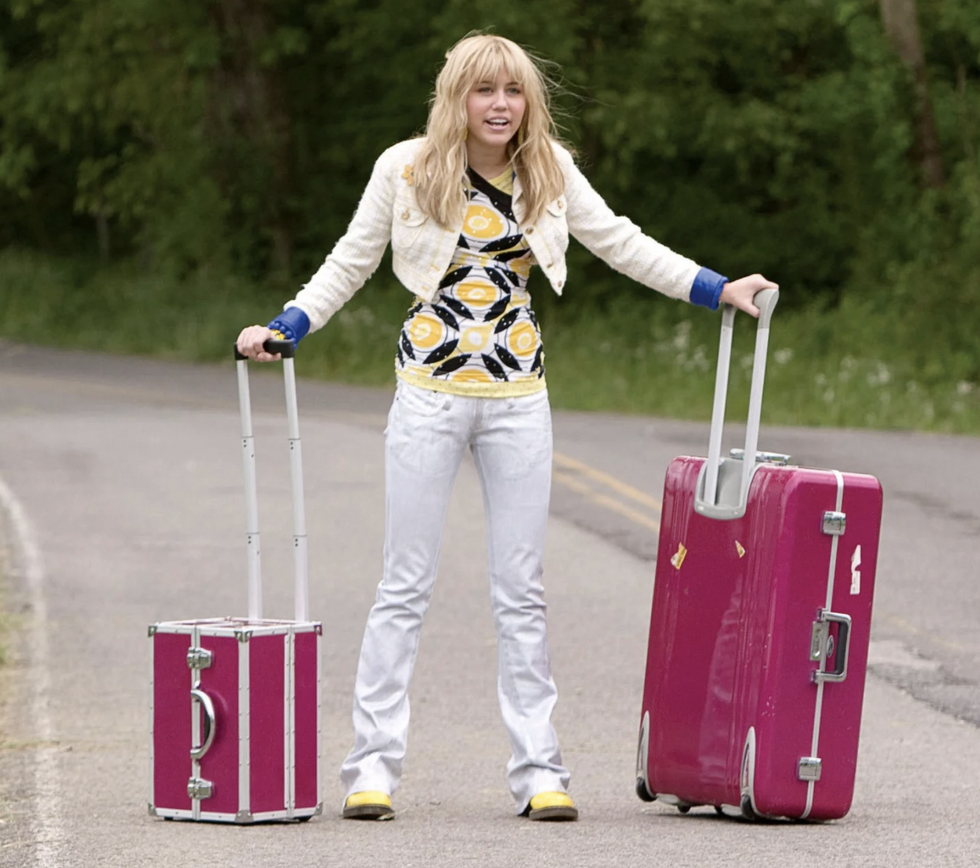 It seems even Hannah Montana knew monochrome was everything.
With some small adjustments, this all-white jean outfit can be easily recreated in today's fashion.
Swap bootcut for skinny jeans and the cropped jacket for something oversized to layer over a crop/tank top.
Add black/nude pumps for some formal flair or keep it casual with a chunky sneaker.
You can even swap the white for a true blue jean if you're planning on wearing this outfit after Labor Day.
Ruffled dress with a sequin jacket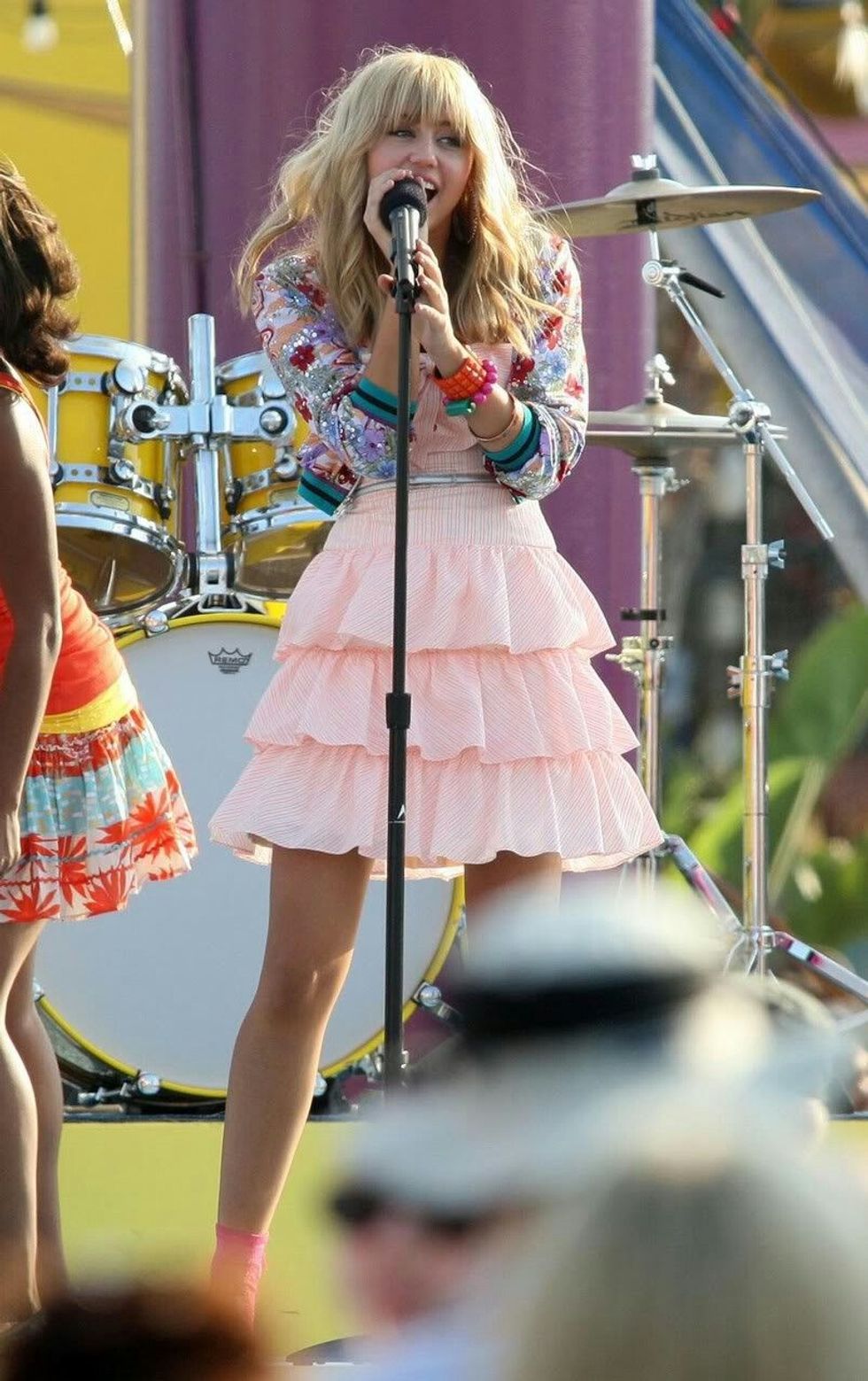 This dress-jacket combo is the perfect date-night outfit.
Pull out your favorite dress to feel your best confident self for the night. Any jacket or cardigan makes the perfect cover-up for scrolling around the city or drinks outside.
Throw on some sexy heels to pull the look together or some Doc Martens, a Hannah Montana go-to shoe.
Sequin dress with metallic boots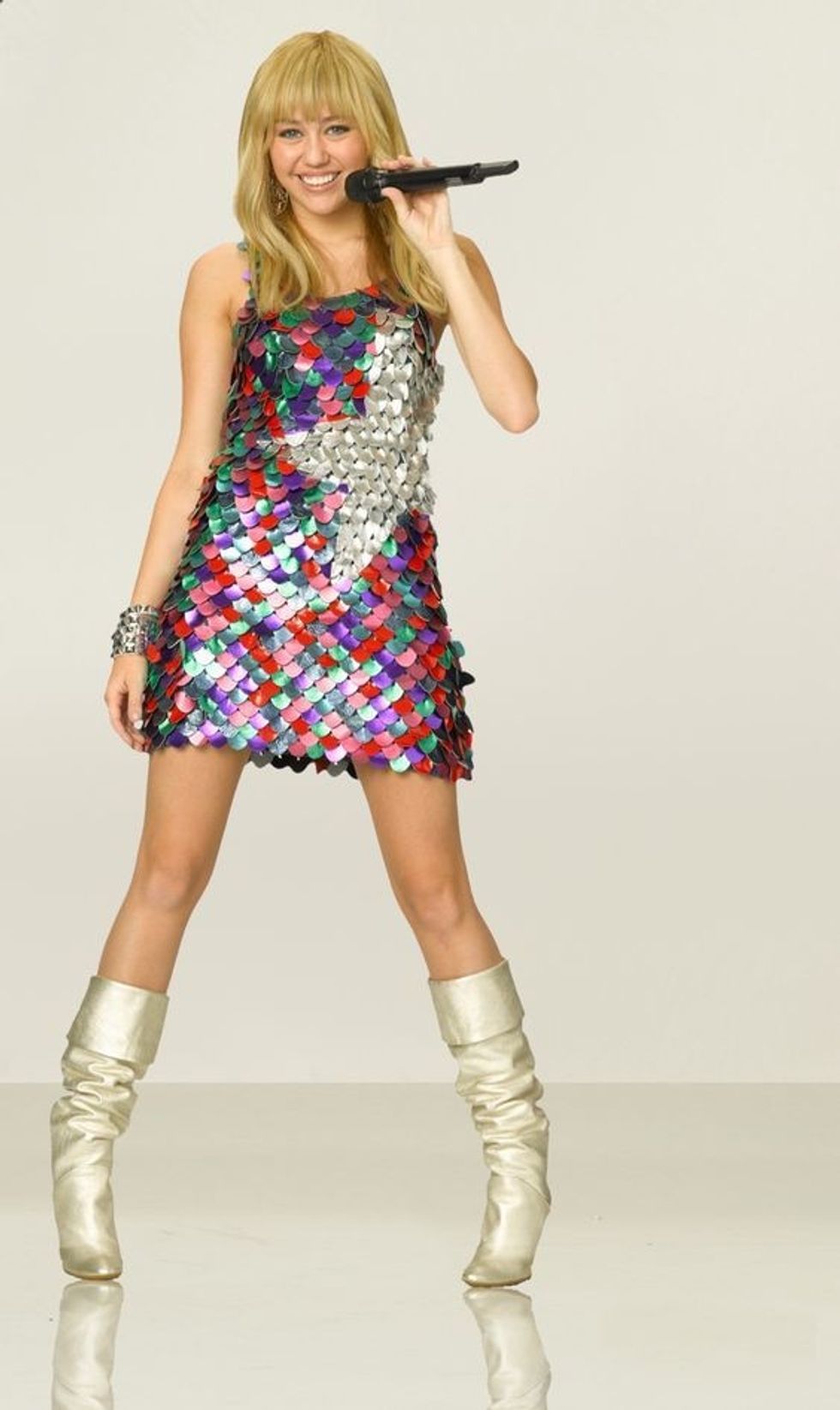 This colorful sequin dress is an eye-catching piece everyone can rock.
Swapping out the fish-scale sequence for a fine glitter dress is an easy way to make this look more conventional for any fancy dinner or gala event.
Turn the champagne mid-thigh boot into a sleek heeled thigh-high boot to really make a statement.
Zebra print with polka dots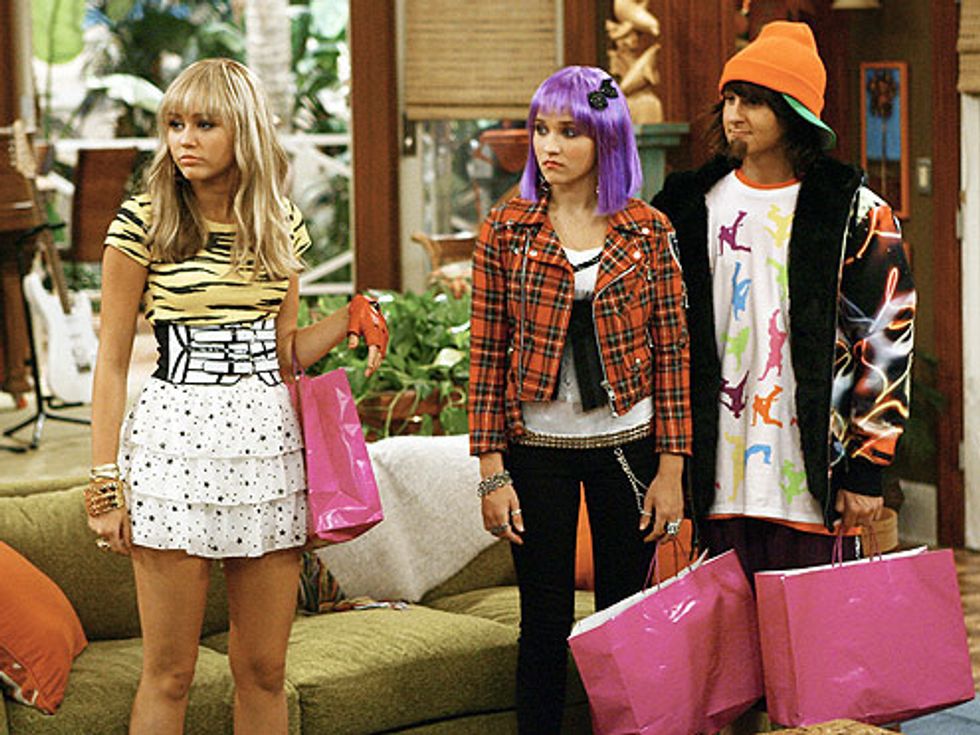 While I can't make an excuse for the torso sized belt and galore of patterns, the concept of this look has potential.
With less belt and maybe just one pattern, A skirt-shirt/tank combo is the perfect easy summer outfit.
Paired with flats instead of chunky docs and you have an easy look for the beach, lunch with friends, or just hanging out.
Matching, bold-colored accessories paired with a simple silhouette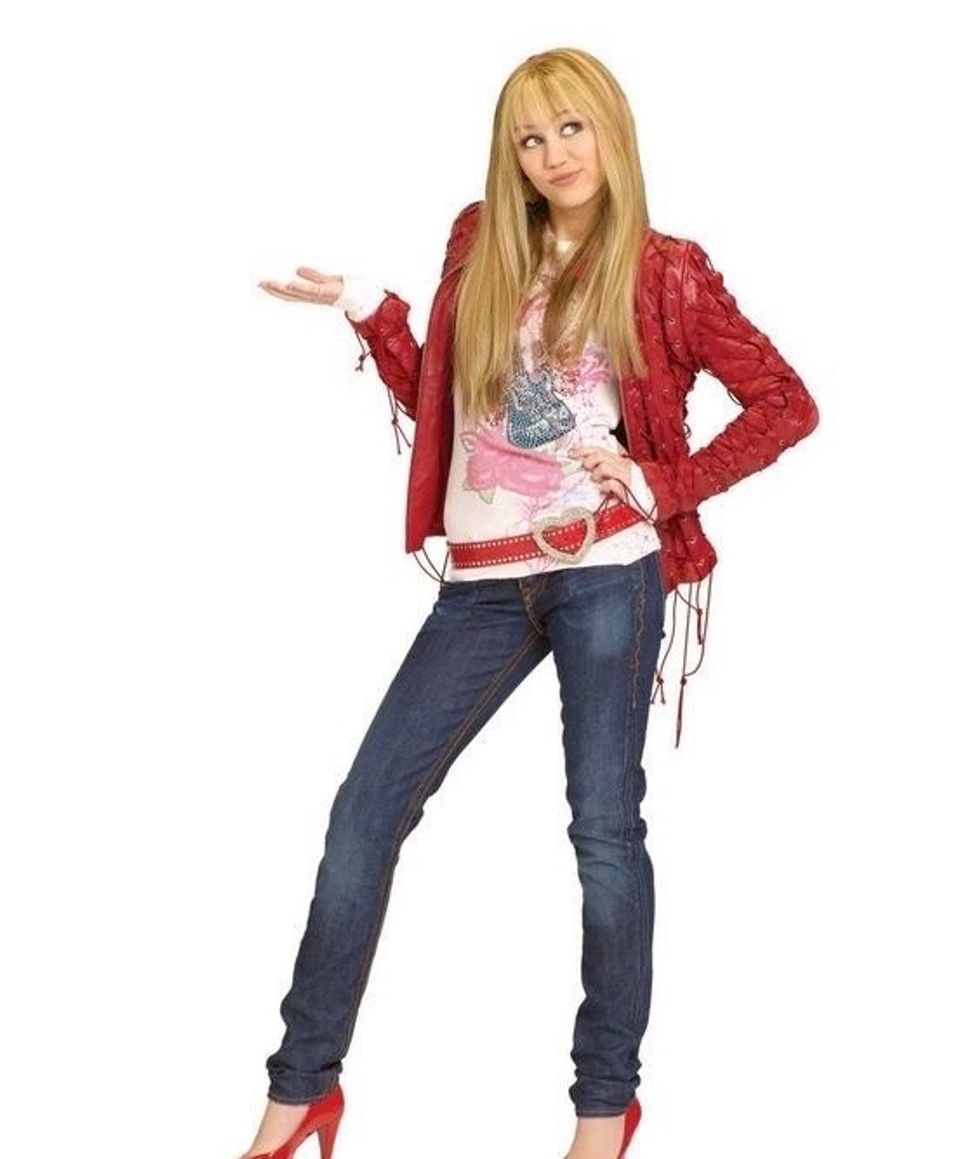 Okay, stay with me for a second. This look is a lot.
A lot.
Start off with your favorite pair of jeans, mom, skinny, bootcut, I don't judge.
Lose the awkward belt, tank, and frumpy jacket for JUST a structured buttoned-up blazer.
Match some pumps to the blazer, add a chunky necklace or two and you have a sleek and sexy outfit perfect for a night out or dinner.
Hannah Montana will be an icon forever. Her fashion? Not so much.
But there's no reason we can't pull inspiration from her look and recreate them to fit today's fashion trends.
All photos courtesy of Disney.